Scallionpancake Travels:
San Francisco, California, is a favorite travel destination of ours. Jason frequently has conferences and work events in San Fran, and, naturally, I tag along. Robin is located in super-hip Hayes Valley, which is filled with many great restaurants and boutique shops.
San Francisco is a great place for fresh sushi and quality Japanese cuisine, as it is home to a large population of Japanese-Americans. Also, many tourists visit Chinatown, as it is right in the heart of the Financial District, but Japantown is hip, super clean, and worthy of your time on your next visit. In fact, Japantown is totally walkable from Hayes Valley & Robin. Insider tip: check out Benkyodo in Japantown for an amazing selection of mochi and manju in a cozy cafe setting.
Background:
Chef Adam Tortosa opened Robin in July 2017 on Gough Street in Hayes Valley, San Francisco. Chef Tortosa previously worked in several well-known restaurants, including Kiwami and Ink in Los Angeles, and Akiko's and 1760 in San Francisco. Robin's concept is innovative in that there is no menu with prices, and no set tasting menu, either. Diners can give their waiter a price point from $79 up to $179 per person, and the sushi chefs will devise a unique menu based on that price, as well as diners' specific preferences. Our waiter asked what types of fish we prefer, and if we were fans of uni. We were assured that even if we weren't fans of uni, that the chef would prepare it in such a way as to make us converts. You may have heard our thoughts on the pod previously about uni, but suffice to say, we fall firmly in the camp of "not fans," but we said we would try at least one uni dish to stretch ourselves. Also, the waiters will let you keep your options open and decide as you go how much sushi you are up to eating. Below is everything we enjoyed--we left perfectly full with this amount of food.
Although they ship in seafood from Japan & Chile, Robin serves as much as local fish as possible. Our waiter explained that there is so much great fish off of the coast of San Francisco that so few chefs utilize, and that Tortosa takes advantage of that proximity whenever possible.
Wrapped in seaweed, served with traditional Mexican-style ceviche with pistachios, pomegranate, lime juice, and microgreens
Including steelhead trout with peach (middle)
On a toasted nori chip topped with uni and Asian pear
Closest: Yellowtail, middle: New Zealand King Salmon with tomato confit and whipped tofu, back: Golden Eye Snapper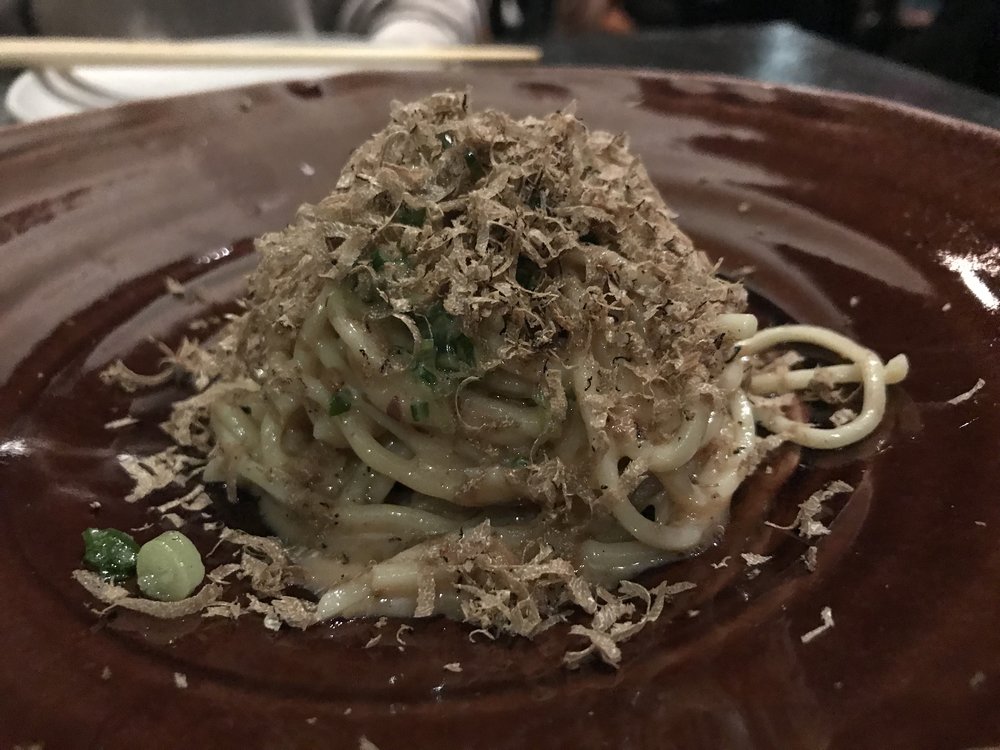 Sesame noodles with black truffles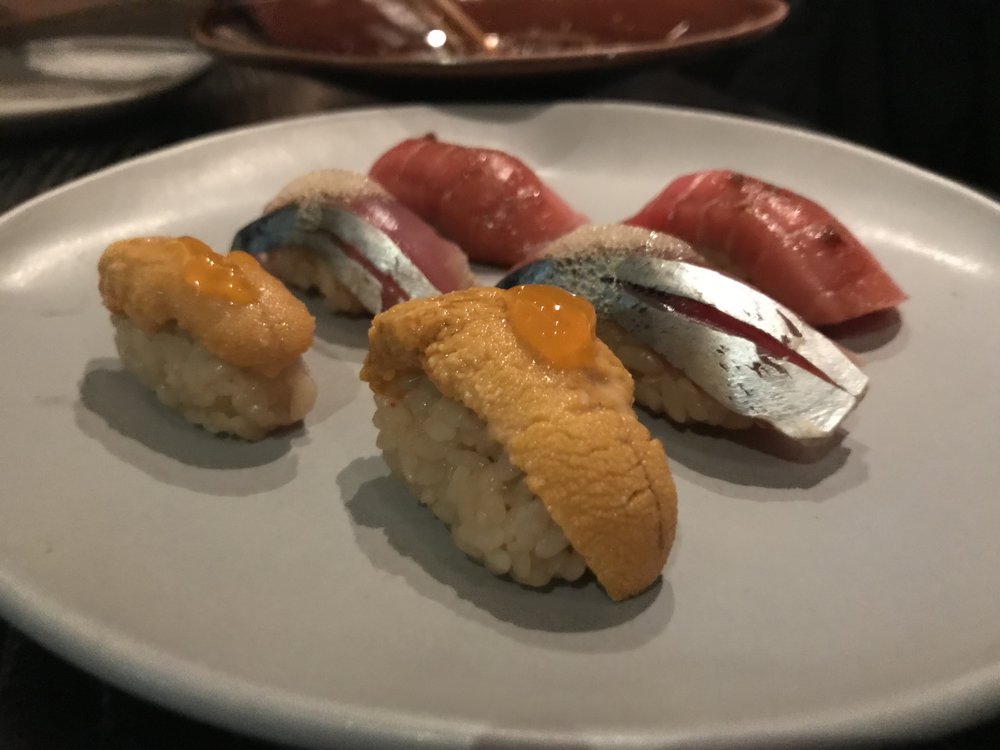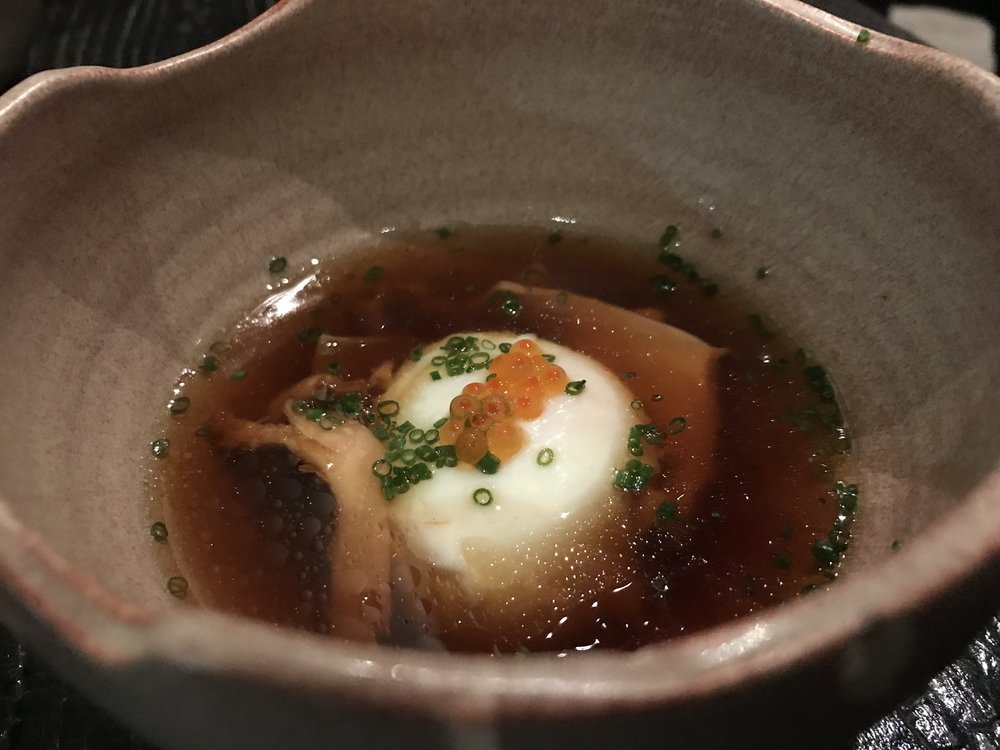 With shiitake soy sauce, ikura, and wasabi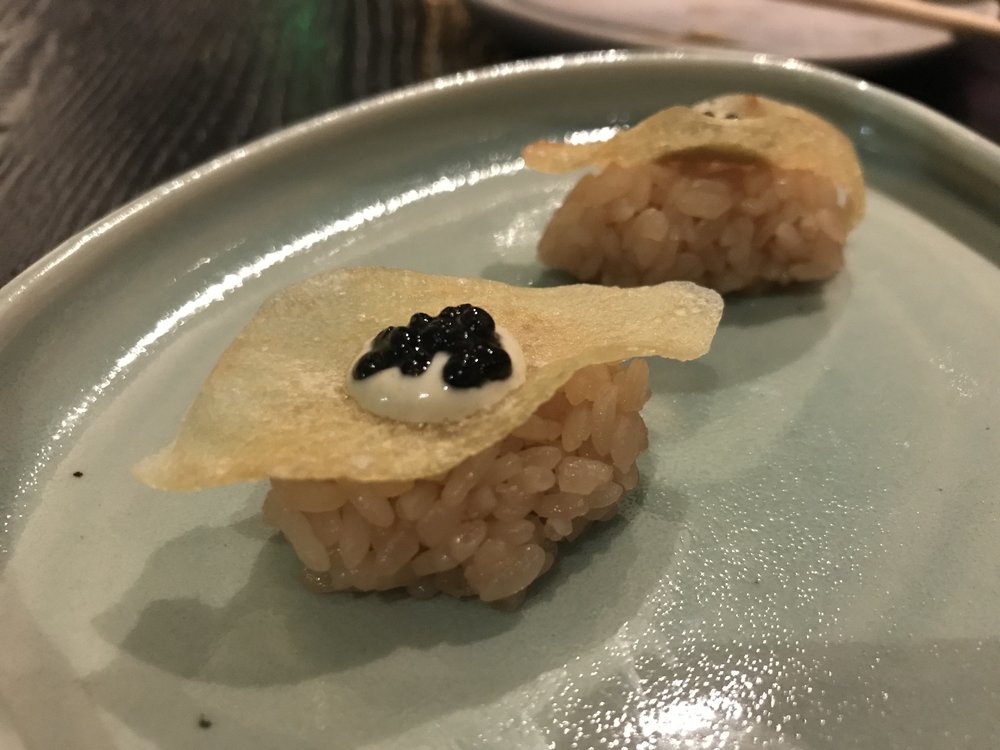 With potato chip and grilled ramp aioli
Dessert:
This guy below was good (not great), but we both agreed we wouldn't have hated one more dessert course! This dish was made using sake lees, which is the solid byproduct left over after sake ferments. Pretty cool!
with pomegranate and pistachio
Drink:
Robin offers beer, wine, and sake. We enjoyed sake, and they had an awesome selection of (cold only) sakes.
Atmosphere:
The decor was lovely, and Jason particularly enjoyed the modern vibe, like the coral and black backsplash on the sushi bar and the metallic wall. Stand-outs included dishes (and chopstick holders!) made by a local potter, and the bathroom floor, which had tiled inlaid with pennies! Too cool. Oh--and the bathroom had an essential oil diffuser. Can you tell I really liked the bathroom?
Hayes Valley Hospitality:
Our waiter was awesome about checking in to check our fullness level and to see if we were enjoying everything. We really loved the pacing of this meal--the courses came out quickly (but not rushed), so that we were done with this meal in under two hours. We were relieved, as we were not in the mood for an extra long tasting on this particular night.
Frankie's Notes:
We wanted to bring home the cool pottery chopstick holder, but we reined in our kleptomaniacal tendencies; Uni will never be something that Scalliopancake craves, but Robin made us like it more than we ever have before; Frankie's favorite essential oil scent is cheddar cheese; We always need at least two desserts to feel emotionally fulfilled.
Rating:
5 out of 5 plus one Michigan Pug