Background:
We visited Noma last summer for the Vegetable Season (Read about the background of Noma and our experience here), and we had such a magical damn good time that we decided to fly to Copenhagen for 96 hours to go back for the Seafood Season. This is our first repeat of one of the top restaurants in the world, and part of us didn't want to go back simply because we had what is the closest we've come to a perfect meal that we didn't want to tarnish that experience. But thanks to the NBA All Star game coming to Charlotte, we made some nice AirBNB money renting out our condo to a fancy LA producer. And what better way to celebrate living with my parents for a week then to treat ourselves to a trip to Noma?
Pro Tip: People are always asking us how we score these reservations. A great way is to get on the restaurant's mailing list. I've been on the Noma mailing list for 2 years and they email at least once a season saying that they are opening up a few additional days for shared tables or regular sittings.
This visit we did a shared table, which Noma offers from time to time in their private dining room. This meant that we would be sharing a table with 16 strangers. We've done this a few times, most notably at Noma Under the Bridge, and recently at the Hello Sailor/Buxton Hall collaboration dinner. We've enjoyed this in the past, as we've been able to make friends and share our dining experiences with other people who care as much about food as we do. This time 17 of the 18 at the table were amazing humans, but one guy got a little too drunk and became obnoxious and, to be honest, dampened the experience slightly. It's a roll of the dice if you're sitting at a table like this, and both Yvonne and I agree that if possible at Noma it's better to have your own table. Noma is a fast-paced, frenetic show encompassing all of your senses. Just eating and observing the food takes up so much energy that trying to make conservation with strangers distracts you from your main objective, which is enjoying the experience. Of course, if the shared table is all you can get – don't pass it up. And if you're an extrovert, you might feel differently from us.
When we walked onto the grounds, we were all herded into one of the greenhouses until everyone at the shared table arrived. We were given some cider and allowed to hang out in the greenhouse or just outside. We went on a beautiful Copenhagen spring day, and there is nothing more fun than hanging out at Noma just taking in the magic. And magical it is. It's hard to describe it, but as soon as you walk through the rope gate you feel like you're in a special place.
Once everyone had arrived, we were escorted down the long path by the green houses, past the bee hives and the test kitchen where Rene Redzepi and team were working on the upcoming vegetable season, until we reached the front door to the main dining area. We were then paraded around the prep kitchen through the sea of servers and chefs to the private dining room.
Eat This:
Noma has three distinct culinary seasons: Seafood, Vegetable, and Game. This being our second trip to Noma, it was interesting to see the similarities in the progression of dishes between the Vegetable and Seafood season. Both seasons built up a main larger course - the celeriac shawarma of the Vegetable Season and the Arctic King Crab of the Seafood Season. What was cool about the Seafood Season was that dishes were grouped into progressions based on the type of animal being served. First it was raw seafood, then shrimp, then fish, and finally finishing with crab before the dessert courses.
There is so much intricacy and thought put into everything at Noma, from the progression of dishes to the fact that a different type of wood is used in each of the dining areas (the shared table area is made entirely of Douglas Fir), that it's pretty much impossible to take it all in. It's a place worthy of study, and a place the more times you go you pick up on concepts and notice things you've never noticed before. This is the case for the food itself, and in particular with the Seafood Season. The Vegetable Season gave a "wow factor" with almost every dish. Comparatively, the Seafood Season was a much more subtle, slow-burning wow. There was so much going on with each dish beyond just the initial flavor and main ingredients that it's going to take us a long time to fully comprehend what we ate. There are very few restaurants in the world that keep you thinking about the experience for so long after the meal, and as a patron of Noma you want that feeling to linger as long as possible.
As you walk in, you can see the chefs opening the scallops to keep them as fresh as possible. They were delivered to our table and we were instructed to use the top part of the shell as a fork to scrap off the scallop and eat it with its roe.
Carpet Clam, Venus Clam, and Mahogany Clam
One of my favorite bites of the night was this Carpet Clam, which was served with a delicious paste underneath. The Mahogany Clam is a rare clam that lives to be over 100 year sold. The clams we ate were around 100 years old, and we were told we could count the rings on the shell to see the exact age. We got to about 10 before we gave up.
One of the coolest parts of the dish is we were given quince to squeeze over the clams like you would typically squeeze a lemon. A great unique Noma touch.
How cute are these little shrimps? Kristen Wile from Unpretentious Palate described them aptly as spooning the herbs/flowers. This bite reminded me so much of the shrimp tacos from Noma Under the Bridge we had a few years prior.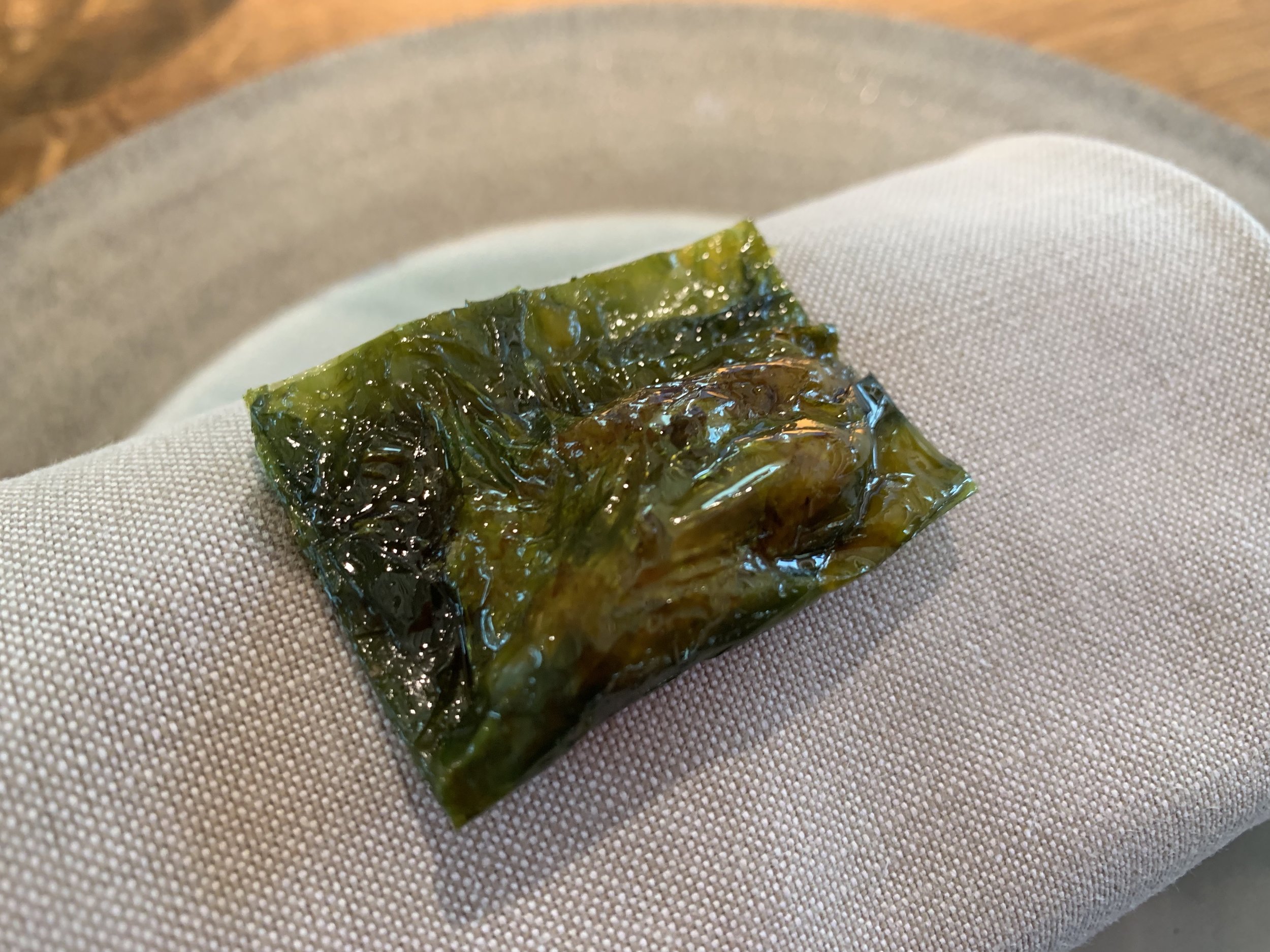 Grey Shrimp Cooked with sea Lettuce
This was described as a lettuce ravioli, and it was one of the best bites of the night. A danish shrimp ravioli.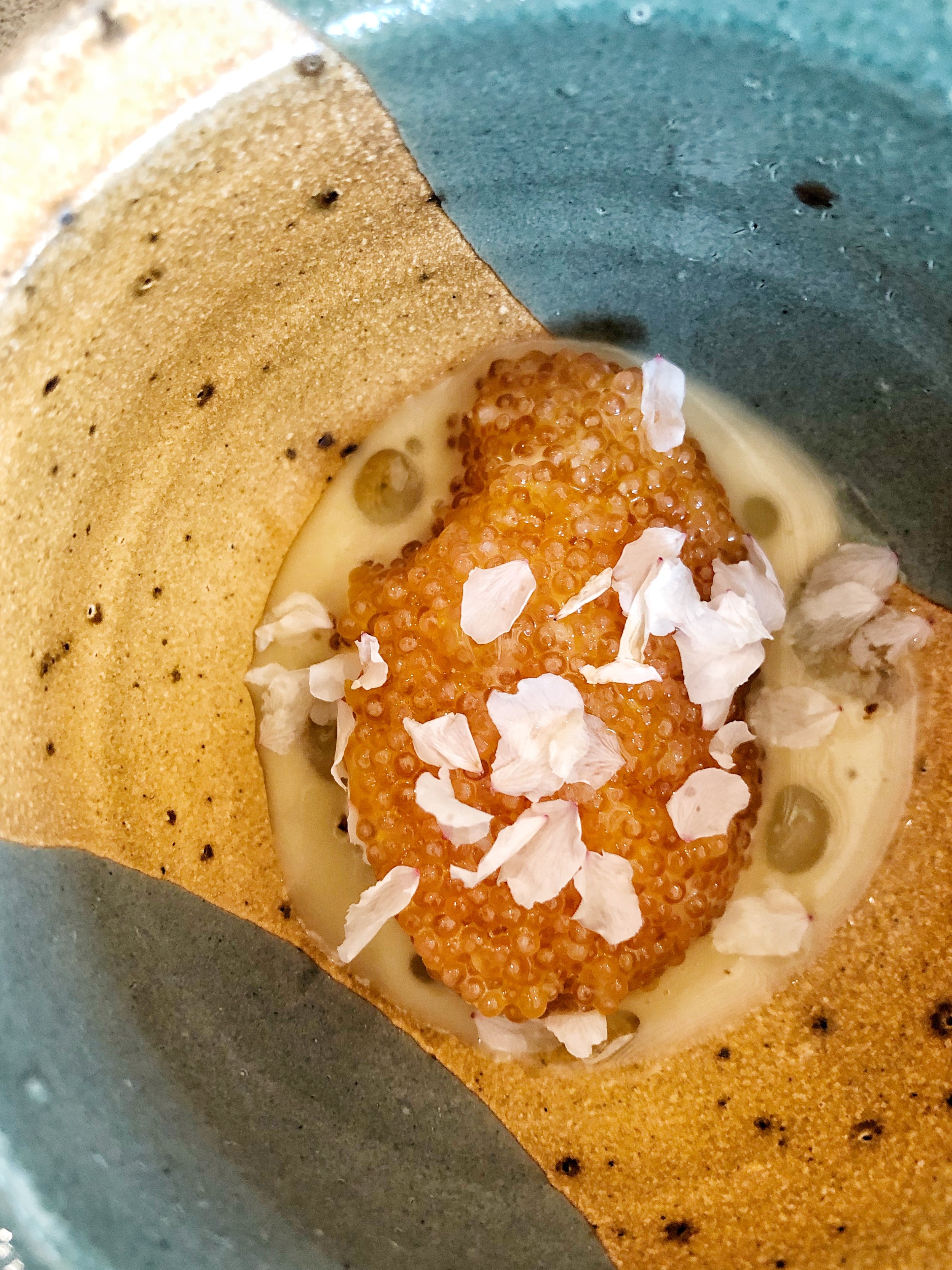 Lumpfish roe & cured egg yolk
Lumpfish roe had just peaked in freshness, so this dish replaced the sea urchin dish served earlier in the seafood season. The roe was served with the egg yolk, Mirabelle blossoms, and rose oil. The rose oil added a great aftertaste to the savory and decadent lumpfish roe. This roe tasted like you were having the finest sturgeon caviar. We're sad we missed the sea urchin, but we were very happy with this dish.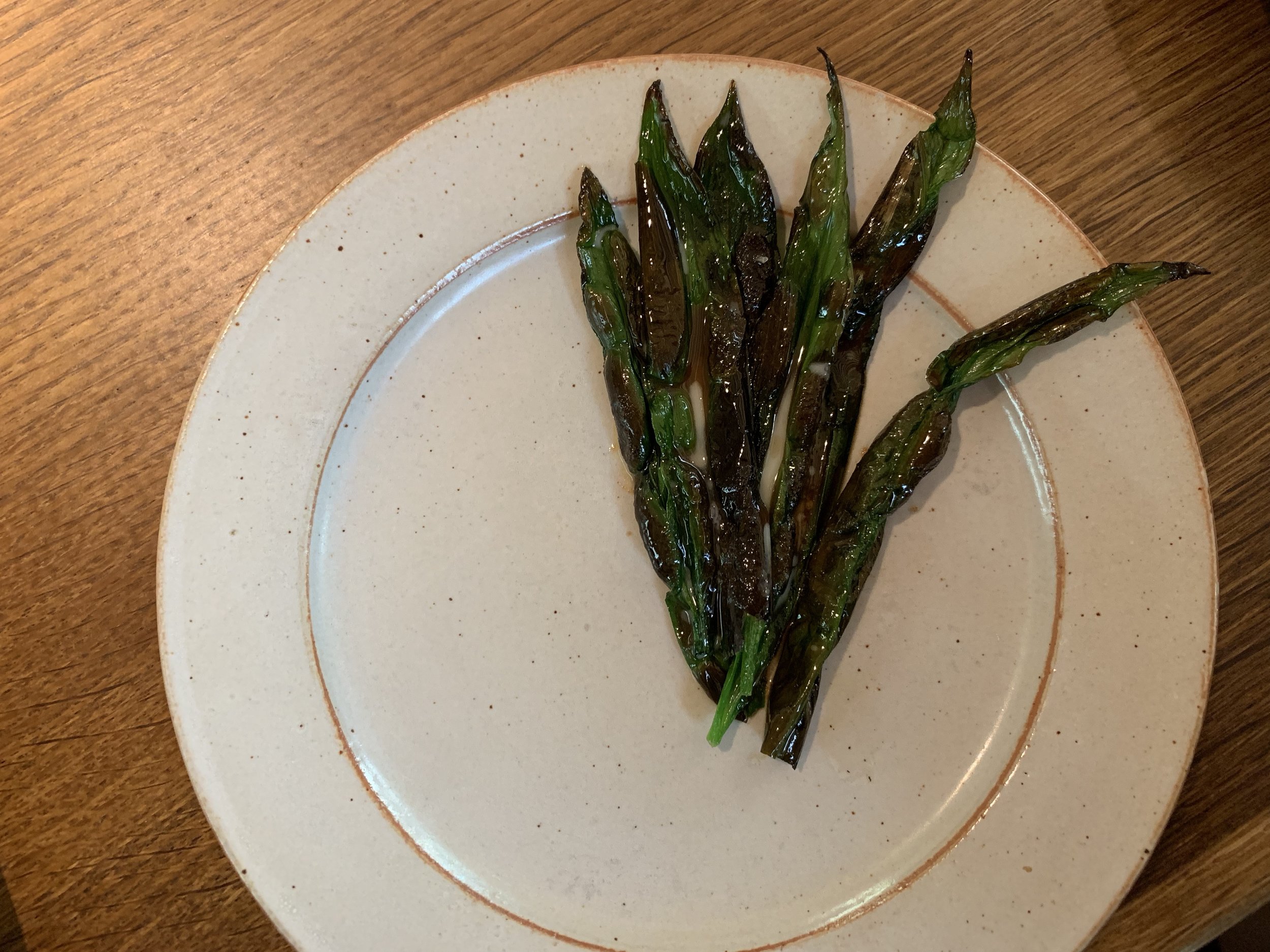 Ramps had just been delivered to Noma, and the fermentation lab has been using hundreds of kilos for something exciting – probably for the vegetable season. We got to experience some as a side dish to the lumpfish roe, and they added a nice earthy balance to the richness of the roe.
The turbot was served with a corn miso from the fermentation lab. The miso added a hint of sweetness to the dish that gave the fish a pineapple flavor, which I think is what Noma was going for with the tiny pine needles in the presentation. This was one of the coolest and most subtle dishes for me, but a lot of people at the table thought it lacked flavor.
medium rare Blue Shell Mussel
When we were given this dish we were instructed to eat the mussel and then drink a mushroom broth which was hidden underneath the seaweed. I am a sucker for these multi-sensory experiences, and I loved tasting the soup while smelling the seaweed. It felt like you were at the beach.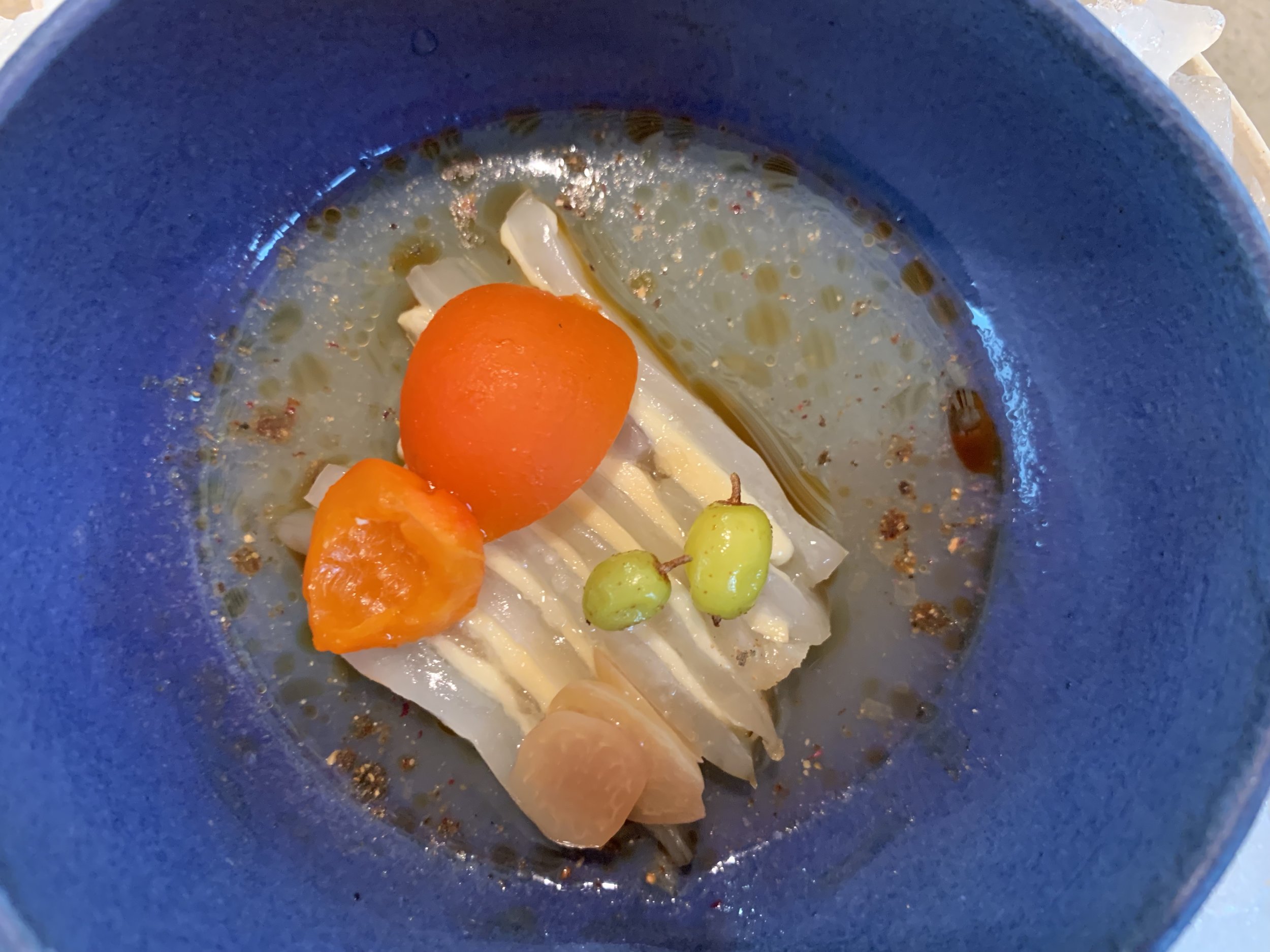 Cod bladder simmered with quince
This was the beginning of the cod sequence, which started with this cod bladder with quince. I've never had cod bladder before, but I really enjoyed it. It had the texture of a cross between pork belly and well cooked octopus.
The cod tongue still on the bone had been deep fried and then covered with wasabi leaves. I think at this point it's good to take a step back to understand how unique this dish is. Did you even know that Cods had tongues? Did you know they could be fried and served on it's bone to taste like schnitzel? It's easy at Noma become jaded by the uniqueness and amazingness of each dish, as that's what you're expecting, but hot damn, each dish is so good it's just hard to wrap your head around it.
Here they made a cod pie out of milk skin, very similar to the caramelized milk and cheese dish we had during the Vegetable Season. This is served with oyster leaves on top. Why are they called oyster leaves? Because they actually have the flavor of oysters! So cool.
beach Crab Gel and Pinecones
Here we have a crab gel with pinecones. As you'll see in the first dessert dish, the pinecone has become one of the best things we've eaten. The presentation of this dish was done in a hollowed out crab shelled that had been covered in wax. Naturally, this takes a long time to make, and the overall effect was well worth it.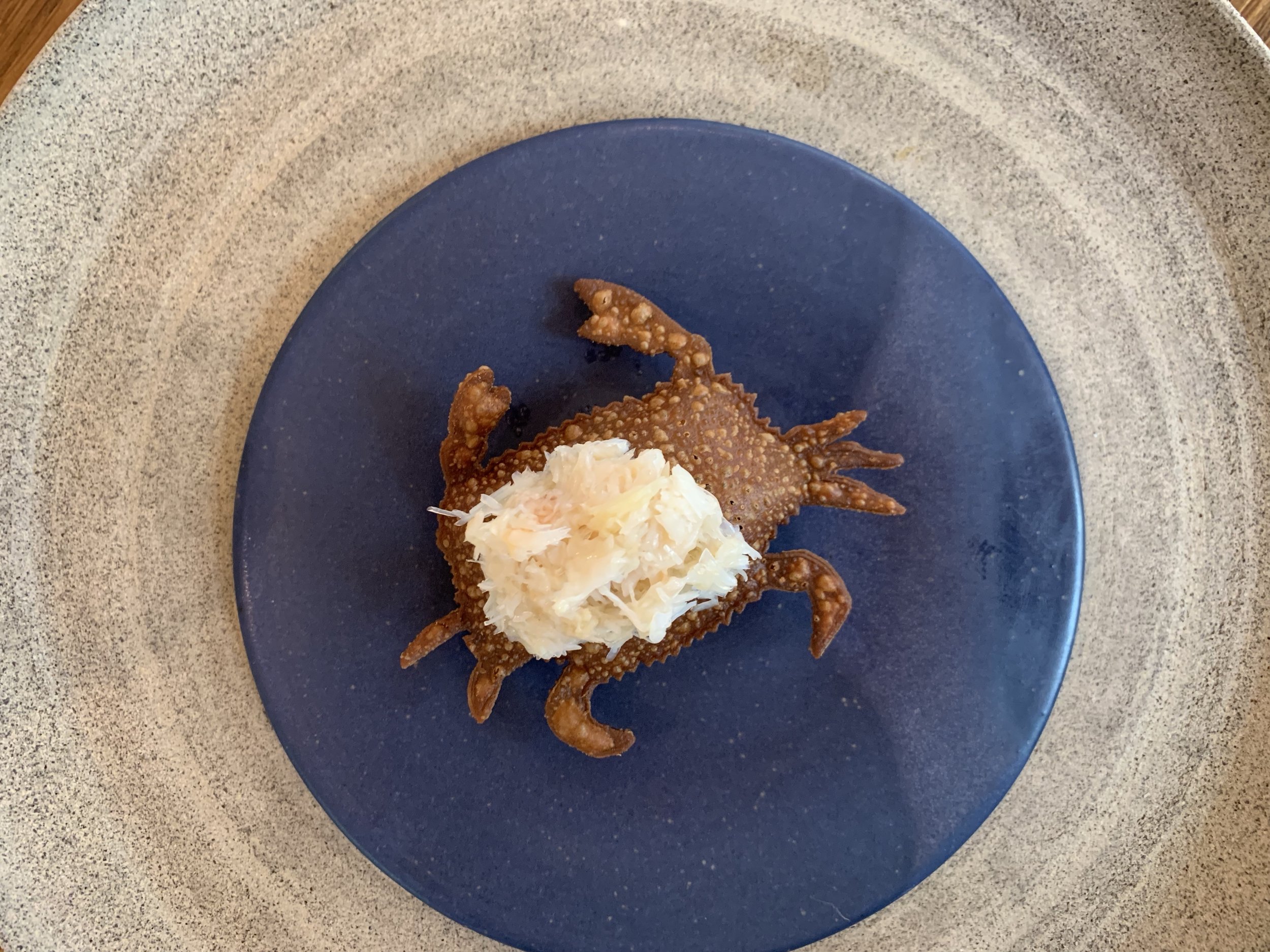 Boiled brown Crab on Flatbread
This crab cracker was prepared using a technique that Noma had picked up in Tulum, Mexico. The cracker had been deep fried twice to allow for it to puff up and be able to be stuffed with the crab. This dish itself is so time consuming to make it – the crackers are hand cut to look like crabs and then hand stuffed.
hot smoked, then barbecued arctic King Crab
We've made it to the main dish, which is barbecued arctic king crab from Finnmark, which is basically the North Pole. Each crab was served with a QR code showing you when and where the crab was caught, its size, and who caught it. Ours was considered XXXLarge, weighing in at over 10 pounds! The crabs are kept alive on sight at Noma until they are ready to be served. The dish is served with a side of horseradish juice, and you could tell it was good because the table got quiet for five straight minutes as people were eating and enjoying their crabs.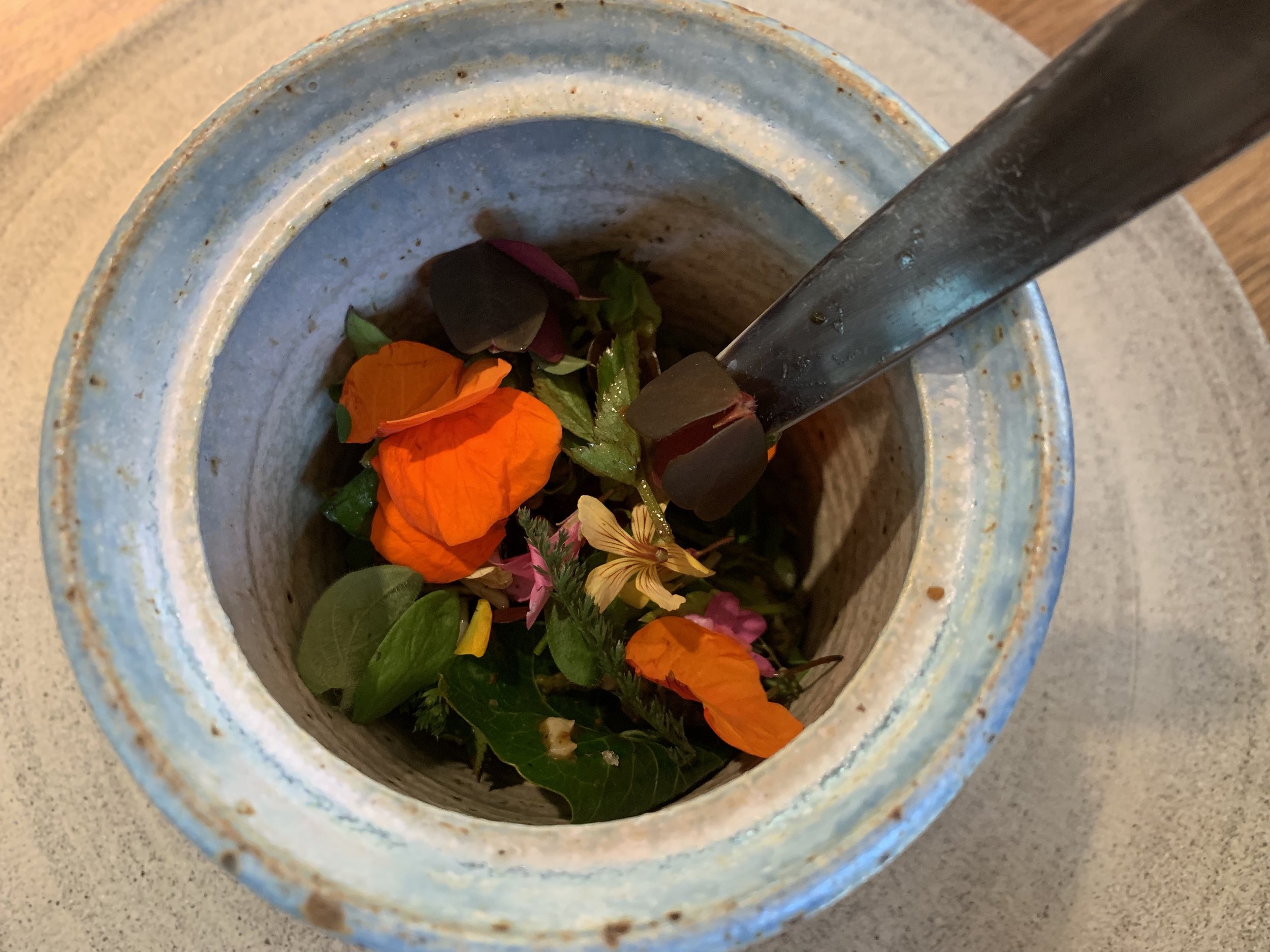 Right after the large crab meat was served we were presented with a warm crab salad. This was my favorite savory dish of the night. The salad was hot and delicious, and was just seasoned and dressed to perfection.
salted & dried berries from Summer
This dish was literally everything to us. It was both of our favorites, and I think maybe the most perfect dish I've ever had. We were served sheep's milk cheese with last year's preserves, including pine cones.
We had one of these pinecones on the Vegetable menu, and we had been dying the try them again. The fact that each of us had 4 or 5 of them made us so happy. The broth was perfect. The ratio of cheese to fruit to liquid was perfect. It was all just perfect. As Yvonne said, if she were allowed she would have unlimited quantities of this she would have eaten so much as to make herself sick. Weirdo.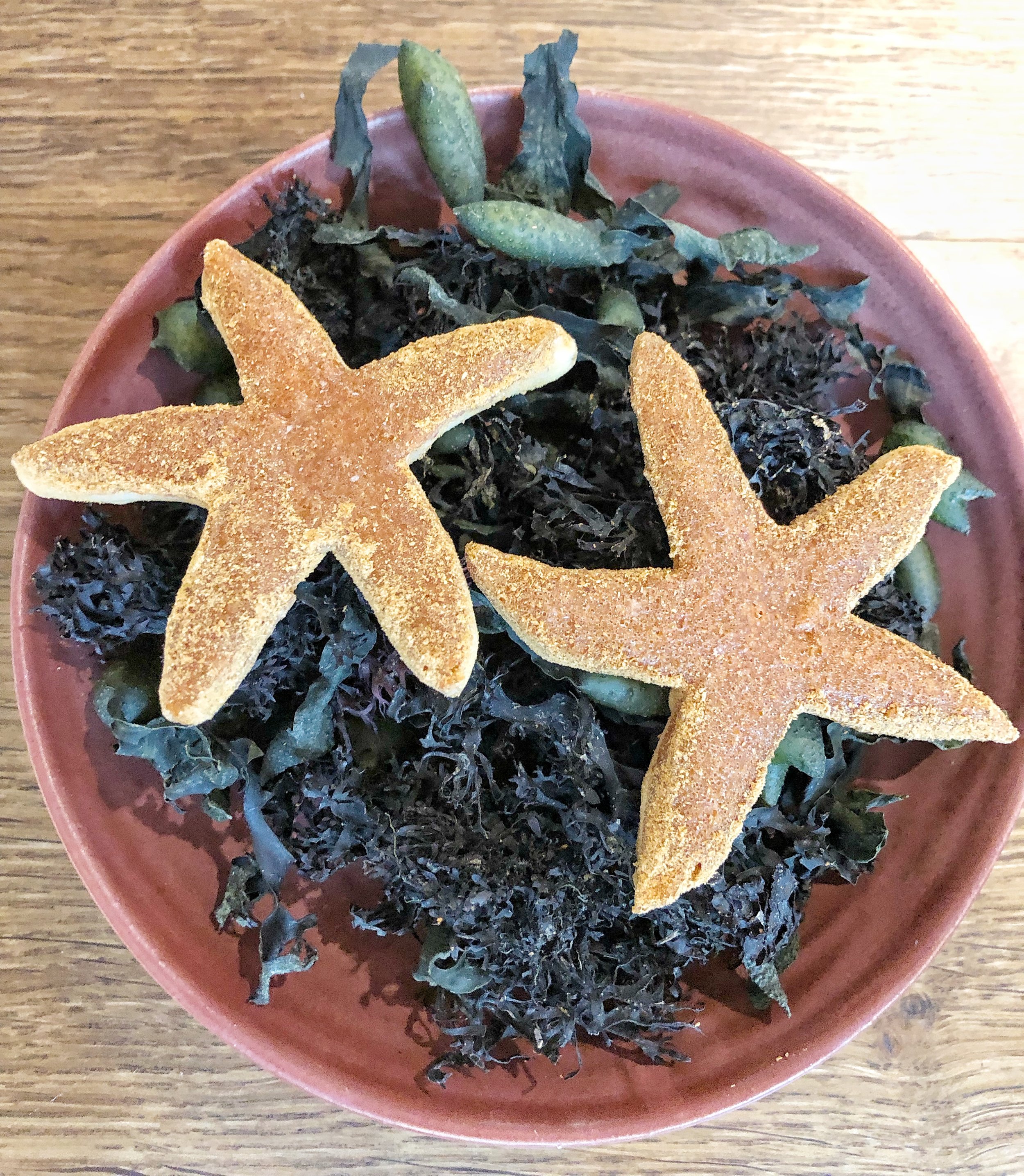 Cardamom scented sea Star
Noma told us they tried hard to serve actual sea stars, but apparently they taste terrible. So they settled for the second best thing, which was a cardamom toffee sea star made to look and feel like an actual sea star. A great tasting, and fun play on the seafood theme. Overall, we felt that these desserts were stronger than the ones we had during the Vegetable Season.
You knew we had to end with seafood, and we ended with fried cod skin covered in chocolate from Mexico. It was served with a "dagger" to help cut up the skin. The chocolate was not too sweet, but provided a nice balance to the crunchy skin. A great last bite.
Drink:
At the shared table, we had to do either the wine or juice pairing. We both chose the juice pairing, because Jesus, who can drink ten glasses of wine during a meal and walk two miles home? I had the juice pairing during the Vegetable Season, and all of the juices had completed changed just as the menu had changed. We started off with green gooseberry, which is Yvonne's favorite fruit of all time and was my favorite juice of the day. Yvonne really enjoyed the saffron and pumpkin kombucha, which was spicy, sweet, umami, savory, and bitter all at once. We both agreed that getting the juice pairing is like getting a whole other meal to itself. With the wine pairing you get wine, but it's not like the wine is made at Noma. The juices are all house-made and curated just for the current menu and each one I've had at both meals have been incredible. Don't be afraid - go non-alcoholic and you won't regret it. You can get wine anywhere.

Atmosphere:
This time, even more than the last, Noma felt so alive, bustling with service, the fermentation lab going full force, and the test kitchen preparing for the Vegetable Season. Noma is a science experiment with counterculture vibe and the best food in the world. No table cloths, you eat with your hands, guests are wearing polos, a million people are moving around, all the doors are open, and people are yelling "Yes, Chef" like it's the chorus to a Justin Bieber song. It's a sensory overload, yet everything fits together and makes sense. No moment is boring. It's the dining show to rule them all.
Under the Sea Hospitality:
Now that we have a new logo, we've been creating Michigan Pug plaques for restaurants that have received a coveted Michigan Pug. Our first one was at Bardo in Charlotte, and I decided since we were going back to Noma that I would have one made and carry it over myself. I did not want to make a scene about it, so when we got to the gate I gave it to the greeter and explained that we had enjoyed our meal so much the past summer that we had a small token of our appreciation for them. The guy then took it and presumably told Rene Redzepi about it, who instructed them to put it up immediately in the private dining room. This was so amazing to us and something Noma didn't have to do, but it make our time there that much more special. I'm sure they've moved it now, but just seeing the other diners and wait staff look at it throughout the meal made us so happy. A touch of class.
The overall service was top notch, except for a few snags. We did ask one of the waiters if we could keep the QR code as well as if we could take a picture of one of the drinks, and we never received an answer back, which is rather abnormal. It must have been the guy's first day. Other than that, everything else went smoothly and without any incident.
The one thing we weren't allowed to do on this trip was have a drink in the Hygge room. We figured this was because it was lunch and we were at the shared table, but it was still sad as that was one of our favorite experiences from our first visit.
Frankie's Notes:
The only thing that Noma is missing is a room full of pug puppies to hold and play with after the meal; if you're sitting at a Noma shared table by yourself in your late 30s and are obnoxious the whole time, you're probably going to be single forever; I didn't record the entrance again, and I immediately regretted it again - next time; If anyone goes to Noma after reading this, let us know where the plaque is now! Yvonne has announced she's moving to Copenhagen to open up Scallionpancake's first satellite office dedicated to hygge and sweater weather.
Rating: 5 out of 5 with 3 Michigan Pugs
Yvonne flat-out at the end of the meal came out and said she enjoyed the Vegetable Season better than the Seafood. Upon reflection for me, our first experience was so magical and blew our expectations away so much that it was going to be almost impossible to come away feeling like the Seafood Season lived up to our lofty expectations. Both menus were so different, purposefully so, that it's hard it's almost like comparing apples to oranges. Like the Vegetable Season, there was not a miss on the menu when it came to taste, and the experience felt as magical as before. All of that being said, I have to agree with Yvonne that I felt the Vegetable Season was a slight step above the Seafood Season. However, I also feel that the combination of the shared table and the fact that it was our second trip played a factor in this feeling.