Background:
The Waterman, cousin restaurant to Sea Level Uptown, debuted in South End of October of last year. Yes, they say "cousin restaurant" instead of sister restaurant – isn't that cute? We are big fans of Sea Level, so we had high hopes for this much anticipated opening.
Since the fall we have been to The Waterman a few times, most recently for a media event with our blog friends. Here is what we tried on that visit, with a couple of pictures thrown in from another visit. Jason did go one time on his own for take-out, but suffice to say those pictures weren't great, so that visit isn't included in this round-up. Styrofoam is no one's best look, you know?
Eat This:
Oysters straight from Sea Level, North Carolina.
The Waterman has "Oyster Happy Hour" every Monday through Friday from 4-7 p.m., when you can get oysters for just a dollar each. Major steal. We love their mignonette & cocktail sauce, too.
The oysters pictured here are un-shucked, because we got to shuck 'em ourselves at the event. Only one person out of 20+ people drew blood. It was me. But they made us sign a waiver, so I am not the proud, new owner of The Waterman. Darn.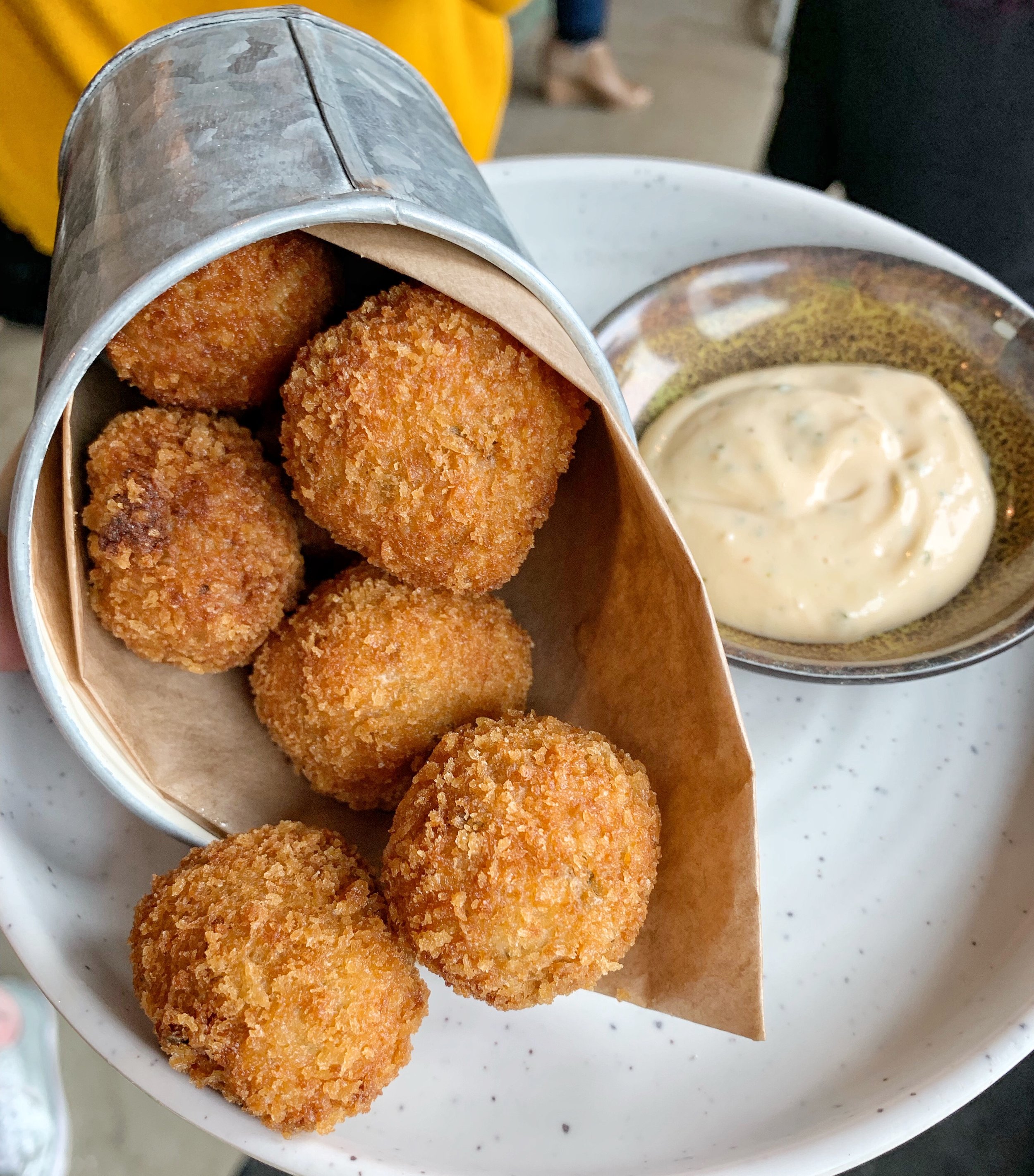 Cajun-style rice, fried crawfish, tartar sauce
These were crunchy, savory, fried GOODNESS. And that tartar sauce? You should go swimming in it. Frankie will be your lifeguard.
Beer-battered cod, house-made pickles, cole slaw, tartar sauce, potato bun
How about this sandwich, though? Is there anything better than a classic fried fish sandwich on a potato bun? Let me answer that for you: No. Nope. Sure isn't.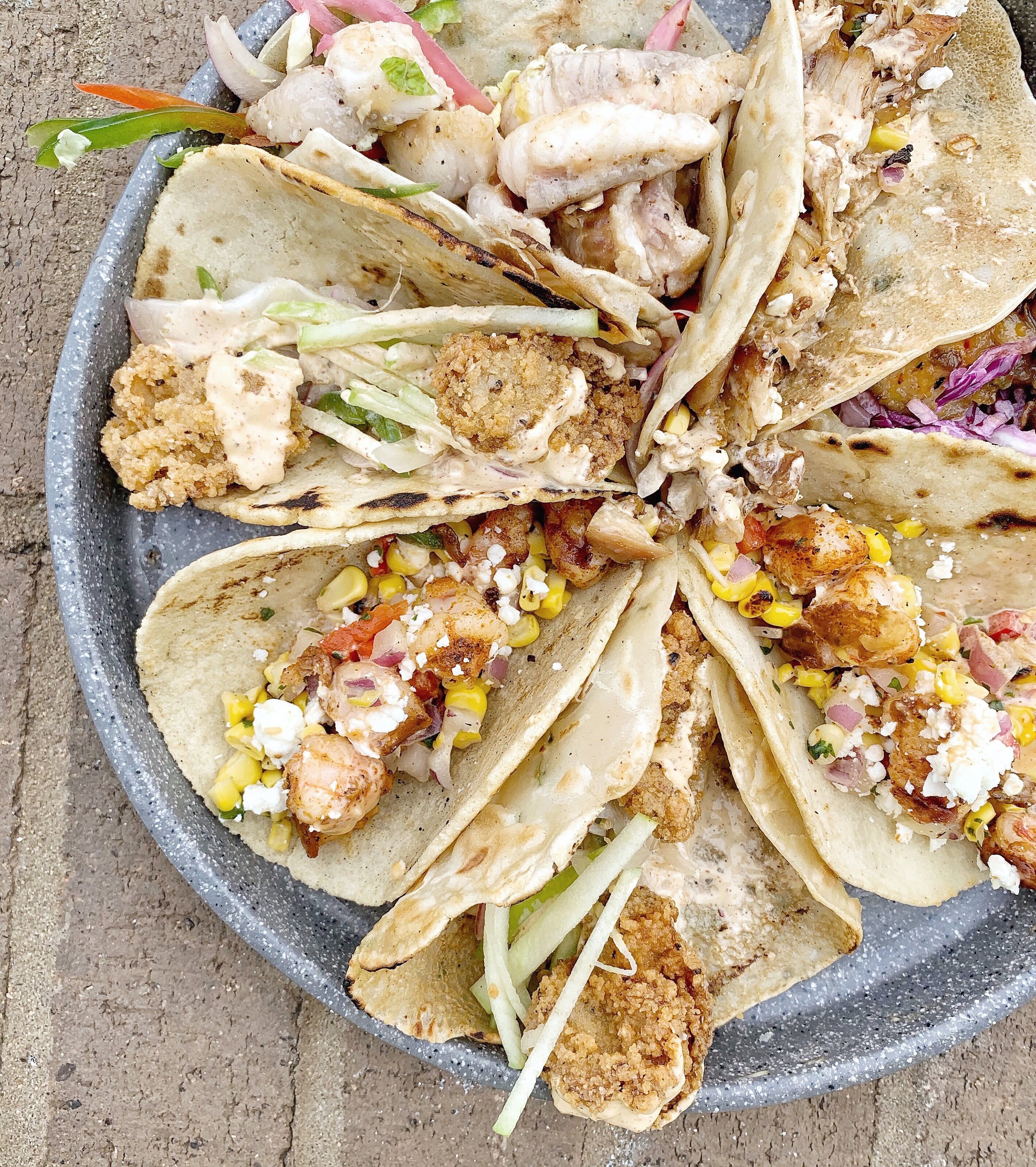 Grilled fish, braised chicken, , blackened shrimp, crispy oyster
You can get these delicious tacos on corn tortillas or SCALLION PANCAKES. That's right. Scallion pancakes in the wild, outside of the big city. So, you know our pick when it comes to corn versus scallion pancakes, right? The choice is clear.
We loved these tacos. So good. My favorite was the grilled fish.
With cole slaw
This was my dad's order when he was in town visiting us. I didn't taste it, but I can tell you that when I picked it up to take a picture, a piece of shrimp fell out. And I never told him that. So, if you're reading now: Sorry, dad.
Pastrami-spiced catfish, swiss, cole slaw, tartar sauce, rye
With fries
This was Jason's order when we went with my dad, and he gave it two fins up. But see those fries in the back? Those fries are freaking delicious. Make sure you get an order.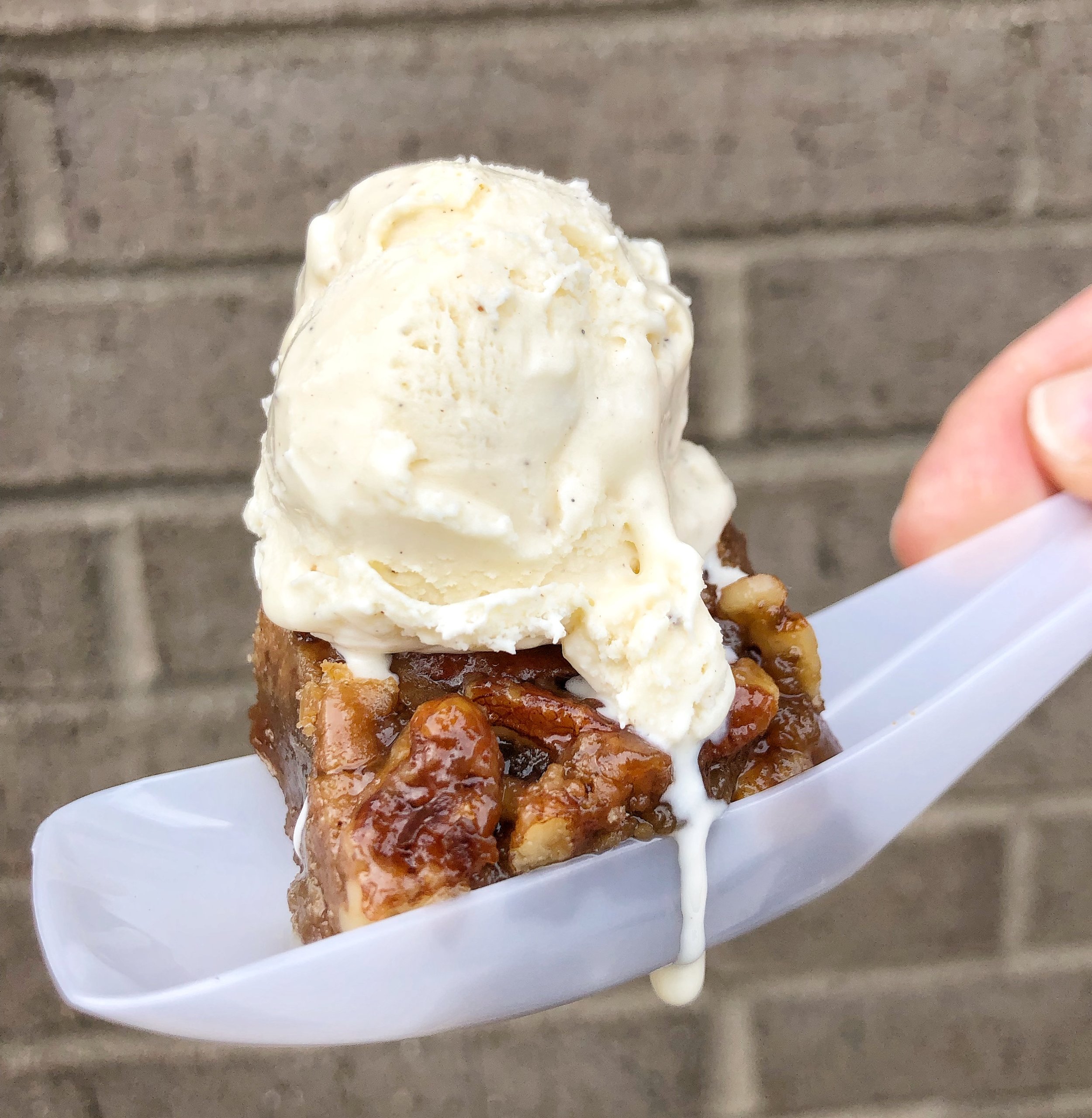 Classic, served with a scoop of vanilla ice cream
Sometimes pecan pie can be too sweet for me, but not this one. I loved the extra firm texture of The Waterman's version, and the rich pecan flavors shines through rather than just pure sugar, which is sometimes the case. The ice cream on top doesn't hurt, either.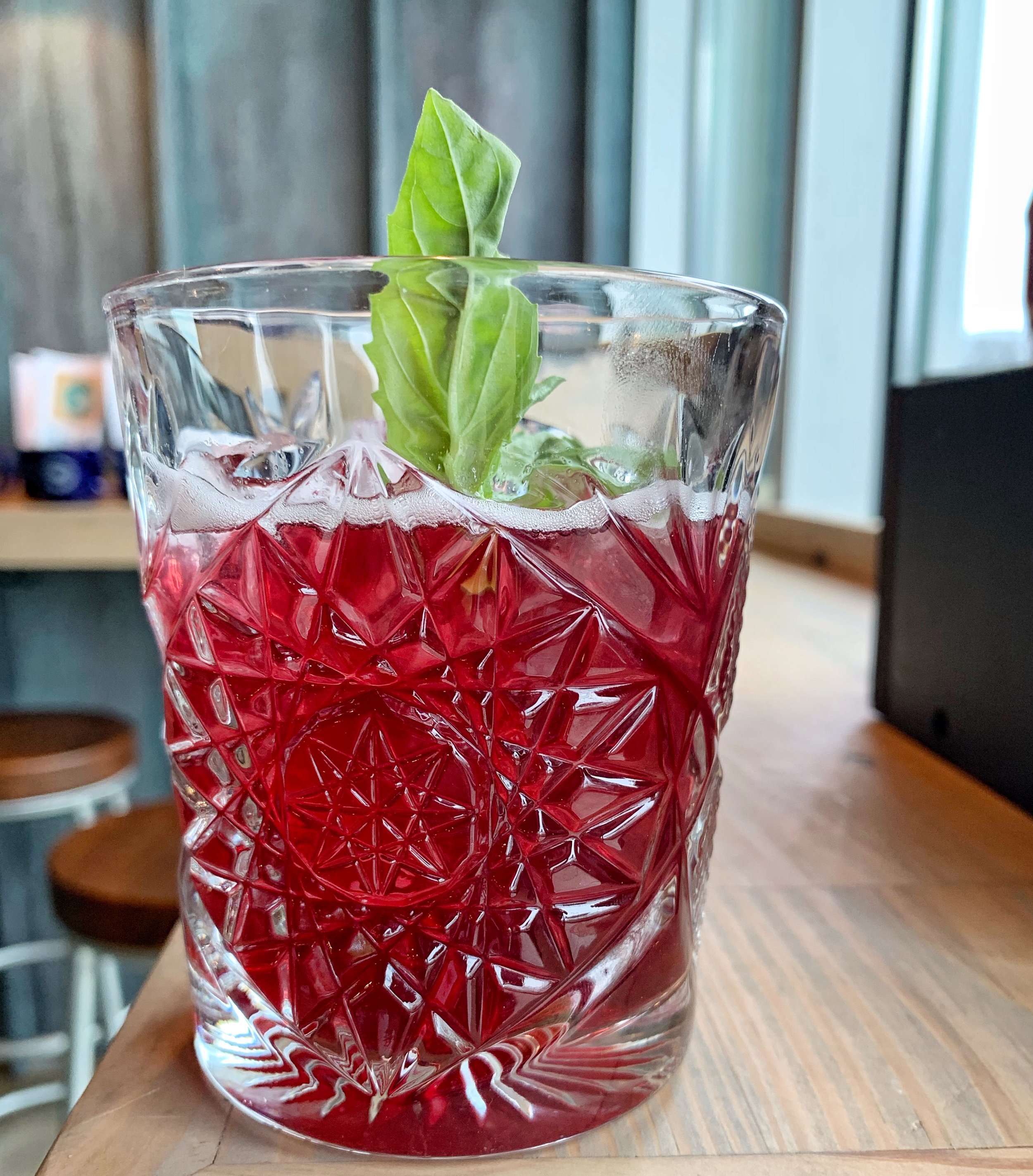 Wild Turkey 81 Bourbon, ginger, blueberry puree, basil, lemon
This drink was so smooth. I love blueberries, and though I am not usually a bourbon drinker, this basically tasted like grown-up fruit juice. Bottoms up.
Jim Beam Repeal Bourbon, Pure Intentions cold brew coffee, orange essence, raspberry-hemp whipped cream
They have this cocktail on draft, and it's amazing. I was impressed by the raspberry-hemp whipped cream – so hip! This makes for a great after dinner drink, too.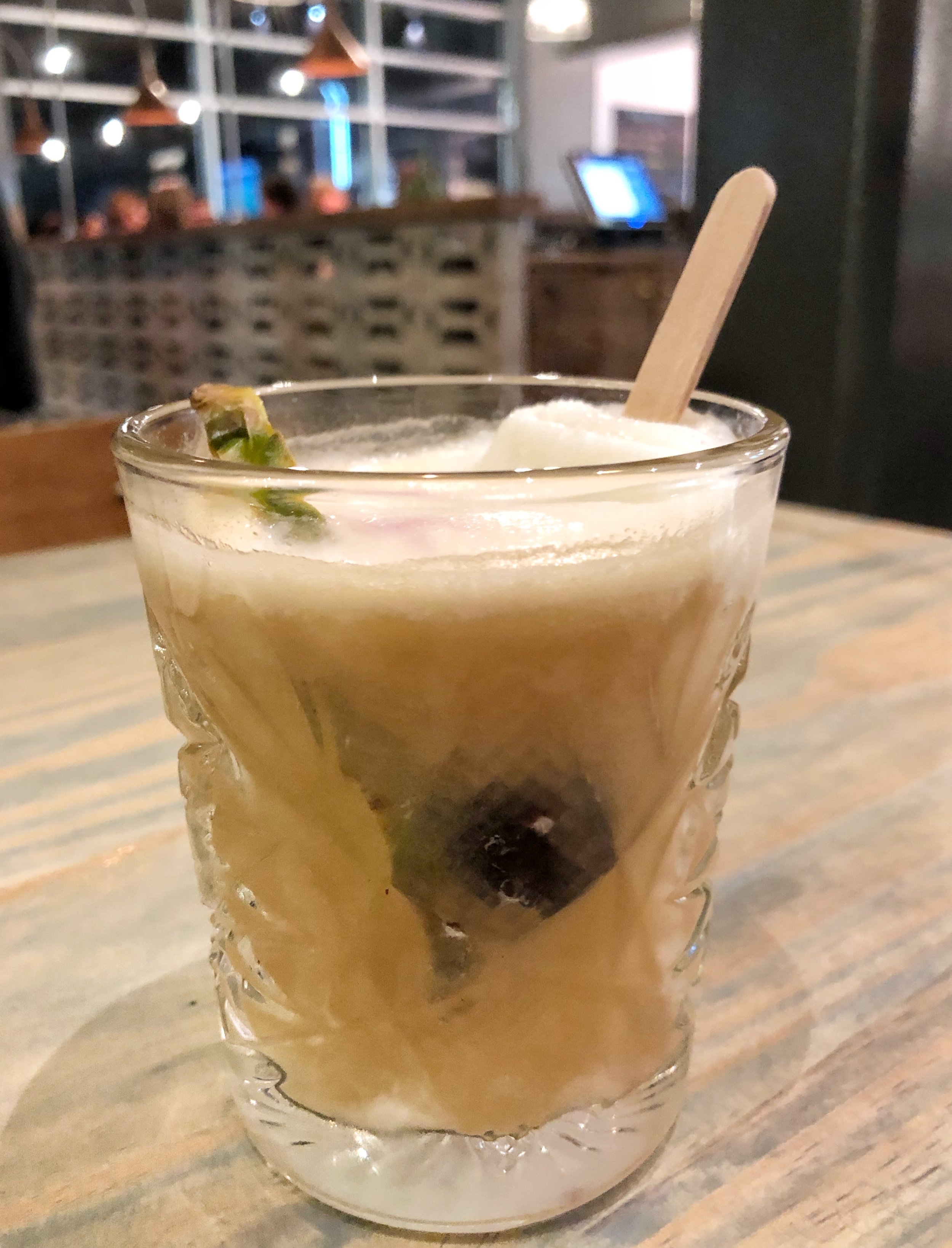 Plantation Pineapple Rum, pineapple juice, almond milk, coconut popsicle
If you're putting a popsicle AND a candied cherry in my drink, I am one happy girl. This was surprisingly not too sweet, considering the popsicle. I liked it, and it was substantial and strong enough that one was plenty.
Atmosphere:
The Waterman has a chill, fish-camp vibe happening. The bar is super beautiful, and we can't wait to check out their rooftop seating area when the weather warms up.
Under the Sea Hospitality:
On our non-media event visit, when the server didn't know that we were in to try some items, we had exceptional service. Also, I felt very strongly that I knew the waitress from somewhere, but I couldn't place where. Don't you hate that feeling?! Did we know one another in a past life? Were we friends in 8th grade?! I'll never know.
Frankie's Notes:
Frankie will be the first to tell you he doesn't look good in styrofoam; We love when you tag us in your "scallion pancake in the wild sightings on Instagram" – keep 'em coming!; Trying to hold your food and take a picture is quite the risky endeavor, and it usually involves sauce running down your arm, or losing a shrimp or two; Putting a popsicle in your alcohol is mixing the best of childhood and adulthood, and that's a great feeling; I wish it was socially acceptable to just say: Do I now you from somewhere?, but trust me, I've tried it, and people just look at you like you're strange; Working for your oysters makes them taste better, even if it leaves you with battle scars.
Disclaimer: This meal was provided free of charge in exchange for an honest and unbiased review. All opinions are our own, and we were not compensated for this review.