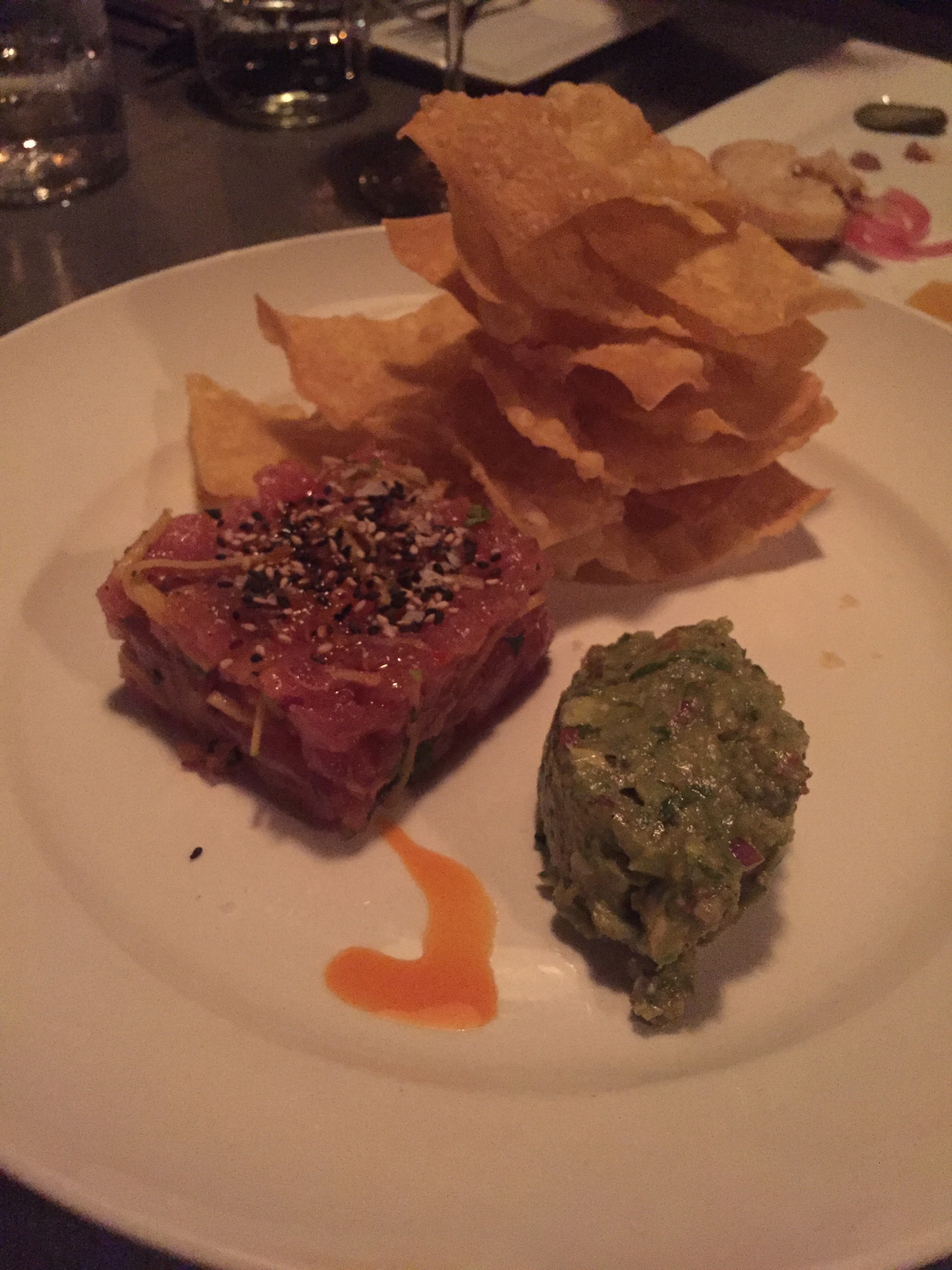 Background: Rob Duckworth expanded his Charlotte empire of Duckworth's to include a new concept: craft beers, cocktails, and more upscale cuisine from the usual bar fare. The Cellar is located in the basement of the Tryon Duckworth's and has a walk-in beer cooler and a separate kitchen from the upstairs restaurant.
Order This: As The Cellar is close to Scallionpancake headquarters, this review has been a while in the making. We first visited The Cellar right after their opening in July, and we have been several times since. After our first visit, we would have recommended the Saffron Fettuccine heartily; after our third visit we would have told you to skip it (gummy pasta, overcooked octopus, blah). Even after our first visit, we would have told you to beware the House Made Waffle Cones (Ponzu Poke Tuna; Coconut Shrimp; Chicken Sriracha Honey)--the sweet/savory combination they are aiming for is lost in overly sugary cones and lackluster fillings. Conversely, we would recommend the Dried Garbanzo Bean Hummus and the Tuna Tartare for being consistently on-point. The tartare is served with guacamole and wonton crisps, and it's a well-done take on a favorite. Same goes for the hummus, but it's hard to screw up hummus (thanks, tahini!). The Cellar Burger was neither a win or a loss: we give it a solid: "meh." On our last visit, our dining companions enjoyed the Espresso Rubbed Lamb Carpaccio, and we like them so we will take their word on the matter as final (don't let us down, #Jarah).
Basically, eating at The Cellar is food Russian roulette--it was a 4 in July and a 2 in October. This is not a game you want to play when the bill for two could easily be $70, if you're drinking.
Dessert: We have only ordered one dessert, the Campfire Almond S'more. It was...cold--as in: no melt-y chocolate on a s'more?! Say it ain't so. Our waitress told us it was supposed to be served that way, but we were dubious. If that's indeed the intended serving style, it doesn't really work in practice. It was hard to eat and the flavors didn't meld at all. Did we eat it? Well, yeah, because we love chocolate and we're not quitters. But come on, guys.
Drink: This is where The Cellar wins all day, every day. The beer and wine selection is huge, but more importantly the craft cocktails are incredible. Our favorite is the Cellar Smash, which is basically an alcoholic ginger slushie. You can hear the bartenders smashing the ginger for the drink, and doing all kinds of old-school cocktail mixology voodoo. Tip: sit at the bar and get the insider scoop on what's going in those drinks. Magic. If this were a libations-only blog, The Cellar gets a 5.
Atmosphere: The feel is as speakeasy-esque as we've seen in Charlotte--that is, until we open our own speakeasy. You've got mood lighting, classy wood accents, and a quiet yet electric atmosphere. Very Gatsby.
Southern Hospitality: We have had service that runs the gamut from staid and old-school charm to borderline surly. Again, roulette. The server who tried to take a 3/4 finished Cellar Smash almost lost an arm.
Frankie's Notes: Our speakeasy will be accessed from an underground tunnel; Venti Jason is going to open a school for gifted Octopi; Never (never) take a plate or a drink without asking if the eater is finished, if you value your appendages; "First, you take the mallow..."; Are there unicorn tears in a Cellar Smash? We are asking for a friend.
Ranking: 2 out of 5
Et Cetera:
330 N. Tryon St.
Charlotte, NC 28202
Sunday-Wednesday: 5pm-12am
Thursday-Saturday: 5pm-2am