Background:
Oh, littleSpoon. You let us down time and time again, yet we keep coming back for more. Back in the early days of littleSpoon's Myers Park tenure, the food was inventive, fun, and—most importantly—delicious. It even made our Best Restaurants list back in the summer of 2016. Lately, however, it's been a different story.
The food is often inconsistent, and the service disappoints a majority of the time (that's been true from day one, unfortunately). But when littleSpoon's food shines, it really shines. The house-cured pork belly slab bacon will make you close your eyes in non-Kosher ecstasy. I regularly crave their steel cut oat porridge with coconut milk. But then their turkey sandwich is dry, or their avocado toast lacks any seasoning or flavor. Ordering has become a game of Russian Roulette, but we keep coming back for their moments of greatness and the hipster "Are we in Charlotte?" ambiance.
In April of this year, littleSpoon made room to merge with its little sister, Comida (check out our review of Comida in its original location here). Since Comida's move, I think I have heard even less about it than I did when it was in Plaza Midwood. Maybe it's doing well and flying under the radar? That''s another review for another time, however. The main change for littleSpoon in housing Comida is that the bar area changed to a different side of the restaurant, and they added some faux-grass flare.
Below is a collection of dishes we have tried over our many, many visits over the years. Seriously, the meals below span 2014-2018: we go often, to say the least. Note that many of the dishes pictured were daily specials, or feature items that are no longer on the menu. On that note, we certainly give littleSpoon kudos for regularly switching up their menu offerings. This post is essentially our ask is for littleSpoon to be its best self most of the time, so we can go back to loving it and having our go-to, hip brunch spot back again
Eat This: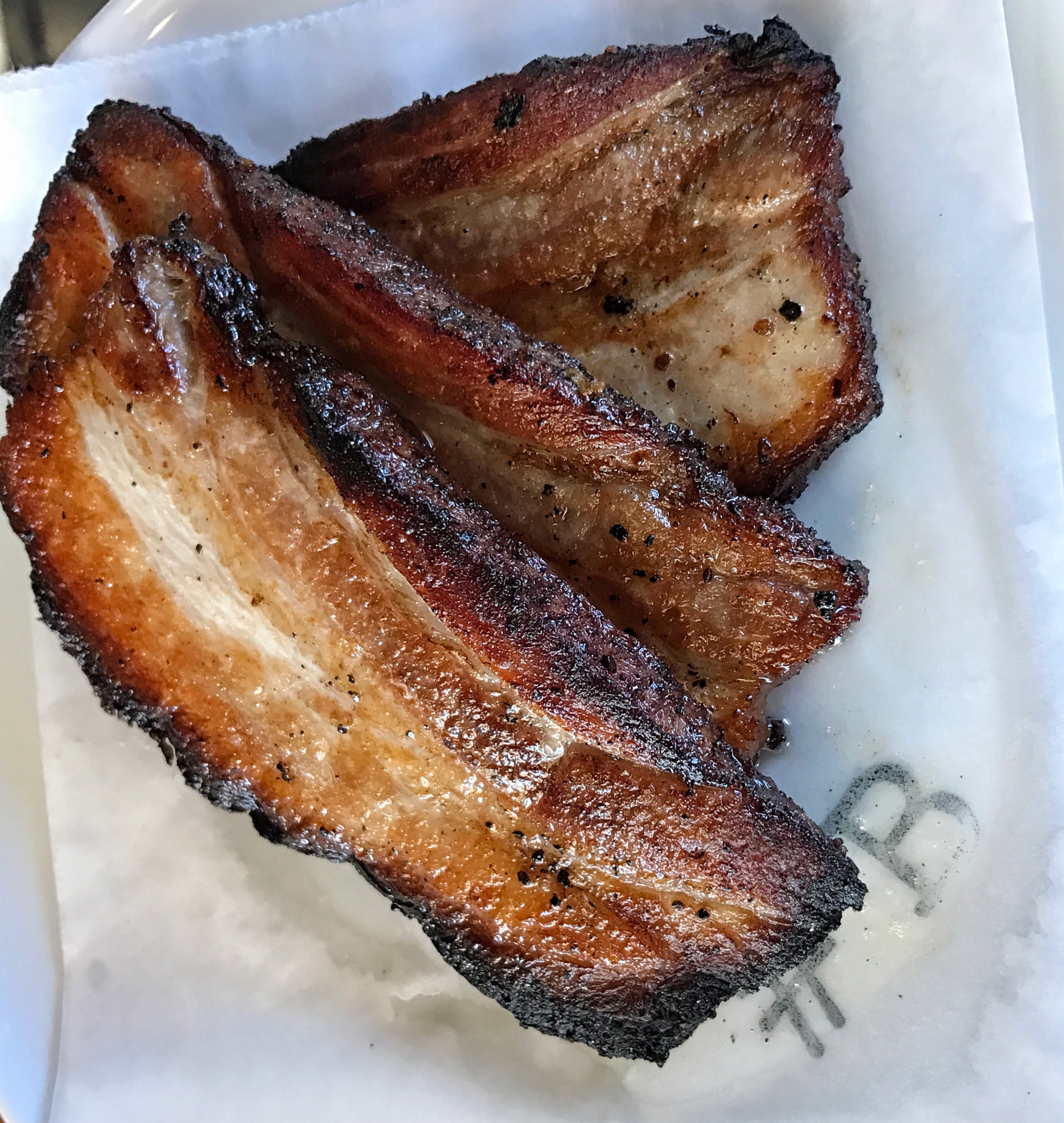 House-cured, Carolina Heritage Farms pork belly
This right here is a huge reason why we keep coming back to littleSpoon. It's flavorful and perfectly-textured, and it makes you wish all bacon was pork belly bacon.
Radish, goat cheese, edible flowers
One of my all-time favorites from their late spring/early summer menu in 2015. I wish I could recreate this as well at home, and I've tried. Didn't come close.
Sourdough Toast, charred avocado, radish, grapefruit, jalapeño, micro green salad
As beautiful as this was, it tasted like nothing. I didn't get any of the grapefruit or spice. The bread was not toasted enough, and the whole experience was bland and mushy. It's not easy to screw up avocado toast, but it's apparently possible.
LS biscuits, crispy fried chicken, house pickles, garlic aioli
This is a classic, and I would imagine it's among their most popular menu items. Not terribly offensive, but the biscuits are often dry.
Grilled Cheese & Tomato Soup
A special from May 2017. The grilled cheese was good, but the tomato soup lacked seasoning. Are you seeing a pattern?
With duck egg
Also on the menu in May 2017, and I wish it had stuck around. A good one.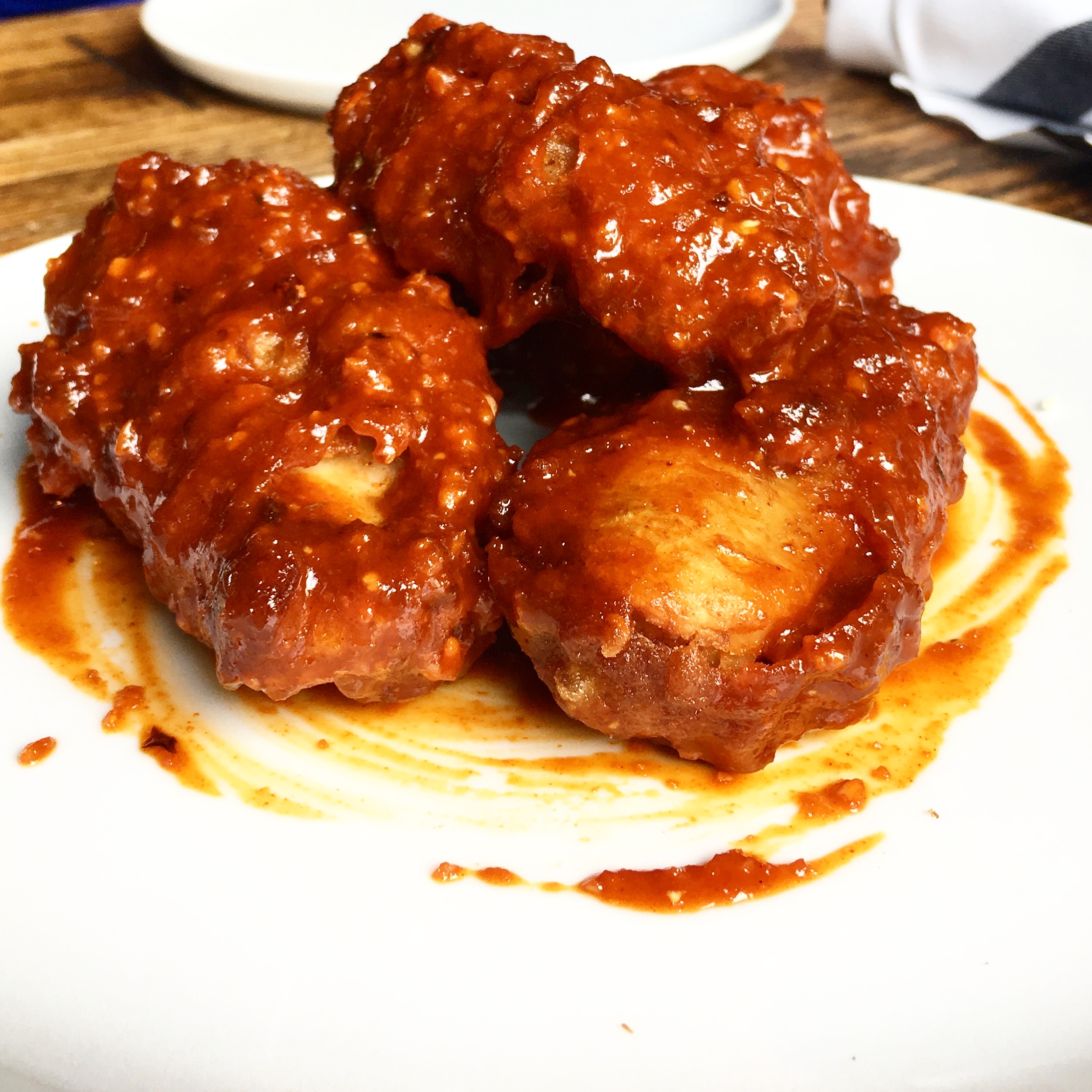 With Gochujang sauce
These wings were excellent. We wish these were back on the menu, too.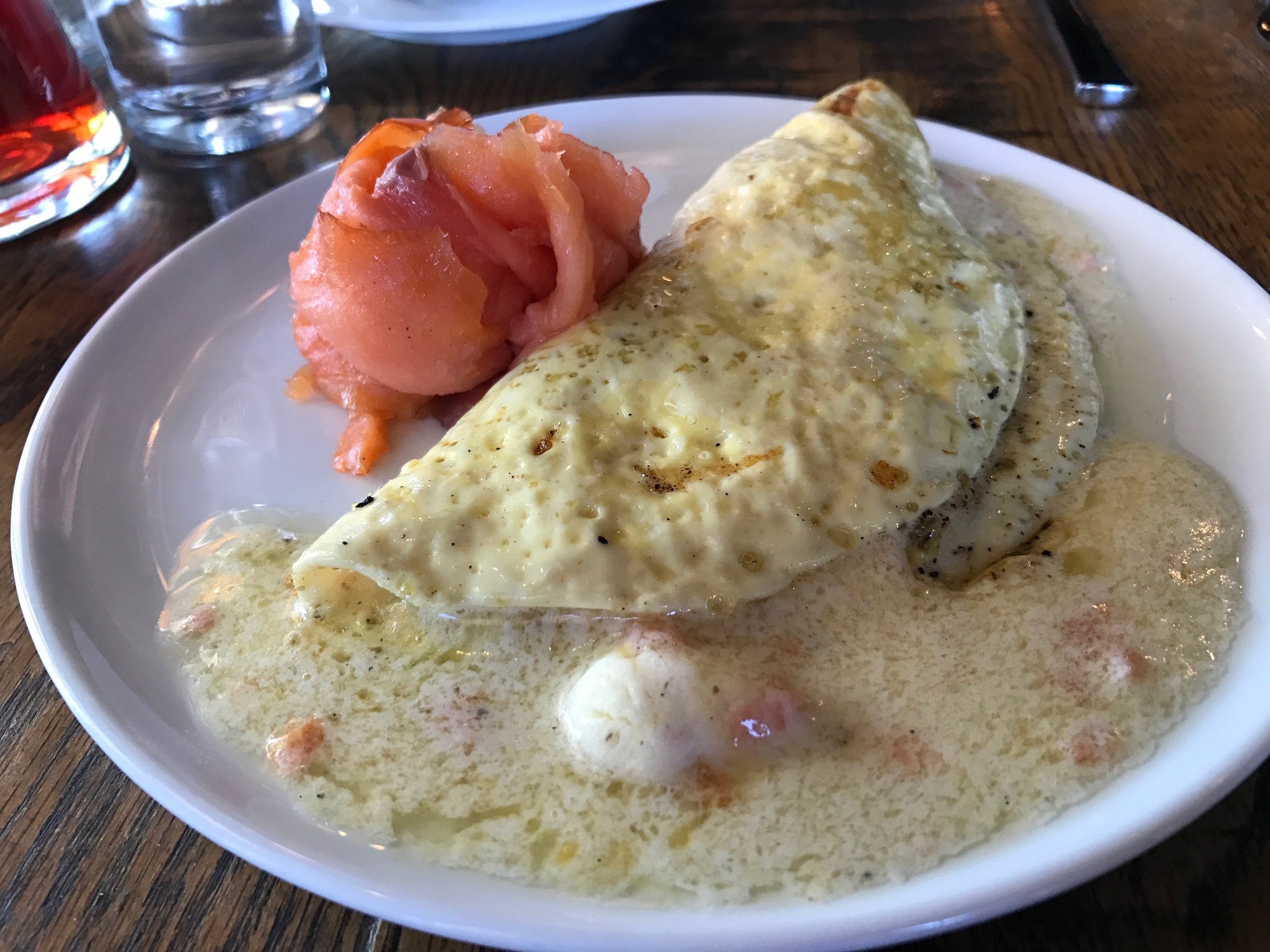 With lox
Omelettes are not ever a favorite of ours at littleSpoon. They typically lack salt and pepper, though they are cooked beautifully—light and fluffy. What a shame, because typically cooking an omelette properly is the hardest part, and they've got that down.
brioche, LS roasted turkey breast, tomato & Bibb lettuce, garlic aioli
Ah, there's that dry turkey sandwich from the introduction. It's a shame, because the individual ingredients are spot on. They just need to cook the turkey differently and slice it more thinly.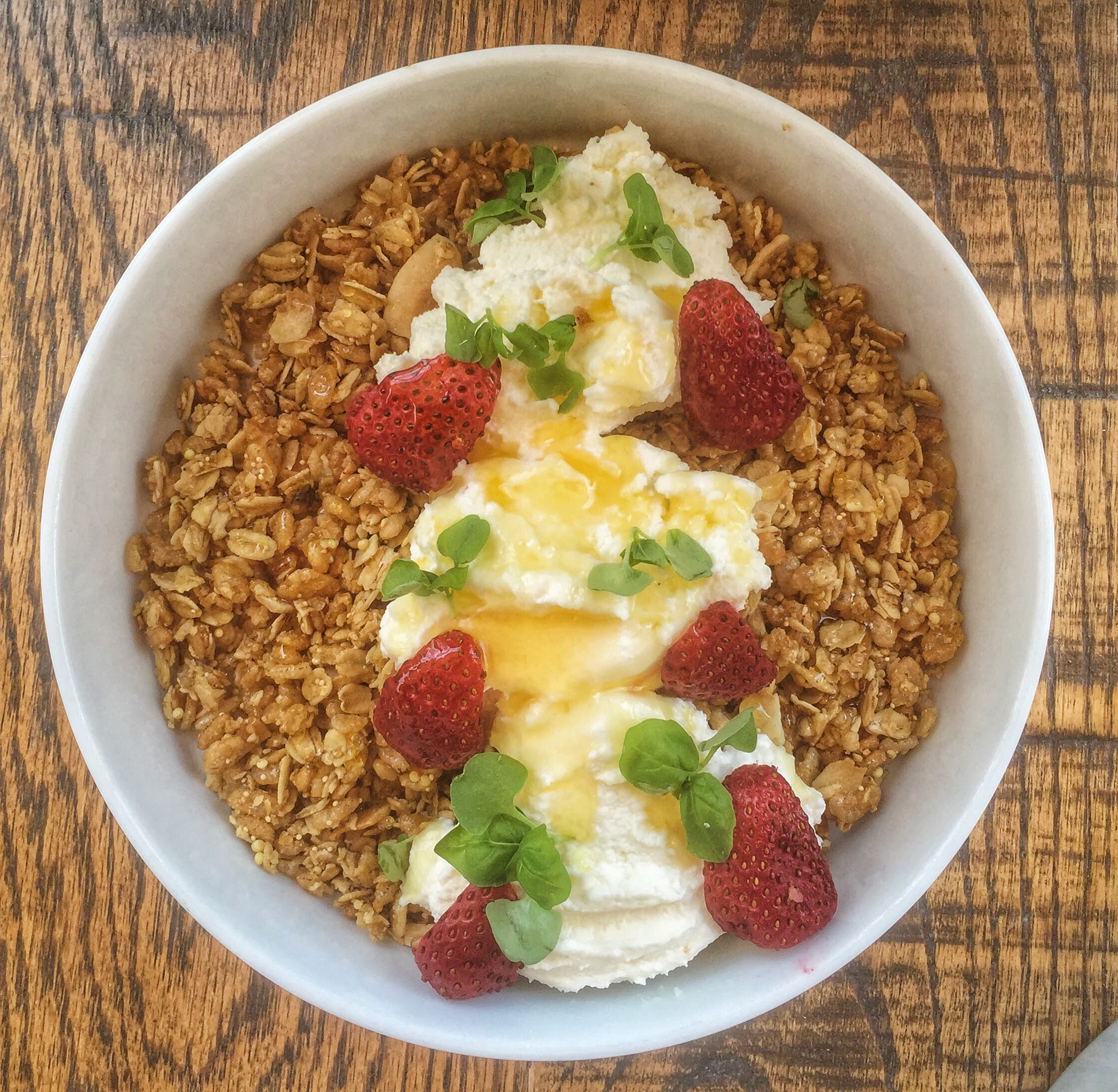 Yogurt, honey, strawberries
Nothing to not like about this classic combo. A special from May 2016.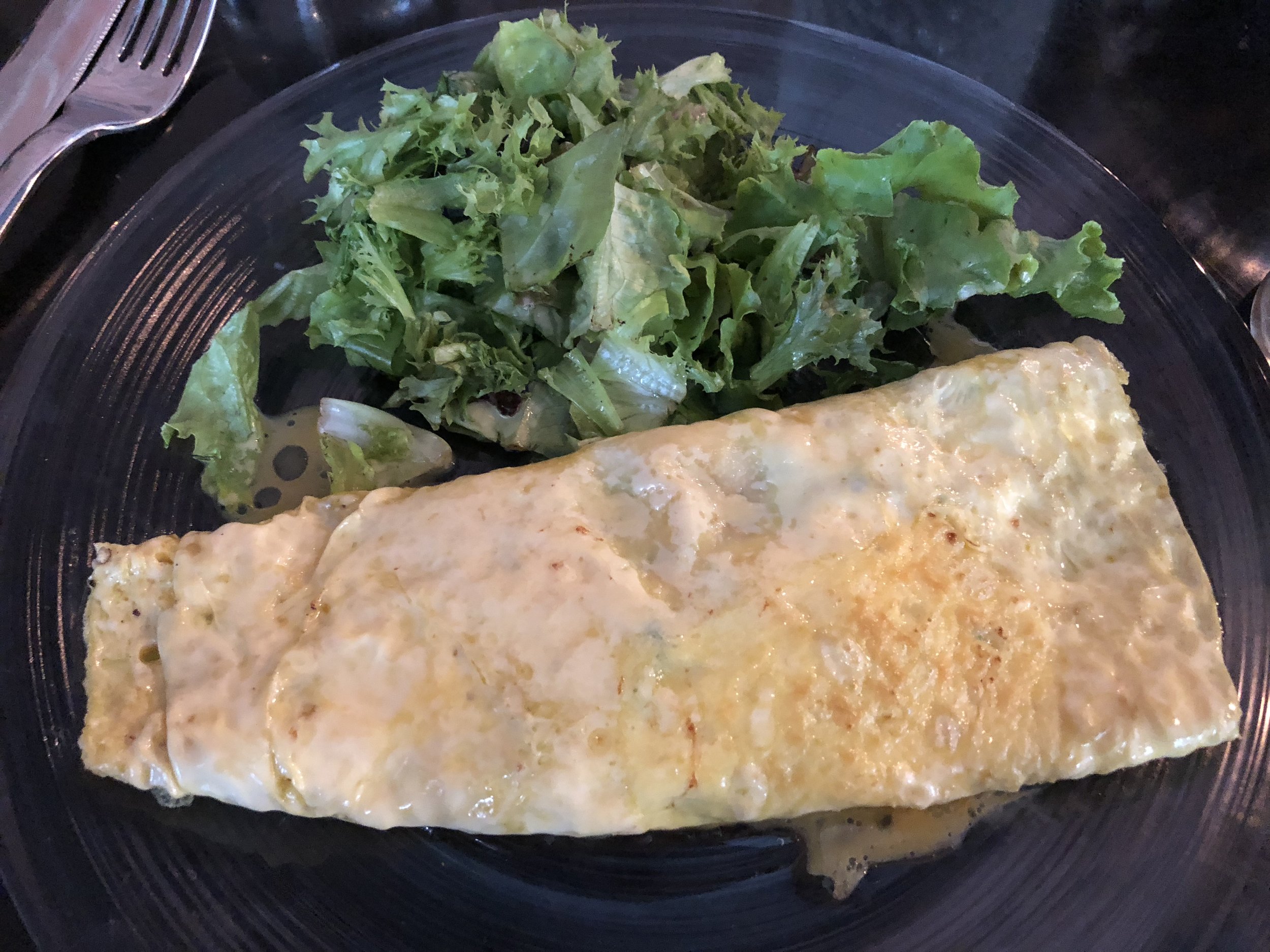 With greens
See our comments above re: littleSpoon's omelette game. :/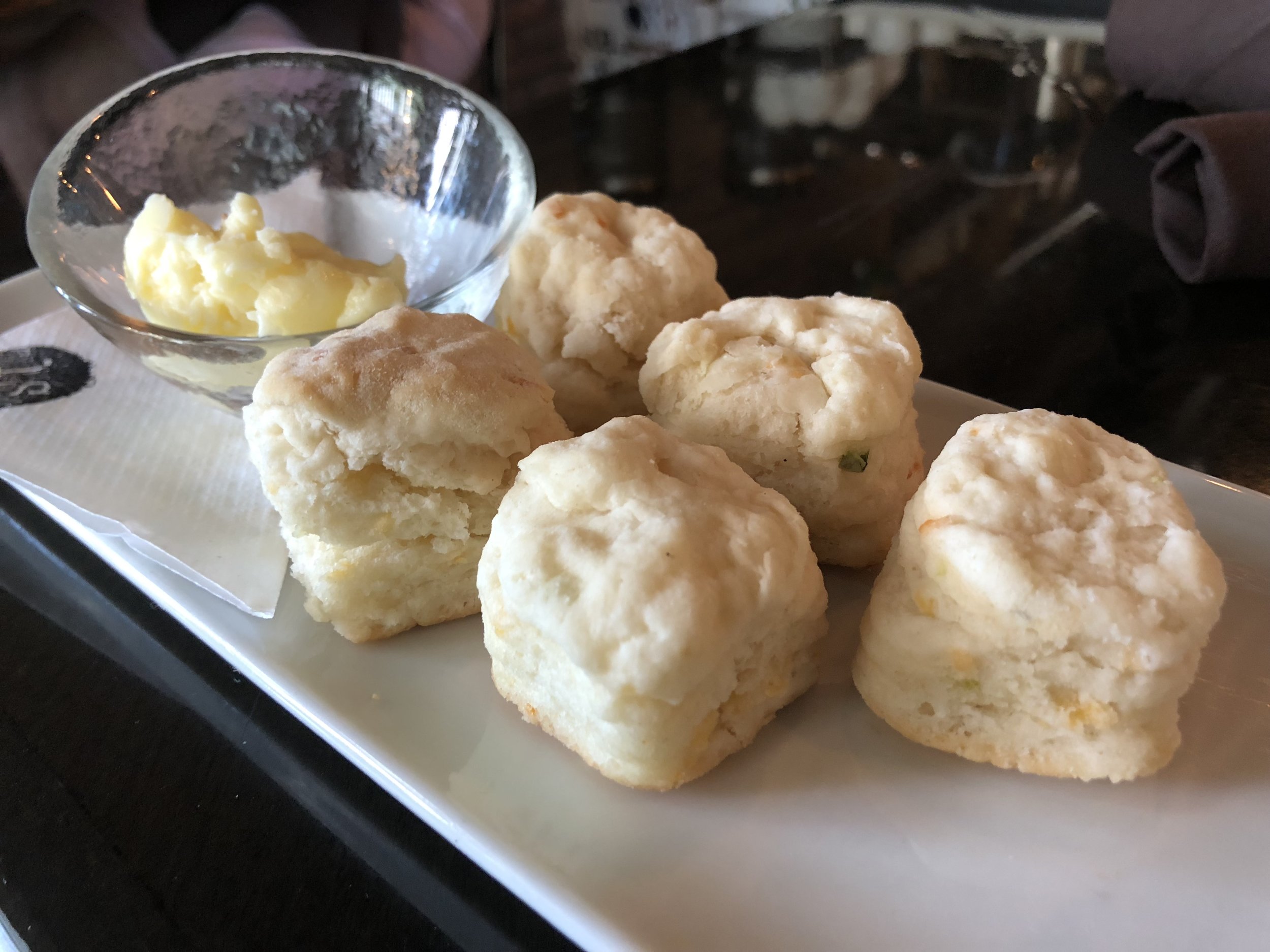 Mini Cheddar jalapeño biscuits
With bacon fat butter
These were one of our biggest disappointments. The biscuits did not taste at all of cheddar or jalapeños, and they could have functioned as stand-in pucks at a Checkers' game. Sadness, especially when there is bacon fat butter involved.
Sourdough, whipped goat cheese, egg whites, local greens, salsa verde
I love this dish, and it has been on their menu from the beginning. I only wish you could substitute for whole eggs, but the egg white is a pre-baked frittata. I should get this more often, as it's consistent.
Fried brussels sprouts, gochujang vinaigrette
Another solid staple. We've never been let down by these bad boys.
Bacon, egg, and cheese
It's good, but a hashtag in the name doesn't make it anything special. Your average bacon, egg, and cheese, that you could get cheaper and better at Laurel Market, or another breakfast spot.
With au jus
Another special from May 2016. Just okay.
Puffed rice, LS kimchi, pickled mushrooms, sesame wilted Mizuna, poached egg
We were so excited to see this on the menu last April, and it just didn't work for us. The crispy rice was a few notches too crispy, and the flavors were very one note, and didn't meld well together. This one could have been awesome, and we hope they have since perfected it, as it's still on the menu.
Dessert:
littleSpoon has some nice "breakfast dessert" options, like 8-minute s'mores cookies, scones, and the aforementioned cinnamon toast brûlée.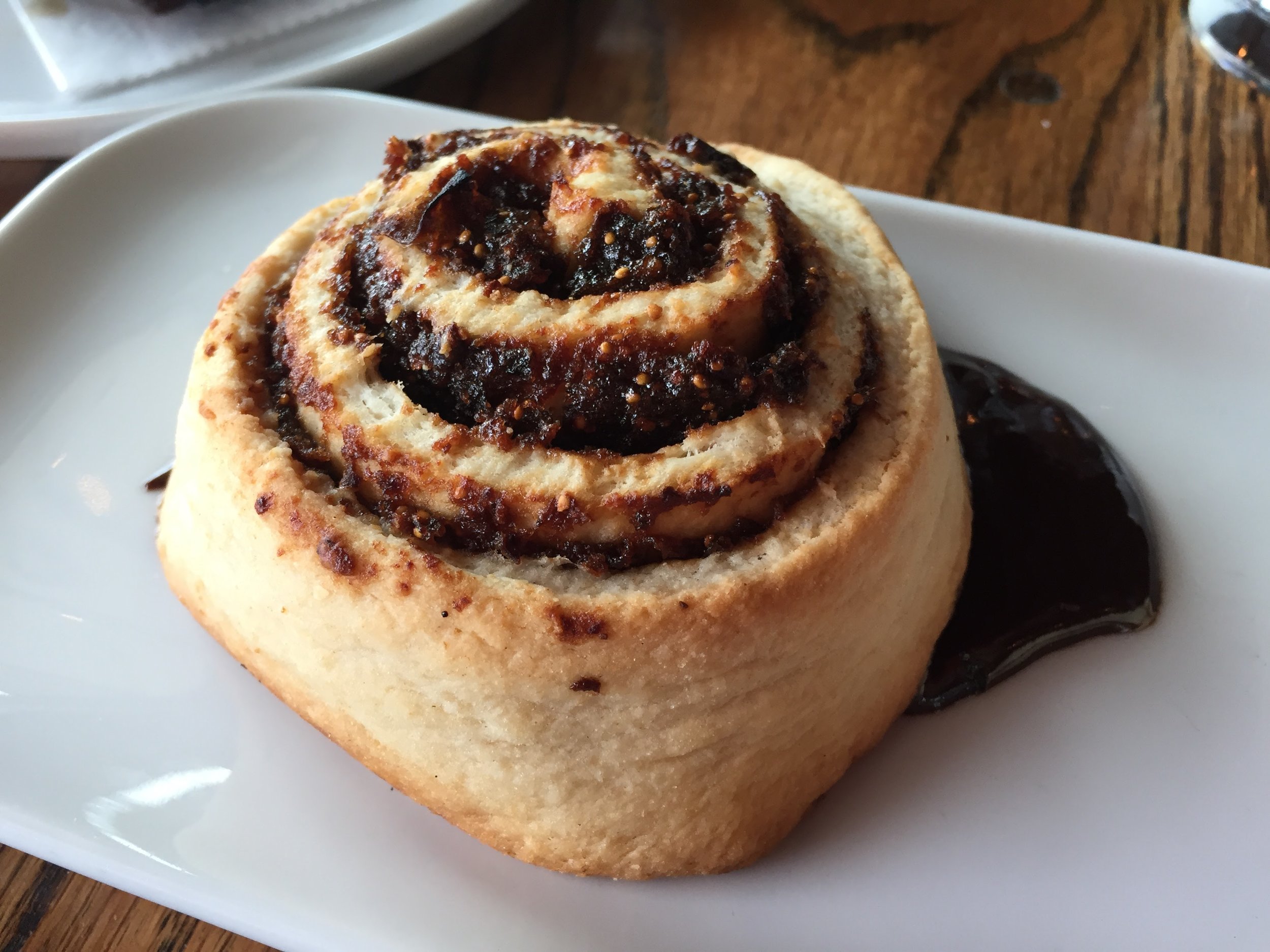 This one from January 2016 is not sticking out in my memory, but it looks pretty good in this picture, eh? We'll give it a pass.
An oft-featured special, years ago. Haven't seen it on the menu much lately. We always enjoyed these, in every flavor. Can't remember what was in this one…wish I could teleport back and take a bite.
Drink:
littleSpoon is known for their giant, handle-less coffee mugs (essentially bowls). Their coffee is Pure Intentions, and I never have any complaints about it. They also offer freshly-squeezed orange, apple, and grapefruit juice, and the full bar can be enjoyed day and night.
Coffee in any form at littleSpoon is always great. Two thumbs up.
In a classic littleSpoon mug. Delicious and comforting.
Atmosphere:
The rap music is fun, but considering the inconsistency of the food, it makes you wonder if littleSpoon relies on the ambiance to cover up their rough patches. The decor itself is decidedly fine, nothing standout. Except for the tile at their new bar—we are not sure what's going on there. It is white and orange with text, but all of the text is cut off so you can't tell what it says. If you know whether that tile has some special meaning, please let us know.
littleHospitality:
We mentioned it earlier, but it bears repeating: littleSpoon's service is a real disappointment. Even when the servers are attentive, which they often are, they always serve up major attitude to accompany those giant coffee cups, and it makes us sad. The waitstaff basically makes you feel as though your presence is an imposition. Seriously, when we leave here, we often laugh that we keep coming back in the face of such disinterested service—it's like being unable to quit an abusive boyfriend.
This is us leaving, filled with pork belly and confusion: "Why do we keep coming back here!?" Never again!"
This is us two months later, when the pain has worn off: "Let's go to brunch at littleSpoon! I want bacon and brûléed cinnamon toast."
Frankie's Notes:
What is it about Biggie and Tupac that lulls us into a stupor and makes us forget dismissive service?; littleSpoon's bigCoffee cups are one of the top five best things about the restaurant; Is there an Illuminati message hidden in the orange bar tile?; Pork belly makes us have amnesia; Taking your parents here is always a wide-eyed adventure, and they will definitely question the lack of handles on the coffee cups and the music; Why can't we quit you, littleSpoon?
Rating: 2 out of 5