Background:
Bulla is a small, Florida-based chain that specializes in tapas. From the original Coral Gables location, Bulla now has eight restaurants, including one in Charlotte. We have visited this South Park eatery several times over the past six months since their opening, and we wanted to share our thoughts with you, dear readers. First, and most importantly, perhaps, Bulla is pronounced "boo-ya" and not "bull-ah," so now you won't have to feel silly when you are chatting about the Charlotte restaurant scene with your coworkers. Although Bulla is a chain, it's still small enough that there is a level of integrity to their food and service that you don't see at larger chains, and we hope it stays that way.
Eat This:
Bulla is strongest on their tapas and starters. We have yet to be as impressed by the larger dishes. Read on for the details.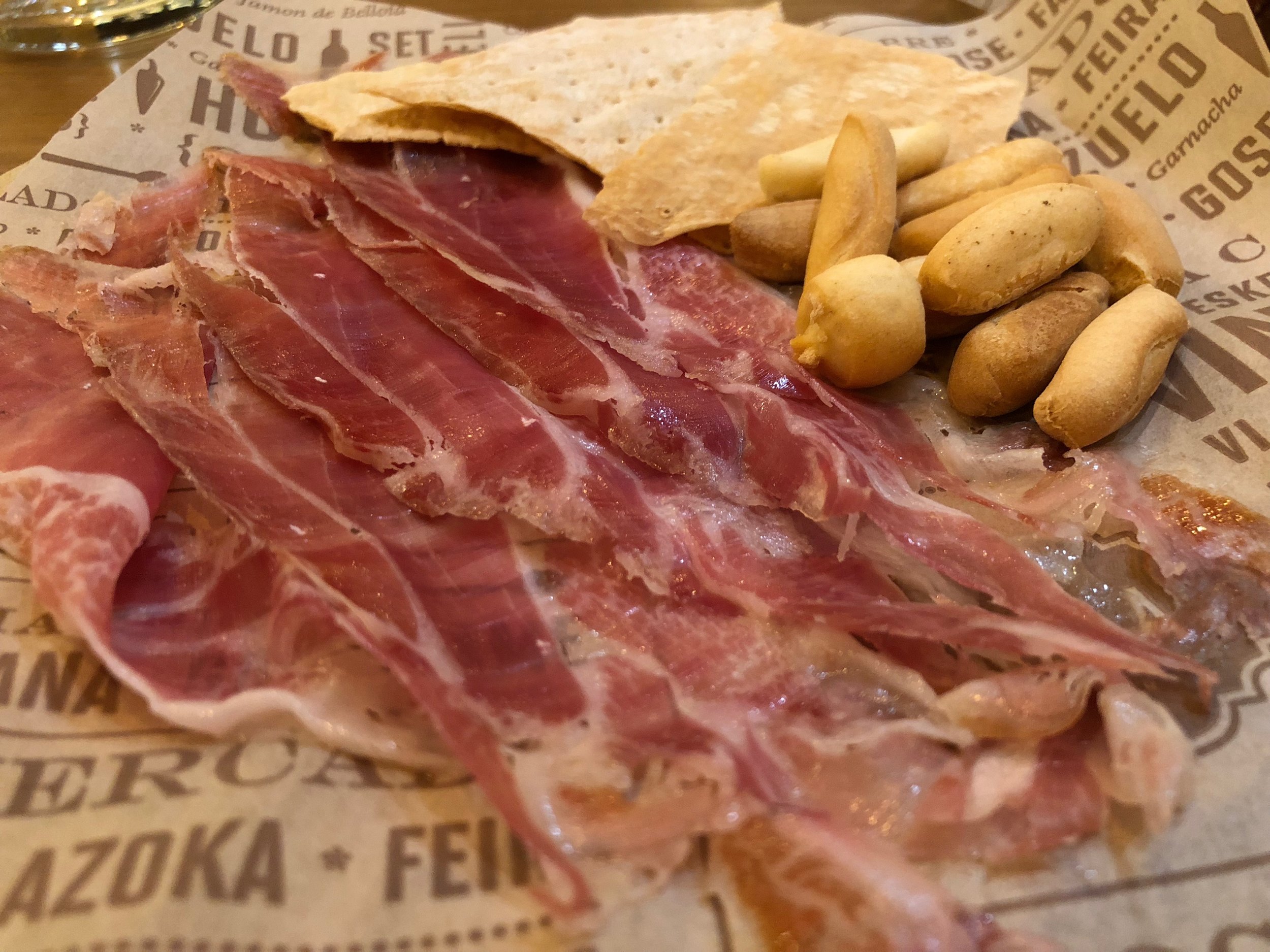 Acorn fed pure Iberian ham, Manchego, assorted crackers, caramelized walnuts
We thought the accouterments served with the charcuterie was a little lame. While the selection of meats and cheeses is strong, the bread could have been better, and we like a little dried fruit/honey. Skip, unless you have to taste that sweet, sweet Iberian ham––which we totally get.
Serrano ham, fig jelly
Order these. Two pug thumbs up.
Crispy potato cubes, spicy brava sauce, aioli
Basic, but delicious.
Veal and pork meatballs, Manchego, tomate frito
Pretty good, though not mind-blowing. We probably wouldn't get these again.
Eggs, homemade potato chips, Serrano ham, potato foam, truffle oil
The best thing on the menu. We come here basically just for this. Worth it. They bring this dish out in a cast iron pan with everything layered, and then they mix it all up tableside. Fun and super, super tasty.
Grilled octopus, roma tomatoes, cucumber
One of my personal favorites. Very fresh, and lots of different textures that play together nicely.
Brisket, tomato marmalade, guindilla, tetilla cheese
Super delicious little bites. We would order these again.
PAN DE CRISTAL CON TOMATE
Toasted crispy ethereal bread brushed with fresh tomato
I had high hopes for this, but it didn't quite live up to the flavor I envisioned.
Spanish paprika rub, Mahón cheese grits, sautéed vegetables, whipped serrano butter
The entrees at Bulla are just not as impressive as the small plates. Take this steak––overcooked and blah.
Roasted red pepper, jalapeños, carrots
This was a dish from their summer menu, and you should be glad it's gone––at least the version we had. The salmon was not fresh, to the point that I wouldn't eat more than the first bite for fear of getting ill. We sent this one back. Our server was very understanding, and we didn't let this one mishap sour us on Bulla as a whole. These things happen. We felt that this dish would have been good with fresh fish. However, anything less than fresh raw fish is muy mal.
Dessert:
Bulla's dessert menu is perhaps their best work, so definitely don't skip it.
Caramelized brioche, turrón ice cream, honey
Turron is made with honey, eggs, and almonds, and Scallionpancake loves almonds. We get the torrija every time, and this and the Huevos Bulla, are more than worth our while. ORDER THIS!
Three layer chocolate genoise, vanilla ice cream, olive oil, Maldon salt
Smeh. Get the torrija instead.
Drink:
Bulla pushes their red, white, and rosé sangrias heavily. You can get the red version without Sprite added, so it's less sweet and more wine-forward, which we appreciate. The margarita wasn't strong and was far too sweet. Pass.
SANGRÍA & SPANISH MARGARITA
Red wine, brandy, triple sec, sprite, chopped orange
Jimador Reposado, Grand Marnier, Lustau Amontillado sherry, lime juice, agave nectar
Atmosphere:
The atmosphere is lively, the acoustics are not great (read: it's loud), and the decor is richly colored with deep blues and dark wood paneling throughout. The kitchen is partially open, so from some seats you can get a glimpse of the culinary action.
BOOYA Hospitality:
On our visits, we have had great service. If there has been a mistake (like with the above ceviche dish), it has been quickly and politely resolved. However, some friends of ours experienced horrible service, so your mileage may vary.
Frankie's Notes:
Frankie's best work is also his dessert; Whatcha gonna whatcha gonna do with that DESSERT; Frankie wrote that song; You should probably keep mispronouncing Bulla like we did on our podcast for the first few weeks, because that's super entertaining for everyone; Everyone should get a chance to ride a cowfish at least once in their lives, and we are lucky enough here in Charlotte to live that dream as often as our hearts desire; Ceviche with bad fish is like a bank holiday where you still have to go to work; BOOYA, bishes.
Bulla has a few standout dishes that keep us coming back for more, but a few items still need work. A fun date night atmosphere helps push Bulla Charlotte to a:
Rating: 3 out of 5