Background:
Most of us in Charlotte know Chef Alyssa for her popular cooking classes, which used to be held in Atherton Mill. Last year, Chef Alyssa and her co-owner and husband Andrew Wilen moved to Bowers Mill on Yancey Road, near Olde Mecklenburg Brewery. Chef Alyssa's cooking classes are wildly popular and often sell out, and the catering and prepared meal side of their business has also been very well received by Charlotteans. Taking all of these successes into account, opening a restaurant was the next logical step for this dynamic foodie duo.
Last Saturday, Chef Alyssa's Kitchen opened to the public for brunch from 10 a.m. until 3 p.m., and we got to come out the weekend before to get a sneak peek at the menu and try a few things.
Eat This: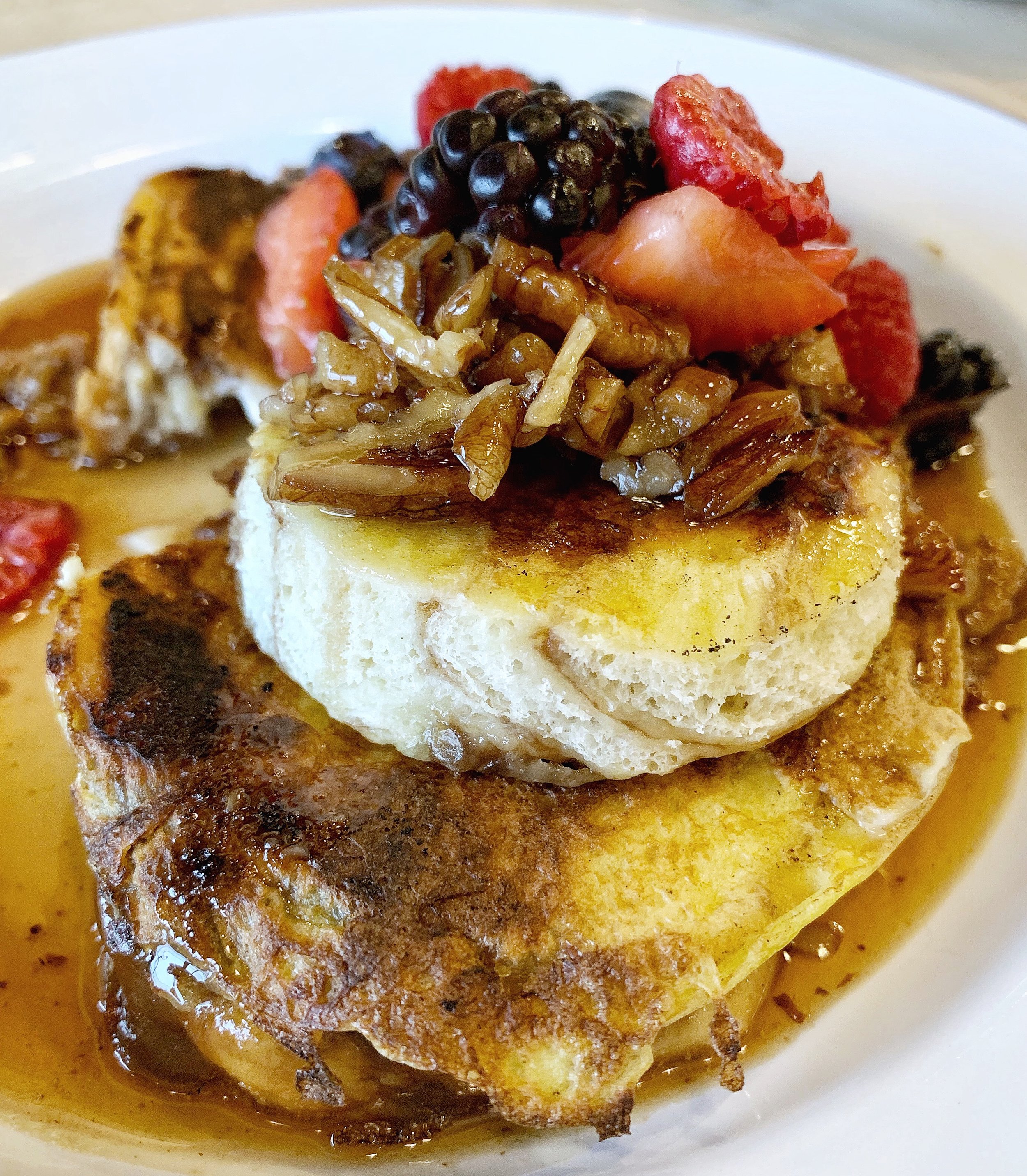 Cinnamon Babka French Toast stuffed with an over-easy egg, topped with berries and pecan maple syrup
Chef Alyssa is our Jewish soul sister, and she and Jason went to the same temple growing up! So, this babka French toast is a nod to one of the best Jewish culinary creations there is. If you've never had babka, you're missing out. And babka a la French toast is a great way to enjoy this classic.
Fluffy pancakes filled with house bacon and scrambled eggs with spiced maple syrup to dip
Pancake. Tacos. Is there anything else to say?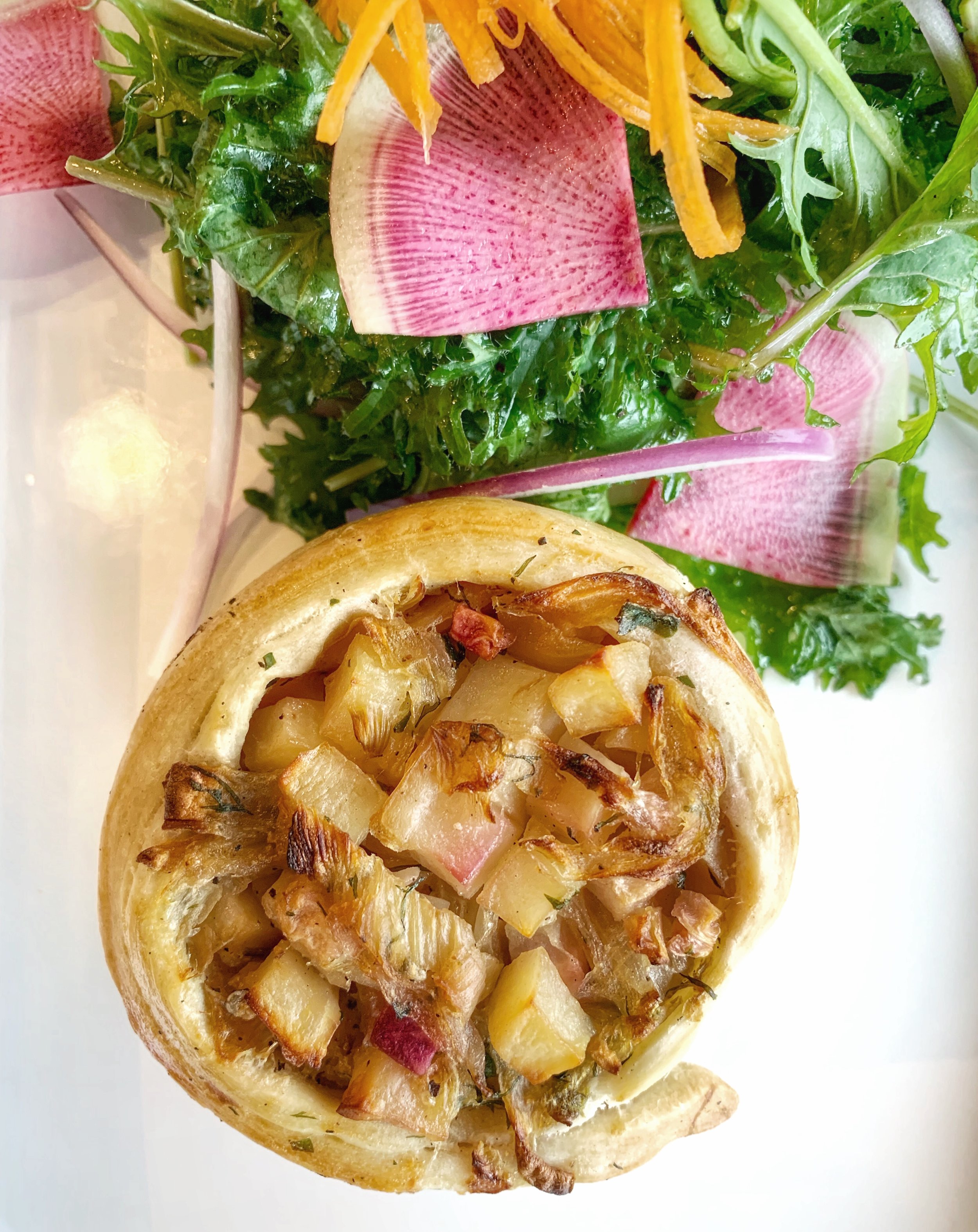 Root vegetables, fennel, and potato wrapped in soft crust, served with a side salad
Ah! More Jew food! A knish is basically a dough ball filled with meat, potatoes, sauerkraut, cheese, or, in this case, vegetables!
Mixed potatoes, over-easy egg, adobo chicken or tempeh sausage, spicy cream, avocado
Put an egg on it + put an avocado on it = winning.
Mixed potatoes, brussels sprout and apple hash, house bacon or tempeh sausage, fried egg
Have you ever seen a fried egg so perfect?
Eggs your way... but Ron would have them scrambled... bacon and toast
A legend and a classic walk into a bar…
Andrew's Breakfast Sandwich
House English muffin, omelet with Ashe county sharp cheddar and choice of house bacon, sausage, or tempeh sausage
House-made English muffins are the stuff of life.
Scrambled eggs, local chorizo or tempeh sausage, Ashe county sharp cheddar, potatoes, peppers and onions, tomato jam
Jason will be getting this on the reg.
Stone Cut Oats, Buckwheat and Rice Grits
Finished with your choice of sweet or savory toppings. Shown here with the sweet version: almond butter, maple glazed local fruit, coconut cream, cinnamon crumble
All the toppings! We'd like to try the savory version next, which comes with sautéed local maitake and oyster mushrooms, kale, sesame, chili oil, fried egg
No photo of this because we ate it so fast. But isn't Papa Jason cute with his pug sons on Hanukkah?
There is also a fruit and yogurt parfait and an apple crisp on the menu, too!
Atmosphere:
Chef Alyssa's Kitchen is a large space, because it has to accommodate her cooking classes. The vibe is casual, and you order at the counter.
Jewish Soul Sister Hospitality:
Chef Alyssa and Andrew are total mensches, and it's no wonder they've had such success considering their hard work and friendliness. You won't be disappointed with any service you get from Chef Alyssa, whether it's a class, prepared meal, or a lovely Saturday brunch.
Frankie's Notes:
Brunching is to millennials what Netflix is to a snow day; We don't take cooking classes because we are more eaters than chefs, but we would make an exception for a Chef Alyssa class; The pugs love Hanukkah because they get eight nights of peanut butter biscuits; Ron Swanson can teach us all a lot about life and brunch; sometimes we fail at food blogging when it's too delicious and we can't wait to take a picture before diving in.
Disclaimer: This meal was provided free of charge in exchange for an honest and unbiased review. All opinions are our own, and we were not compensated for this review.