Background:
Chef/Owner Edouardo Jordan opened JuneBaby in April 2017 in the Ravenna neighborhood of Seattle. This is Jordan's second restaurant in Seattle, his first is the slightly more upscale Salare. Last month, he opened his third restaurant, Lucinda Grain Bar.
Chef Jordan grew up poor in St. Petersburg, Florida, where he sold anything to make additional money, including pickles and what he calls "flips" – homemade popsicles. This is where he started developing his passion for cooking. Before opening his restaurants in Seattle, Jordan worked at Per Se and Lincoln in NYC, French Laundry in Yountville, CA, and Bar Sajor and Sitka & Spruce in Seattle. With JuneBaby, Jordan wants to tell the story of his Southern upbringing and introduce the Great Pacific Northwest to southern food, a trend that seems to be sweeping the great US of A.
Jordan & JuneBaby have won numerous awards, including two James Beard awards in 2018 for Best New Restaurant and Best Chef in the Northwest.
The day after JuneBaby took home the award for best new restaurant, the lines started stretching around the block. The lines have died down for a bit now, but prepare to wait a bit in order to experience the best southern food west of Texas.
Eat This: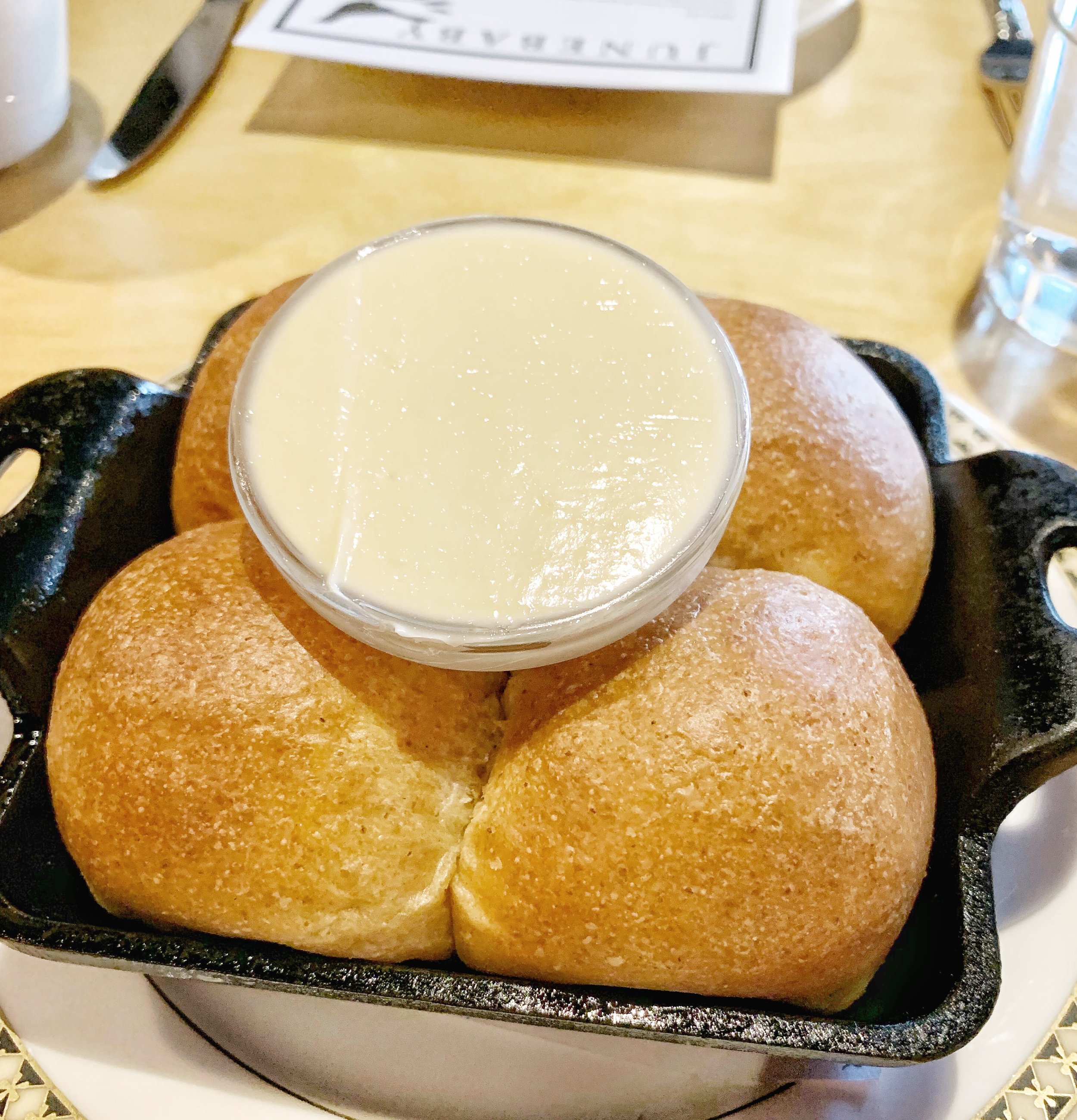 With honey butter
These buns and the butter were hands down my favorite part of the meal – partially because bread is my love language, but also because a good, southern yeast roll like this is something I haven't had outside of Kentucky. Heck yes. I kept that butter with me throughout the meal and eventually finished it off with a spoon. It would be a crime to waste butter that good.
With pecan butter & BBQ spice
These were also just incredible. The sweetness of the pecan butter and the spice on the cracklins was just next level. I've been on a cracklin kick, and these were second to none.
With pickles & homemade Saltine crackers
You had me at Saltine. As Jason knows, my death-row meal is just three sleeves of Saltines. I love them so much I don't even buy them. But this homemade sheet of Saltine? Dear god. It was so buttery and rich, and the pimento cheese was super smooth. Also, I've never had pickled potatoes, which were served on the side with other pickled goodies, like okra.
NAshville Hot CHicken Gizzards
With bread & butter pickles & white BBQ sauce
These were Jason's favorite. He had tried gizzards before, but I never had. They were so chewy and umami-forward. Honestly, my mouth is watering just thinking about these. Jordan is great with sauce – the hot sauce, the white BBQ, the different bottled varieties on the table that you could add to all of it – whew. The man knows a good sauce, and I love that about him.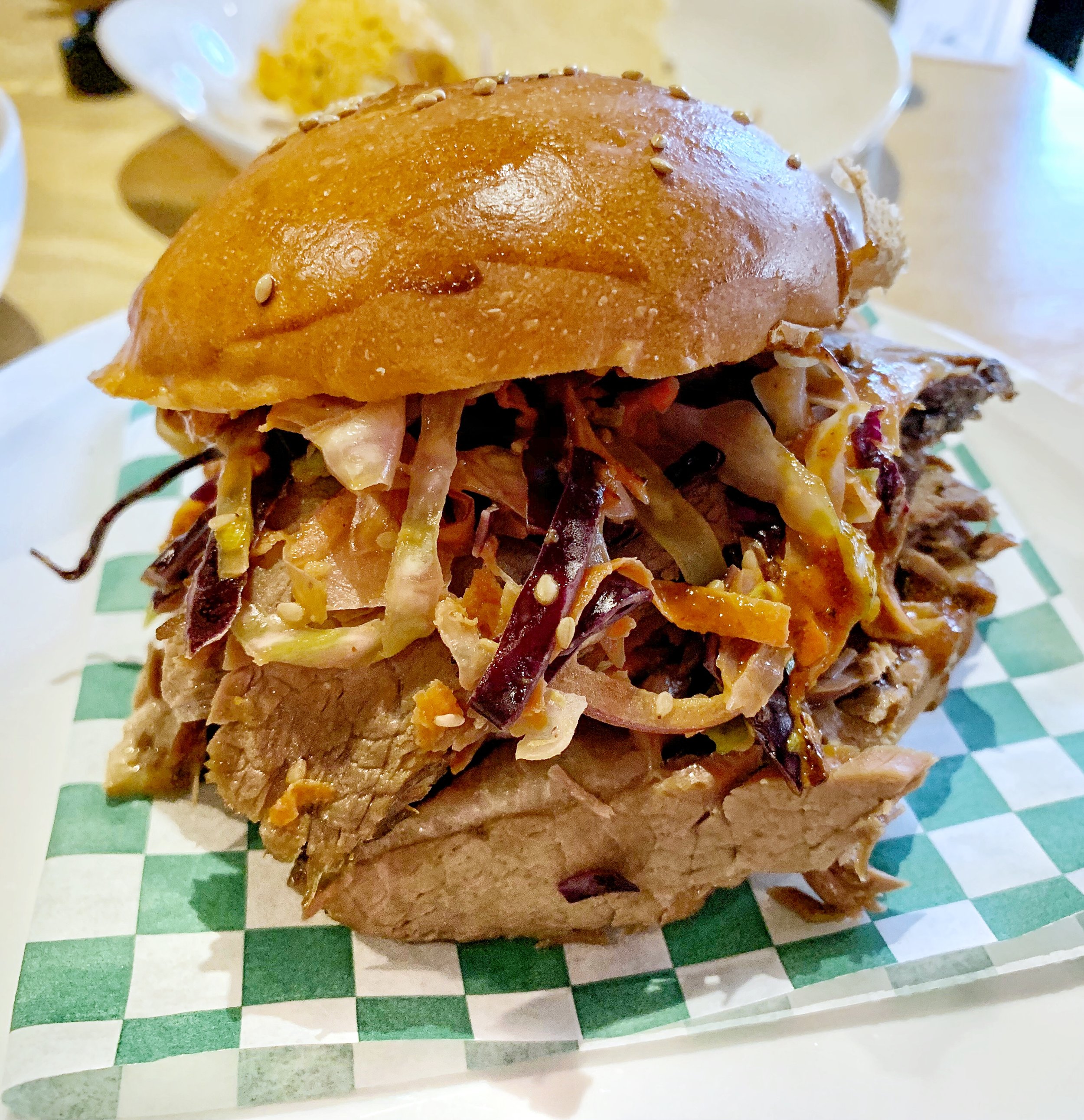 With coleslaw & house BBQ sauce
This was Jason's, because I basically ate everything pictured above. Jason liked the sandwich, but he didn't love it. He said he's had better brisket in the south. He found it lacking in flavor and texture.
With vanilla bourbon and lemon curd
This cake was very well done, though lemon isn't my favorite. I would love to try some of Jordan's other desserts.
Drinks:
They have a full bar, local beers, wine, and, of course, sweet tea. They also offer lemonade and an Arnold Palmer – so Southern! Jason had (gasp) unsweet tea, and I stuck with coffee. But I'd love to come back for dinner and get a cocktail.
Atmosphere:
JuneBaby is intimate – it probably seats about 50-60. The colors are warm, and I felt very comfortable and cozy.
Seattle Southern Hospitality:
Our main server was great, and since they did team serving, we can safely say that all of the servers were very nice. We were asked if we wanted a Bloody Mary or mimosa within moments of sitting down, and he gave us space while we took our sweet time figuring out what to order and took tons of photos.
Frankie's Notes:
Eating Southern food in Seattle is a strange and confusing experience; if you read about what a gizzard is, it might take away from how delicious they are – so no Googling if you're squeamish; I think lemon should only be in potpourri and salad dressings and stay out of my desserts; You should have seen my face when our waiter tried to take my butter when there was a microscopic amount left in the ramekin; We walked five miles to get to JuneBaby, which is maybe top five farthest distances we've walked to get brunch, which is why I had to eat all of that butter.
Rating: 4 out of 5