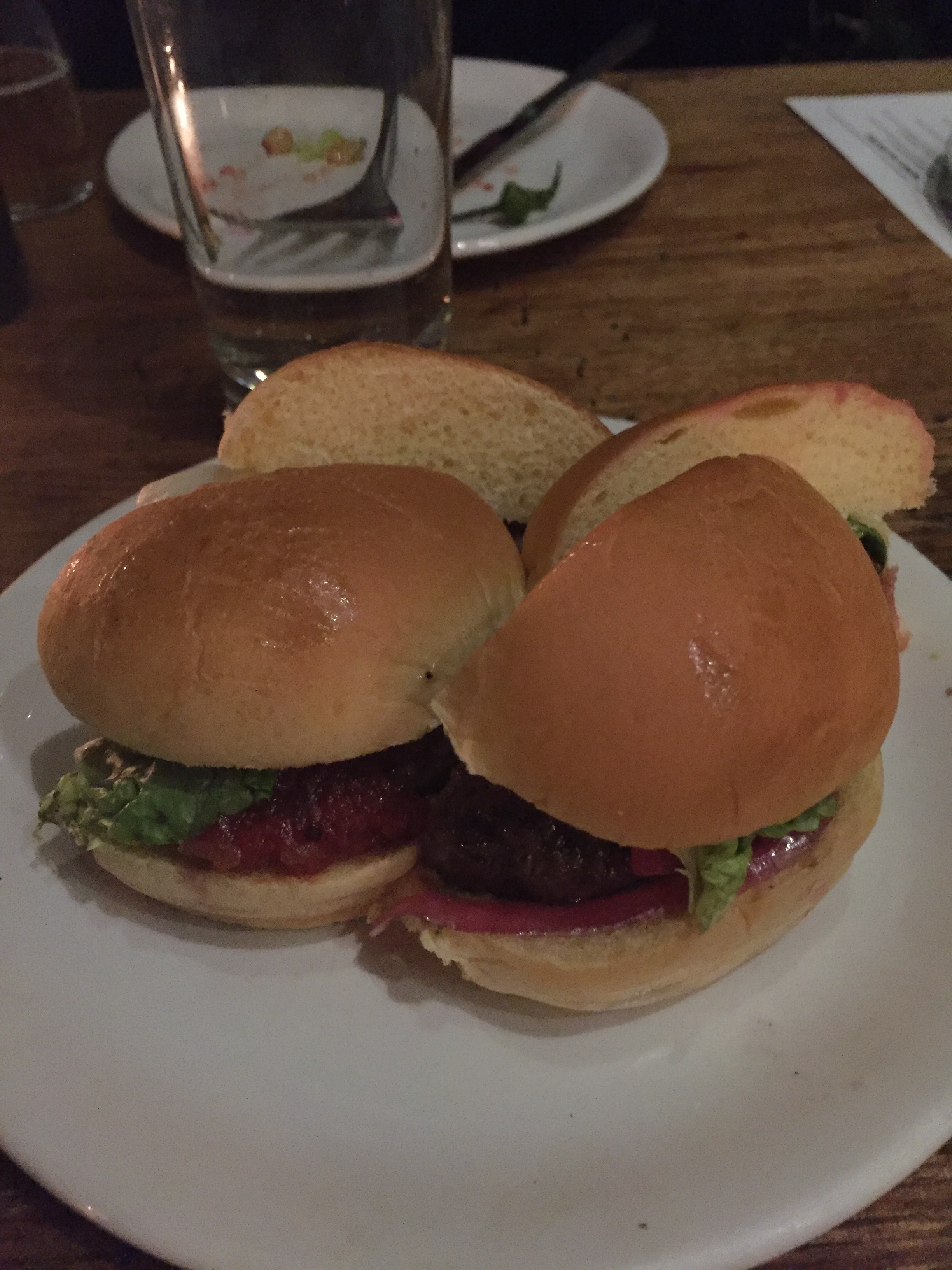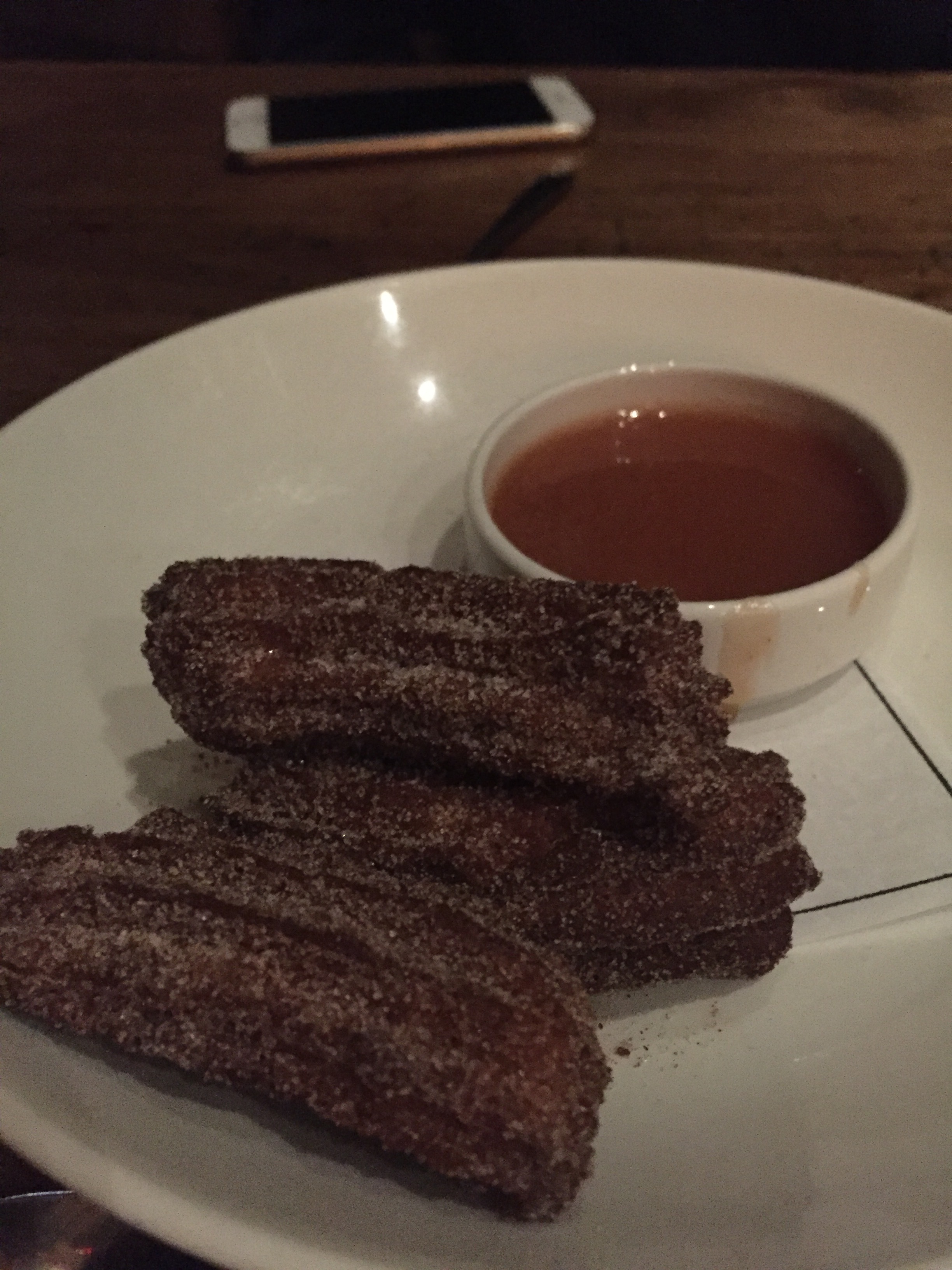 Background: Co-chefs and owners Ken Oringer and Jamie Bissonnette, of the original Toro in Boston, opened up the Manhattan location of their restaurant in September 2013, conveniently located by the bustling High Line and Chelsea Market. We dined here with Jason's NY buddies, Vishnu and Bravo Danny. Bravo Danny because he is to be differentiated from Charlotte Danny, and because he worked at Bravo. Yes, that means he has met Andy Cohen/he is one step from God.
Vishnu and Danny have a chicken wing club where they eat chicken wings all over NYC and then rate them, one through five. Their rating system is pretty clever--in order to keep their ratings from being influenced by others in the group, they put their rating number on their phones, and then all flip their phones over at the same time. They then create an average based on everyone's number. I know what you're thinking--how does one join this club? We are wondering the same thing, but in the meantime, we are considering starting a Charlotte chapter.
Eat This: The menu at Toro is overwhelmingly large, but we were lucky to have a nice server who directed us to some of her favorites, although it turned out that her favorites were not as well liked by the table as some of the other options we picked. Here's what we went with:
Pimientos Del Padron: Spicy shisito peppers with sea salt. This is a dish that we have seen on a lot of menus recently, and while the preparation is similar everywhere, the quality varies greatly. These are the best version of shisitos that we have had--the heat is multi-dimensional, not just hot. The peppers are charred enough to add a smoky flavor, but not so much that they taste burned, and the salt is wonderfully generous.
Esqueixada de Hamachi: Yellowtail with sultanas, fish pepper, quail egg, and crema. We loved the addition of the yellow raisins (sultanas) with the tuna. The flavors were bright and this was a nice, light dish for early in the meal.
Bocadillo De Erizos: Pressed sandwich of sea urchin, miso butter, and pickled mustard seeds. Jason and I both agreed that this was our "must order" of the night, even though our table mates remained unimpressed even after it was served. Whatever, this was amazing. It was all about that delicious umami flavor, and we could have easily downed another order.
Navajas: Razor clams with piquillo pepper, garlic, and lemon. Our waitress highly recommended these, but we found them just alright. They had a flavorful citrus tang, but there just was not a lot to them. Since we only got a fairly small number of dishes for four people for dinner, we probably should have gone with something a bit more substantial.
Hamburguesas: Grass-fed mini burgers with smoked tomato, aioli, and pickled red onion. These were definitely the crowd pleaser of the night. Everyone at the table enjoyed the flavorful preparation, and it was so easy to eat and share.
Dessert: We tried the chocolate churros with a caramel dipping sauce, and while these were good, they were basically what you can expect anywhere from churros. The standout was the chocolate torte. It was a rich, dark chocolate sprinkled with graham cracker crumbs and served with ice cream.
Drink: We did not try any speciality cocktails, but the beer, wine, and liquor selection included a solid variety and had everything we wanted to order.
Atmosphere: Toro is housed in the former Nabisco factory: a loft-like, cavernous space. The raucous sound of diners, along with the bumping bass of rap music means that the restaurant was loud when we arrived at 8:00, and only got louder from there. It was a little difficult to make conversation, but the music selection was a steady stream of all of my favorites, so I didn't mind.
Iberian Hospitality: The service here was slow in that it took a while for the waitress to come over initially (over 15 minutes) and then again to come back and take our food order. However, once our orders were placed, the kitchen had the dishes out super quickly. All of the staff was polite. We did order one dish we never got (the empanadas), but we were pretty full by the time we realized it, so we let it slide.
Frankie's Notes: Javon is currently accepting applications for the Charlotte Chicken Wing Club; If you want to be in our club, you can't eat chicken wings with your knife and fork and you have to drink the wing sauce; I am only good at one of these requirements; Bravo Andy is to God as Orange County is to Mecca; Bravo Danny has never met table-flipping Teresa; We are going to institute a more democratic voting process when dining with friends from now on; But, FYI: Ollie is a super-delegate.
Rating: Of course, we had to do the chicken wing rating system for this meal, and our table average was a:
3 out of 5
Et Cetera:
85 10th Avenue
New York, New York 10011
Monday-Wednesday 5:30-11 pm; Thursday-Saturday 5:30-12 am; Sunday 5:30-10 pm
http://toro-nyc.com/