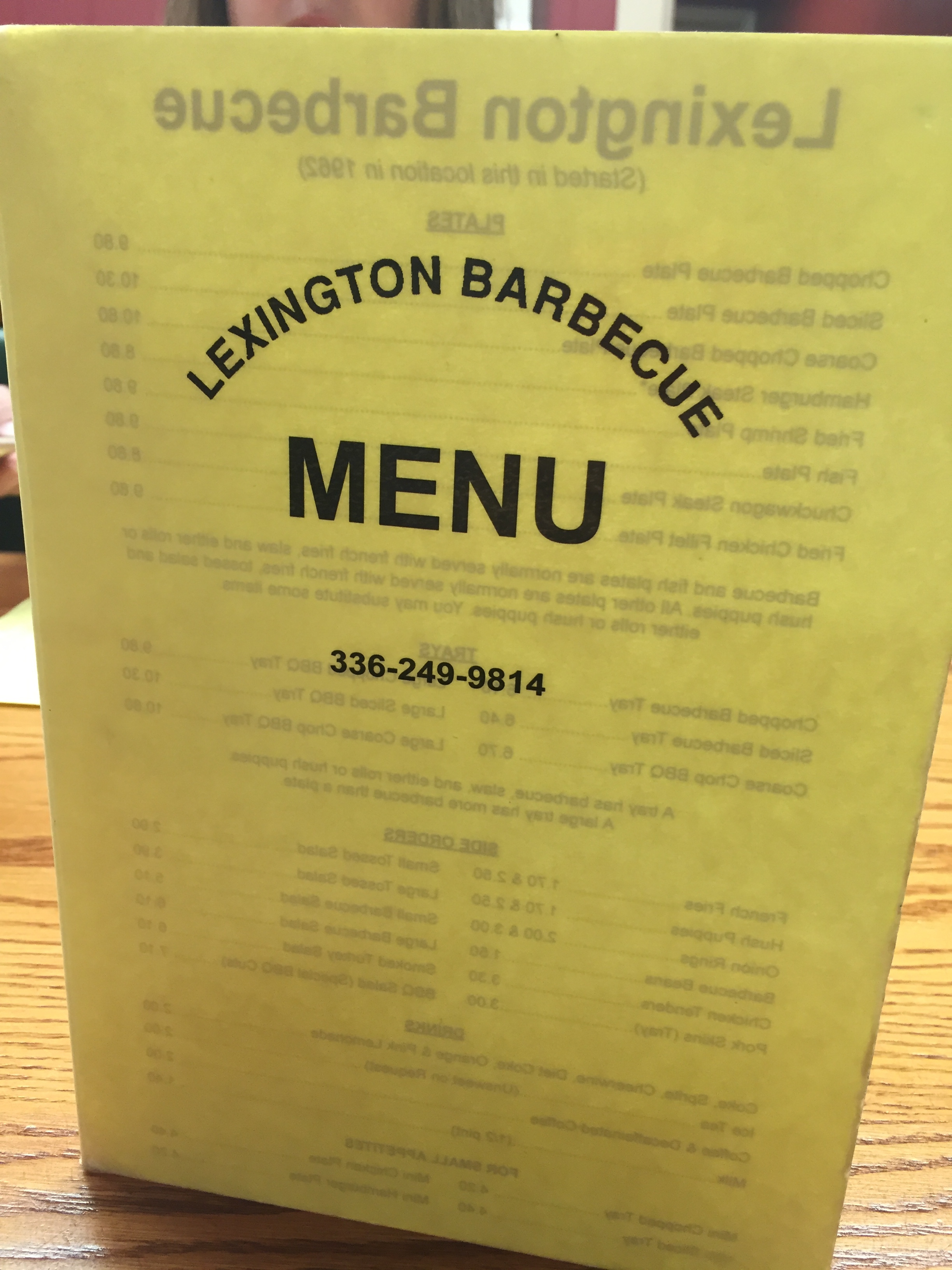 Background: Lexington Barbecue is a no frills, traditional southern BBQ establishment. They smoke their meat (pork shoulders only) over oak or hickory coals every day. When we saw the smokers working overtime when we pulled up, we knew we were in for something good. This place has consistently been ranked on "Best Of" lists for BBQ across the country, so don't just take our word for it--they are the real deal.
Eat This: We were dying for good BBQ after being disappointed by the Lexington Barbecue Festival. Seriously, do not attend this festival if you are looking to go HAM (pig puns!) on some pork--you will be sorely disappointed. The festival is heavy on tchotchkes/the people of WalMart and light on the BBQ selection. So, we booked it out of there and Googled our way to Lexington Barbecue, heralded as the best of the best.
Their signature dish is the chopped BBQ plate, which is unique in that it is very finely chopped. The flavor is rich and smokey, and you top it with the signature NC vinegar-based BBQ sauce. They also serve a coarse chopped option, which we would like to try next time. The platters come with rolls, coleslaw, and french fries. Yes, this is a meal of beige, but sometimes you just need some southern comfort food. Plus, this coleslaw is vinegar, not mayo, based, so there's your healthy veggie. Boom. Jason, who doesn't usually like coleslaw, gave it his stamp of approval.
For a side, order the pork skins. They are huge and different from your typical bagged chicharrones--super crispy with lots of smoke flavor. While these are probably not something you want to eat regularly, it's definitely something to try when you're in the heart of BBQ country.
Dessert: We actually did not try any (insert shock and awe here), but the menu includes a selection of pies and cobblers.
Drink: There's no alcohol here, but you should be drinking sweet tea or Cheerwine, honey. #thesouth
Atmosphere: Do not come here expecting ambiance, because you're not going to get it. You're here to worship at the altar of smoked pig. Revel, bask.
Southern Hospitality: You'll get this in spades. Sweet waiters and waitresses who serve you on the double. What more could you need?
Frankie's Notes: It's a morally confusing week when you discover your love for Pumpernickel the Mini Pig via Instagram and eat a lot of pork; "I went to the Lexington BBQ Festival and all I got was this crappy t-shirt;" Actually, we got a fairly nice poster with a picture of a pig playing a fiddle; Sometimes, a plate of beige food is good for your soul; If you're in the south and you don't like sweet tea, you have to join the Witness Protection Program.
Ranking: 3 out of 5
Et Cetera:
100 Smokehouse Lane
Lexington, NC 27295
Monday-Saturday: 10 am-9:30 pm