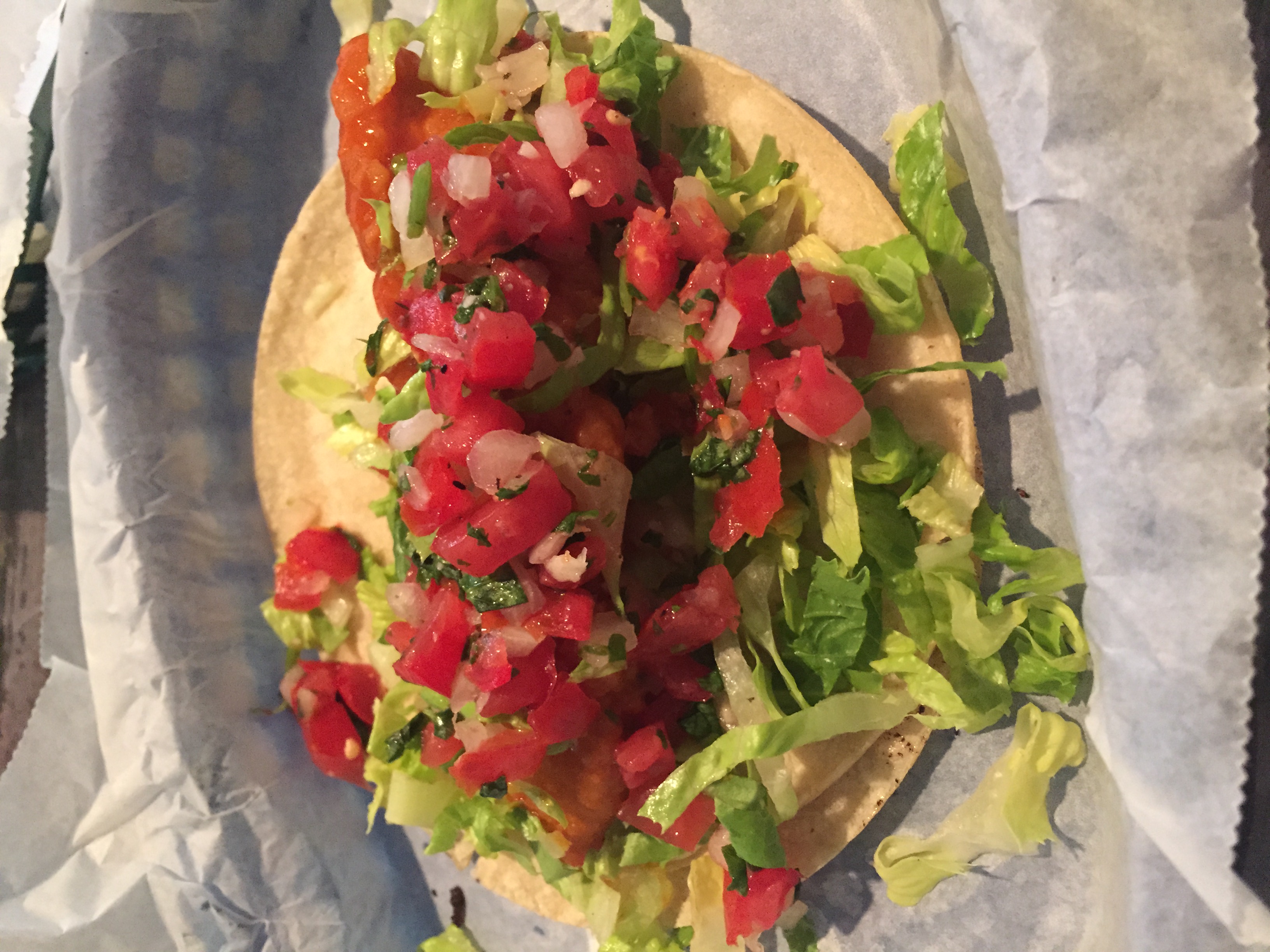 Background: Husband and wife team Laura Reuss and Ben Mixson opened the original White Duck Taco Shop in the River Arts District of Asheville in 2011 and have been serving great tacos and other Mexican-style treats ever since. They have recently opened new locations in downtown Asheville, Johnson City, TN, and Folly Beach, SC to meet increasing demand. Columbia, SC is the next up to get their own pato blanco (come to Charlotte next, please?)
Order this: The Buffalo Chicken Taco. Admittedly, this is kind of a a basic, non-authentic choice--but this taco is basic done right: slightly spicy, fresh, and delightfully simple. We also sampled the Mole Duck, the Korean BBQ, and the Lump Crab taco - all of which were fabulous and could stand up to the Buffalo Chicken Taco in a street fight, although they would all lose. If our stomachs could have mustered it we could have easily tried every taco on the menu and not been disappointed.
Dessert: The desserts are made in-house and sounded great (Coconut Macaroon Pie with Salted Caramel...gah), but we were, for once, too full for dessert. Also, going back up to the counter to order dessert seemed really taxing at the time. See below.
Drink: The margaritas were amazing. Just make sure if you have more than two to bring a designated driver.
Atmosphere: The River Arts District location is super hipster and chill, but not in the bad way where you ponder existential concerns, like why you own zero fedoras. There is ample outdoor picnic table seating, and limited indoor seating. Sit outside, if weather allows; all the cool kids were doing it.
Southern Hospitality: The counter-servers are also Asheville-level cool, as well as friendly and accommodating--they gladly made a substitution for my corn fear (seriously, tacos taste so much better on flour tortillas, what are the rest of you doing?)
Frankie's Notes: How many more weeks until Pumpkin Spice Tacos?; having to get up again to order dessert is a great diet plan; only owning WASP-y hats; gazing out at the cool kids' tables; corn will destroy your whole life.
Parking: Ample street parking at the River Arts District location. The downtown location is undoubtedly more difficult.
Ranking: 4 out of 5
Et Cetera:
1 Roberts St. (River Arts District)
Asheville, NC 28801
Monday-Saturday 11:30-9:00 pm