Background:
We often ask ourselves why Charlotte isn't a culinary destination like Charleston or Asheville. There are a lot of theories: as Mrs. Purvis posits, we are a business town that caters to national chain steakhouses, people are too conservative to try fancy new things, etc. This is all part of the story, but the Scallionpancake theory goes something like this: each city needs one great chef who leads the way, and then that greatness has a trickle down effect on others, who are then moved to create their own food legacy. Slowly and steadily, the right chef can lead a food renaissance in a city and put a location on the culinary map.
Take Copenhagen for example. Copenhagen was not a food town 20 years ago. In fact, most of the good seafood and ingredients were being exported to Southern Europe for Italian and Spanish consumption. It took a great chef, Rene Redzepi, to show Copenhagen and the world what great Danish food can be. Now, everywhere you go in Copenhagen, there is a restaurant opened by a former Noma employee who has helped turn the Danish capital into the best food city in the world. Why can't Charlotte turn into the next Copenhagen?
I'm not saying chef/co-owner of Bardo Mike Noll is going to create the number one restaurant in the world like Rene Redzepi, but he's creating flavors, textures, and "aha" moments like we've never had in Charlotte. He is gambling that Charlotte is ready for a 44 seat restaurant with $20 small plates. Really, really great plates, that is. Is Charlotte ready? I sure hope so. It's not every day a chef like Noll comes on the Charlotte scene.
Eat This:
Bardo has 13 savory and 3 sweet dishes on its menu, ranging in price from $9 charred shishito peppers to $23 dry aged ribeye. The dishes are small and meant to be shared between a few people. Jayson Whiteside, co-owner and proprietor of the front of the house, tells us that there will soon be larger family style dishes as well.
yuzu, grains of paradise, oyster leaf
Small oysters pack a lot of flavor, especially when you add yuzu and sprinkle on some grains for texture.
fermented black bean, brown butter, mushroom sponge
This reminded us of a dish in Copenhagen at 108. The mushroom here is so meaty, and the acidic fermented mushrooms and black bean sauce are a nice contrast.
kimchi butter, carolina gold rice, wakame
The kimchi Carolina gold rice with wakame cracker makes this dish special and adds a local touch to the ribeye, which was perfectly seasoned and cooked.
poached egg, kale, escabeche
Per Whiteside, this is the most underrated dish on the menu, and I'm sure most people don't order it because it doesn't contain a meat and doesn't sound sexy. Well let me tell you people, this dish is as sexy as it gets. Mix the grains in with the poached egg and take a wild euphoric ride on a rainbow of flavor.
carrot, mustard, cocoa nib, rhubarb
We've only seen lamb belly at one other place around town, and that was at Global Restaurant in Pineville. In Scallionpancake's opinion, lamb belly puts pork belly to shame. The combination of flavors and textures here is next level. The grainy mustard seed with the crunchy and bittersweet cocoa creates such a perfect earthiness with the carrot and gamey flavor of the lamb. If you have the willpower to not order a second serving, god bless you
egg yolk jam, radish, togarashi
This was a texture dish through and through. The beef is seasoned with a nice togarashi spice that adds a kick. The crispy dehydrated mushrooms on top added to the complex texture, as well as the egg yolk jam.
Japanese cucumber, chicken skin, fermented hot sauce
I watched Chef plate this dish, and it had so many levels of complexity that the picture doesn't do it justice.
The first level is the fermented hot sauce, then the chicken skins, then the Japanese cucumber and scallops. The scallops are sliced thin so you get the seared taste on most of the bites.
This was so spectacular, that it wouldn't have been out of place on the seafood menu at Noma.
dashi, mustard greens, smoked trout roe
This was my favorite dish. I loved the flavor of mustard leaves combined with the most well-cooked, meaty Cobia I've ever had.
green curry, coconut, cauliflower, peanut
Italian pasta meets Thai flavors in this dish. It's not often you get to experience stuffed pasta with crunchy coconut flakes and and curry sauce. The flavor here was amazing.
banana, horchata, lime
Crunchy banana flakes with bendy chocolate and horchata ice cream? That's right: bendy.chocolate. This was one you didn't want to share with others, but had to, for fear of retaliation and/or divorce.
miso, elderflower, white chocolate
Visually one of the coolest dishes. The peaches were stacked on top of miso shortbread cookie crumbles with white chocolate pearls. Do you a see a theme with graininess? Chef seems to love the texture of crunchy bites played against softer main ingredients.
Drink:
Amanda Britton leads the cocktail program at Bardo. Britton was at 204 North before moving to Bardo, and was a part of designing Zeppelin's beverage program, headed by Larry Suggs. Her cocktails are inventive, tasty, and dare we say, magical. Her use of house-made salts, dehydrated fruits, and creative spirit combinations really wowed us. Also, Kathleen Purvis specifically shouted out her talents on the Scallionpancake podcast, and a vote of confidence from Mrs. Purvis is worth 2,345 Scallionpancake reviews.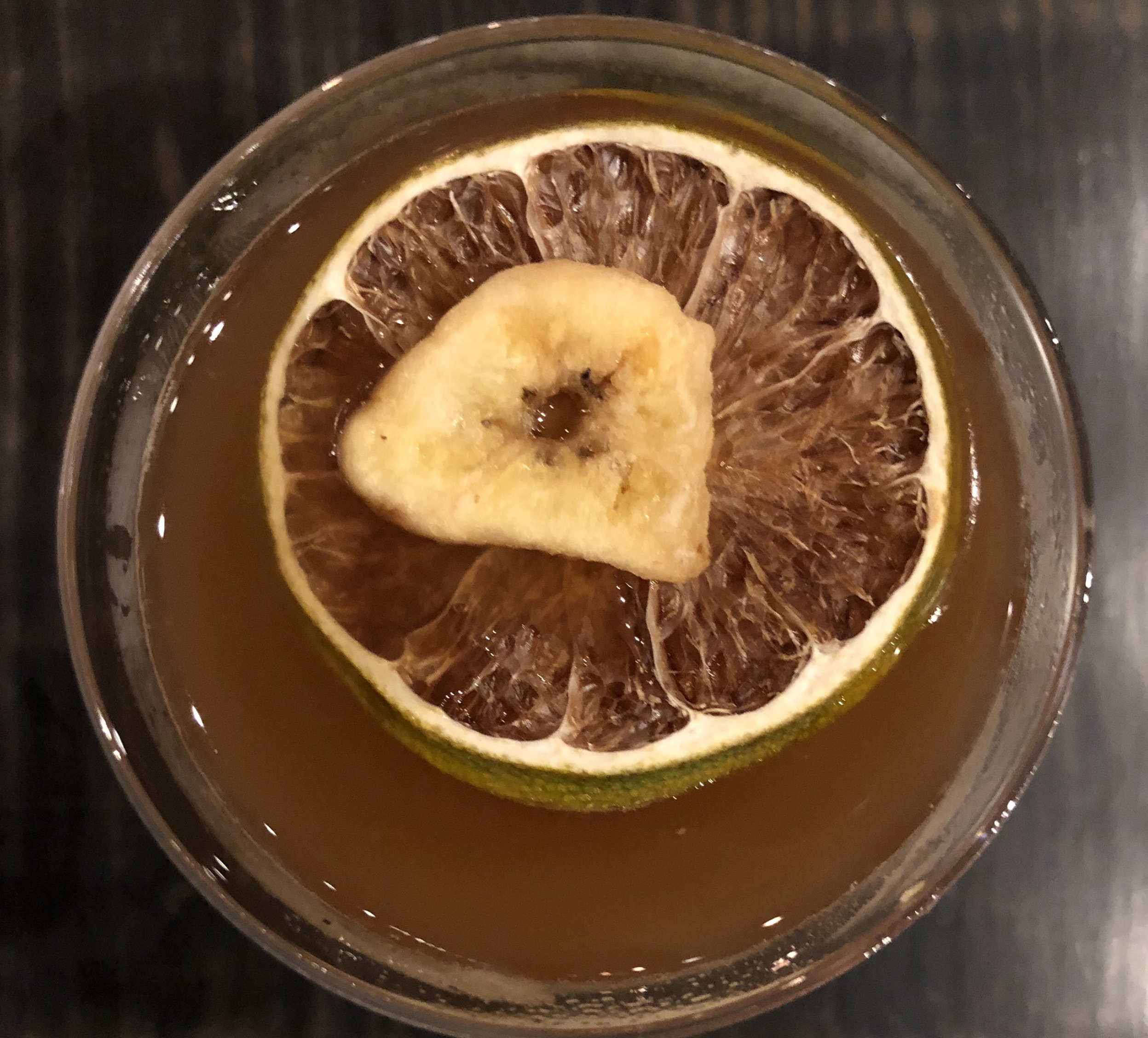 Sailor Jerry, banana, Cynar, Licor 43, cinnamon, lime
Fernet Branca, Flor de Caña Grand Reserve Rum, Pure Intentions cold brew, housemade horchata, vanilla, Mexican cinnamon
Atmosphere:
Bardo is small, with only 44 seats, including bar seating. The decor is sophisticated and understated, and the moss boxes by the entrance are were a DIY project that Whiteside & Noll created using wooden boxes, chicken wire, and moss purchased from Amazon! Can you believe these two are crafty, too?! Such gifts!
The focal point of the restaurant is the kitchen, which is in the back, where guests can watch the chefs plating the dishes. You can sit at the bar and have a drink and some bites with friends, or you can have a more traditional dining experience at the tables.
Gold District Hospitality:
The restaurant is run like a high end restaurant in New York or San Francisco. Everyone who works at the restaurant is familiar with all of the dishes and can answer any questions you might have on any part of the menu. Whiteside is constantly walking around and checking with guests to make sure everyone is enjoying themselves. When something does go wrong (one of our dishes was brought to the wrong table and we had to wait longer in result), it is swiftly corrected (we were comped drinks in return). More importantly, all of the employees seem happy to be there, which is often not the case.
Frankie's Notes:
The Yume/Bardo building might be the most exciting block in Charlotte right now; Amanda showed us spicy salt she uses on the rim of a glass, and we just decided to eat it with our hands, because if Amanda made it, it must be good; We want Whiteside & Noll to come over a Martha Stewart the heck out of our foyer; The math equation that relates Scallionpancake reviews to Purvis compliments is complex and can only be solved by the gnomes that live in the Bardo moss.
Rating: 5 out of 5 with 1 Michigan Pug
We've been waiting a long time to give a Michigan Pug to a Charlotte restaurant, and we're delighted that we finally found one we deem worthy. Bardo is a special place for Charlotte, and we hope that it is the beginning of many more high end, chef-driven restaurants to open in our area.
Disclaimer: We went to Bardo twice. Once, the meal was provided free of charge, and the second time we went on our own to try additional dishes for a better review. We normally don't give out ratings for free meals, but we feel it is appropriate to give a rating since we went back and paid for our meal ourselves the second time. All opinions are our own, and we were not compensated for this review.