Background:
Sanchez is the first sit-down restaurant for former Noma pastry chef Rosario Sanchez, who left Noma in 2015 to open up Hija de Sanchez, a taco stand in Copenhagen which now has two locations. Her goal is to introduce Copenhagen, and the rest of Europe, to the flavors of Mexican cooking. She imports corn directly from Mexico and handmakes all of the tortillas daily. If you go to their taco stands on a regular basis, as we did (some might say we went too often), you might see a yellow corn tortilla one day, and a blue corn tortilla the next, all depending upon the supply of the corn they can get on a particular day. Sanchez is also committed to using local Danish ingredients to complement the Mexican flavors, as spiciness is a flavor profile that Danes are often unaccustomed to.
The restaurant opened in December 2017 to rave reviews and won "The Best New Restaurant" by Berlingske, the largest Danish newspaper. Rene Redzepi, head chef at Noma, recommends it as the best non-Michelin star restaurant in Copenhagen.
Eat This:
Sanchez offers an a la carte menu is addition to a five course tasting menu. We opted for the tasting, as this was our only visit to the restaurant on this trip. Many other tables were ordering a la carte, and all of the dishes looked delicious; however, with the tasting menu, you get a wide variety of items, none of which can be ordered off the a la carte menu.
Every table is brought homemade chips and salsa. The salsas were delicious, spicy but not overly spicy. We ate these in about 10 seconds and then sheepishly looked around for more. Spoiler: there was never any more.
A Mexican twist on oysters, which were marinated in habanero peppers and local favorite sea buckthorn. This was a refreshing first bite with a nice, spicy kick at the end.
This was the outstanding dish of the night. The agua chile contained raw brill, fresh local fruit, and a spicy strawberry sauce that was out of this world. The dish was on the exact edge of being too spicy, something that if it had even a little more spice would have been inedible for most people. I love when a chef takes a risk and pulls it off, and that's exactly what this dish achieved. The spiciness and acidity of the ceviche mixed perfectly with the freshness and sweetness of the fruit. Incredible.
This enfrijolada was filled with requeson cheese and topped with watercress, kale, and arbol chile oil. I am not a bean person in any way, in fact, I normally steer clear whenever possible. When in Rome (or Copenhagen), though, you eat beans, and this did not disappoint. There is a freshness and lightness to all of the dishes which you just don't get at a typical Mexican restaurant. If you were to have an enfrijolada in an American "Mexican" restaurant, you'd need a two hour nap immediately following inhalation. Not so with this baby. Another winner.
Chef Sanchez said it was important to her to have a lot of vegetarian options on the menu. When she brought this out (!!!), she explained that the inside of a tamale is normally made with pork, but she decided to use mushrooms instead. We were instructed to add the tomato salsa and cheese to the tamale, and we happily obliged. Everything melted into the tamale like a warm, cheesy hug.
Our last course was a taco of beef on a crisp lettuce shell. The beef was cooked perfectly and provided a nice contrast to the crunch of the lettuce leaf.
Dessert:
Of course, we couldn't pass up dessert, especially since Chef Sanchez was the former head pastry chef at Noma. Sanchez is known her paletas, which are basically Mexican popsicles. The flavors rotate weekly, and spied on her Instagram that she was working on a licorice paleta. We love licorice (we are very Danish like that), so we couldn't have been more excited. Apparently, the chocolate maker where she sourced the chocolate for part of the paleta had gone on vacation, so this particular flavor was not on the menu; however, they had a few test ones in the back, which they were nice enough to give to us! We were seriously #blessed.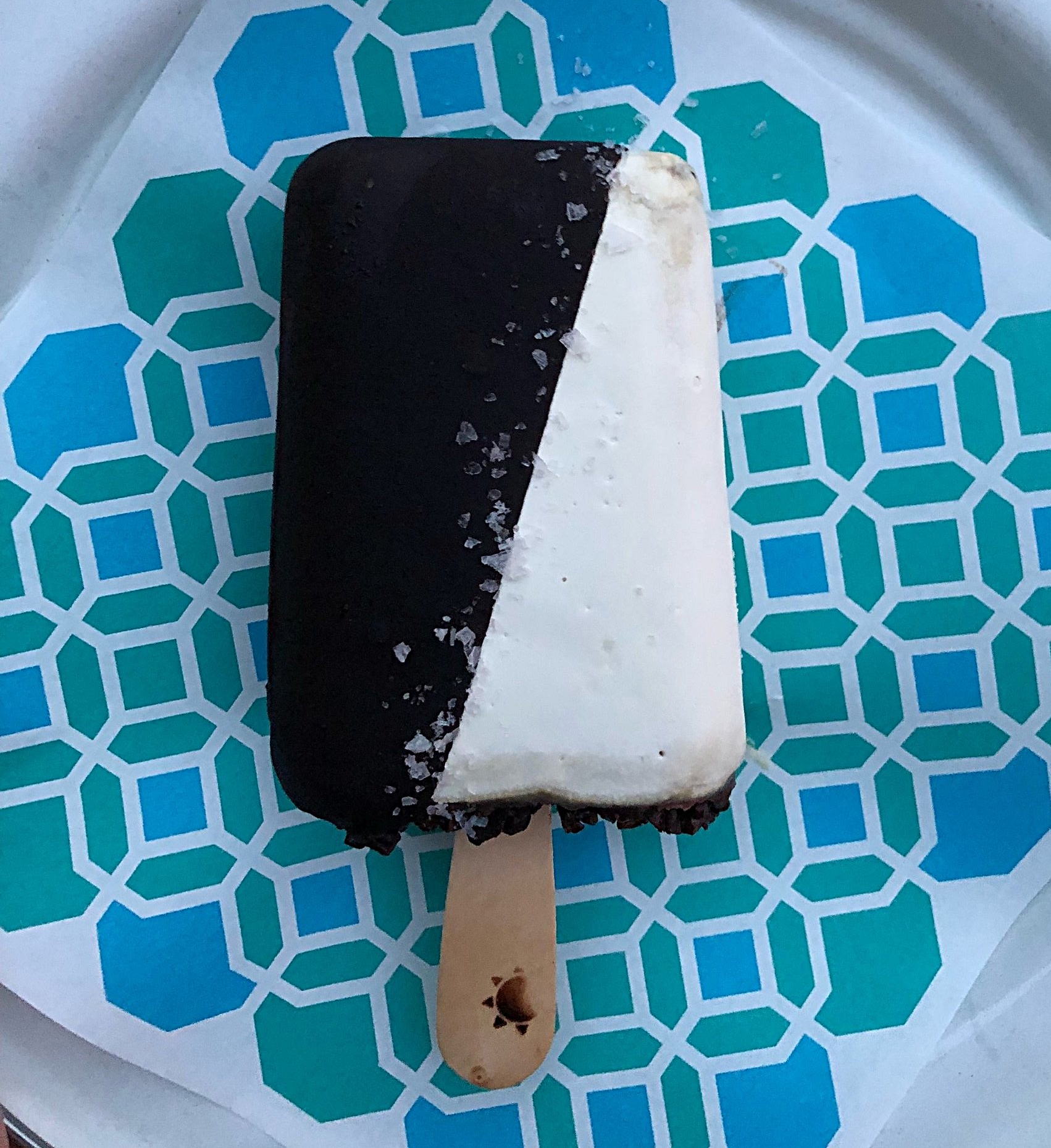 A licorice and cream paleta dipped in cacao cookie coating and cacao nibs. This was everything to us. Denmark is the land of licorice, and this paleta symbolizes the Nordic takeover of the food world--a Mexican treat with local, delicious Danish ingredients. This was, perhaps, the best dessert of our whole trip to Copenhagen.
Stawberries and Cream Paleta
Of course we couldn't just get one paleta. We also got the one listed on the menu, which contained strawberries, elderflower cream, candied elderflower, and habanero syrup. This was good, but not as good as the scarface: SAY HELLO TO MY LITTLE FRIEND. Ahem.
This open-face churro sandwich is made with a mezcal-vanilla frozen parfait, bitter cream, and orange zest. Sometimes you just want a really good, simple dessert, and that's exactly what this was. I could have had ten of these, but, of course, we had paletas to eat.
Drink:
Sanchez has a variety of mezcal, agues frescas, and speciality cocktails. We each had a few cocktails, and Yvonne tried a mezcal flight.
We are big fans of mezcal, and Sanchez has some of the best. It was cool to see the different preparation techniques that give off different flavor profiles. See also: a good way to get drunk quickly.
Atmosphere:
Sanchez has a relaxed, hip vibe. There are little remnants of Mexico everywhere, with skulls strategically placed throughout the restaurant to reminder you what type of food you were eating. The bar dominates the interior, with the mezcal bottles drawing your attention. All the servers are wearing t-shirts and make you feel at home right away.
Mexi-Danish Hospitality:
The servers were attentive and excellent. We actually recognized one of our servers who used to work at Geranium, which made us feel special really deep inside. Chef Sanchez herself was working almost all positions, from hostess to server. She brought out at least one dish to each table, which we thought was really nice and something you don't see a lot from a celebrity chef. Also, hooking us up with the off-menu scarface paleta really made our night.
Frankie's Notes:
A paleta a day keeps the doctor away; Mexican food is too spicy for pugs, so they'll stick with traditional Danish Smørrebrød thankyouverymuch; when Rene Redzepi tells you to go to a place, you go; Chef Sanchez should come to Charlotte and open up a real Mexican food restaurant here, because we need a good one; Pork butt is my favorite type of butt.
RATING: 5 out of 5