UPDATE--The Mandrake closed in the fall of 2016. I guess we called it, huh?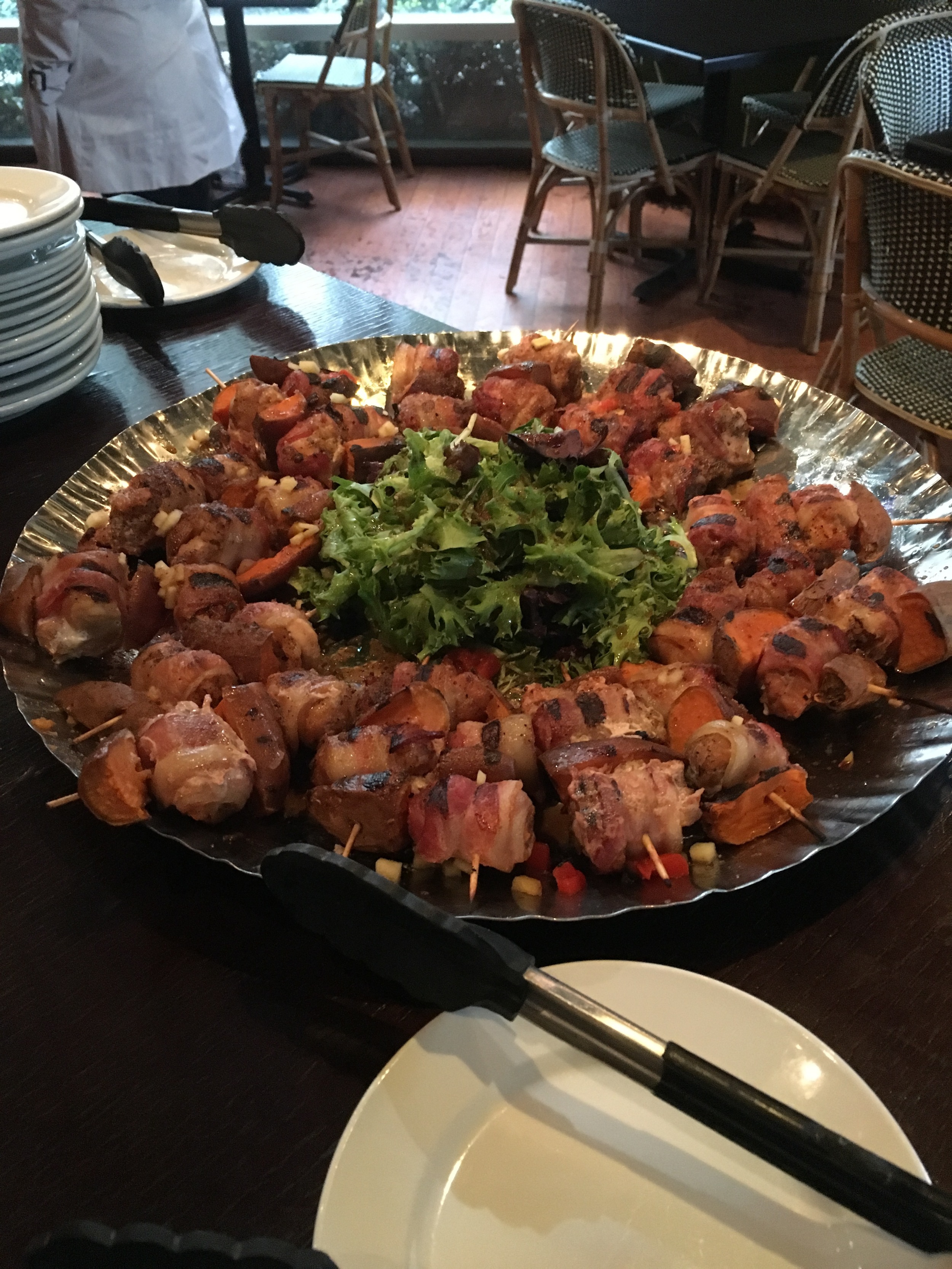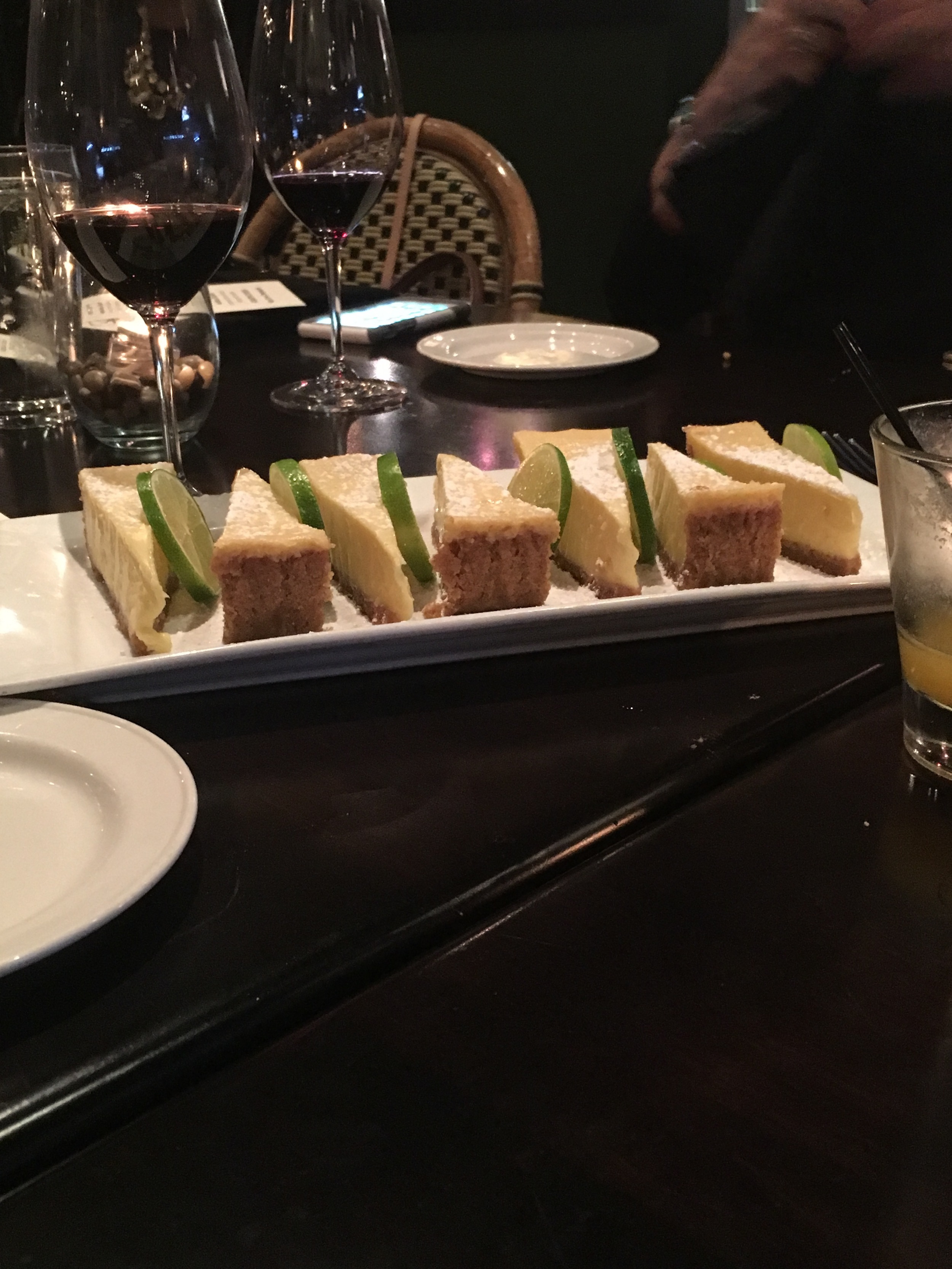 Background: Jose Garcia acquired The Mandrake in the fall of 2014, and he has worked tirelessly since to breathe new life into this uptown eatery that has undergone several different owners/chefs and identities in a rather short period of time. Now, The Mandrake has found its groove as the number one spot for tapas Uptown under the creative management of chef Donnie Simmons (@thedonchef). Scallionpancake was recently invited to their media night to review their new spring menu. As Jason could not make it due to tax season, Amy and Nancy were my dates for the night.
Eat This: So, this night started off with quite a few hitches. The event time on the invite was slated as a 6:30 start time for cocktails and appetizers, and when we arrived at around 6:40 there was nothing happening. In fact, nothing happened at all until around 7:00 (the stated time for dinner to begin), when we were invited to the bar for cocktails and they started bringing appetizers around. We were not even offered water or welcomed by management during this time. We simply stood around waiting for something, anything to happen.
There was then some confusion about whether or not the cocktails and wine were complimentary. It made for some very awkward interactions between the guests and the servers (who were clearly given conflicting information, who, in turn, gave us information that conflicted with our invitation) and this hiccup definitely took away from the flow of this evening. However, it did not take away from the generosity of The Mandrake's hosting of the event and the invitation extended to us.
Passed appetizers:
Brisket and habanero cheddar rangoon. Uh, yeah, this was money in the bank. Especially after we had been standing around hungrily for a while at this point. These were little pillows of meaty, cheesy delight. I only ate one, but just because I didn't want to look like a hungry savage.
Bacon wrapped alligator tails with Carolina mustard BBQ sauce. These skewers were good, but they were so large that they were a bit difficult to eat. The bacon wrapped alligator was staggered with sweet potato chunks. Pretty darn tasty.
Lobster risotto puppies. Yes, please. These were light, flaky, and fabulous. Although we could not taste much lobster, these had a great flavor. This was my favorite dish of the whole night.
The Main Event:
Mandrake Salad with pecans, red onions, grape tomatoes, goat cheese & bacon vinaigrette. I did not love this salad, as all I could taste was the super sweet dressing. My table mates also noted the sweetness, but they were not as bothered by it as I was.
Fried Green Tomato with wasabi aioli. I could not eat this due to my fake and made-up corn allergy, but my table mates really enjoyed this dish. Most said it was their favorite of the evening.
Airline Chicken with cayenne caramel sauce and grapefruit risotto. I had never seen airline chicken before, which is a boneless chicken breast with the drumette attached. It was a very beautiful dish, but it tasted like dessert. The sauce on the chicken and the risotto were both so sweet that it was difficult to eat. Most of us did not finish this dish. The chicken was cooked perfectly however, and it was not at all tough, as is so often the problem with chicken breast. I love dessert and sweet things (um, have we met?), but this entire meal was just too much sugar. As one of my fellow diners said, "I have to stop eating this or I am going to get diabetes." Yikes.
Dessert: The final course was Key Lime Cheesecake. This dessert and their others are not made in house, but they all come from a man in Florida who produces award-winning cakes. I do not typically love citrus flavored desserts, but this cheesecake was delicious. However, at this point I was on serious sugar overload. I soldiered on and finished my slice though, don't worry.
Drink: I know you are going to find this hard to believe, but I had a cucumber ginger margarita and it was, yes, so sweet. This could have been my personal preference, as I don't usually order mixed drinks as I often find them to be too sweet/too weak. Usually you will find me drinking my own "signature cocktail," a little something I call patron on the rocks. But, I wanted to try everything they were offering for us, so I took a chance on this. Nancy had a watermelon arugula gimlet that I tried, and it was much less sweet and very delicious.
Atmosphere: I really enjoyed the vibe in here. The lighting is so right; as loyal readers know I hate a place with glaring light; even if it makes the pictures better, it totally kills the mood. I also dug the artwork, particularly a picture of a turnip with a face. I liked him a lot.
Also, Chef Donnie (#thedonchef) came out after dinner and spoke to us about his vision for the kitchen and the restaurant, and he is a very lovely person who puts a lot of heart into what he is doing at The Mandrake. He is not merely cooking food, he is invested in creating a culture of inspired chefs who will invigorate the Uptown food scene. Also, congratulations to Chef Donnie on his recent glut of B.O.B awards (linked above). We will be back soon to try the regular menu to get a better idea of their offerings.
Southern Hospitality: I was really not impressed with the service we received. It could have been an anomaly at this particular event, but as previously stated there was a lack of communication between owner/management and his floor staff, which made for a very awkward interaction between guests and staff. There was seemingly no one leading this event to move us from the cocktail portion to the dinner, and we actually moved ourselves to the table at around 8:15, because it was an hour and fifteen minutes after dinner was supposed to begin and we all wanted to go home at some point (it was a Wednesday evening). Again, this does not detract from how kind Chef Donnie and others staff members were, but the entire event appeared very disorganized from this blogger's perspective.
Frankie's Notes: Turnip with a face is my new best friend; Getting diabetes from chicken is not the way I want to go; You have to be a real boss lady to drink my sig cocktail; I feel like we don't eat enough alligator and shark--maybe if we did we could all go back in the water again; Am I the only one who stopped swimming in oceans and swamps this year?; Seriously, don't go in the shark's house; Cheers to The Don Chef whose awesome hospitality made this event worthwhile--we will be back soon for a redux with their regular menu offerings.
Rating: 2 out of 5
Disclaimer: Our meal was provided for free in exchange for an honest and unbiased review.
Et Cetera:
333 West Trade St.
Charlotte, NC 28202
11 am-10 pm; 12 am on Friday/Saturday; Closes at 4 pm Sundays