Background:
Flour Shop opened early 2018 under Trey Wilson, the owner and chef of Customshop in Elizabeth. Jason and I are big fans of Customshop (although we haven't been in forever), so we were super excited when Flour Shop came to the Backlot of Park Road Shopping Center. We like Flour Shop so much that it made our Top 25 Restaurants in Charlotte list last year, and we can't believe we haven't given you a more detailed run down before now! Read on to get the scoop on what we deem the best pasta in Charlotte.
Eat This:
The star of the show at Flour Shop is the house-made pasta, but the other offerings on the well-curated menu shouldn't be ignored.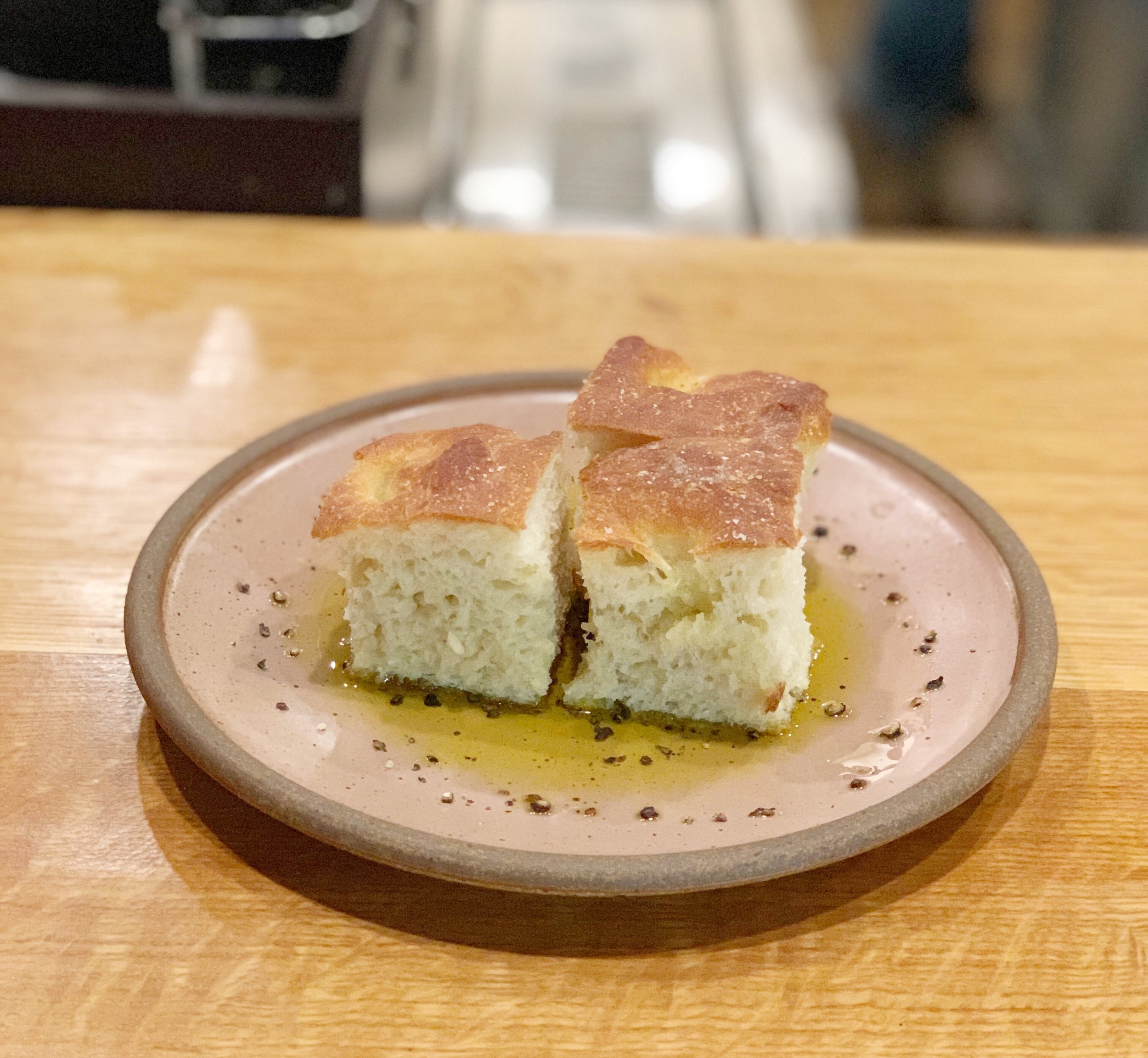 I wish they brought out this bread in unlimited quantities. That's my only complaint.
Grilled UGF Mushrooms, January '19
Caesar-style, with radicchio
I love, loved the bitterness of the radicchio with the whole mushrooms. This version was better than the previous iteration below.
Grilled UGF Mushrooms, March '18
Caesar-style
Good last March, but definitely much improved in the latest version.
Barbecued Spanish Octopus
With stewed corona beans, house-made chorizo, & grilled ciabatta
So rich and savory. Perfect for a cold night.
Butternut squash and burnt-honey vinaigrette
This dish has to be a top-seller for them––it's all over Instagram, and I always see it at nearly every table. And for good reason: it's fabulous. This one looks a bit different these days (this photo is also from the March visit), but I am confident it's just as delicious.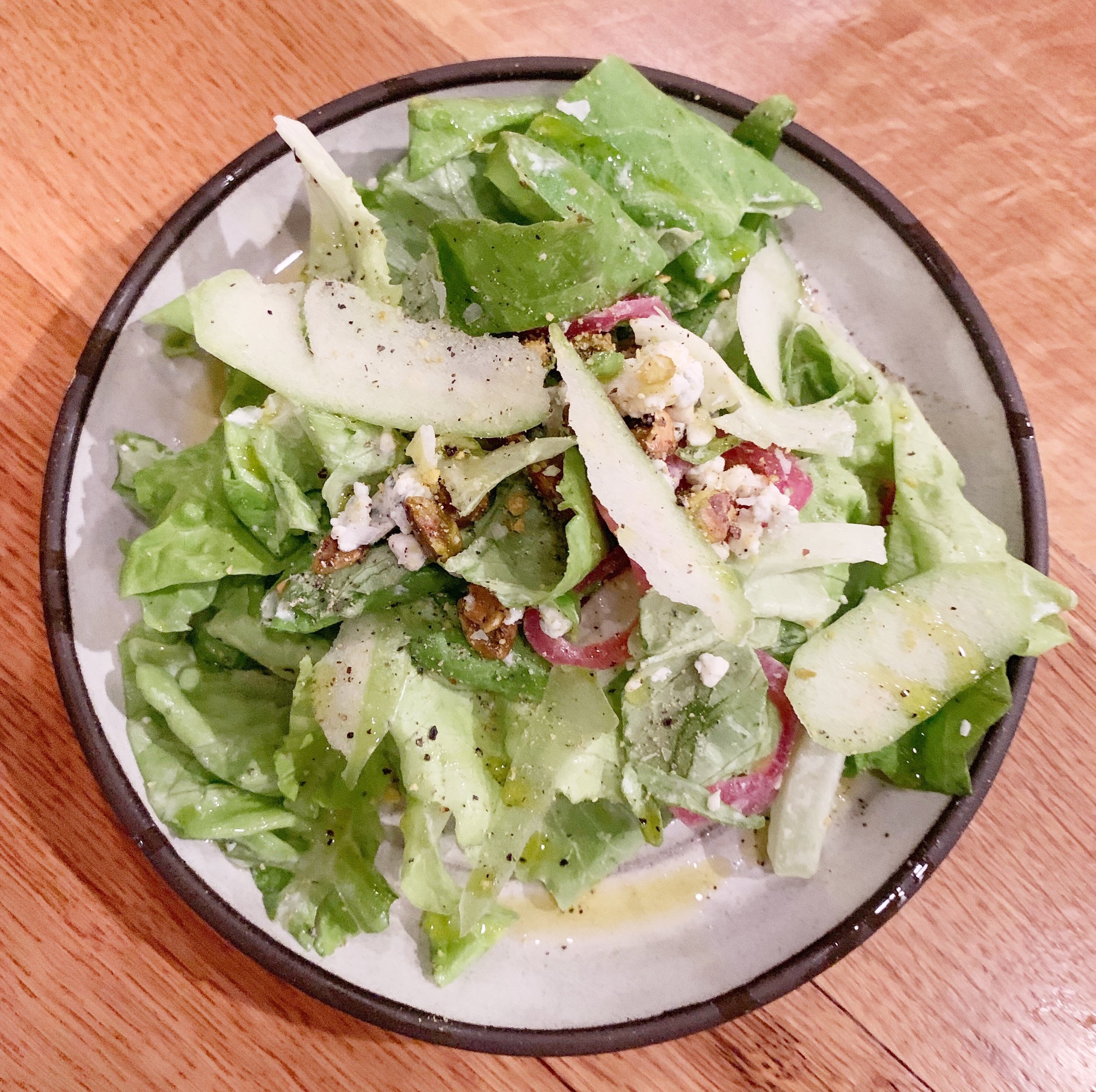 With Granny Smith apples & pickled onions
This salad inspired me to go out and buy butter lettuce. Why is butter lettuce so good? The most refreshing salad I've had in a while.
with Manchego fondue
These have been on the menu since the beginning, and we can see why. Whenever we see Benton's ham, we go for it. And with hot cheese? Oh dang.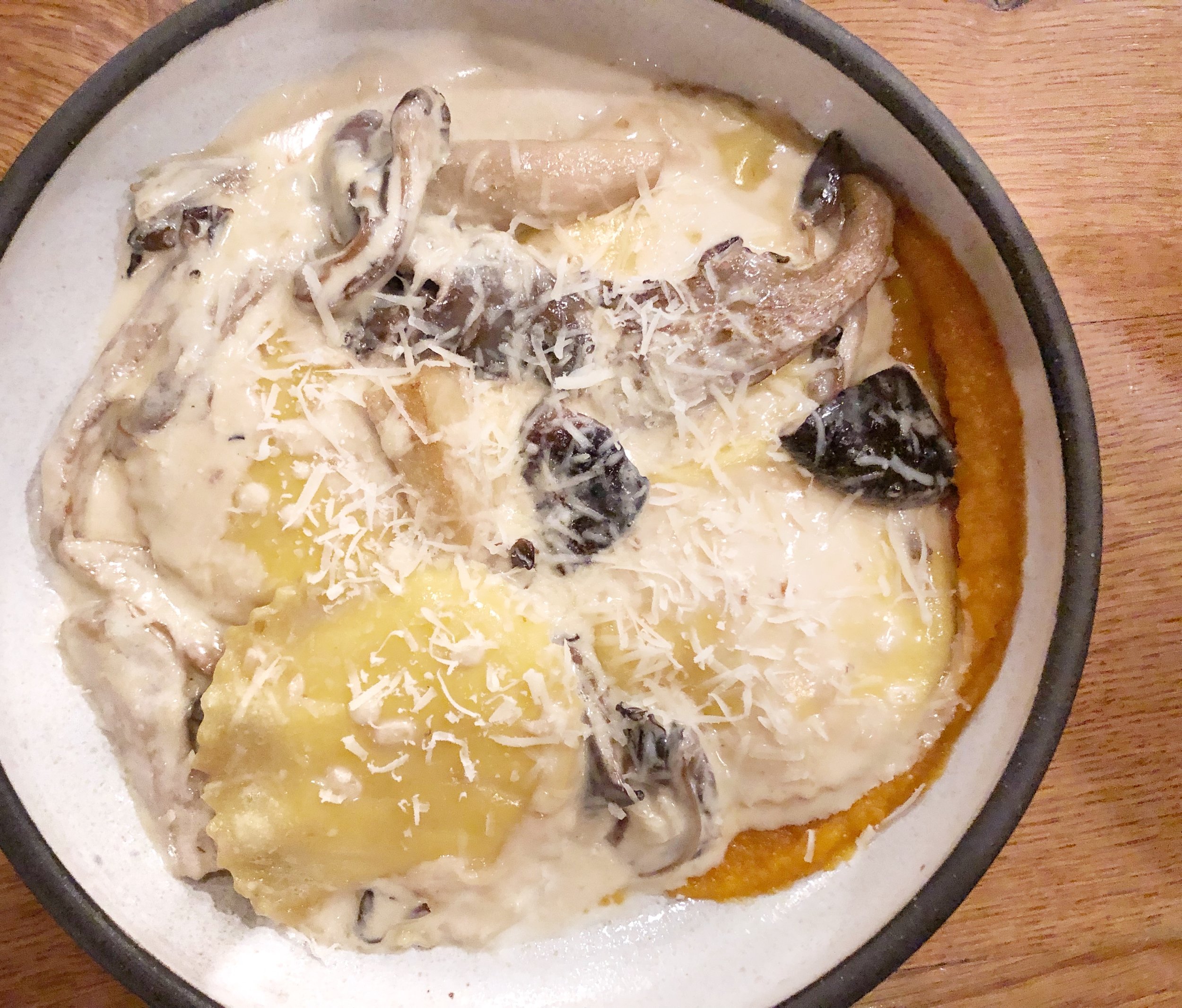 With mushrooms & squash
Little pillows of flavor perfection. The sweet squash purée added such a lovely dimension to the mushrooms and cream sauce.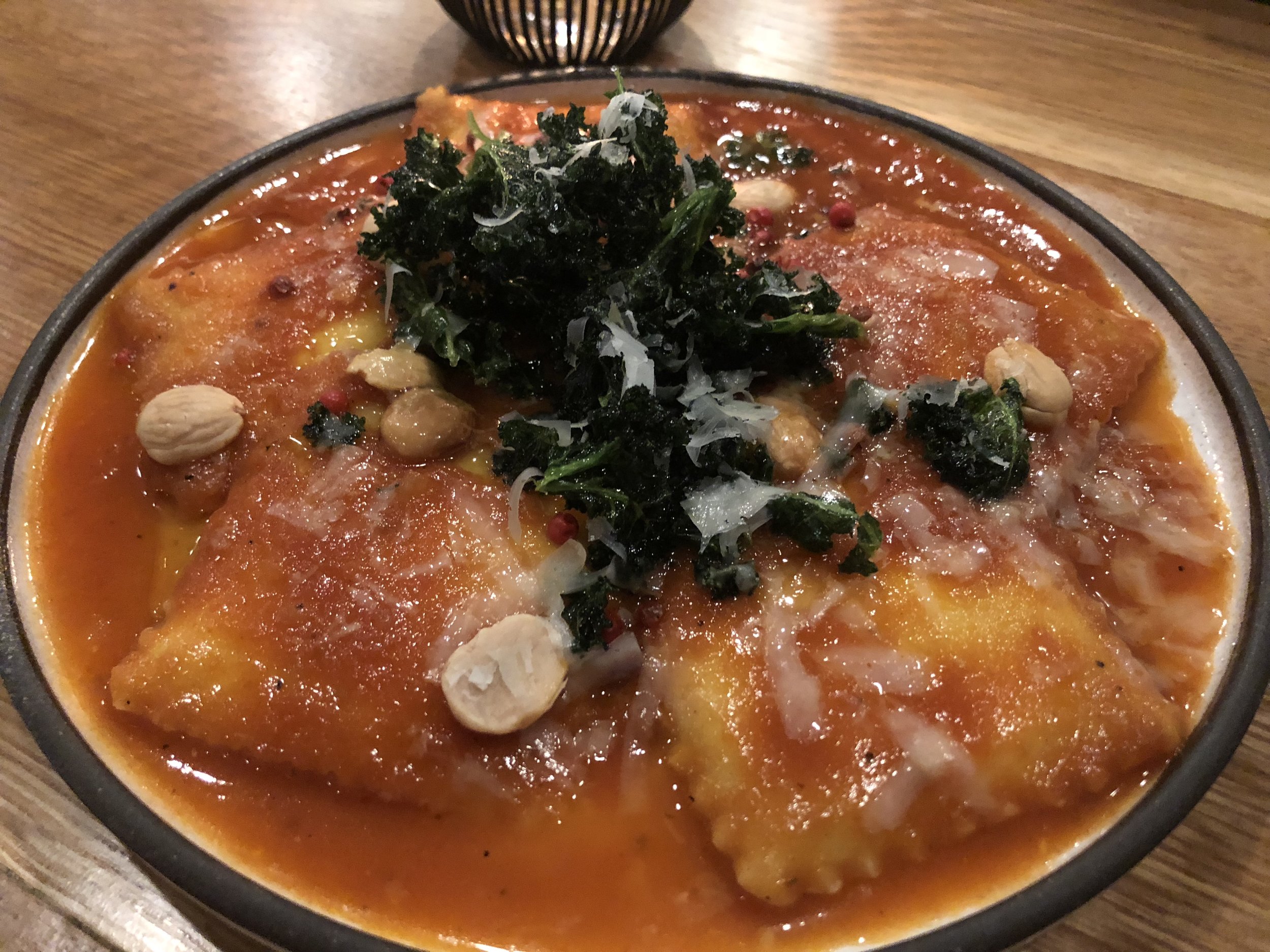 Red sauce, red peppercorns, Marcona almonds, crispy kale and pecorino Romano cheese
I liked this red sauce version of the ricotta ravioli (from March), but I must say the above, more recent version is better. And that's coming from a girl who nearly always goes red sauce over cream sauce.
On special, served with a baked potato
Jason's order. His thoughts: well-cooked, but the sauce was far too sweet and spoiled the flavor of the meat.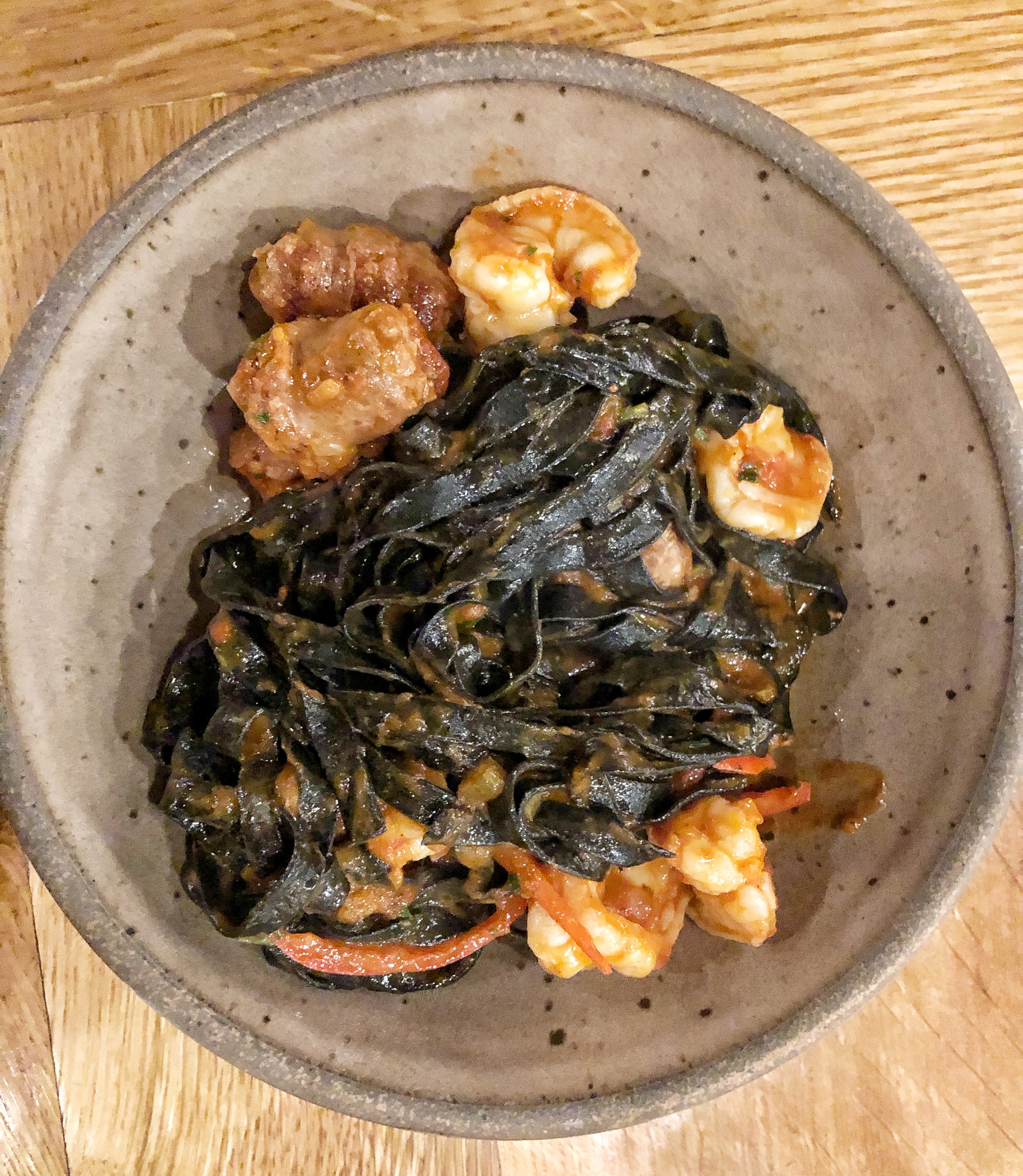 With shrimp & chorizo
Wayne's order! He said he liked it very much, and I can concur, since I ate his leftovers. Fabulous! Wayne isn't always easy to please, so you know this one's a keeper.
Dessert:
The dessert offerings are slim. On our first visit, they didn't have dessert yet, and the last time we were in they had cookies and a bread pudding.
With ice cream
Good, not great. They need a more robust dessert menu, stat.
Drink:
A great wine selection and fun cocktails. On our last visit, I saw a lot of people drinking their Blood Orange Spritz, which looked quite refreshing.
Atmosphere:
Flour Shop is super tiny. There are only about 15 tables, and you can also order the full menu from the bar. The bar is a great place to sit, since you can watch the chefs in action in the open kitchen. The feel is rather fancy and very Myers Park (in the Myahhs Pahhk way), and there are lots of couples on dates.
Backlot Hospitality:
Hm. We've had great service here, and rather rude service. As in, our server made us feel that our visit was a massive inconvenience. This was on our last visit, and truthfully, it has possibly put us off going back in for a while. As you know, service can make or a break a dining experience, and I hope that our bad one was an anomaly.
Frankie's Notes:
The parking situation at Park Road Shopping Center is a literal hell on Earth, which is rather ironic considering the word "park" is right in the name; Myahhs Pahhk is a state of mind, not an area of Charlotte––if you know, you know; A dessert menu should not be an afterthought, in Scallionpancake's opinion; Do you think Wilson would be willing to call his next restaurant Pug Shop?
Rating: 4 out of 5