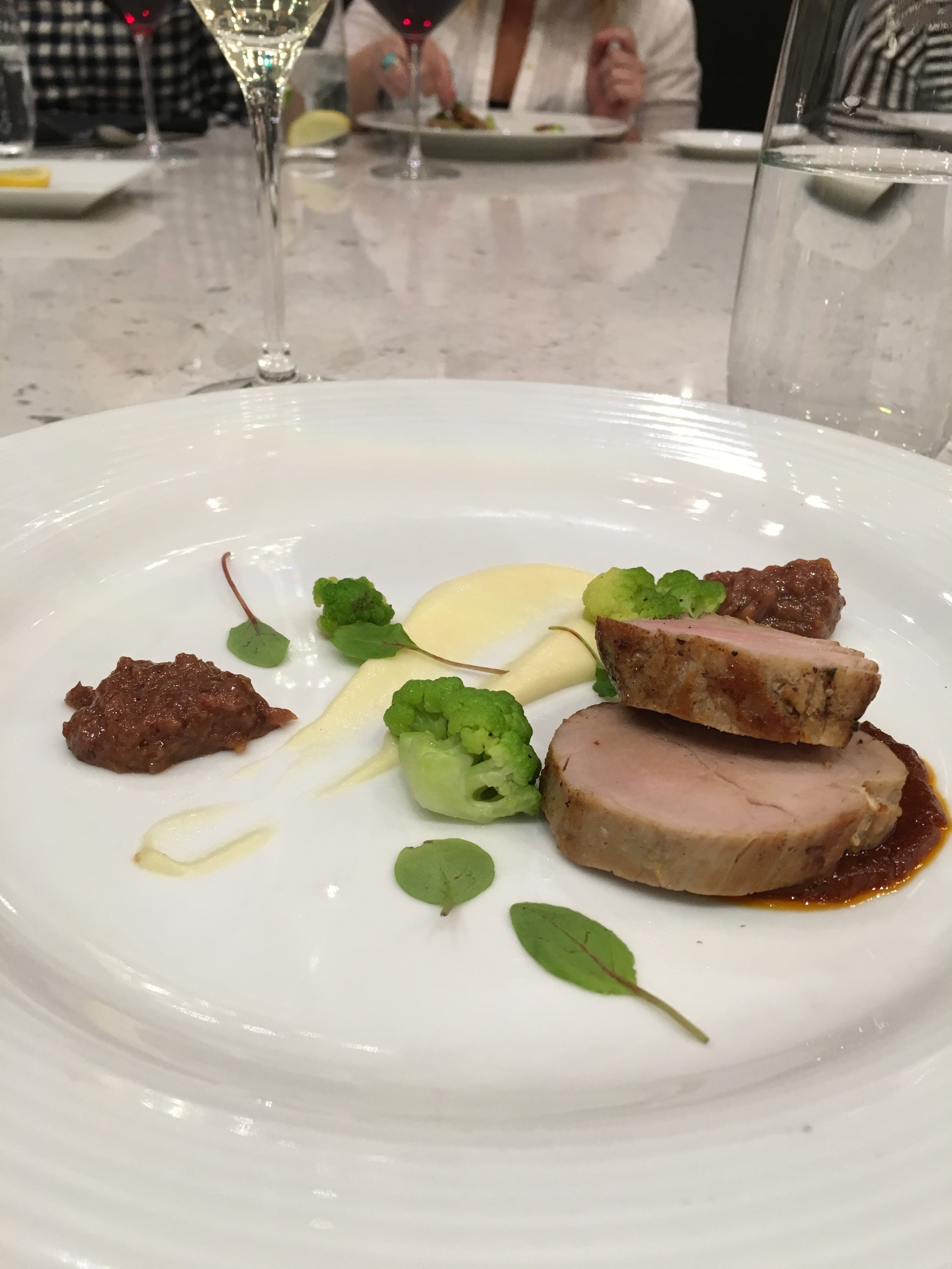 Background: We already reviewed Evoke back in the summer (yeah, that's right, scallionpancake is basically a Charlotte institution now), and it's now officially the first place scallionpancake got invited for a fancy pants blogger event! This was possible mainly through nepotism, as cousin Amy (amyonfood.blogspot.com) got us hooked up with the Charlotte Food Bloggers group. Thanks, Amy! So, to recap, Evoke, located in the recently revamped Le Meridian hotel, is headed up by Chefs Oscar LaFuente and Robert Reinken. The restaurant recently hosted a media night to showcase their new spring menu. Jason couldn't make the event because #taxseason, but Amy and I had a fabulous girls' night out.
Eat This: This was such a standout restaurant for our first event. The night flowed very smoothly and the service was top notch. Here are the courses from the evening:
Crisp Pork Belly with white asparagus, morels, and pickled ramp salsa verde. Although no one in their right mind would complain about pork belly, this was not the best I have had. It was a bit tough/overcooked. The salsa verde was my favorite part of this dish. Also, please do not tell my Rabbi that I am still regularly eating pork belly. Conversion has been a dream, minus the Kosher bit. Ahem.
Sweet Onion Bisque with sourdough crouton, parmesan, egg yolk, and black truffle. Amy and I agreed that this dish was the best of the night! The soup was satisfying without being overly heavy, and all of the flavors really worked. It was a lovely spring soup. Also, you know we are about that truffle life.
Yellowfin Tuna Crudo with barolo pickled onions, caperberries, celery heart, and smoked olive oil. When this dish came out, I was even more gutted than I was previously about Jason being unable to attend this event due to that IRS life (TAX SEASON IS OVER, PRAISE ALLAH). Tuna is his fave. I thought this was just okay, but I don't love chicken of the sea, so take my opinion with a grain of salt. The caperberries were my favorite part of this dish.
Mint Pappardelle with braised lamb, fava beans, morels, and ricotta salata. Evoke has incredible pasta, all made in house. This dish had great flavor, and it was everything a spring pasta should be (green, light, and herby). Amy and I also ordered pasta dishes from the regular menu to take home to the menfolk, and they both highly approved. Four enthusiastic man thumbs in the air.
Pork Tenderloin with ndjua, parsnip puree, Romanesco, and violet mustard. So, I learned what ndjua is, and I didn't hate it.--in case you are similarly uninformed, it's a spicy pork salami puree, and it's amazing. That and the violet mustard made this dish. The pork was perfectly cooked.
Dessert: This was the only disappointment of the evening--the tasting did not include dessert! Quelle horreur! Amy and I remedied that by taking our drinks out to the bar and ordering a dessert whilst we waited for the boy's pasta orders. We tried an olive oil cake with honey sorbet and it was awesome.
Drink: Complimentary wine was served with dinner, and the servers were amazing and let me have some sparkling wine upon request, because you know I'm fancy like that (read: terribly high maintenance).

Atmosphere: As we reviewed last time, the decor is decent and done in a 60s mod style. They have really done a lovely job revamping this space.
Southern Hospitality: The service for this event was perfect and just the right amount of attentive without being ingratiating (a problem we had last time).
Frankie's Notes: I think we all remember where we were when Jessica Simpson couldn't properly identify her tuna #neverforget; Tax season is over and I'm ready to have my man-friend back for dinner dates; Blogger events make you feel like you could really be somebody, someday; Ps--two more events and I quit my day job; Amy is the best cousin ever and we appreciate her helping us get our foot in the door of the Charlotte blogger scene!
Disclaimer: Our meal was provided for free in exchange for an honest and unbiased review.
Et Cetera:
555 S. McDowell St.
Charlotte, NC 28204
6:00 am-11:00 pm daily