Background:
On January 31st, 2019, Elliot Moss ventured to Cornelius to partner with The Kindreds for a collaboration dinner at Hello, Sailor. As soon as we heard that this was happening, we immediately bought our tickets. As we've mentioned many times before, we go to Buxton Hall every New Year's Day to enjoy the culinary delights of Moss and his Head Pastry Chef Ashley Capps, so a short drive to Cornelius to enjoy both Moss AND The Kindreds was a no-brainer.
Eat This:
The other allure of the collaboration dinner was that it was family style, which is something we fell in love with at Noma Under the Bridge. There's just something about the camaraderie and good vibes at a table filled with like-minded foodies. I was actually worried about the amount of food, since we would be sharing, but that turned out to be a crazy concern, as there was SO.MUCH.FOOD, and even plenty to take home to eat the next day! From the moment we walked in to the moment we left, it was a glorious onslaught of FOOD, FOOD, FOOD.
Pimento cheese, smoked pork tenderloin ham, garlic jam
This was hands-down my favorite bite of the night – what a way to start! I love a good ham biscuit, and this was better than any I've had. These biscuits were passed along with the below sandwiches and some un-pictured, delicious chicken wings!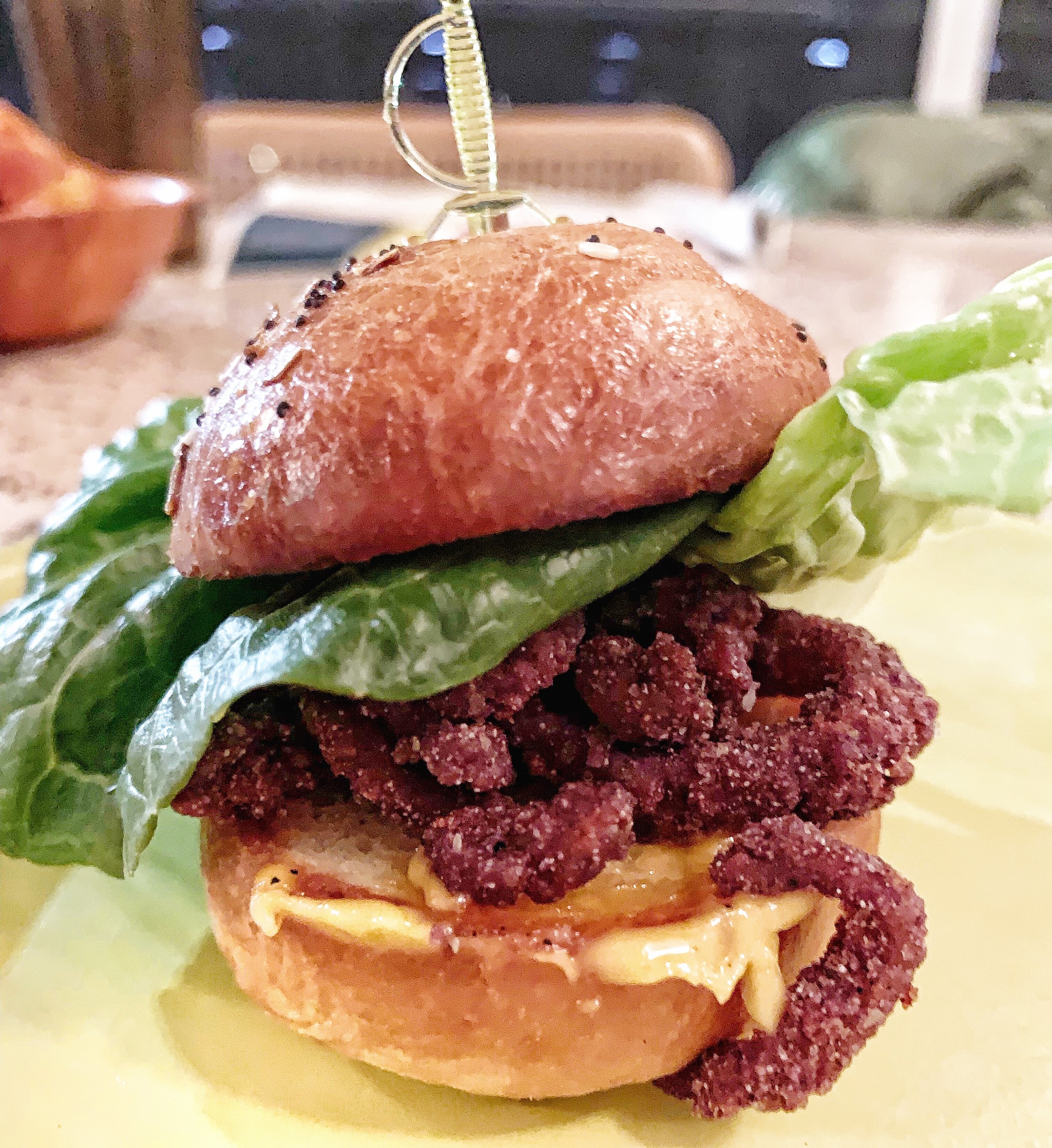 On milk bread
OH THE MILK BREAD MADE AN APPEARANCE. How could you have any sort of meal with The Kindreds without milk bread? This was one of Jason's favorites and mine, and the texture of the lettuce, clam, and milk bread made for such a show-stopping combo.
With Bresola & various mustards
On our podcast with Piedmont Culinary Guild's Kris Reid, she said this was her favorite dish of the night! And we can see why. She spoke to how difficult it is to get every part of a pâté en croûte right, and that Moss and Kindred knocked it out of the park.
Assorted Vegetable Ferments & Pickles
This was the portion of the meal where the amount of food got insane. These pickles were delicious, but I felt they didn't get the appreciation they deserved because at this point the dishes started coming out fast and furious!
These famous hushpuppies are on Hello, Sailor's regular menu, and the crispy bites with yuzu kosho-honey butter are always a crowd pleaser.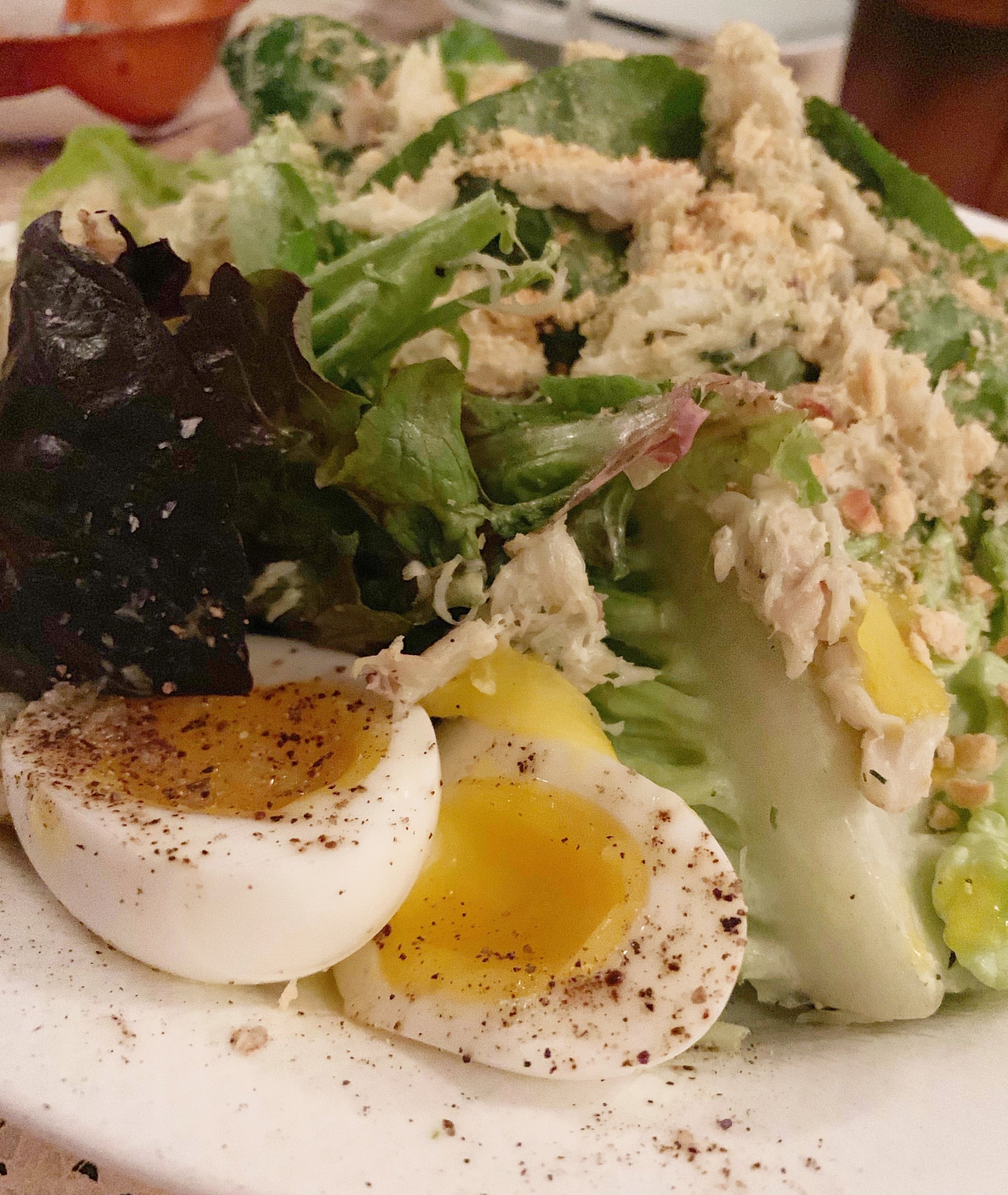 With Rock crab & winter citrus
This is very similar to the Citrus Crab Louie salad on Hello, Sailor's regular menu, and similar to that salad, it was freaking amazing. I actually enjoyed the bulk of my serving the next day for lunch, and it really held up!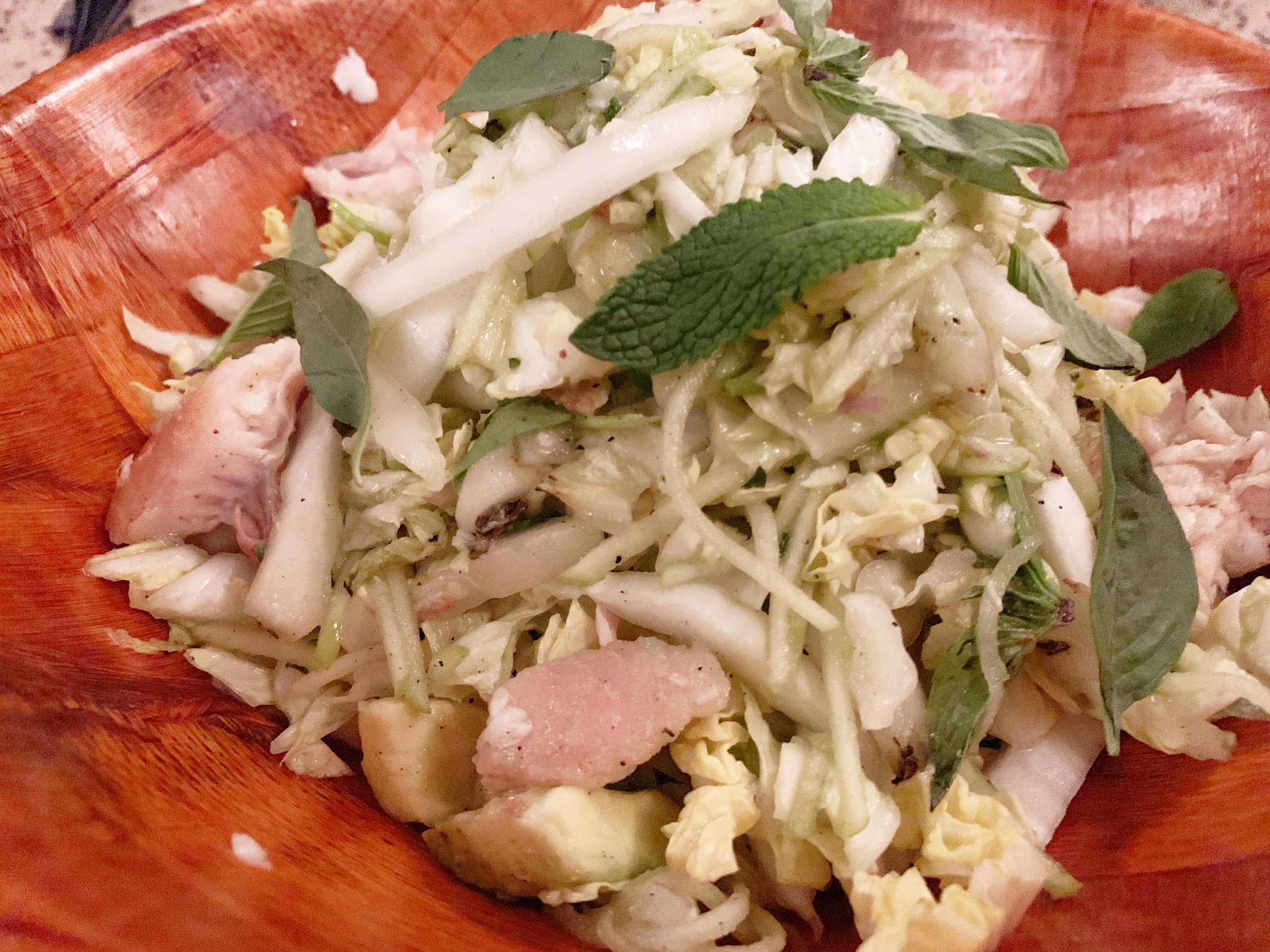 CHarred Napa Cabbage Salad
Granny Smith, cucumber, avocado, smoked catfish
I didn't like this salad quite as much as the one above, but Jason liked it more – and he doesn't even really care for salads, so that's saying something!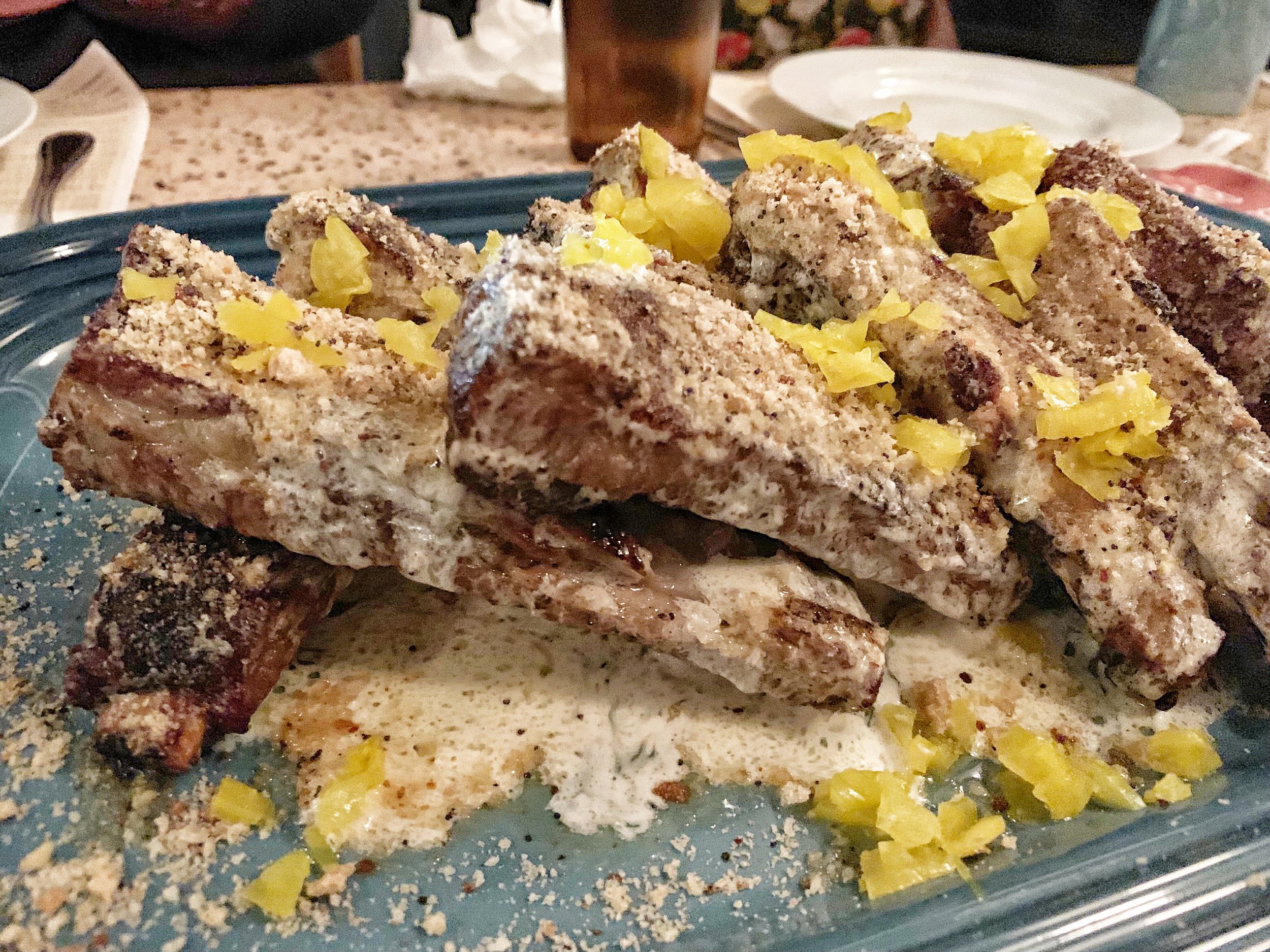 Pit-Smoked Crispy St. Louis Ribs
Goat cheese white BBQ sauce, onion & poppy seed breadcrumbs, & pickled fennel
OKAY OKAY OKAY. These ribs. They were the best we've had outside of Texas. The goat cheese white BBQ sauce was a mind-blowing, savory flavor explosion, and we pretty much could drink it by the gallon. More goat cheese on ribs, please.
With coconut rice & curry
I loved this one. A spicy, complex curry sauce paired with perfectly cooked duck. No one does meat like Moss.
Cooked under a BBQ pig
These green beans were one of three sides, and they were essentially the same as the green beans cooked under the hog from Buxton Hall. Love them in Asheville, and loved them at this dinner, but they weren't standout enough with everything else going on, and I felt they could have cut the sides from the menu, as a lot of them went to waste on our end of the table. They also had fingerling potatoes and collard greens, which we didn't grab a photo of.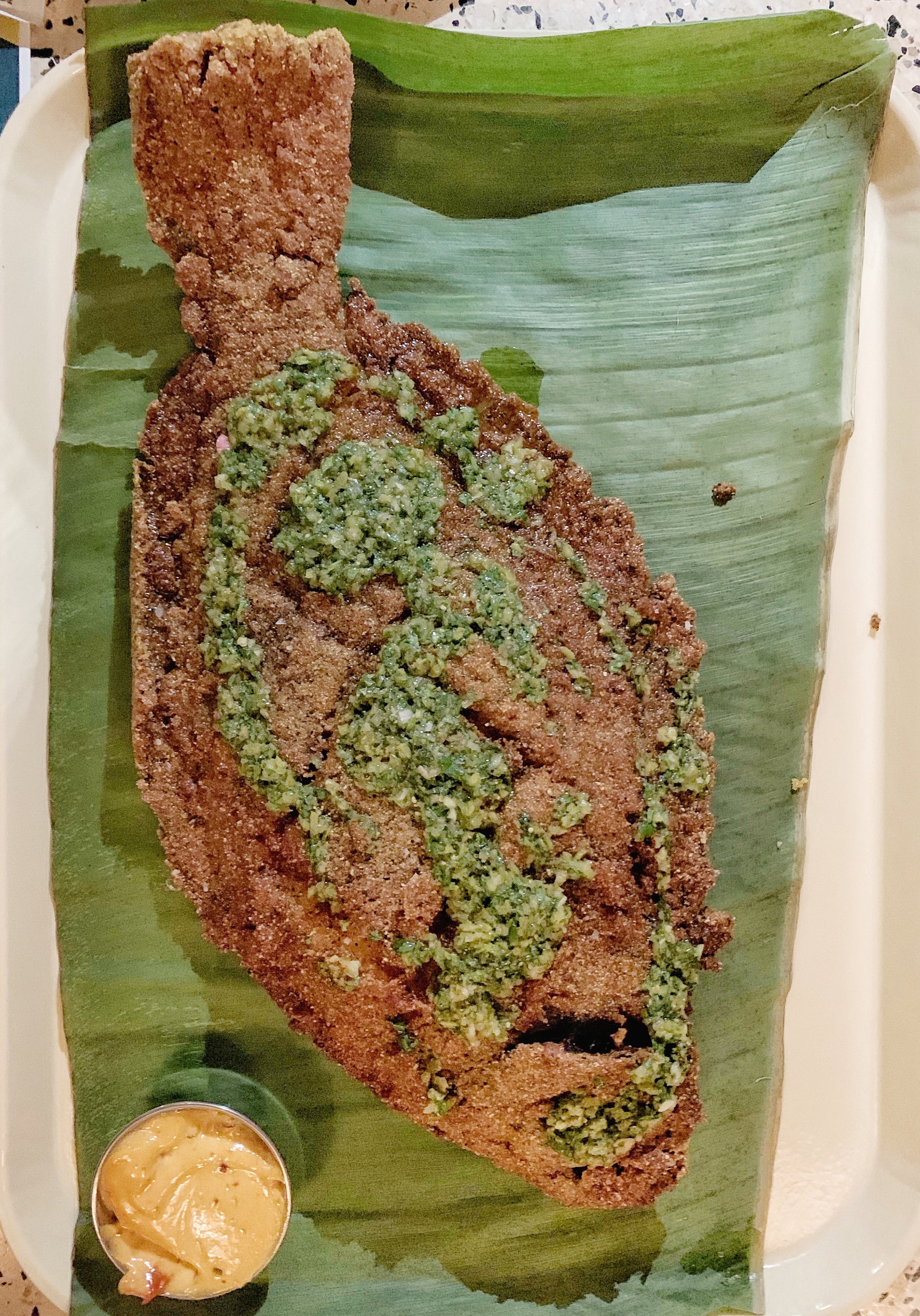 Mojo verde & roasted chile mayonnaise
Loved the flavor and preparation here. This is on Hello, Sailor's regular menu, so you can drive to Cornelius and get it any time. At some point, we just dug into this spicy, crispy fish with our barehands. That's the kind of bonding that happens at family style dinner – you get so comfortable with the people you're dining with that you feel like you can be yourself and eat with your hands. It's a beautiful thing.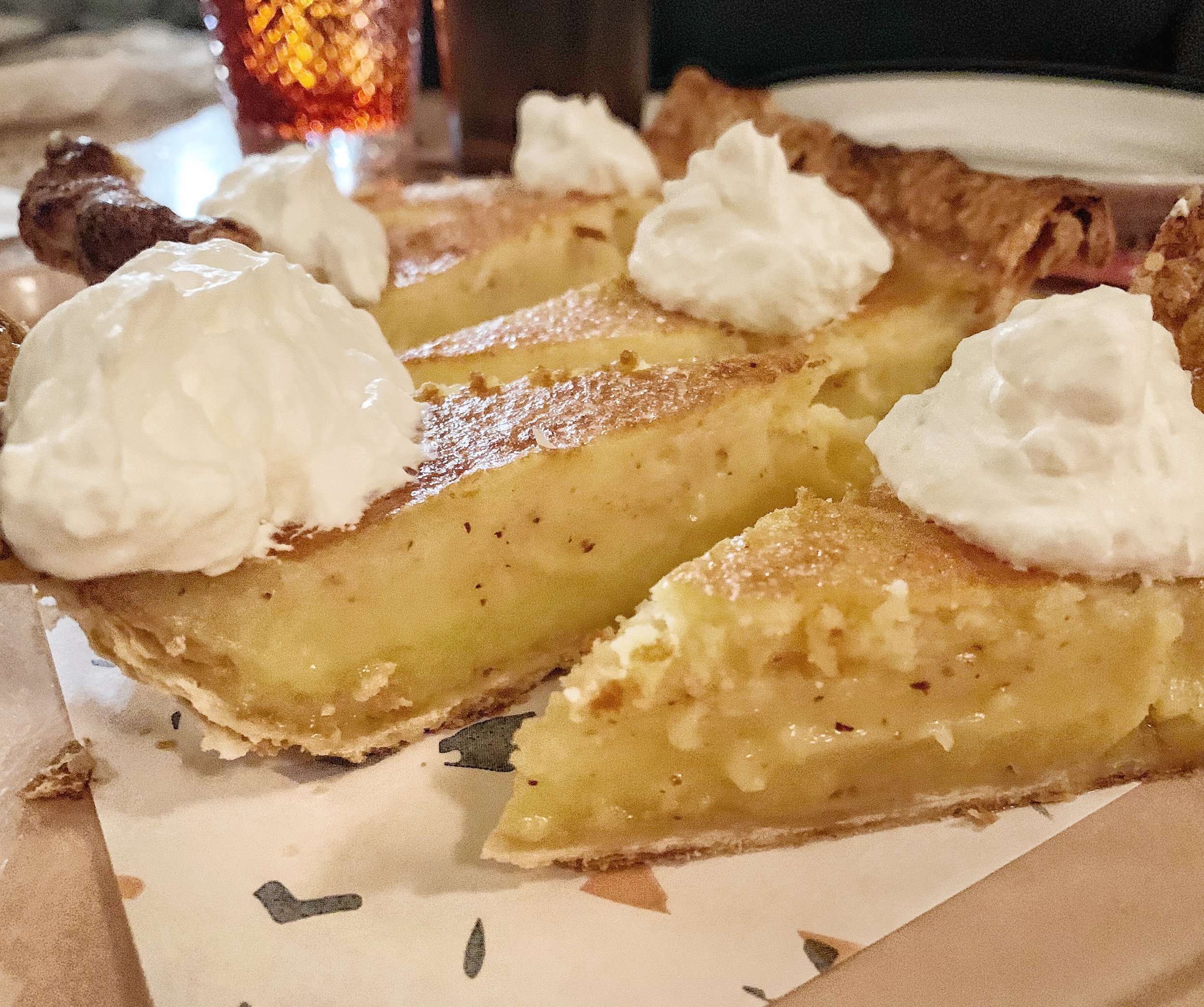 I was waiting all night for Capp's desserts, as I knew she was shipping some down for the event (I am not 100% positive, but I don't believe she was at the event herself). Unfortunately, these two desserts were not my favorites I've had from her. They were both a bit too sweet and one-note for me. But she is still my one true NC dessert love, and everyone else at the table loved both of these, so it might have just been me.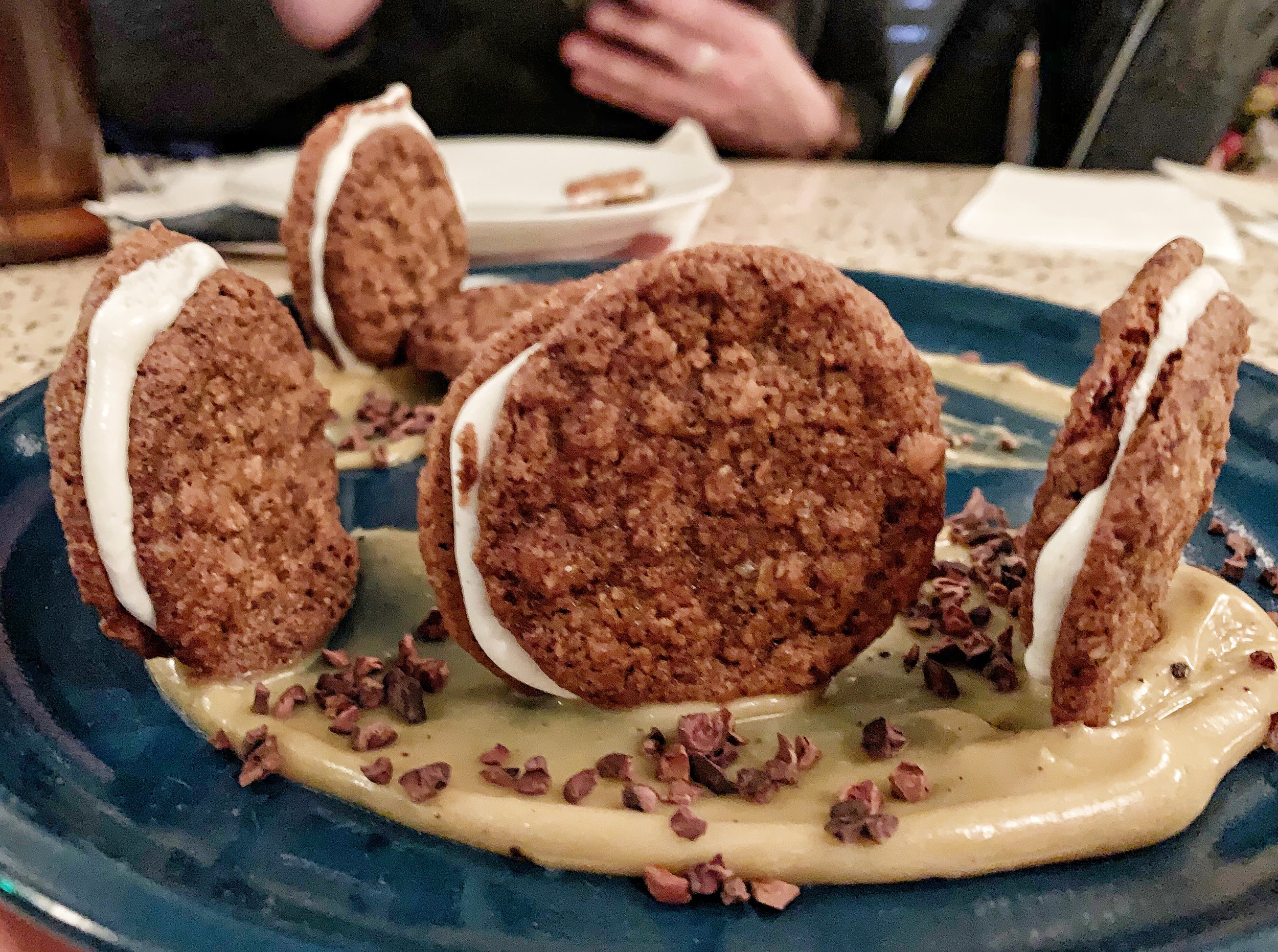 Toasted Oatmeal SAndwich Cookies
With butterscotch curd, cardamom mallow cream filling, & cacao nibs
I liked these better than the chess pie, but still – far too sweet.
'Nilla wafers & passionfruit caramels
I loved that Capps did goody bags to-go, and I ate the 'Nilla wafers and caramels for my "lunch dessert" at work the next day.
For some reason, sugary cocktails at Hello, Sailor just sound irresistible, even though I usually don't order them. This rum-based drink was so good, I had two. And had a very tipsy and fun evening with my new best friends.
Jason's mocktail! He said it was very good. Look at that adorable little flamingo.
Atmosphere:
The retro, chill vibe at Hello, Sailor is my favorite in all of the Charlotte area. It just makes me excited every time I walk in, and the anticipatory feelings never let me down – it's always a good night at Hello, Sailor.
Family Table Hospitality:
We've never had anything less than great service at Hello, Sailor or Buxton Hall, and this night was the same. The servers had a lot going on with so many guests and plates, and they managed it all beautifully. Even the lovely Katy Kindred was serving, and she came out at the end of the meal with the chefs to thank everyone for coming, and let us know they're planning to do more collaboration dinners soon – especially once the weather gets nicer! She is a gem, and her great personality added to the night's good feelings.
Frankie's Notes:
If we are breaking bread together, I am going to consider us new best friends; After two Mama Ain't Home cocktails, I am a damn good time (and also prone to dropping something or putting my foot in my mouth); If you drive north of Charlotte and don't enjoy milk bread in some form or fashion, you're doing it wrong; Why can't we cook everything under a hog? Even hogs?; Frankie and Ollie would like to join for the next collaboration dinner, because they say they're family too, goshdarnit.