Background:
Angeline's opened around this time last year on the ground floor of the Kimpton Hotel. While Scallionpancake has yet to venture to the top level of the Kimpton (we're looking at you, Merchant & Trade and your dress code), we've been on two lovely visits to Angeline's for their modern take on Italian-American cuisine. Executive Chef Robert Hoffman cut his culinary teeth on the Chicago restaurant scene, so it's no surprise that he knows his stuff. He is also the Executive Chef for Merchant & Trade, as both restaurants are owned by the Kimpton group. We guess this means we'd better suck it up and try it one day soon. We will report back once we buy a belt and heels. Not saying who's wearing what, though.
Oh, and heads up: we recently learned we were mispronouncing Angeline's for a long, embarrassing time. It's Ang-uh-leen's, not Ange-line's. Don't make a fools of yourselves like we did.
Below is a compilation of dishes we tried over two visits, one last December and one in September of this year.
Eat This: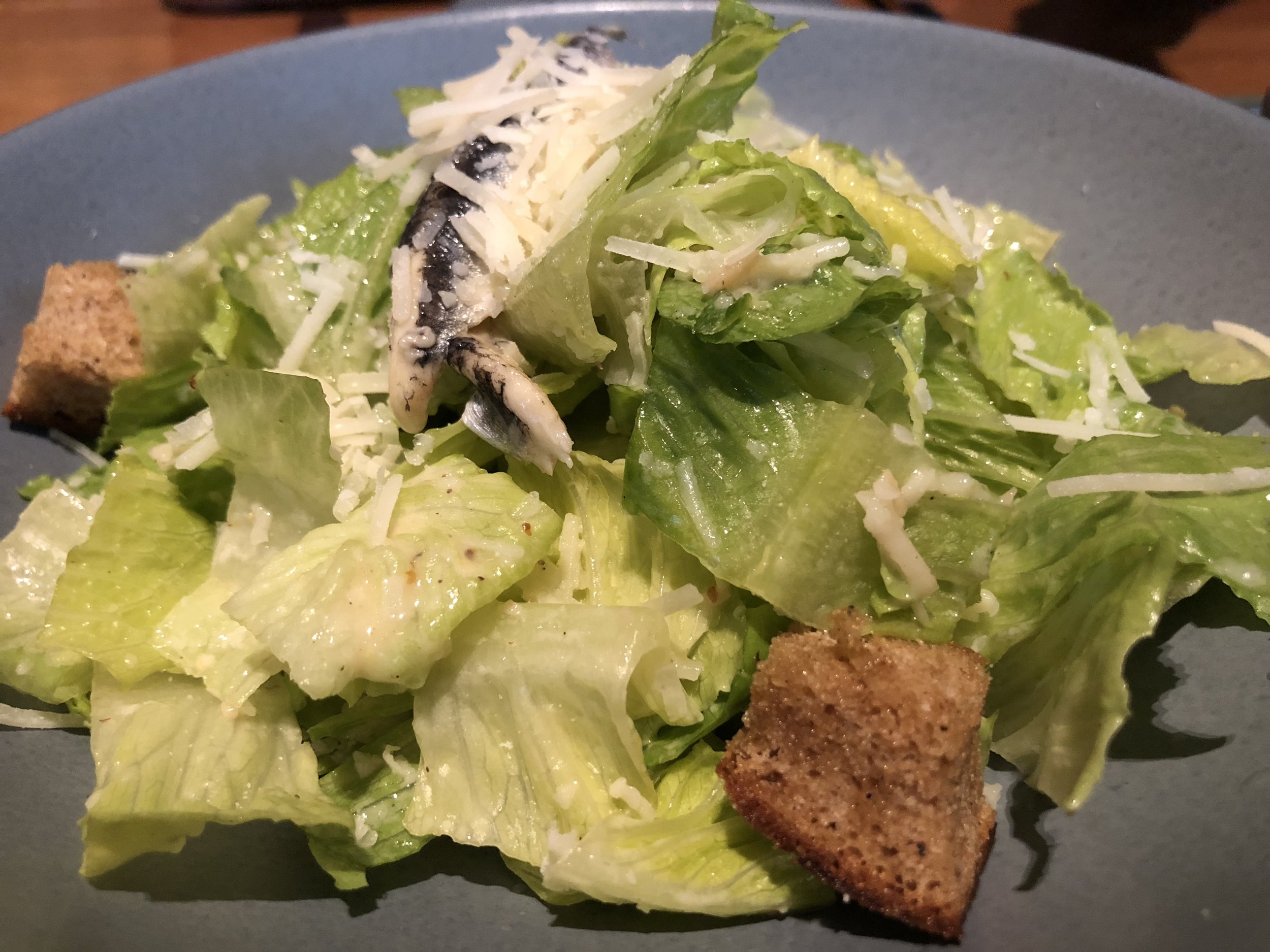 Anchovy, focaccia crouton
We loved the whole anchovy on top. A great, simple Caesar.
With olive tapenade
Decent focaccia. I always wish it had more oil and salt, though.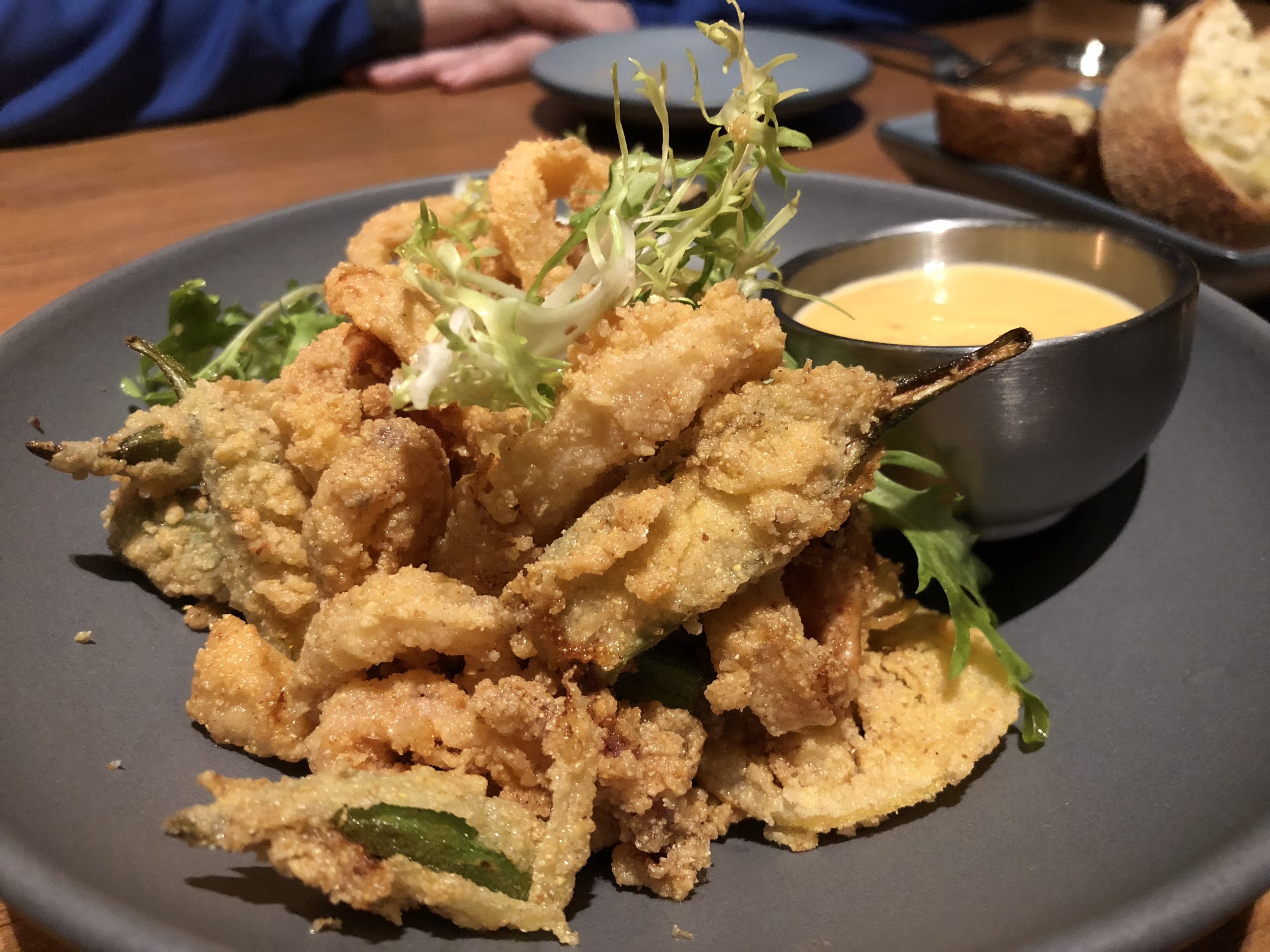 Fried Calamari, lemon okra, Calabrian Chili aioli
Two thumbs up.
Lamb and pork, pomodoro, Taleggio fonduta
We loved these meatballs. Instagram went wild for them, too.
Sourdough, lavender honey, pistachio
The best appetizer on the menu. You can't come to Angeline's and not order this. You won't be disappointed.
With peas & asparagus
This dish appears to no longer be on the menu, but it was a great one. Very fresh, and the gnocchi was cooked perfectly.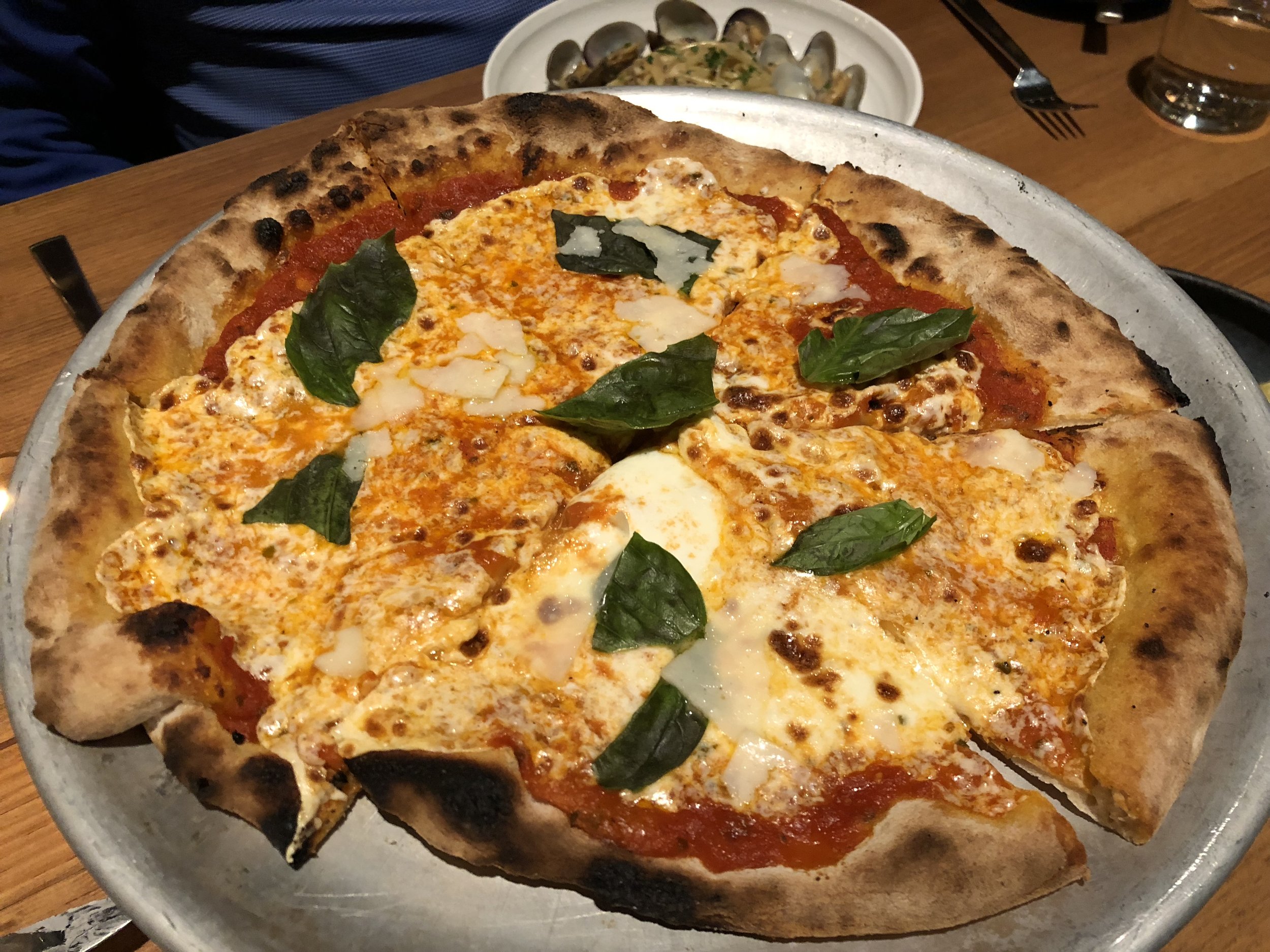 Fresh mozzarella, Heirloom tomatoes, torn basil, Pecorino, tomato sauce
The pizza is good, but I think the pasta is the way to go at Angeline's. There are better pizzas in town.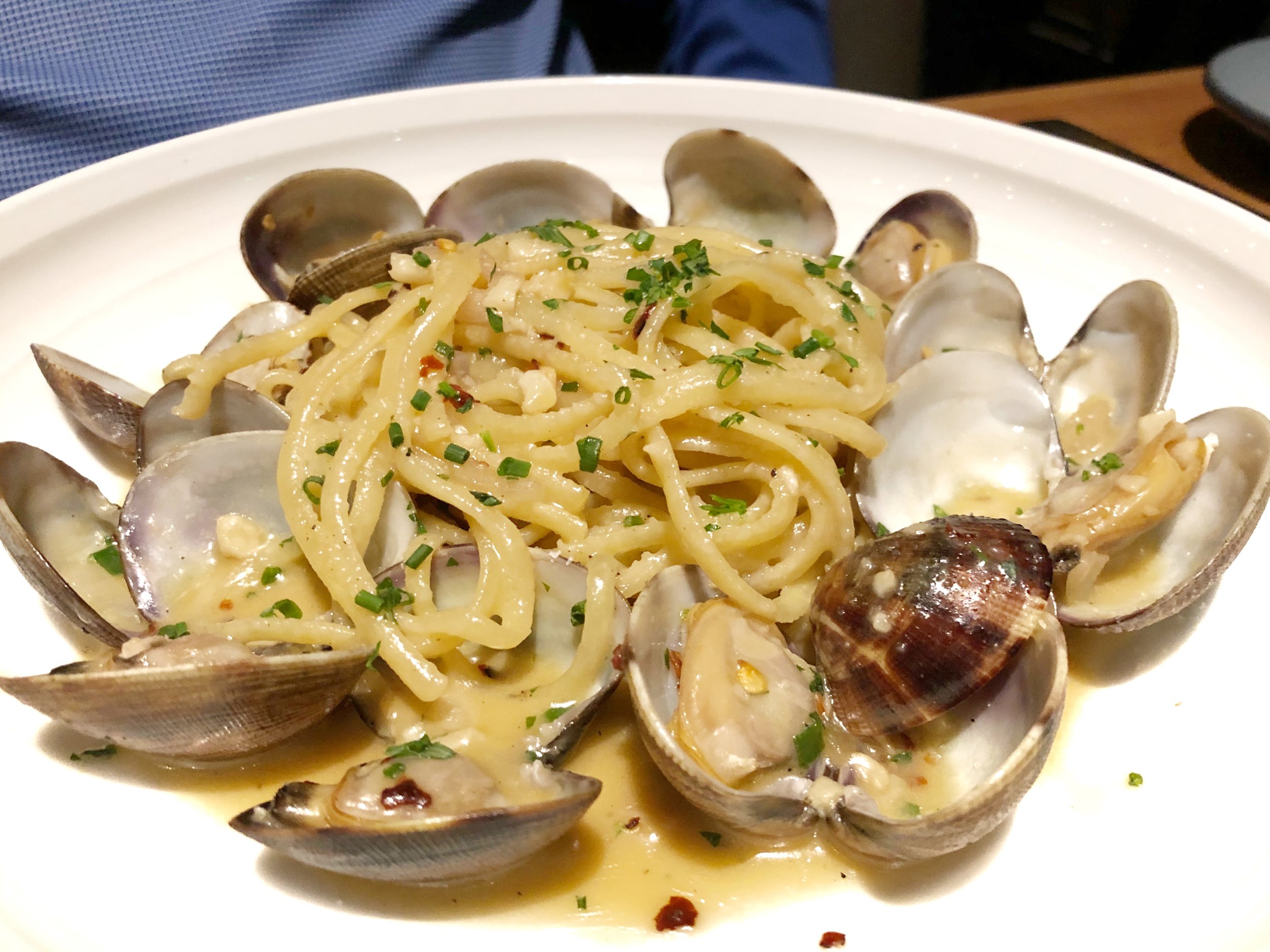 with clams
My dad had this, and he enjoyed it.
Chive, shaved Parmesan, Tellicherry pepper
Simple and flavorful. All of the pasta is made in house, and they don't muddy it up with too many ingredients.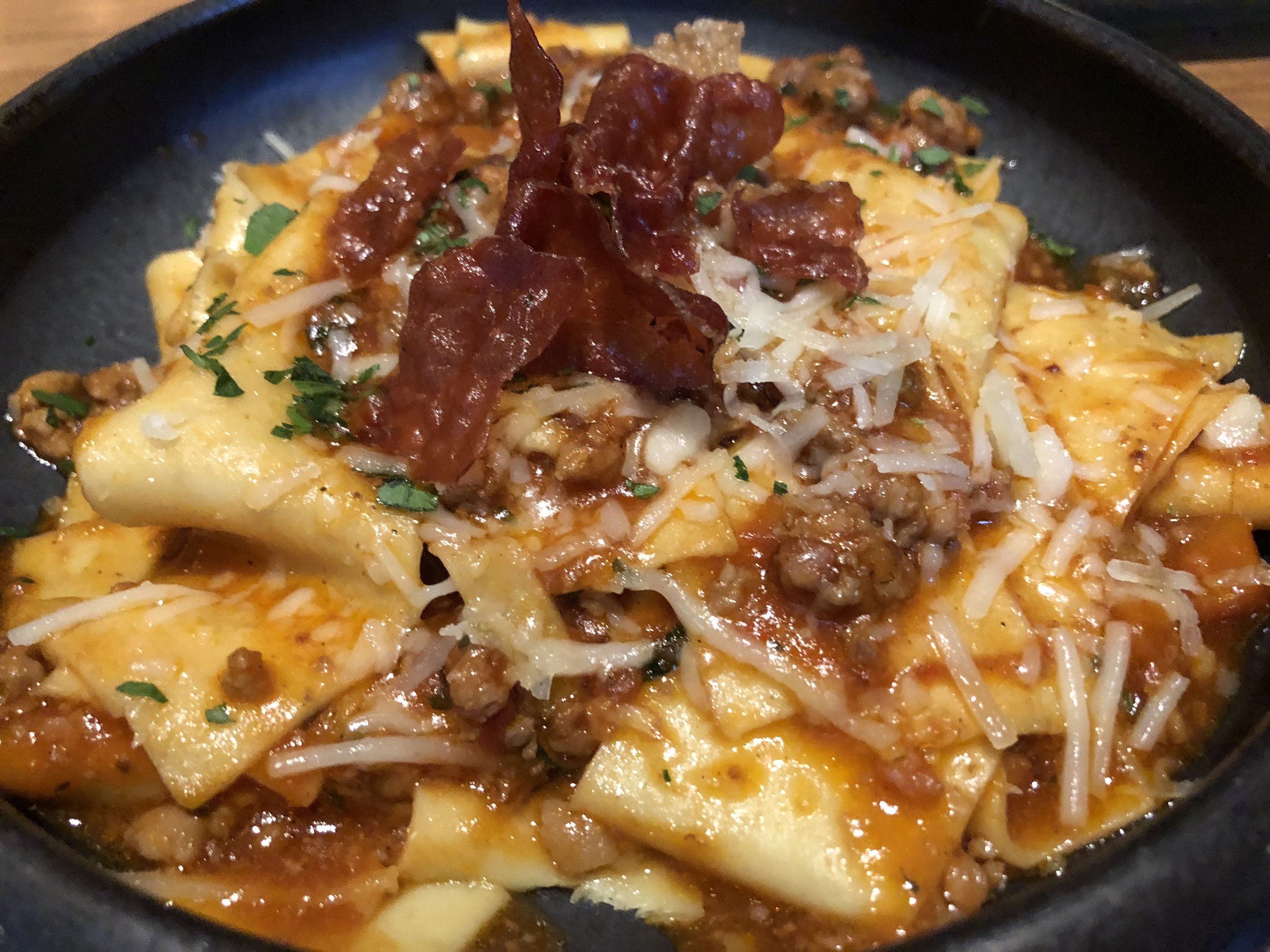 Bolognese, crispy Guanciale
I've gotten this pasta twice, and it's perfect. I always crave a pasta with meat sauce, and this is my favorite place to come when my mom isn't around to make hers.
Butterscotch custard, caramel, creme fraiche chantilly cream
One of the best desserts in Charlotte. Yeah, we said it.
On the whole, the food is delicious. Some dishes are better than others (again, skip the pizza), but nothing we've tried has been bad.
Drink:
Henry Schmulling directs Angeline's bar program (and Merchant & Trade's), and he seems to be killing it with cocktails, if Instagram is any indication (and we believe it is). We have only tried wine at Angeline's, and the list is thoughtfully curated and reasonably priced. We are looking forward to trying some of his cocktails on our next visit.
Atmosphere:
We totally dig the atmosphere. It's fairly upscale and romantic, but you don't feel out of place in jeans. There is an abundance of cozy booth seating, and most seats in the house have a great vantage point of the bar and the kitchen.
An-gul-EEN's Hospitality:
We have had the best service here. Both of our servers were very informative and provided just the right amount of attentiveness. We always feel like we are in good hands when we dine here.
Frankie's Notes:
Restaurant menus should come with a full pronounciation guide that includes the name of the restaurant in question; Did you know that McDonald's is actually pronounced MacDonwald's?; The more you know; My dad insists he doesn't like ricotta, but he had no issues devouring that whipped ricotta with lavender honey; Doesn't that budino look like it's wearing a snazzy little suit?
Rating: 4 out of 5