Background:
Grant Arons opened Inizio in March 2016, and there are now two locations, the original in Ballantyne and one in Dilworth. Arons makes his pizza according to the strict standards set by the governing body of Neapolitan pizza. The flour, tomatoes—even the water used for the dough—are all imported from Italy. The pizzas cook for 90 seconds in a super-hot wood-fired oven, and they are best eaten immediately after cooking. Inizio recommends not getting the pizza cut into slices if you're taking it to-go, as this can cause the crust to get soggy. However, we are bad pizza-eaters, and we usually get ours cut and to-go, because we don't own a pizza cutter for some reason, and pizza is best eaten on the couch in front of the TV.
We have been to Inizio several times for blog promotions, but we are regularly there on our own dime as well. What is our go-to pizza? You'll see below that we've pretty much tried the whole menu by now, but we certainly have our favorites!
Eat This:
Inizio is not a build-your-own pizza joint, rather they have some tried and tested flavor combinations you can get in a choice of two sizes. You can add or subtract toppings, but they recommend you go with one of their concoctions. We also think that you should trust their combinations, because they are darn good.
Rosemary, sea salt, ricotta, Buffalo Mozzarella, garlic, pistachio pesto sauce, pistachios
Anchovy, Kalamata olives, San Marzano tomato sauce, Buffalo Mozzarella, basil
San Marzano tomato sauce, Buffalo Mozzarella, basil, garlic, Pecorino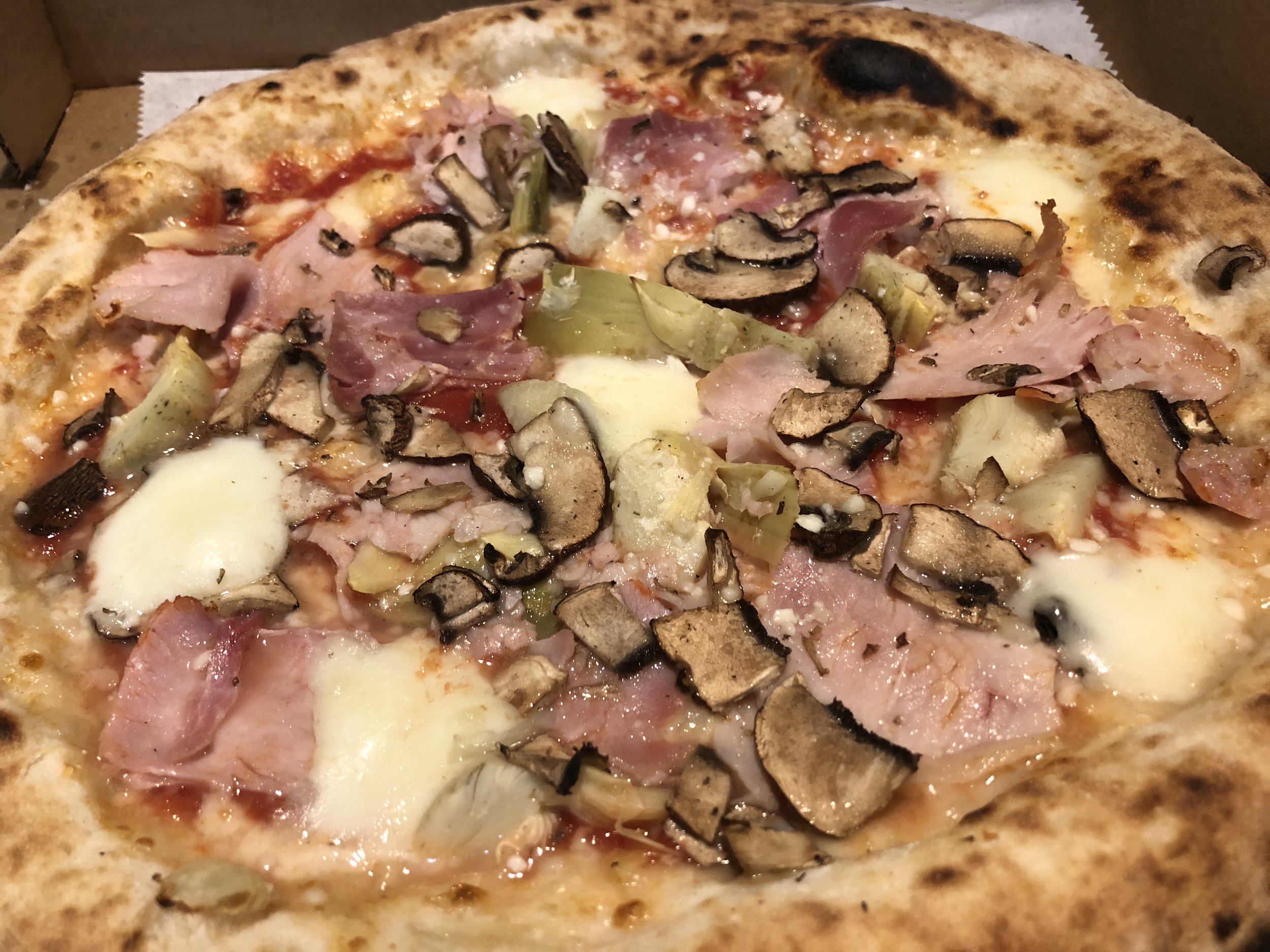 Artichoke, prosciutto ham, mushroom, San Marzano tomato sauce, Buffalo Mozzarella
Spicy salami, Calabrian pepper, San Marzano tomato sauce, Buffalo Mozzarella, Pecorino
One of our favorite things about Inizio is their seasonal offerings. You never know what direction they'll go in for the future, but here are the ones they've had in the past:
Spring Pizza
Imported prosciutto, roasted asparagus, Buffalo Mozzarella, garlic, sea salt, & Pecorino
Thinly sliced lemons, fig jam, goat cheese ricotta, Buffalo Mozzarella, & fresh thyme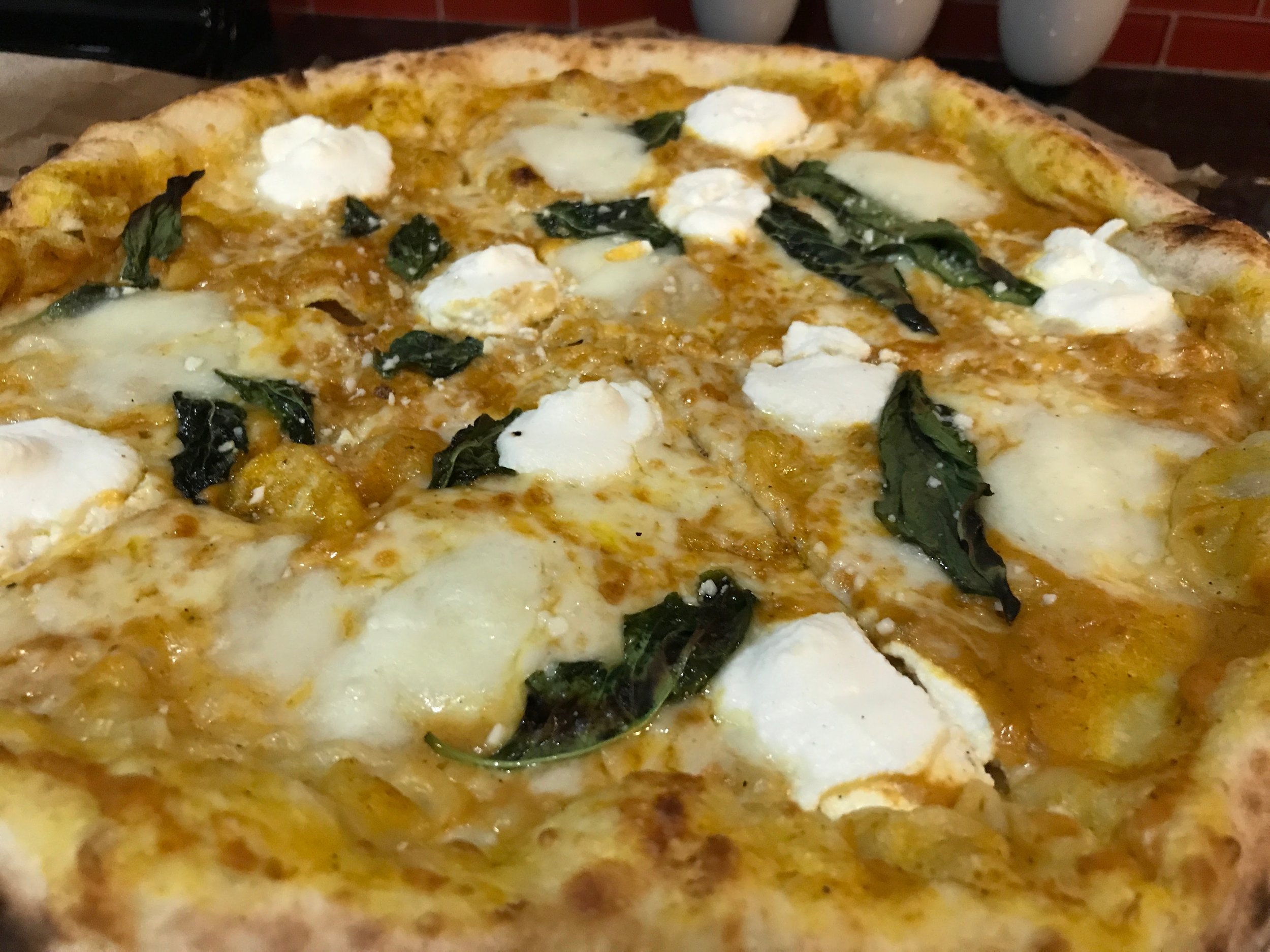 Pumpkin, basil, Buffalo Mozzarella, ricotta
Potato, sausage, & kale, with a creamy vegetable base
From Winter 2019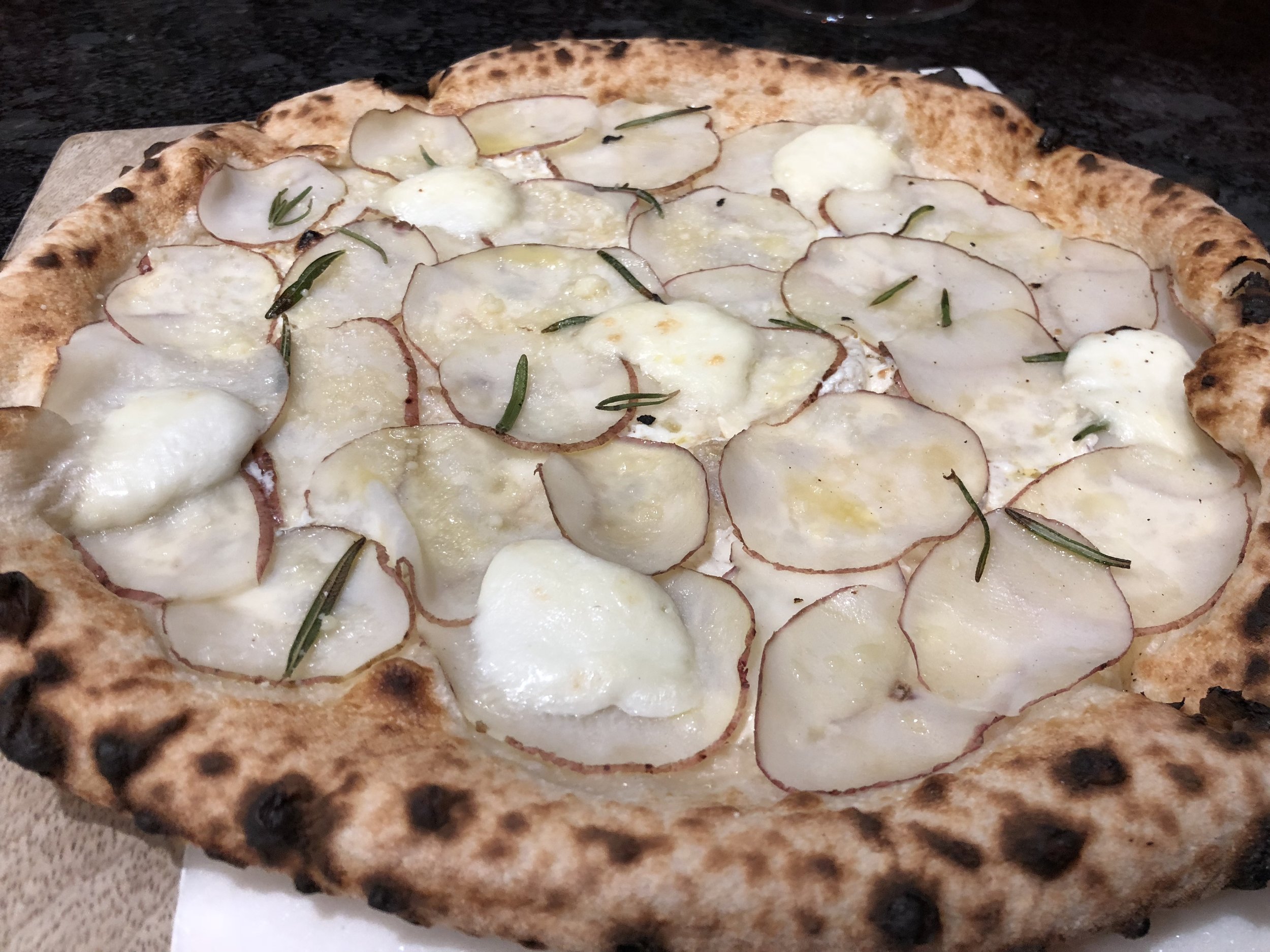 Paper thin red skin potatoes, rosemary, sea salt, smoked mozzarella & Buffalo Mozzarella
From Winter 2018
Dessert:
Cannoli and gelato from scratch--what more is there to say? In addition to the staple chocolate chip, pistachio, and lemon cannoli, Inizio offers a seasonal cannoli, too, and last summer had a v. v. special dessert pizza!
OG Cannoli
Pistachio & Chocolate Chip
Nutella marshmallow s'mores pizza!
with white chocolate chips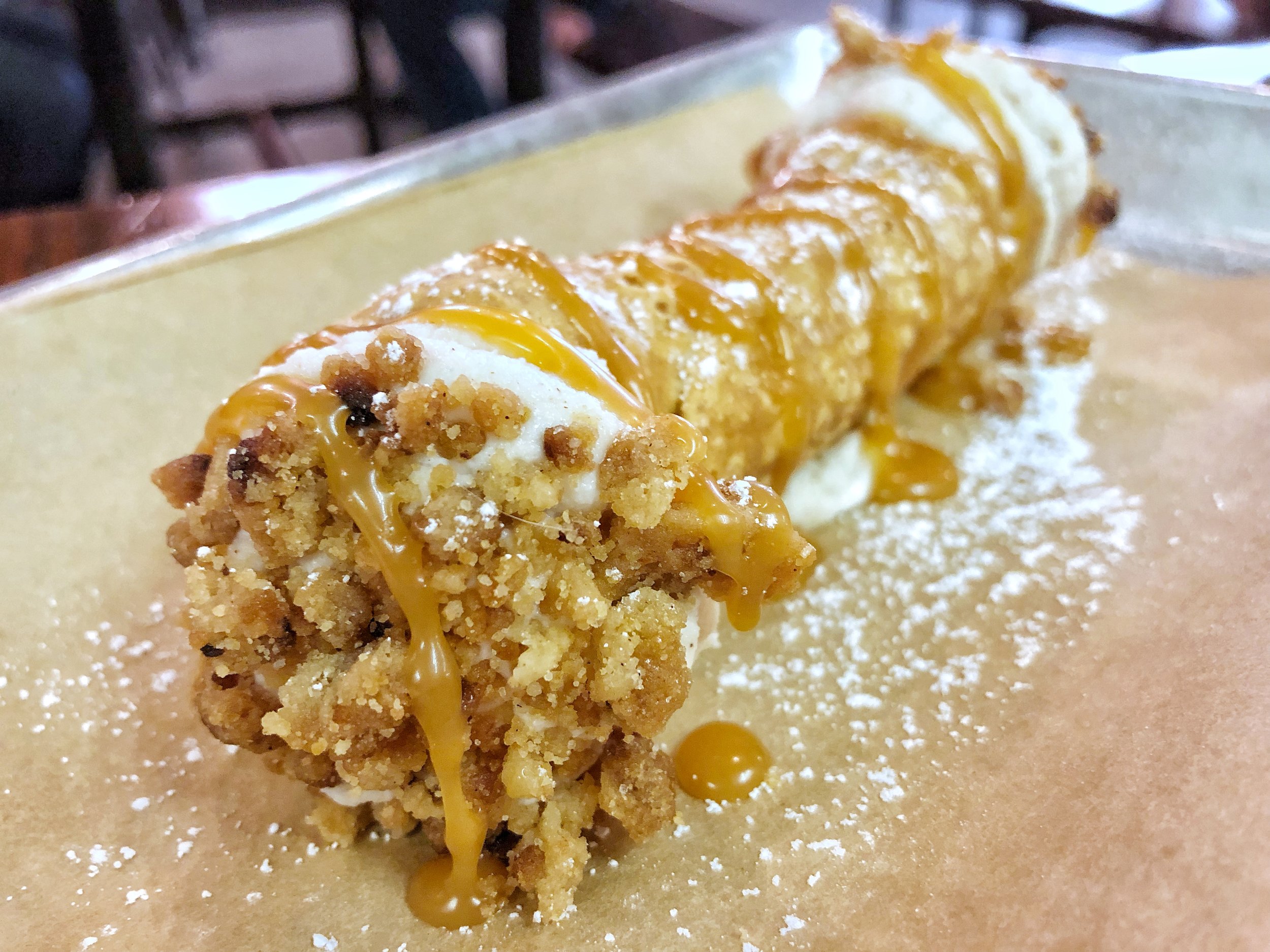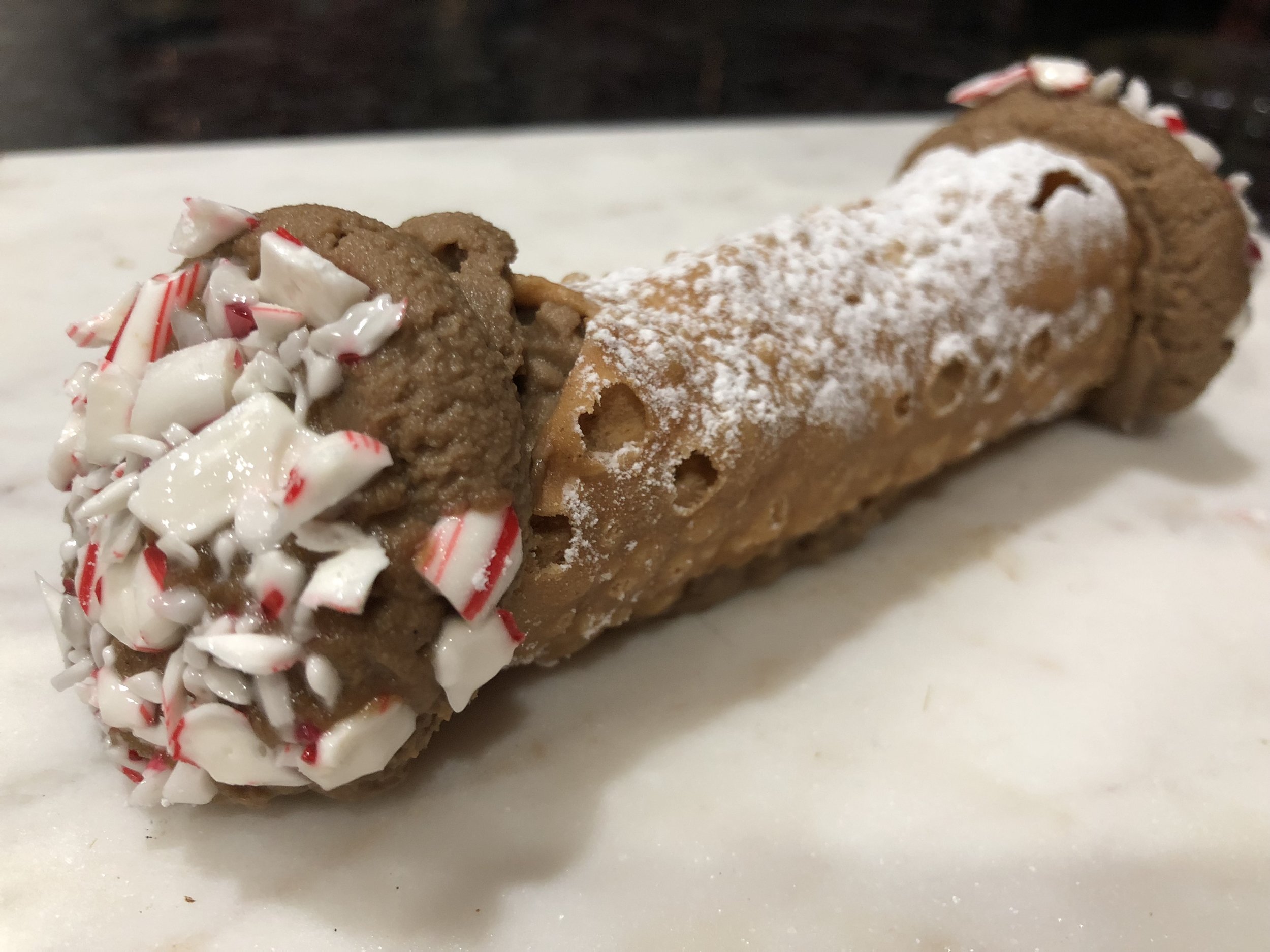 Drink:
Inizio offers wine, beer, soft drinks and UpDog Kombucha, but they also have really fun house-made juices and teas, like peach iced tea, strawberry lemonade, and others.
Atmosphere:
Both locations have tall ceilings and a bustling atmosphere, since they are both constantly busy. They frequently host musicians and often hold events with the SPCA, which we think is so wonderful! There are lovely patios at both locations, too.
Napoletano Hospitality:
You order at the counter at Inizio and your order is brought out to your table. The service is quick and polite. You can also order online and your pizza will be ready when you arrive, if you'd rather eat your pie at home, like us!
Frankie's Notes:
Frankie was always on Team Inizio during the Scallionpancake #pizzawars of 2017; Not sure what would be so hard about adding a pizza cutter to my next Amazon cart, but for some reason it just doesn't happen; Inizio: we are sorry we get the pizza cut!! The Limone Capra is the best pizza we've had outside of Italy, no joke; Frankie loves that Inizio does pizza fundraisers in honor of pups like him––thanks, Inizio!
Rating: 4 out of 5