Background:
Fleming's Prime Steakhouse & Wine Bar was opened in 1998 by Paul Fleming and Bill Allen in Newport Beach, California. Now, Fleming's boasts 69 locations and is owned by the restaurant group that owns Outback Steakhouse and Carrabba's Italian Grill. Last Friday night, Fleming's invited us out to try their delicious offerings for the first time, and we were more than impressed with every moment of our experience, from the hostess stand to dessert! Everyone was so welcoming, and the food was fabulous.
Eat This:
Although Fleming's makes a mean steak, their menu offerings are broad. What sets Fleming's apart from other chain restaurants is their inclusion of a Chef's Table menu. Each location's head chef gets to curate a menu that changes monthly and is unique to the chef and location. Charlotte is lucky enough to have Chef Rigoberto Castillo creating some standout menu options in addition to the items available at all locations.
Also, if you have never tried Fleming's, this weekend is the time! Fleming's is only open for brunch/lunch four days a year: Thanksgiving, Easter, Mother's Day, and Father's Day. And Father's Day has to be the best option of all--who has a father who doesn't appreciate a good steak? If you are saying no, we need names, people. Beginning on Friday the 15th and throughout Father's Day weekend, Fleming's is offering a three-course menu featuring a 35 ounce Prime Tomahawk steak and a very special bourbon tasting including Basil Hayden's, Buffalo Trace and Knob Creek. If you are looking for brunch, Fleming's will open at 10am and offer Eggs Benedict and other morning favorites!
Oysters on the Half Shell
red wine mignonette, cocktail sauce
The oysters were part of Chef Rigo's menu, and this is the first time Fleming's has offered oysters!
Jason's perennial favorite--we ate all of this!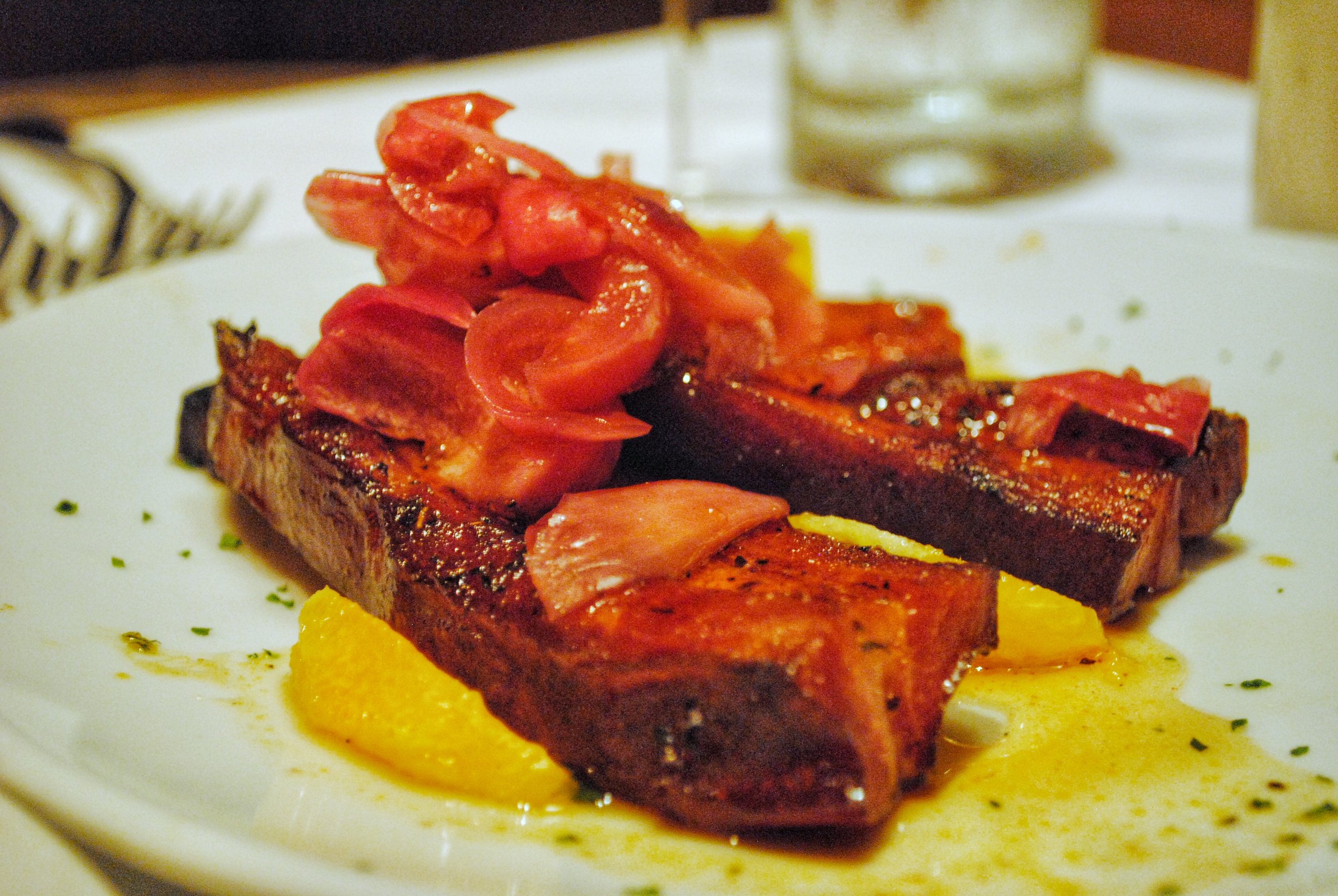 MAPLE GLAZED SLAB-CUT BACON
I mean...can you go wrong with a bacon slab?
Our waiter, Gene, said this was his absolute favorite steak on the menu, and he didn't leave us astray. The meat melted in our mouths!
This was an item from Chef Rigo's upcoming menu (yet to be published!), and we got a sneak peek! This was so tender and flavorful.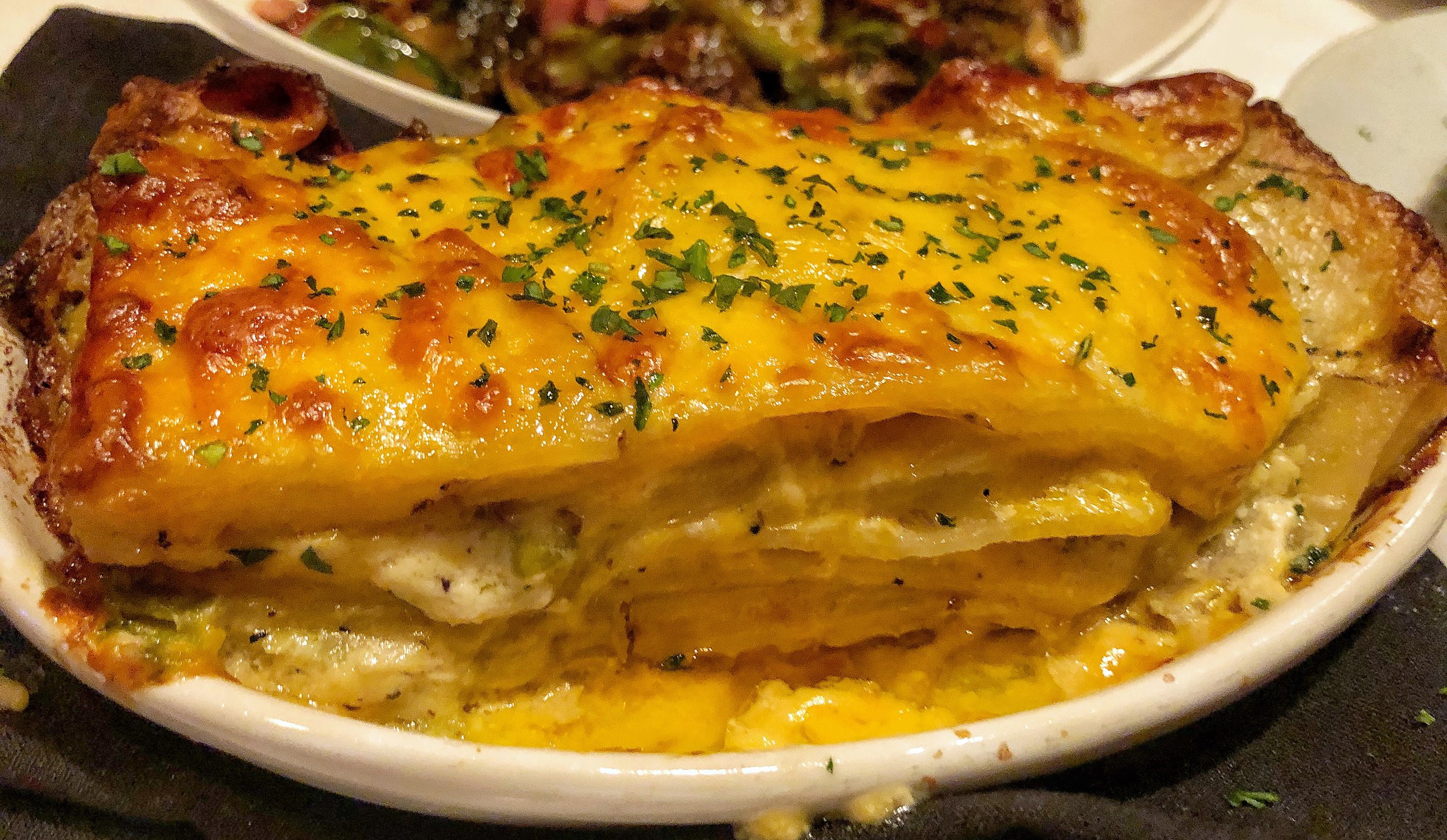 The best scalloped potatoes of life.
These were so buttery and perfect.
CRISPY BRUSSELS SPROUTS & BACON
I love having crispy brussels with a steak, and these hit the spot!
Dessert:
How could we fit in more food after all of that for two people? I dunno, man. But somehow, some way, we made it work.
Drink:
Fleming's is known for having an epic wine menu, and while they have recently paired down their options (from 100!) to provide a more streamlined list, they still offer the best of the best when it comes to wine and cocktails. I enjoyed a couple of glasses of the Mas Fi Cava Brut sparkling wine--one of my favorites!
Atmosphere:
The vibe at Fleming's is classic American steakhouse. The hardwood details and carpet merge upscale and comfortable perfectly. There were many people here for special occasions, but no one felt the need to whisper--everyone was enjoying themselves.
Carnivorous Hospitality:
Our server Gene has worked at Fleming's for over ten years! He was a consummate professional, and we felt so well taken care of all night. The Operating Partner, Clinton Geiger, was very hospitable and came around and checked on all of the tables and ensured every aspect of the dining experience was up to snuff. We felt very fancy dining at Fleming's, and it's a place I would love to take our parents or Jason's grandma for a special occasion. There is something for everyone to enjoy on the menu, and the food and service combine to provide an experience that is delightfully out of the ordinary.
Frankie's Notes:
Jason had a total Chima experience at Fleming's (ie, he ate way too much meat and needed to lie down immediately); Our eyes were definitely bigger than our stomachs at this meal, and we are pretty much still full five days later; Aging meat is the new black; When I have two glasses of alcohol, I like to talk a lot; Sorry, Jason; How did we fit in that turtle pie after everything else? Magic, I tell you. And a second stomach for dessert, of course.
Disclaimer: This meal was provided free of charge in exchange for an honest and unbiased review. All opinions are our own, and we were not compensated for this review.