Update: We went back to Noma for the Seafood season. You can read about that here.
Background:
Back in 2015, when Scallionpancake was in its infancy, before we really knew anything about fine dining or the world food scene, we took a trip to Copenhagen because we knew the number one restaurant in the world was there. About a month before that trip, being the idiot that I am, I tried to make a reservation at Noma. Of course, it had been fully booked probably five times over, months before we had even contemplated a trip to Denmark. We had some good meals on that trip, but the whole time it felt like we had the weight of Noma's ghost overshadowing our stay.
Last year, we returned to Copenhagen, this time smarter in our knowledge that you can't just stroll into Noma on a whim, but unfortunate in our timing, as Noma was closed for a complete overhaul of the entire restaurant; however, luckily for us, the Noma team was doing a pop-up under a bridge in Copenhagen that I had smartly booked the moment it became available. You can read about that experience here. It was an amazing meal, our favorite of the whole year, yet it still felt that even though we had a taste of the magic, we hadn't experienced the real thing.
When we decided to spend a month in Europe this summer, I started to devise a plan of how I was going to get a reservation at Noma. I did some background research which basically said: you have less than two minutes to make your reservation, or it's going to be gobbled up faster than a piece of meat being dropped to a pack of hungry wolves. So there I was, on March 5th, a full four months before our trip, frantically refreshing my screen at 9am EST (3pm Danish time), waiting for the Tock reservation system to turn on. Yvonne was on her computer doing the same, and we were on the phone coordinating like Navy Seals praying we could get something, anything, in July. I had a strategy, which was go for a mid-week reservation as those would be less desirable than a weekend reservation. As soon as the website switched to "go," I clicked on Tuesday, July 10th, and magically, a two-person dinner reservation for 5:00 pm was still available. I swooped in on that faster than you can say Smørrebrød, and two minutes and $700 later we had our golden ticket. Scallionpancake was going to Noma! (In case you were wondering, Yvonne was too slow and couldn't get any reservations, even clicking on a week day, so it just shows you how lucky we were to get one).
When you arrive in Copenhagen, it's impossible to miss Noma's influence on the city. There's a long list of former Noma chefs who have opened restaurants, including Relae, Amass, Studio, Geranium, Radio, Sanchez, and many more. The alumni page of Noma reads like a who's who of Copenhagen food royalty, not to mention some of the rest of the world. There is a palpable sense that no matter what restaurant or bar you go to around town, somehow its origin or influence leads back to Noma. In Italy all roads lead to Rome, but in Copenhagen all roads lead you to Noma.
Noma's influence goes even further than the Danish capital. Noma started the local food revolution and foraging food revolution, and its culinary impact is felt globally. René Redzepi, Noma's founder and head chef, is considered the most influential chef in the world. Redzepi is also revolutionary in how he uses social media, often posting behind the scenes videos and pictures that really connect with his followers. The restaurant has received numerous awards, most notably being ranked #1 in the world four times: in 2010, 2011, 2012, and 2014. If I had to put my money on it, I'd bet that in 2019 it regains the number one status yet again.
In late 2016, Redzepi decided to shut down and move the restaurant to a new location in Copenhagen. He felt like the restaurant had become a bit stagnant, and the team needed to innovate even further (read this Bloomberg article for a great chronicling of why Redzepi did what he did). This is a big risk for a chef with an expensive payroll and perennial top five status. The construction and building lasted the entire year of 2017, with Noma doing a pop up in Tulum, Mexico and Under the Bridge in Copenhagen during this time. The new Noma (or Noma 2.0) opened in February and has received nothing but rave reviews from almost every critic around the world including The LA Times, Vanity Fair, The New York Times, GQ, The Guardian, and The Wall Street Journal.
Eat This:
Noma has one menu that changes seasonally. There are three seasons at the new Noma: Seafood (Feb - May), Vegetables (June - Sep), and Game & Forest (Oct - Dec). We dined in July, which meant we were there for the Vegetable Season. What was unique was that there was no meat served during the menu at all (except for a grasshopper mole), which seemed to inspire the chefs to come up with an exceptionally creative menu, even beyond their usual standards.
As soon as you sit down, the dishes begin to come out at a frenetic pace. In all, we had 21 dishes in little over two hours, which is the fastest pace we've ever experienced at a restaurant of this caliber. It made for an exciting, adrenaline-filled meal that kept us engaged and interested for the entire time.
Boom. As soon as you sit down, a potted plant with a straw is put on your plate. We were instructed to drink the new potato soup and smell the herbs simultaneously. This dish was a full sensory experience, and such an exciting start.
Nasturtium Tart &
sea Buckthorn & blackcurrent Butterfly
Does it get any prettier than this? On the left was a one-bite tart encased in a thin potato shell. On the right, a beautiful dried fruit creation that was like a gourmet Fruit by the Foot--really!
At Noma, they forage pretty much every ingredient, so everything on this plate is foraged, with the exception of the white asparagus which is from a special farm they partner with. Our favorite part of this dish was the pickled pine cone. It was essentially candied, which made it so soft, sweet, and tangy.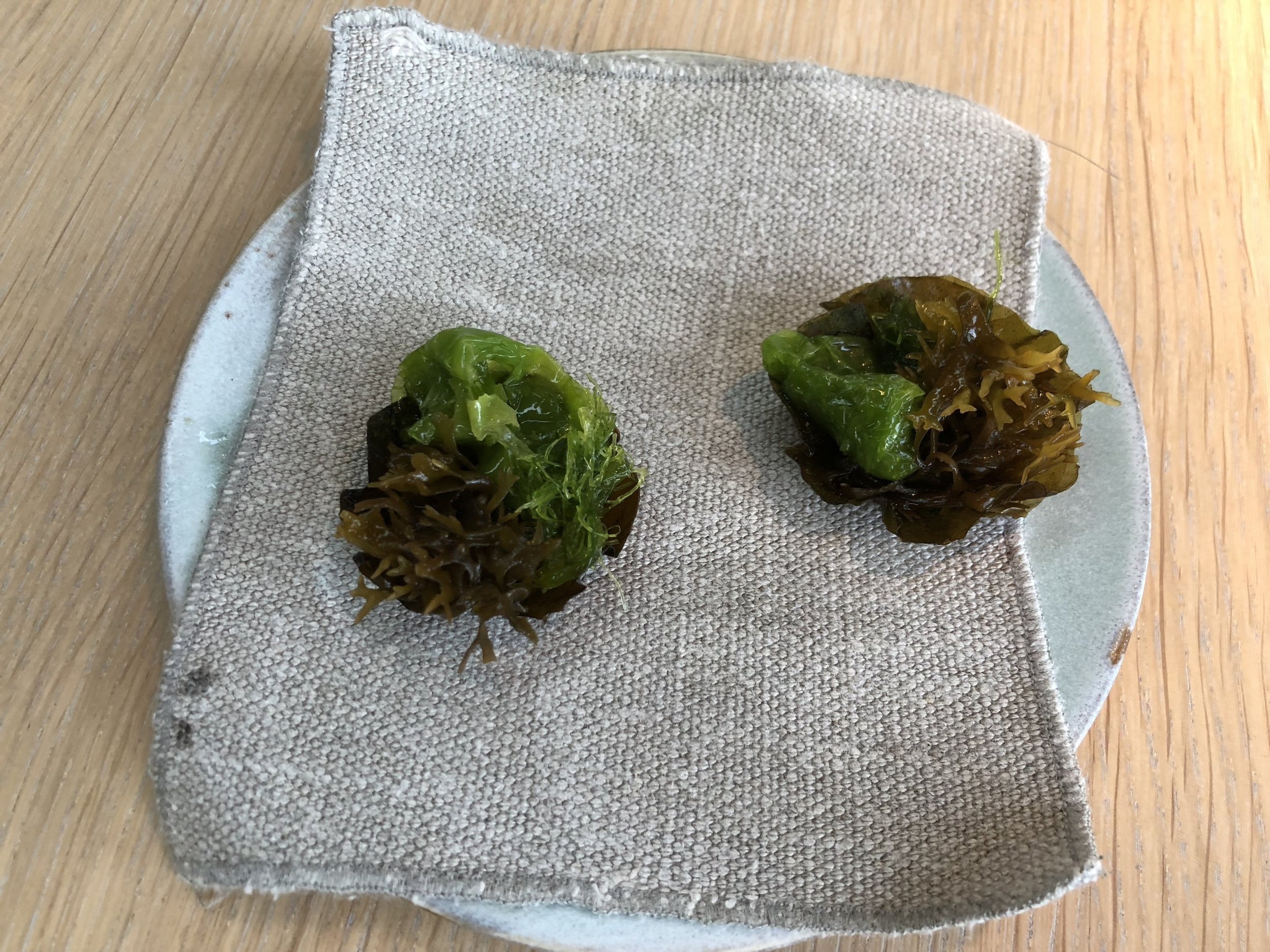 You know when you have fish that tastes fishy? Normally with seaweed you have the same, but this seaweed was so fresh it had none of the bad sea taste. This one-bite seaweed tart was meant to be eaten after taking one bite of the asparagus.
This was our little special dish that only a few tables got, I think because we were going a little faster than the other tables. A barbecued onion which was opened up and cooked with elderflower. You only ate the inside, and it was so good I picked it up with my hands and ate it like a cave man.
This was Noma's play on a grape leaf. The leaf was made entirely of cucumber skin which had been formed into the texture of a greek grape leaf and filled with parsley and flowers. What creative genius, and this wasn't even in the top five most creative dishes of the night.
quail eggs & Hip Berry chorizo
The berry chorizo tasted like meat chorizo, with a slight hint of sweetness. This was a life-changing little bite.
preserved morels from spring
They told us they got 70K morels in the spring that have been fermenting in the lab. I only got two of them, but would have happily eaten the other 69.99K
marigold flowers with a whisky egg-nog
After the meal, while lounging in the hygge room, we made friends with an amazing couple from Australia--Alisha & Matt. Even more amazing? Matt is a chef at Attica in Australia (#20 restaurant in the world for 2018! Don't worry, we're already looking into reservations). Matt explained to us how incredible it is to get these marigolds to fry in one piece, since the flowers are so fragile. Not pictured here is the whiskey egg-nog sauce that you dipped this in. This was like eating a donut with a rich egg custard. It tasted so decadent and rich, and it was perhaps my favorite dish of the night.
just cooked peas with whipped cream
If all peas were served with whipped cream, I think I'd eat peas for every meal of every day. Half of the peas were raw and half were lightly scorched. Only small peas were used. The big peas are currently being fermented in the lab for experimentation with a pea miso!
This was described as a ripe fruit ceviche which contained raspberries, red and green strawberries, flowers, fava beans, and radishes. It was bathing in a white currant broth. Light, refreshing, and slightly spicy.
This dish was special because it looked so simple, yet had maybe the most complex flavor of the night. The mustard greens and a chili spice that the team had brought back from their trip to Tulum both added a nice kick to the cracker, radishes, and fruit. Umami to the max.
The chef described this dish as a ravioli, except the "pasta" was made with caramelized milk skin. The inside was filled with brie cheese and the whole ravioli was topped with black truffle. When describing the food at Noma it's hard to not sound repetitive, but damn, this was amazing.
We were speaking to one of the apprentices post-meal, and she was saying they were contemplating taking this dish off the menu, because some on the team thought it was more pretty than tasty. Both of us disagreed, and thought that the bee pollen flavor and texture was excellent, so much so that Yvonne picked up the bowl and drank it like she was drinking a Yoohoo. The bowl was even made out of beeswax. This one is a keeper, Noma! Love, Scallionpancake.
pumpkin seed curd and grilled roses
Like the Umami Flatbread, this dish was influenced by Noma's pop-up in Tulum, Mexico. The mole underneath was made of grasshoppers and walnuts, and the pumpkin seed curd was flan-like, made from tofu, and plated table side. The rose petals were salty and crunchy--all of the textures in this one! I literally told the waiter I was going to lick the plate, and he said I could, but I contained myself.
Shawarma of celeriac and truffle
The main dish was a play on a traditional steak, except the "meat" was made from celery and truffle. What a freaking mindf*@k. A few courses before this, a chef brought out the shawarma on a stick (see below) like you would see at any stand in Europe. This course had everything, yet looked so simple. I think that's the magic of Noma--most of the dishes are so thought out that they appear easy and simple, the way Lebon James makes basketball look, or Jay Z makes music sound. This is the height of culinary mastery and excellence.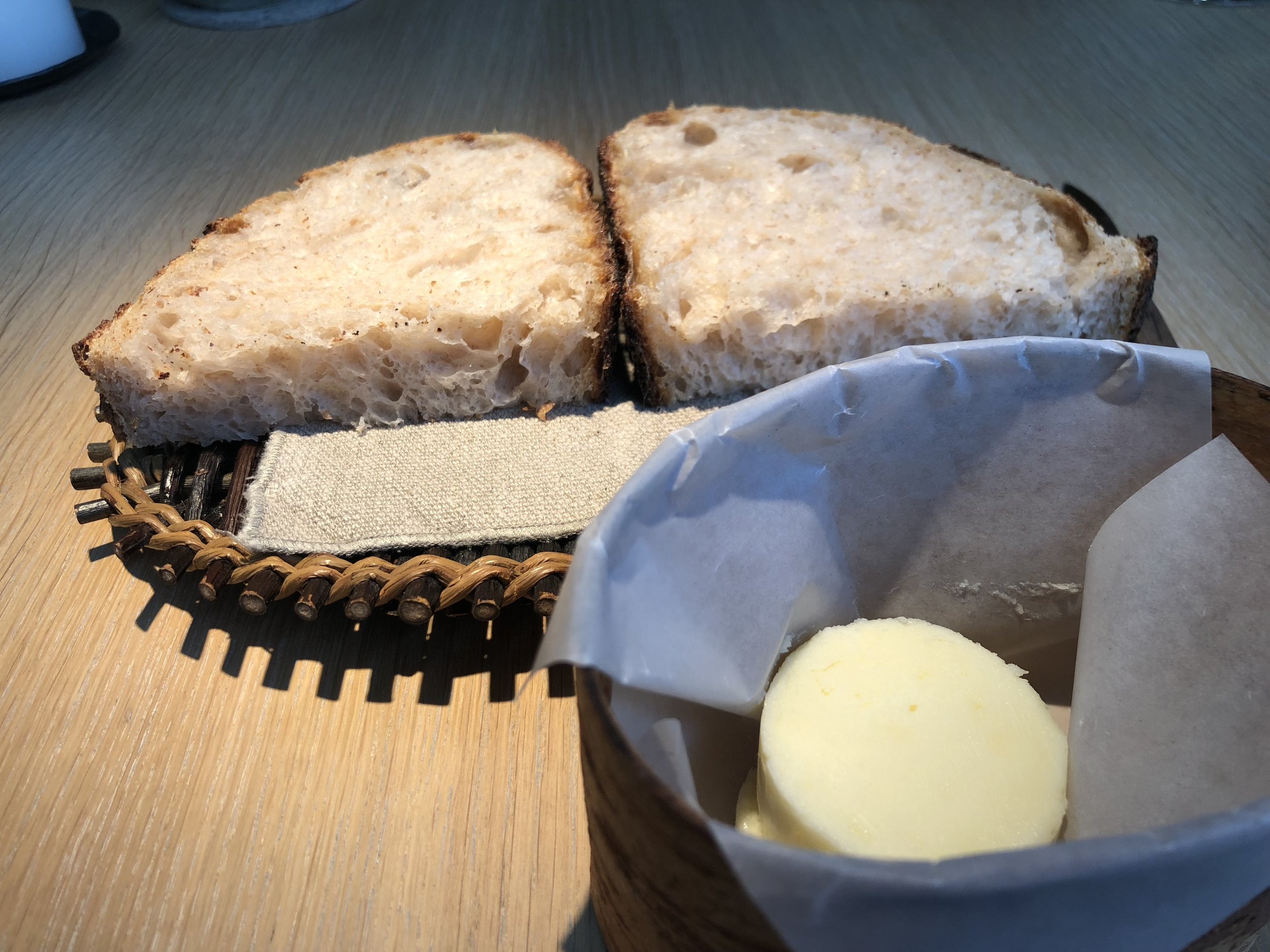 Just when we were almost done with the shawarma, a chef runs out and puts more of the truffle sauce on your plate and hands you this lovely sourdough and says it would be rude to not share the leftover sauce with you to soak your bread in. That would be rude, indeed! The sourdough is made by Richard Hart, former head baker of Tartine who is opening up his own bakery in Copenhagen in October.
Our first dessert course. The fruit by the foot is back, this time plated with berries in a cool cream sauce. One of the Danish waiters told us this was a play on a very traditional Danish dish. The color, the textures, the taste were all excellent, but you knew that already, right?
This dish was special, even for Noma standards. The pancake was a tortilla that had mold growing on it, much like a brie cheese, and it was filled with ice cream and a balsamic fig sauce. The mold pancake protected your mouth from the cold of the ice cream, and the fig balsamic added a nice acidity to the dish.
We started where we ended, with a potted plant, except this time you ate the whole thing. The pot was a chocolate coated elderflower cake scented with roses. We were instructed to slice open the pot to reveal the cake. Maybe the coolest and most beautiful dessert we've ever had.
After the meal you are brought to a "Hygge" room, where you can sit and drink snaps or whiskey for as long as you want. Sometimes, they allow diners to enjoy their cake in this room as well. Noma sat us next to the aforementioned lovely Australian couple, Matt Boyle (@boylemd) and Alisha Henderson (@sweetbakes_), who we immediately took up conservation with. We spent nearly two hours lounging and talking about food, traveling, and, of course, our mutual love of Somebody Feed Phil. Matt is a chef at Attica (see above) and Alisha has her own cake baking company! They were such lovely and warm people. When we went to Noma Under the Bridge last year, we had a similar experience with another couple (Hi, Marie-Eve & Frederick!), and all I can say is, Noma goes out of their way to make its guests feel connected and have a special meal.
Drink:
Noma offers a wine pairing ($210), a juice pairing ($155), or wines by the glass. I opted for the juice pairing, which was simply magnificent. I've had juice pairings in the past, most notably at Central in Lima, Peru. What I didn't like about Central's pairing was that some of the juices, although all unique, were just not that good. Here at Noma, all of the juices were amazing. The juices ranged from a bright red saffron and chili to a chilled mushroom tea. My favorite was the rose and berry kombucha, which tasted like a thick berry smoothie. Yvonne opted for for wines by the glass. Her favorite that she tried was an orange-colored wine from the country of Georgia, which the waiter described as being made in a very traditional way, like they made wines thousands of years ago. The bright orange color was something we had never seen from a wine before, and the taste was rich with minerality.
Atmosphere:
Noma is a magical fairytale food paradise from start to finish. When you arrive at the gate, you are greeted by staff, who stagger each party's entrance down a long, flower-filled path, so that when you open the main wooden door to the restaurant, you are greeted by the entire staff--including Mr. Redzepi himself. You are then quickly whisked to your seat. This touch was truly special and unlike any other restaurant we have tried.
The vibe is very electric. The Vanity Fair article put it best when it said "You want order, you work Eleven Madison." It feels like you're in the middle of a bee hive, where each worker knows exactly what they are doing, but from afar looks like a chaotic symphony. You see chefs running down the hallways. You hear "Yes, Chef" yelled loudly from the open kitchen in the middle of the restaurant. Five waiters walk by your table every ten seconds. When you need to use the restroom, a server swoops you away seamlessly into the flow, like it was part of the plan all along.
Their property is home to a greenhouse, fishtanks, an ant farm, a fermentation lab, and, of course, their famous test kitchen. Yvonne claims she saw "reindeer penis" written on the ingredient list for the team to try out for the game season, but this rumor cannot be confirmed or denied. Long bookshelves run almost the entire length of the compound, where anyone on the team can add anything to the collection. There are also random awards, creatures, bottles, and minatures ecletically sprinkled throughout.
Noma-foraged Hospitality:
From the moment you open the door and are greeted by the entire staff, to the last moment when you are escorted to the gate, you are treated like the most important people on the planet. This is pretty typical for a restaurant of this quality, but what was different was the amount of team interaction with the guests. Every time you walked by a chef they would say hi and smile. Everyone seemed approachable and friendly, which is not always the case at a place of this caliber. The laid back attire of the staff, open layout of the restaurant, and general feeling of sheer joy among everyone who comes to Noma, made for a very relaxed and welcoming dining experience.
Frankie's Notes:
Noma might have over 20 nationalities on their staff, but no pugs??!! #notcool; The only other things that have lived up to Noma's hype were Machu Picchu and Oktoberfest; Mr. Redzepi is a god among men, and we want to live in the hygge room forever as his loyal subjects; Yvonne wants to know where she can purchase that hygge room blanket so she can relive her pear snaps joy every evening in Charlotte; We hope there really is a reindeer penis in Noma's future, but shhh, don't tell that we peeked at the list!
Rating: 5 out of 5 with 3 Michigan Pugs
Noma comes with a lot of hype: the prestige of a long-ranked number one restaurant in the world, an almost impossible reservation to score, and rave reviews from the top critics in the world--we were terrified it would not live up to our expectations. From the moment we walked on the grounds we knew it was going to not only meet our expectations, but overwhelmingly exceed them. Not one bite of the meal was off. There were no misses on the menu. It was, dare I say, a perfect meal. We contemplated adding another Michigan Pug just for Noma, because it is clearly in a class of its own among even the best restaurants in the world. We planned our entire trip to Europe around Noma, and we would do it again in a heartbeat.