Background:
It's no secret that we love David Chang. So, this review is going to be biased. I hope you'll forgive us. We've been to many of his US restaurants, including Noodle Bar, Ko, Ssäm Bar, Má Pêche, Momofuku Las Vegas. We tried to go to Momofuku CCDC, but there was a two hour wait. So, if you're expecting a semi-negative review, you can read this one by Jonathan Gold, may he rest in peace.
Let's first start with how you get a reservation and a little insight into how some members of the family feel about our food hobby. Majordomo opens up reservations 30 days out. You'd better be ready, or else you're not getting a reservation. I am a master of snagging reservations, so I got one for Monday night. However, we were with my parents and visiting family in Santa Monica, and everyone refused to drive to downtown LA for a dinner reservation. We eventually convinced my parents to go and got a reservation for four. However, in a disappointing turn of events, they decided to take a train to San Diego rather than eat with us at Majordomo and drive to San Diego afterward. Let that sink in. They preferred to take a train three hours rather than eat at a Chang restaurant and get to San Diego in two hours by car, with their loving family. Ahem. I will hold this against both of them for all eternity, as any good Jew would.
Normally I wouldn't care, but at Majordomo you want to try a lot of things, and with six people, you can try almost half the menu. With two, we could get a few dishes but it left us wanting more. Now that some parts of the family will never talk to us again, let's get down to business.
Majordomo opened on January 23, 2018 in an LA warehouse on the edge of Chinatown. This place is off the beaten path, and when we showed up, it took us about five minutes to realize we were in the right place and not in a random alley about to get mugged. This is Chang's 13th restaurant, and the first in LA. He moved to LA to open the restaurant and also start his media company, Majordomo Media, under which he currently does a great podcast about once a week. If you haven't listened to the David Choe episode, go ahead and give that one a listen. It's an instant classic.
Majordomo is unlike any of Chang's other restaurants. For one, it's massive, wIth a huge interior and exterior patio. There is no bumping elbows at crappy seats like his original Noodle Bar. There is a large focus on vegetable dishes, something that Chang has admittedly stayed away from in the past. It feels very LA, but still retains the feel of the Momofuku brand. You'll see familiar ingredients, such as Benton's Reserve ham and Crown Finish Caves' cave aged butter. You'll also be able to enjoy one of Chang's signature large sharing plates, which at Majordomo is a whole smoked pork shoulder. We didn't get that this time, thanks mom and dad. #notbitter.
All in all, it's an instant Chang classic. It's already been named one of the top new restaurants in the country by Eater, and it's sure to remain hot in LA for the near future. On the night we went, Chang was there supervising everything, so make sure you get there soon while he's still honing and perfecting the menu, and maybe you too will be fortunate enough to catch a glimpse of a food god in action.
Eat this:
Majordomo is only open for dinner, and we went the day after Daylight Savings Time, which means terrible lighting for our pictures. We apologize in advance.
With foie gras, ricotta, jam
For bread, Majordomo does a play on a traditional Chinese bread, called bing. They give you about ten options of dipping accouterments, including spicy lamb, ham, pork neck, and cave aged butter with white sturgeon caviar. We decided to go with the foie gras with ricotta and jam. The foie gras was chilled and shaved, an homage to one of the most famous dishes at Chang's Ko in New York. The waitress described this as tasting like peanut butter and jelly, but that doesn't do the dish justice. This was an A+ winner.
Grilled Prime Skirt Steak
With pickled onion rings and french onion dip
BREAKING PUG NEWS: the pickled onion rings were one of the top five things we've eaten all year, hands down. I love sides, and often order dishes based on the sides. The steak was incredible, but the onion rings outshined the steak and frankly blew our minds.
brown butter, macadamia
I gravitate towards anything smoked, and this cabbage was like eating tender brisket on the plains of Texas. It doesn't stick out on the menu, but it's a must try. Shout out to our great waitress for suggesting it.
Scallion, egg, chili sauce
They fried up a whole skate and put it in there, and some of it wouldn't fit, so they put it on the side for us. This was a take on fried rice I've never had. Jonathan Gold described it as a play on bibimbap, which I totally agree with. This was good, though not one of my favorites of the night.
This thing had more layers than Pete Davidson/Ariana Grande's relationship. Chocolate pudding, banana mouse, chocolate cake bits. If we weren't extremely full (and hadn't already ordered another dessert), we probably would have had two of these.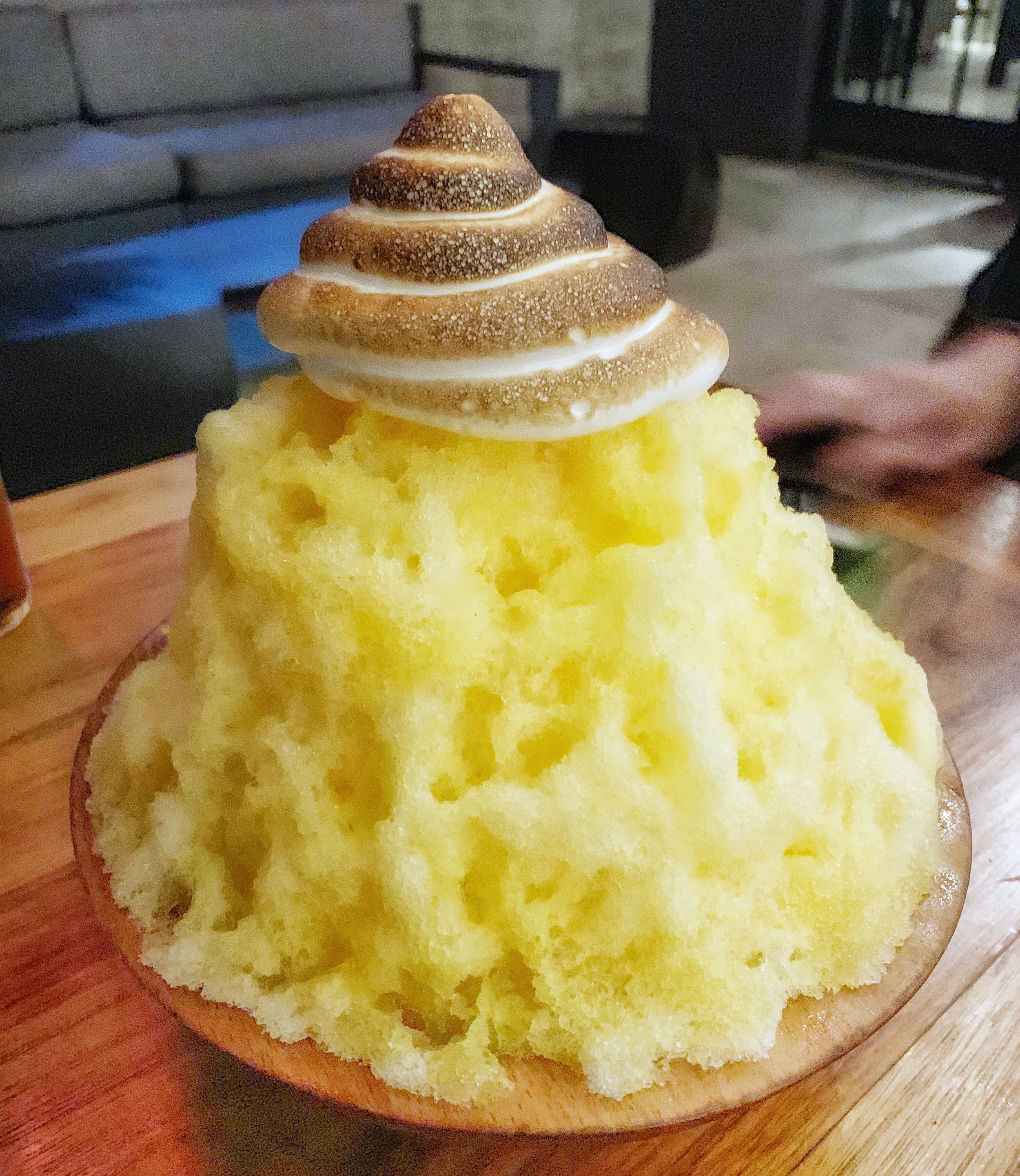 with lemon meringue
This was big, like Big Bird, or Yvonne's diamond ring #bling. Passion fruit is an underrated fruit if you ask me, and the passionfruit shaved ice with the meringue made for a great end to the meal.
Drink:
I ordered the iced tea, which I think I had about three before realizing there were no free refills. Yvonne ordered the Gibson, which was gin, dry vermouth, and kimchi consommé served in a chilled Lucky Peach Momofuku labeled bottle. Yvonne loved this drink and tried to bribe the waitress to keep the Momofuku bottle, but she wouldn't let us. I believe this is Yvonne's second biggest regret of her life after not eating the Chocolate Bomba at Astrid and Gaston in Peru.
Atmosphere:
I loved the open feel of the restaurant and the large patio. We ended up sitting out on the patio and making new best friends in Grace and Gillian, both LA power players who work in the industry, and that's all we can say about that. We ended up giving them half of our meal, because we ordered for at least four people, even though it was just us (don't ever let the waitress tell you how to live your life, no matter how many times she says that you've ordered more than enough food for two people). We had the best of times. I even committed to hook up my friend Branden with Grace's new boyfriend's ex-wife. LA BABY.
Majordomo Hospitality:
In most of Chang's other restaurants, the service can range from aloof to hostile. You are there to eat, not to chat up the waiters at Noodle Bar. Majordomo is completely different, and the servers are friendly and attentive. They even have blankets for those outside who are chilly, like my wife. The waitress guided us through the menu and recommended items to us, some of which we completely ignored, but those we did get on her suggestion were top notch.
Frankie's Notes:
Frankie would have gone along to Majordomo with mom and dad to eat his fair share, if only his face wasn't smooshed and he could travel in a plane; Pickled onion rings should win David Chang a Nobel Prize for S-e-x-y; Gillian had a great idea of making the Kakori shaved ice alcoholic, something we are going to support in 2020 with CA Prop 72; Never ask if you can take an item from a restaurant, just stick in your purse and beg for forgiveness later; Never forget the pen incident of May 2018.
Rating: 5 out of 5 + 1 Michigan pug