Background:
We were so honored to receive an invite to Unpretentious Palate's Meat & Potatoes Dinner back in February. At the time of the dinner, we had just recently heard about the fabulous Kristen Wile on NPR, and we were so intrigued by this amazing rockstar food journalist who had just struck out on her own. Of course, now we are BFFs with Wile, who recently joined us on the Scallionpancake podcast!
Wile held this event at Uptown's Stoke, one of our favorite places, which only made us more excited. However, this day we had TWO other food events, so by the time we got to this one we felt as though we were taking part in an extreme eating competition.
The premise of the event was simple and brilliant: to redefine Charlotte's stereotype as a "meat and potatoes" town by creating dishes with unusual preparations of meat and potatoes, and also to showcase different cuts and varieties of meat in an effort to build a more sustainable dining scene. We ate beef tongue, liver, venison, and more – and we loved every second. Wile invited our city's premier culinary minds to each create a dish for the event, and the menu showcased a true "who's who" in the Charlotte food scene. We got to geek out over Chef Alyssa, Chef Jamie Barnes, and other chefs we got to know by name after sampling the evening's delicacies.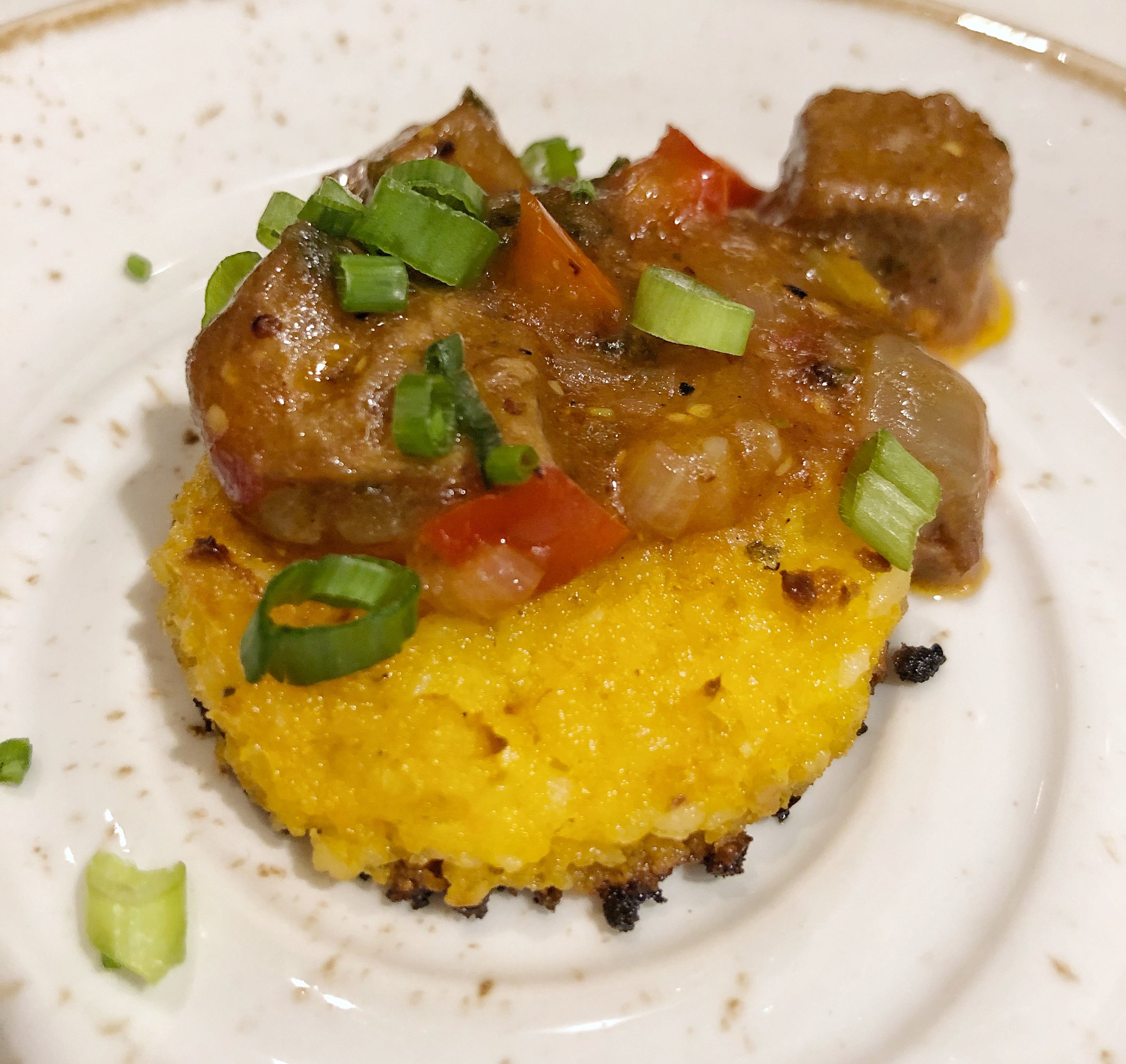 With a sweet potato grit cake
Chef Matthew Krenz
This was our "opening bite," and it really started the night off strong with bright flavors and a richness that didn't translate into heaviness. The grillade in this instance was made from beef brisket, which is one of Jason's favorites. Krenz was the Executive Chef at The Asbury until November, and as of right now he is a stay-at-home dad, so we were lucky to taste his food at this event! Krenz also emceed the event along with Wile, and we enjoyed his humor and personality just as much as the food.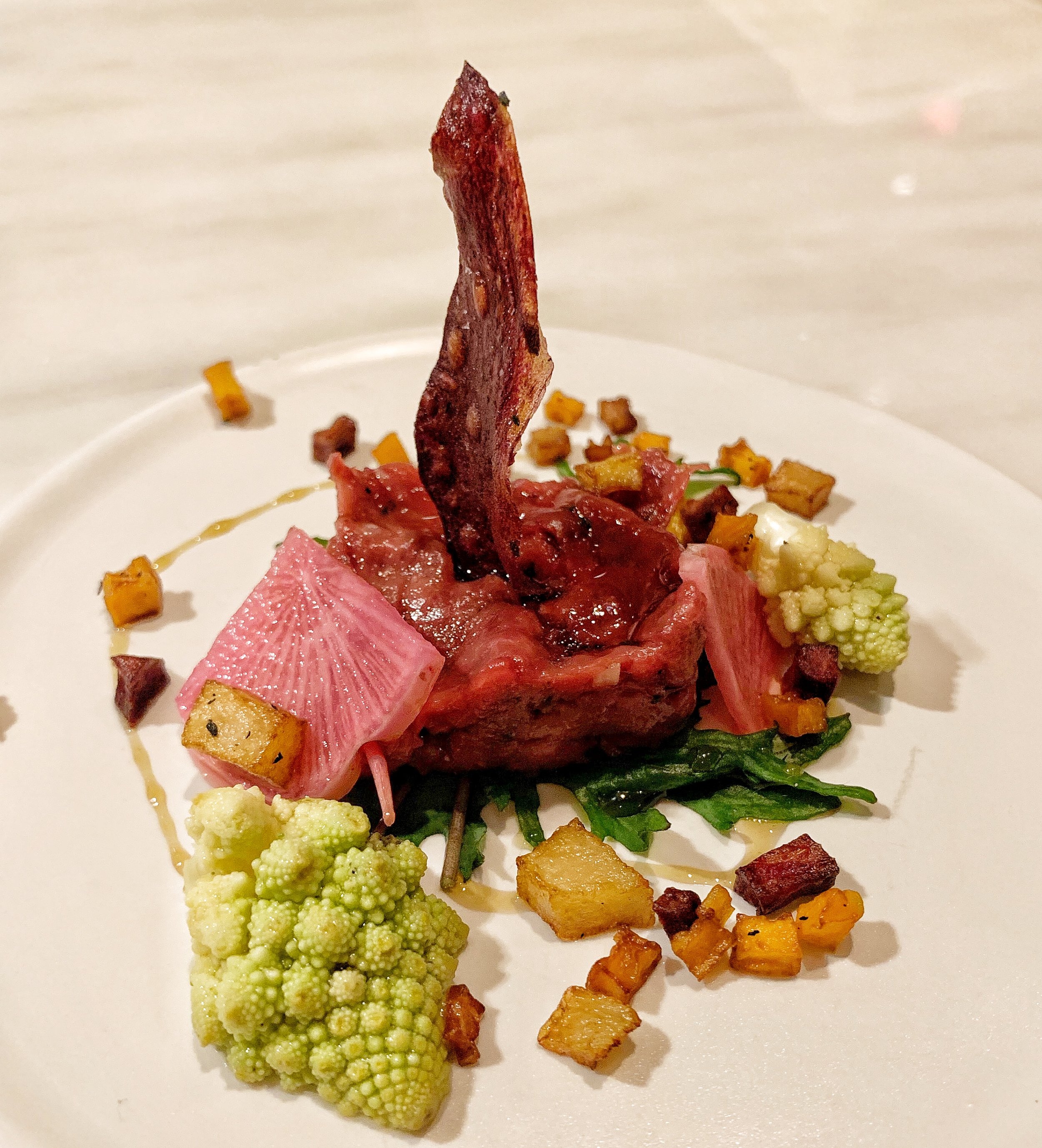 With coriander, gin gastrique, and potatoes
Chef Ben Philpott
Chef Philpott is from The Stanley, and if you're familiar with Paul Verica's restaurant, you know that this dish's artistic style has The Stanley written all over it. We loved the color and the flavor the romanesco brought, and we're always game (get it) for a tartare. I'd never tried venison tartare, and it was at once lean and full of flavor.
With tallow and potato biscuits and potato peel "cracklin'"
Chef Jamie Barnes
We hadn't actually tried Chef Barnes' popular What the Fries food truck until after this event (Jason has gone since!), but we were already huge fans of him on Instagram (welcome to modernity, am I right?). This dish was hands-down my favorite of the night, and I have that opinion in common with our recent podcast guest, Ashley Boyd, who sat next to me at this event. #blessed #touchedbyanangel
I had seen Barnes post about these biscuits on social media prior to the event, and I was drooling. Anything made with potato and beef fat and I am SO there. I had never had beef tongue anything, but spooning the sweet and savory mix on top of the biscuits just made my night, honestly. The crispy potato on top was the icing on the proverbial cake.
With potato crust, marinated fennel salad, oxtail and mushroom gravy, and potato puree
Chef Alyssa Wilen
Chef Alyssa, as she's known in Charlotte, is just that: known in Charlotte. Everyone loves this fabulous lady's brunch and cooking classes, and she is a Queen City staple. Everyone at our table, us included, just lost it over this dish. Who knew liver could be such a hit? I found out this night that Jason apparently grew up eating liver, but this was another first for me. I don't know that I'd love just anyone's preparation of liver, but the potato crust and fennel salad on top made this liver-nirvana. I'll eat liver every night if Chef Alyssa is making it.
With whipped chèvre, spiced crispy boniato sweet potato, herb verde, and petite greens
Chef Chris Coleman
To quote my husband and Borat: "GOAT." We are huge goat fans, so its deliciousness wasn't new to us, but man – the spices in this dish were so unreal. Very Mediterranean-inspired, and the texture of the potatoes and greens with the tender meat just blended together perfectly.
Chef Coleman works at Stoke, so it's no surprise that we were fans of his dish. He has a way with making just a few ingredients pop. I also loved the plating on this one – it was even prettier in person.
Porter & pork fat butterscotch, banana crémeux, hazelnut crumble, potato crisps
Chef Sam Allen
Meat and potatoes in the dessert? To quote our lord and savior Sarah Palin: You betcha. We had somehow made it to this event without hearing about Chef Allen, who formerly worked as the pastry chef at The Fig Tree and is now full time at her own business, a "dessert camper" named Wentworth + Fenn.
This dessert was not only a chocolate vision, it tasted heavenly, too. The butterscotch was richly complex with the added pork fat, and I loved the crunchy potato chip on top.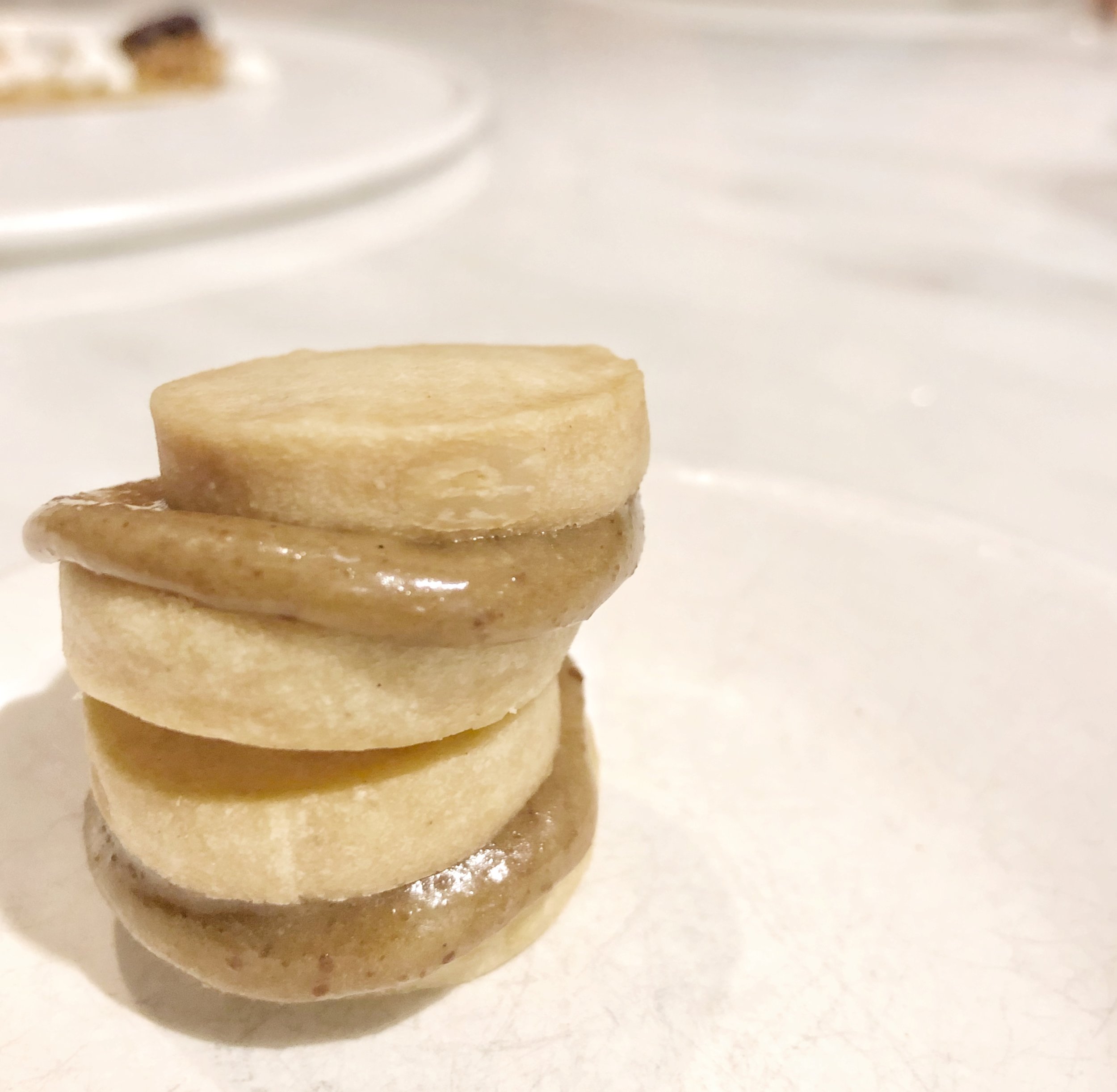 Pine nut tassie with foie jam
Chef Sam Allen
Chef Allen: I love you, can I purchase 1000 of these from you? I actually liked these bites more than the main dessert, because I am just a foie gras monster, I guess (according to some overzealous PETA Instagram ambassadors who like to follow Scallionpancake, ahem). The buttery cookie with the jammy sweetness of the foie jam? HEAVEN.
Drink:
There were amazing cocktail and wine pairings provided by Stoke's sommelier Todd Brinkman. We didn't get the pairing, because they are usually lost on us because we can't keep up with the pace of one drink every one to two dishes without vomiting (not great etiquette, vomiting at the table), so I stuck with a glass of "Pink Belly" rosé (the wine paired with the venison) and Jason had unsweet tea. However, I fell in deep, deep love with Brinkman, who came around and poured me a second glass when he had just enough left for one glass in his bottle after everyone who had the pairing had been served. He came around and simply said: "Because I can" and poured me another. Hat's off to you, Brinkman. A gentleman and a scholar.
Atmosphere:
We have waxed poetic about Stoke and its interior on another blog post, but this was really just a perfect spot for this event with the open kitchen and abundance of family style tables. It also has a great warm, glowy light that I think makes any evening that much more special.
Meat & Potatoes Hospitality:
The night could not have been lovelier or filled with better vibes. Being in a room of people who care about food and sustainability is like Disney World for Jason and me. Being hosted by Wile and Krenz provided a great mix of friendliness, humor, and information that made this more than a meal – it was a well-rounded culinary experience. We can't wait to go to more events hosted by Wile and Unpretentious Palate. We highly recommend that everyone reading signs up to become an Unpretentious Palate member. You'll get access to unbiased food reviews, breaking culinary news, and VIP invites to great events like this one.
Frankie's Notes:
Going to three food events in one day is a sure-fire recipe from a stomach ache, FYI; I am going to start making beef fat arts and crafts: beef fat caftans, beef fat paintings, etc.; You do not want to get too wild at an event and throw up on Ashley Boyd; Mr. Brinkman is the magical wine genie we all need but don't deserve; I also have a "dessert camper," but it's just me eating Trader Joe's snacks in my Toyota Corolla – does that count?; If you haven't already signed up to be a UP member, Frankie wants you to know he isn't angry, but he's certainly disappointed.
Disclaimer: This meal was provided free of charge in exchange for an honest and unbiased review. All opinions are our own, and we were not compensated for this review.