Background:
Hello, Sailor is brought to us by Joe & Katy Kindred, the culinary masterminds behind the Davidson favorite and their namesake, Kindred. Hello, Sailor is located just down the road from Kindred in Cornelius, in a space formerly occupied by the Rusty Rudder, a decidedly less upscale seafood joint than Hello, Sailor. This highly anticipated opening (like, for real, for real anticipated...Eater named it in its list of the 16 most anticipated restaurant openings of 2017) in December created a buzz in the Charlotte food community, and as more and more people tried it, the reviews grew more mixed. Hello, Sailor has gained a lot of haters, which is odd considering the success of Kindred. Apparently people are highly upset about loud dining rooms, overpriced entrees, and the loss of their beloved Rusty Rudder (really?). We decided to check it out for ourselves one Sunday night in January with our friends, Tamara and Zan.
Eat This:
Former Charleston chef Craig Deihl runs the show in the kitchen, and he has devised some exciting options for seafood lovers. Lobster rolls, oysters, and crab legs--oh my! How could we possibly choose? Here is what we went for:
Benne seed, lobster roe, macadamia nut
Hands down, the poke was the highlight of the meal. All of the herbs on top made this dish flavorful and there were so many different textures happening. Ten out of ten, would eat again. The kitchen even makes a vegan version using watermelon, and that is what our dear vegan friends Tamara and Zan enjoyed. They loved it, too!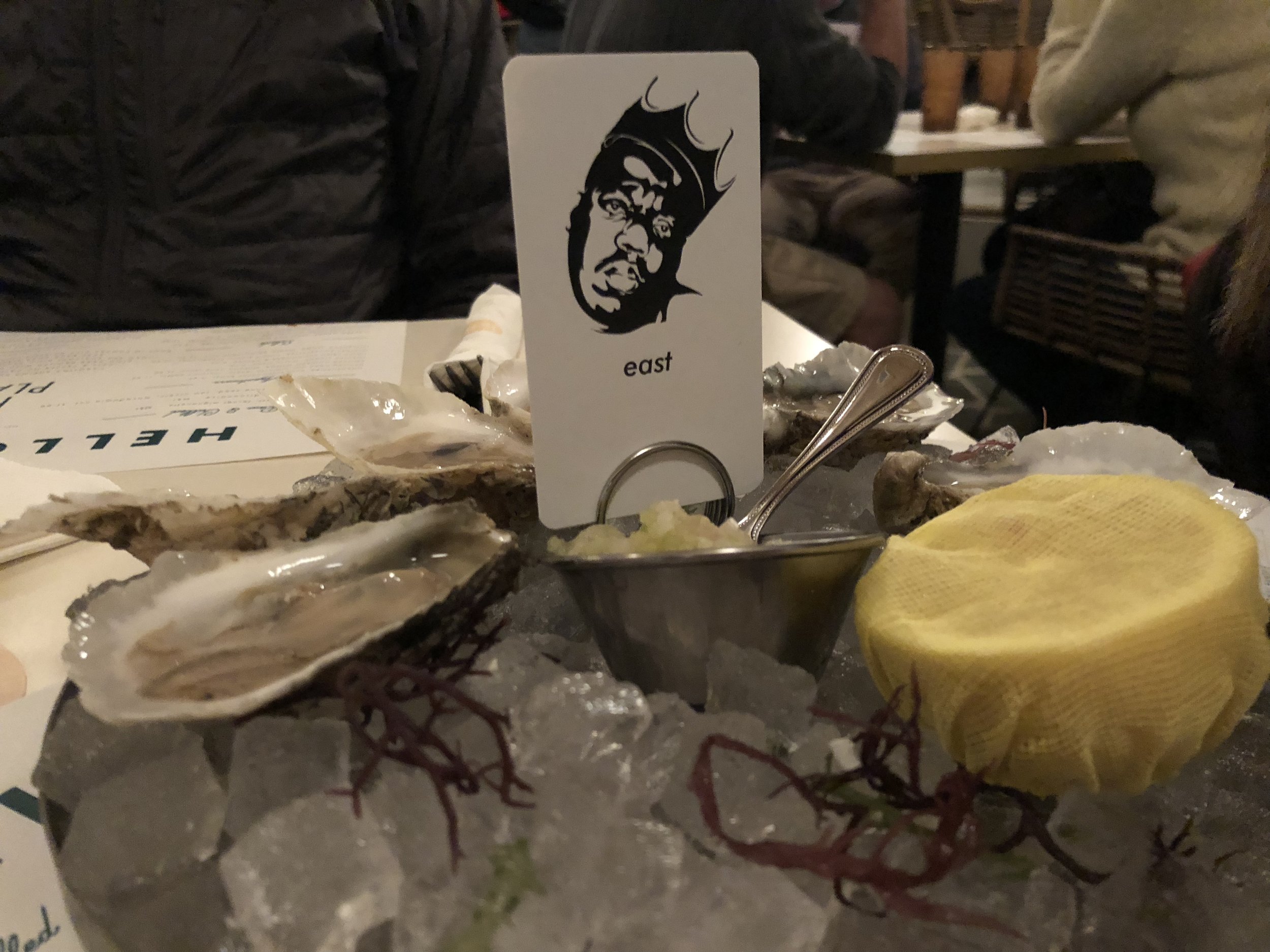 East vs West coast, fernet mingonette
Good oysters--super fresh and the mingonette had a strong acidic bite. Loved the signs designating these as East Coast oysters with the Biggie pic--cute (and v. hardcore, obviously).
Yuzu kosho-honey butter
Everyone at the table went wild for these light and crispy hushpuppies.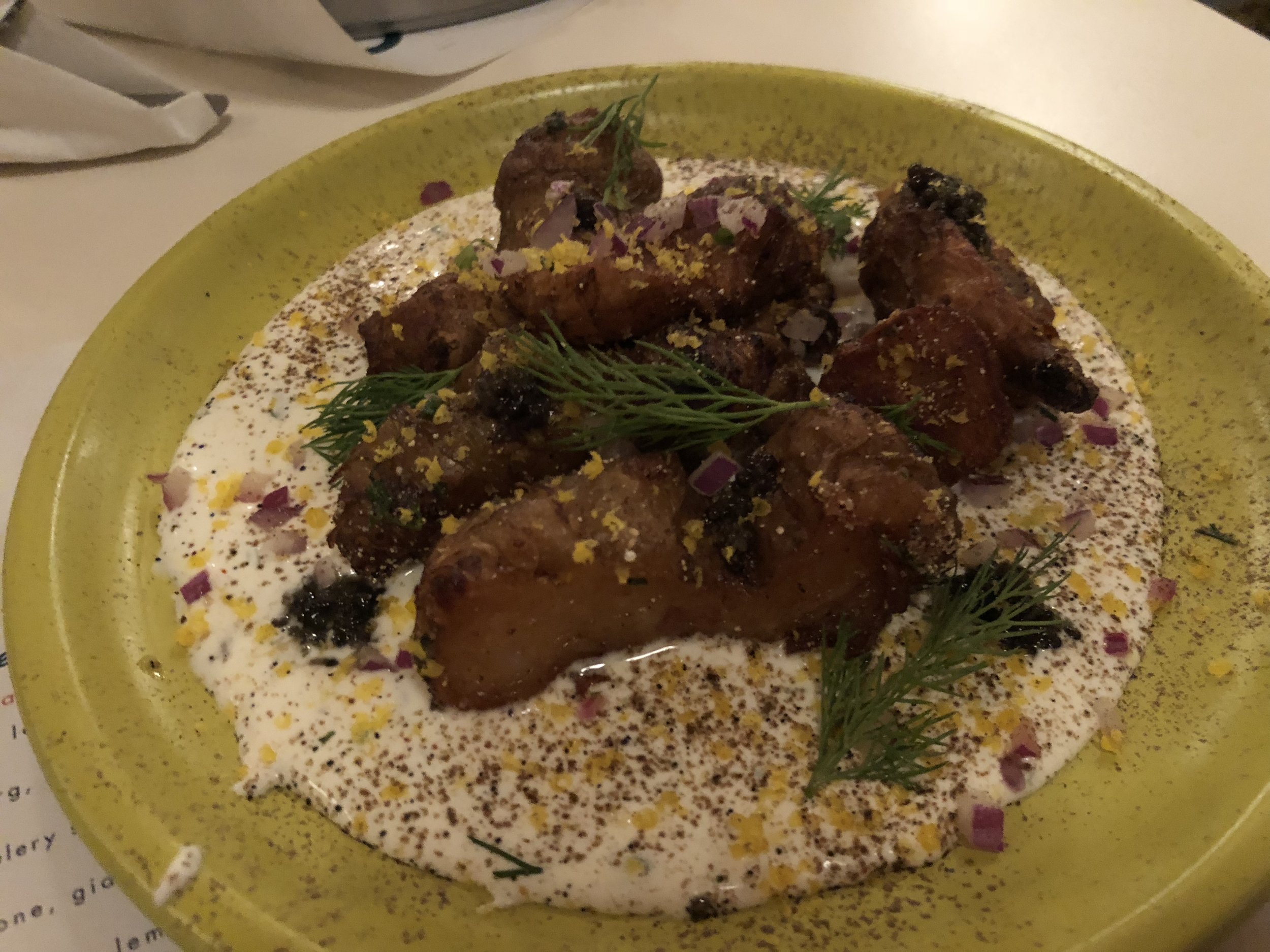 Twice Fried Sunchokes & Caviar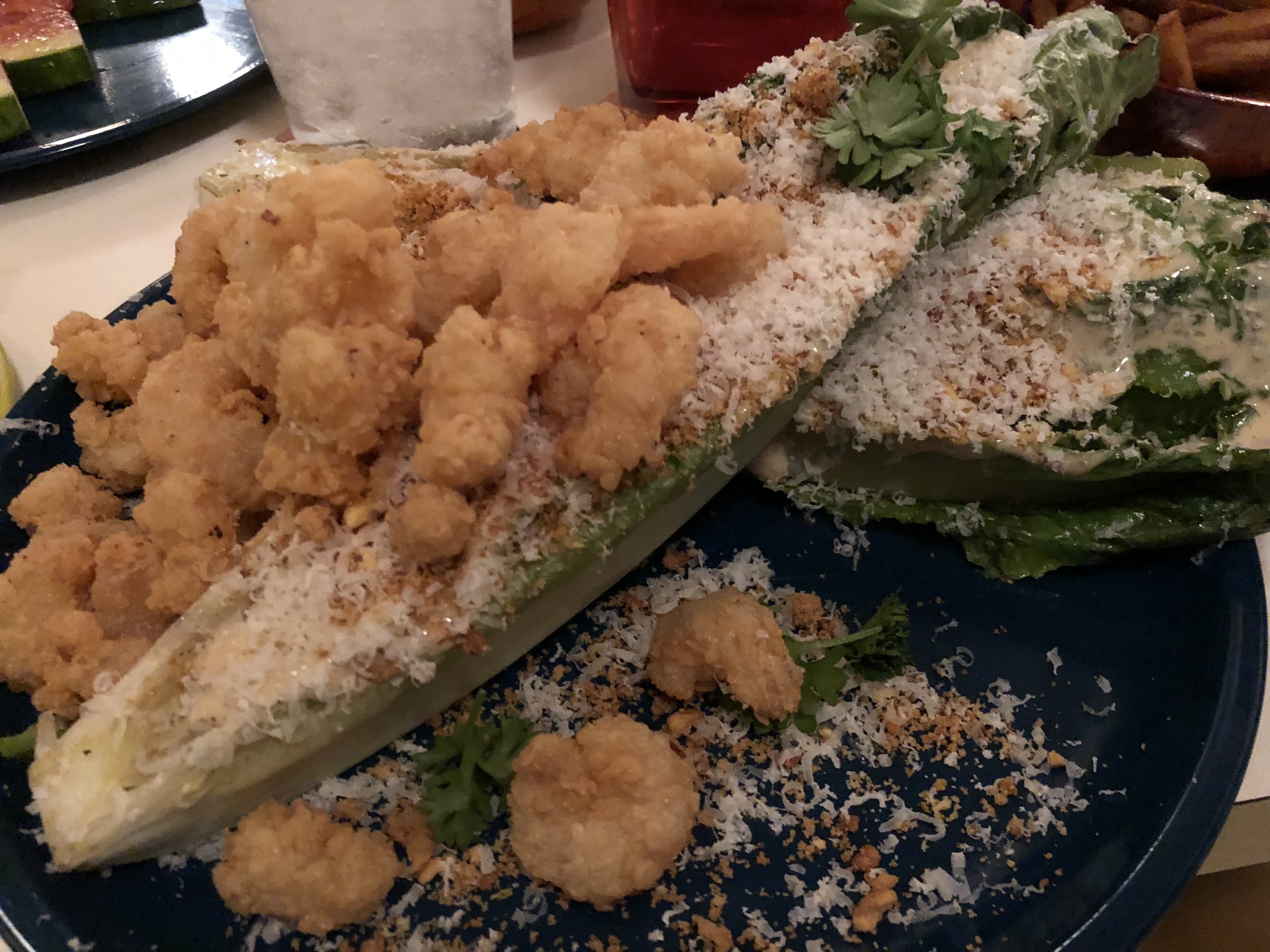 Parmagiano, breadcrumbs (pictured with shrimp add-on)
Overly dressed, but still a good salad. Jason maintains his preference for the grilled Caesar from Soul.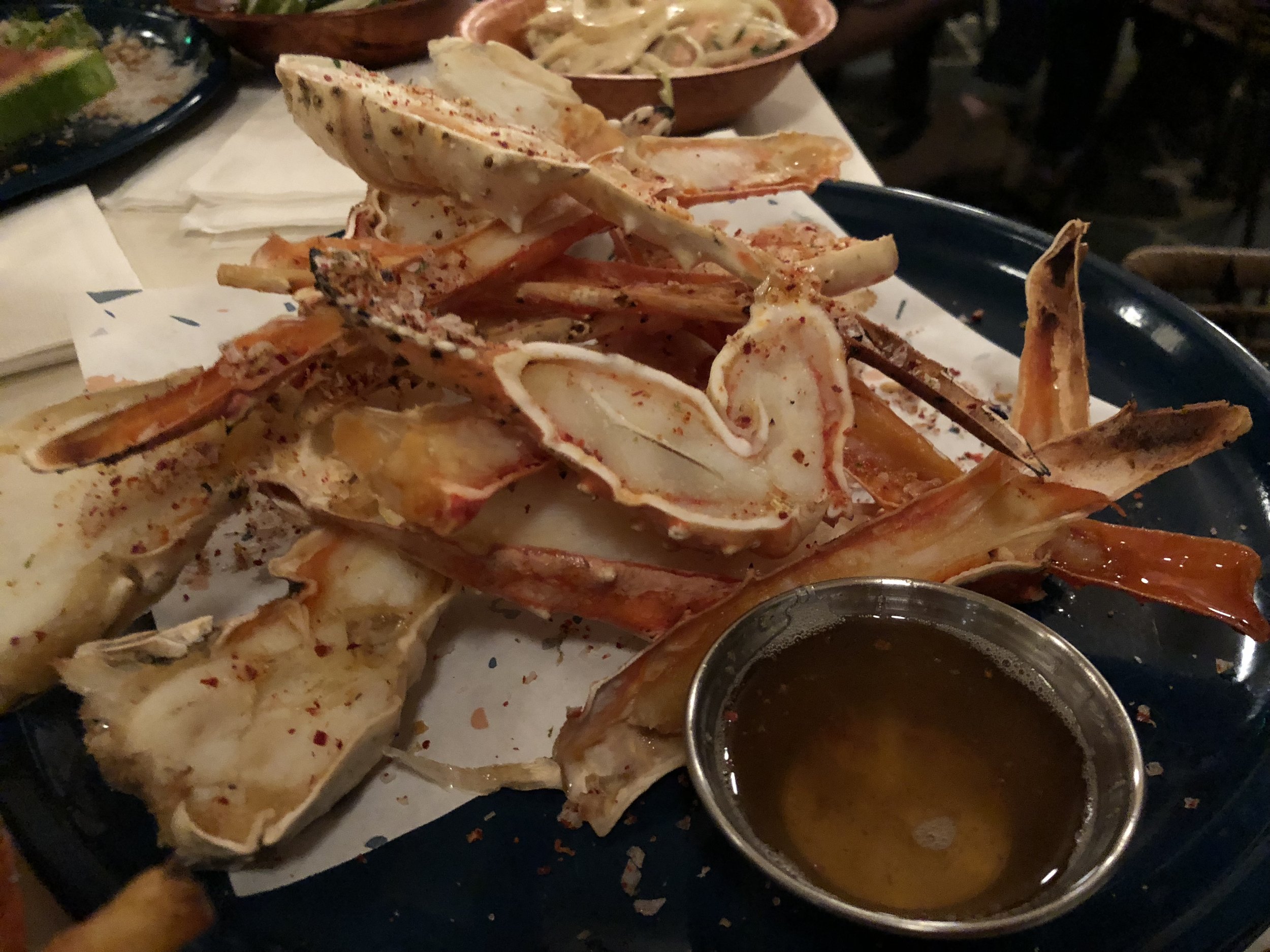 Broiled with ghee & chili salt
This was my entree, and I loved it, at first. I have never had a restaurant slice the claws in half like this, and easy to eat crab legs are a dream of every fine, upstanding, healthy, normal American [girl]. However, after a while, I noticed just how over-salted the crab was--it made my mouth dry, and it made the crab dry, too. I really didn't want to finish it at around the halfway point. However, it was market price, so you know I finished it. Crab is just too delicious to be ruined with an abundance of seasoning. People should stop being mad about acoustics and start being mad about overly salted food, because this is an issue with have also noted in the past at Kindred. Someone in the kitchen has a heavy salt [bae] hand.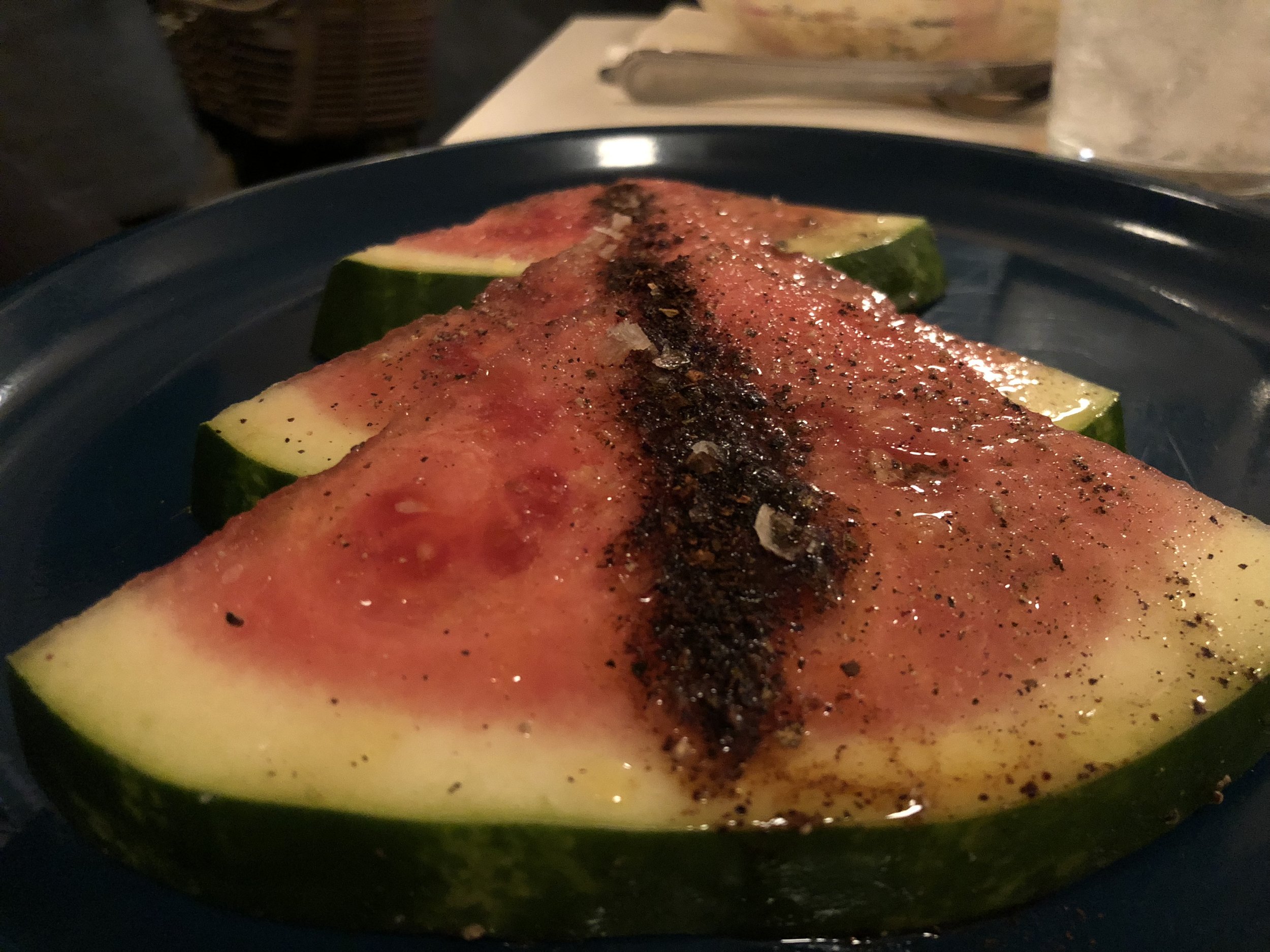 Al pastor, sea salt
Fine--watermelon. Nothing special happening.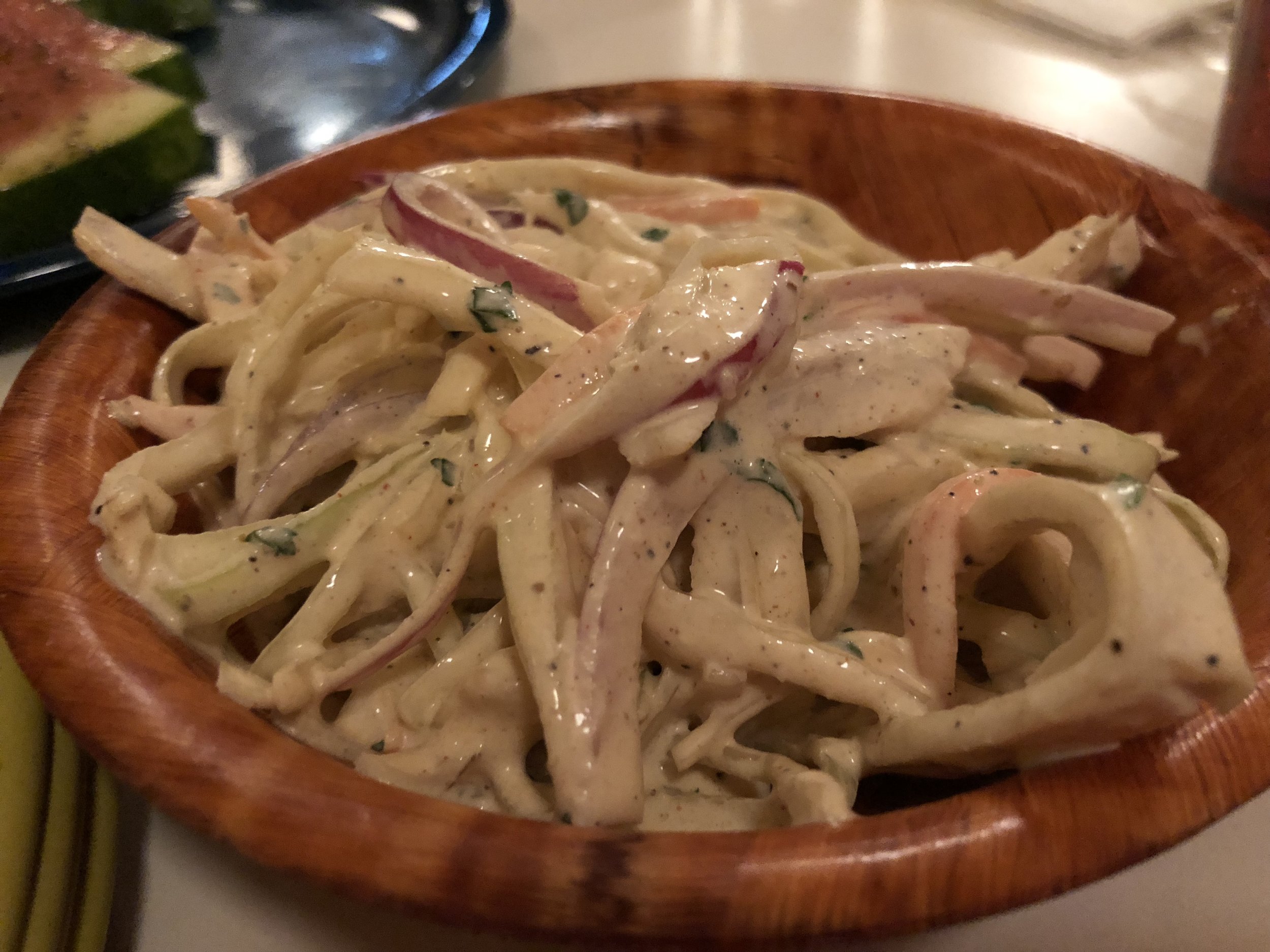 In the words of Jimmy Fallon--ew. Overly dressed in mayonnaise, and where the hell is the avocado? We assume in the dressing, but it really just tasted like mayo. We were also expecting even a small slice of avocado. Do not promise avocado and then fail to deliver! We are millennials. We will riot. We are triggered. Pass on this side.
Dessert:
Dessert options include soft serve, a seasonal hand pie and a chocolate poke cake. We went with the poke cake and the hand pie, and while the bourbon pear hand pie was super good, the poke cake blew me away. Under the top layer of chocolate cake was a crumbly, slightly under-baked German chocolate cake situation, and I was living for it.
Drink:
The drink selection is so fun--some of the cocktails come in exciting cups, like a tiki man or a shark, and there are bendy straws, too! I was dying over the cuteness. We ordered the uber sweet Cherry Negroni Slushie and the Sea Legs, which was an even more syrupy sweet mezcal drink that was a major disappointment, cool cup aside. I have never found the cocktails at Kindred to be quite this sweet, and I know there is a beachy vibe and all, but cocktails this sweet are just a recipe for a hangover, or at least a killer headache.
Atmosphere:
The Kindreds describe the vibe as "North Carolina Fish Camp meets mid-century Palm Springs," and we were loving the retro color palette (hello, millennial pink!) and fun touches, like a photo booth and a waiting area that makes you feel like you are in an episode of Mad Men. After reading reviews online, it seems that much has been made about the crappy acoustics in here, and yeah, we noticed it. The sound bounces all around the restaurant and the space does not have the coveted intimate feel that Kindred emanates.
Fish Camp Hospitality:
Everyone from the hostesses, to the bartender, to our server was super nice and helpful. Our server patiently went over our questions, and the pacing was good.
Frankie's Notes:
I have one question: wtf is a fish camp?; Biggie vs Tupac oysters gave me a measure of anxiety--too soon/am I choosing a side?/I don't want to get popped; Eating with vegans is fun, because you never know what those little rascals are going to order; FYI: Conrad Birdie is coming; Someone call the meme police: Salt Bae is on the freaking loose in the kitchens at Kindred and Hello, Sailor; When millennials don't get their avocado the earth tilts off its axis, dammit; Seriously: what's a fish camp?