Background:
Global Restaurant has been a part of the Charlotte dining scene for over ten years--first in Ballantyne, and now in their Pineville location. Owners and husband and wife team Bernard & Shannon Brunet came from opposite corners of the world (Bernard is from Nice, France and Shannon is from Boone, NC), and met on a cruise ship where he was the Executive Chef and she was a performer. I don't know about you, but I would certainly love to see the movie version of that--très romantique! It sounds like Dirty Dancing at sea, but with more calories. I can dig it.
Chef Bernard & Shannon are passionate about bringing high quality, international cuisine to Charlotte, and after a recent visit, we can certainly confirm that they are delivering on that goal. Global is essentially two restaurants in one, in that there is an upscale, white tablecloth dining area upstairs, and a more casual "Bar Bites" menu downstairs. On our visit, we tasted items from their fine dining menu, but we are looking forward to going back soon to try their grass-fed burgers and chicken wings.
Eat This:
yucca crisp, cucumber, compressed cantelope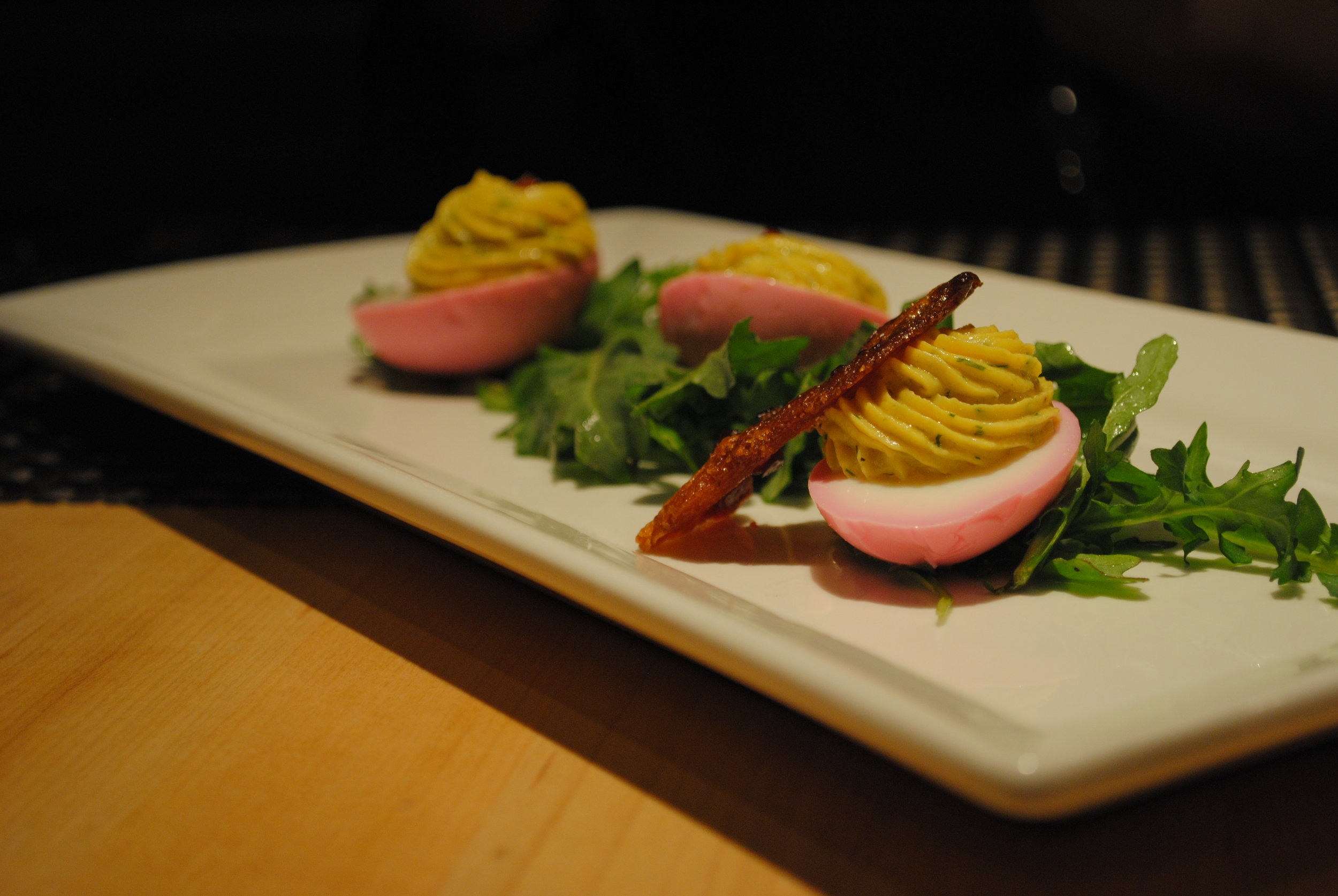 Pickled Farm Deviled Eggs
beet pickled eggs, Benton's candied bacon
Tega Hills Farm Squash Blossom
Peruvian cherry pepper filling, Chipotle buttermilk
Flash fried, finished in the oven
24 hours braised, ramp pesto risotto, aubergine two ways
Chef Bernard creates this glorious dish by stacking up three pieces of lamb belly to recreate the thickness of pork belly
summer squash salad with strawberry pesto
corn creamed succotash, Guajilo ketchup
Milk Chocolate "Pot De Cremachino"
Drink:
Not only is Shannon the front of the house expert, she is also in charge of creating Global's cocktail menu and curating their listed-by-country wine list, which she calls her "first baby" (their second baby is their sweet son Xavier, whom we briefly met at dinner!). Shannon changes the cocktail menu seasonally, and we got to try a flight of three cocktails on our visit. Our trio included: Pineville Punch with rum, rock candy syrup, jalapeno, and Amarena cherries; Lombardi's Limoncello with limoncello, gin, fresh lemon juice, and club soda; and a Drunken Strawberry Margarita with tequila, drunken strawberries, rock candy syrup, and a salted rim. My favorite was the Pineville Punch, because I am a sucker for anything with cherries. These went down way too easily!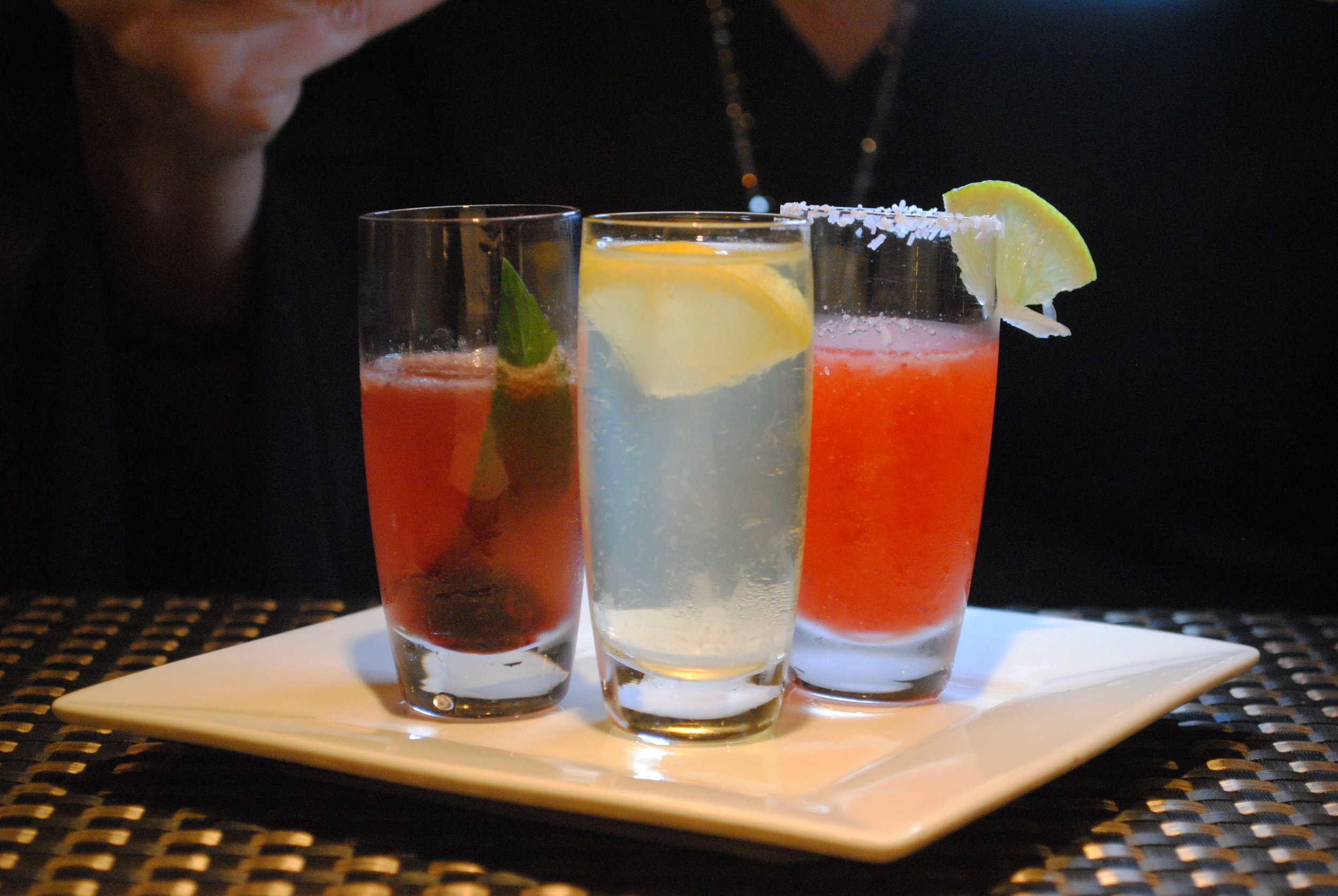 from left to right: Pineville Punch, Lombardi's Limoncello & Drunken Strawberry Margarita
Atmosphere:
We ate our meal in the downstairs area (even though it was from the upstairs menu), so we can't speak to the ambiance of the upstairs area, but the downstairs was warm and inviting. There is also a lovely (and dog friendly!) patio that would be perfect in the cooler months. Jason and I will not be dining outside until around December, as it is currently the temperature of the surface of the sun in Charlotte. To quote Fitzgerald in the form of Daisy Buchanan: "It's too hot to fuss." Indeed, Daisy.
Pineville Hospitality:
Chef Bernard and Shannon were our main servers for this meal, so to say we had impeccable treatment is an understatement. Service was smooth and the pacing and the tempertaure of all dishes was on point.
Frankie's Notes:
Lamb bellies are similar to pork bellies in that if you rub them three times, you will be granted a magic wish; Frankie had dreams of starring in the stage version of Dirty Dancing at Sea until he broke his paw and couldn't perform; Jason loved that squash blossom until we told him it had cream cheese; The moral of the story is that Jason really does like cream cheese, deep down; It's too hot to fuss until it's time for the Ren Fest, which everyone knows is the unofficial official start of fall; Chef Bernard's photography classes are only offered by appointment only, so don't try to order them from the Bar Bites menu.
Disclaimer: This meal was provided free of charge in exchange for an honest and unbiased review. All opinions are our own, and we were not compensated for this review.