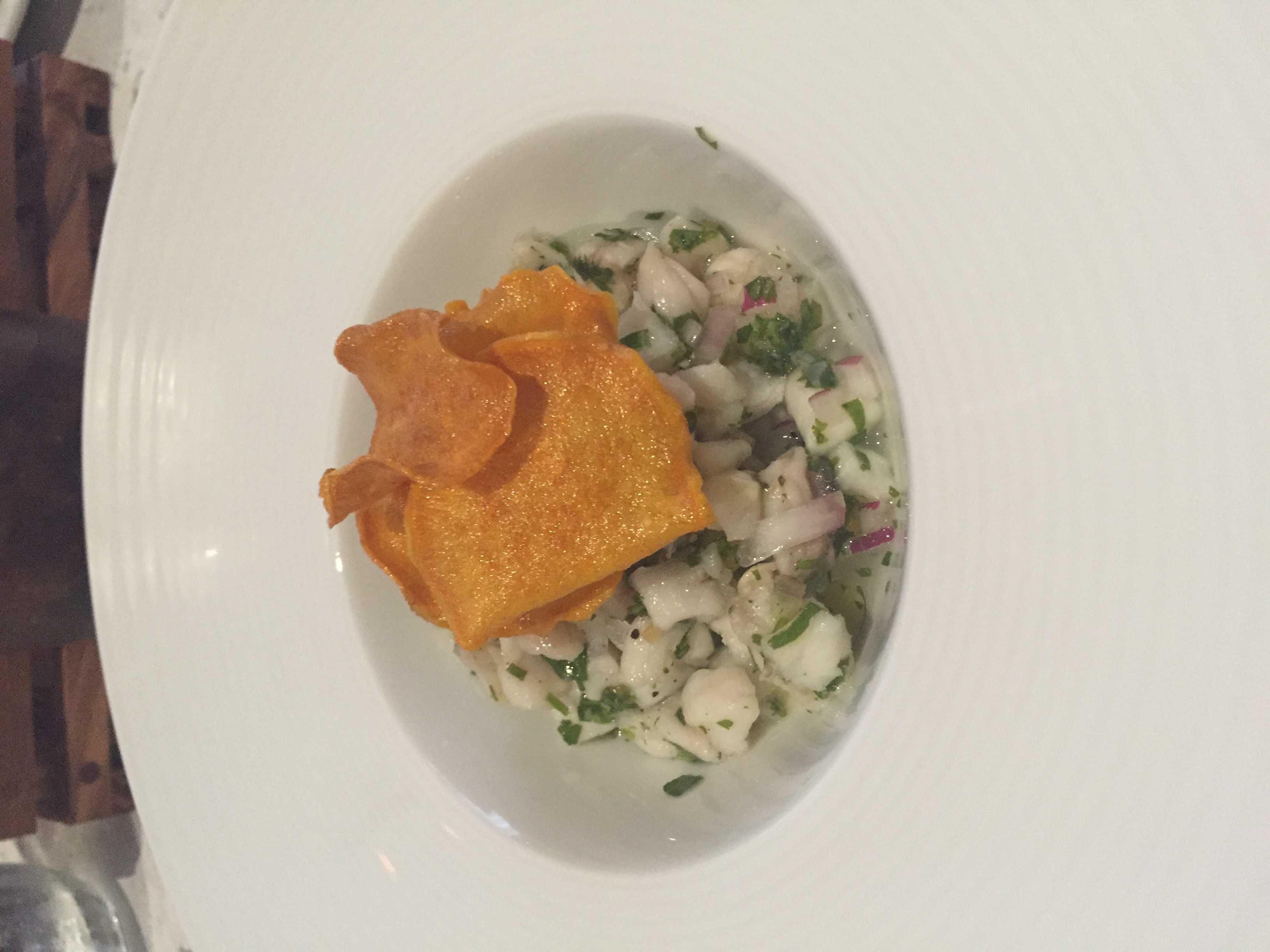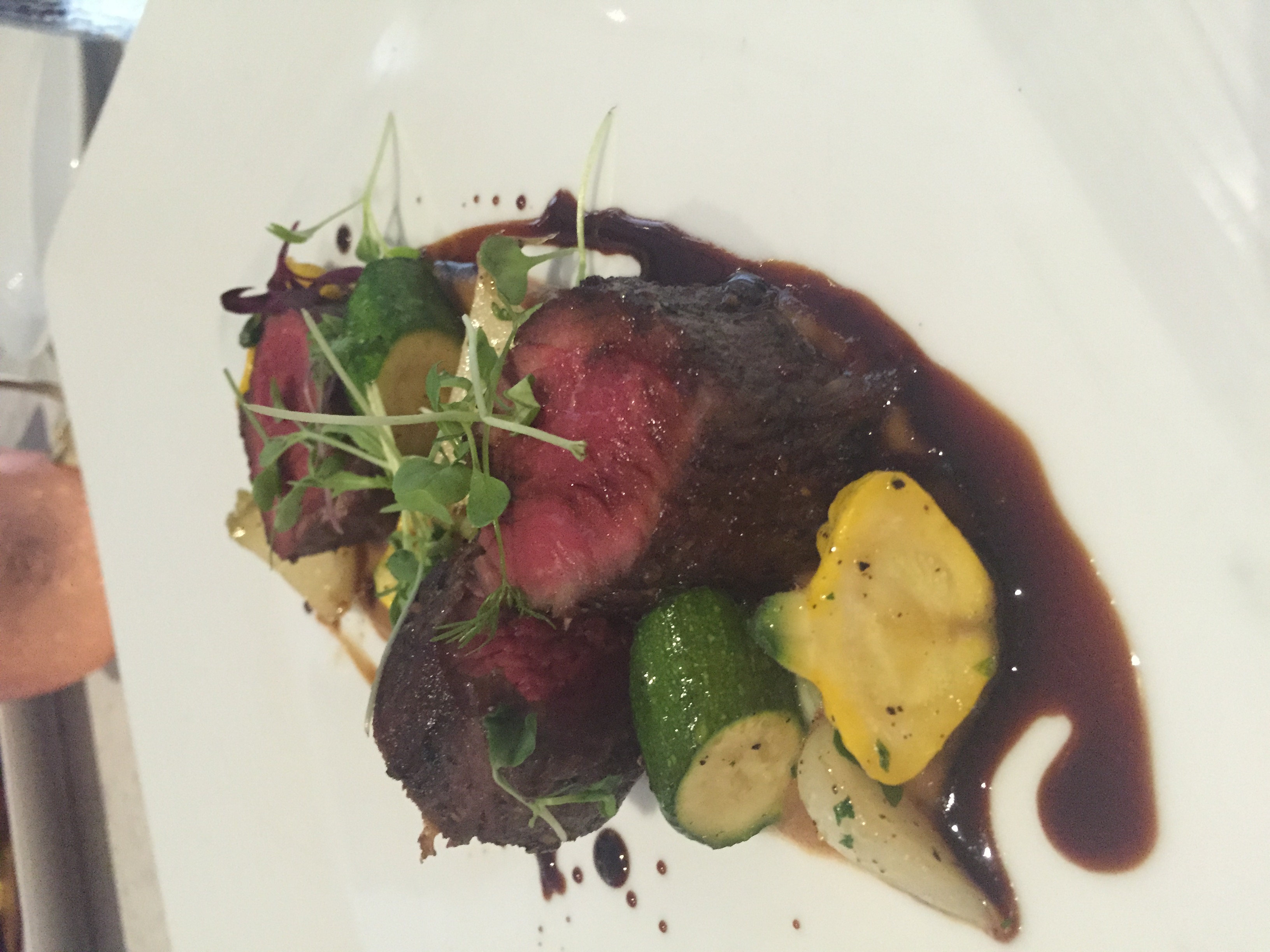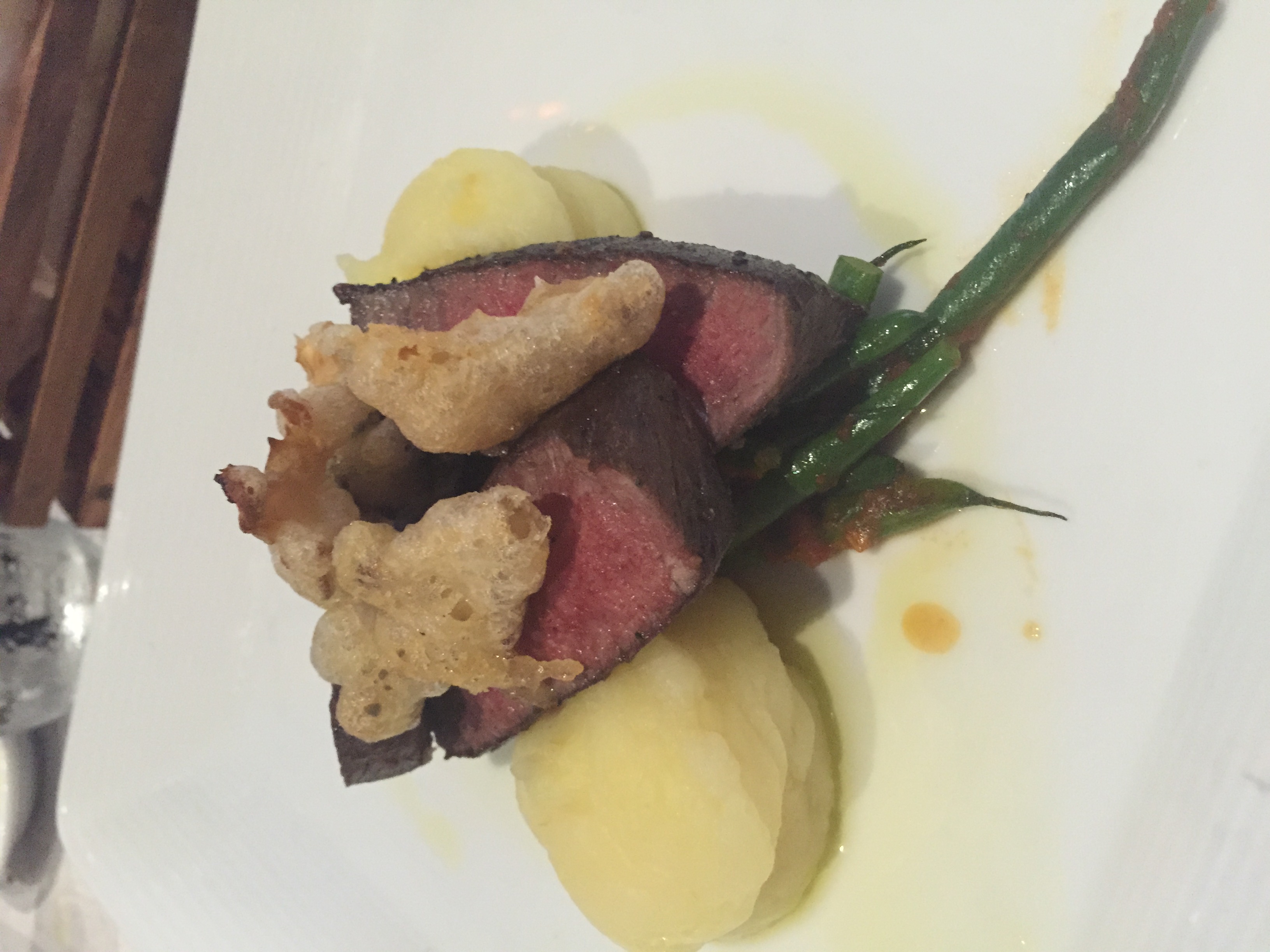 Background: Inside of the Meridien Hotel in Uptown's Second Ward, Chefs Oscar LaFuente and Robert Reinken crafted a steakhouse menu with modern twists. Evoke opened in December 2014 in the newly updated hotel--formerly The Blake. The internet tells me that this was once a place of ruination and sadness, like a tall Motel 6. Knowing that, this place looks especially classy.
Order this: We came here for restaurant week, so our review is limited to that menu. However, Evoke is a great place to come for restaurant week, as their steak offerings typically range from $40-90. The highlight of the appetizer menu was the Peruvian Ceviche, served with habanero, red onion, and sweet potato chips. In all honesty, the lure of this dish was one of the reasons we chose this place (for Jason, ceviche is only second to calamari), and it did not disappoint.
For entrees, we each tried the two steak offerings--Angus Flat Iron served with yukon potatoes and crispy mushrooms, and the Teres Major served with caramelized onion puree and summer vegetables. No one at our table knew what Teres Major was, prior to some heavy Googling where we also learned about many Latin American mountain ranges. Anyway, it's a very tender, filet-esque cut of beef and is, apparently, delicious. Everything was spot-on, and portion sizes were perfect. We definitely want to come back to try the dry-aged steaks.
Dessert: Okay, so we really chose this menu for the ceviche and the promise of Citrus Honey Ricotta with seasonal berries and almond ricotta. It was perfection and the portion size of this was woefully inadequate for someone who enjoys slipping into a diabetic coma after dinner. Jason had a momentary lapse in judgment and ordered the gelato option, and those were just smeh. There is no picture of my ricotta because I ate it like a wild animal.
Drink: Great wine and beer selection and some really creative cocktails made with infused vodkas.
Atmosphere: The decor here is very 60s mod and accented with bold yellow throughout. There is a less than seamless transition from hotel lobby to restaurant when you first walk in, but it is very hip and fun, as far as hotel lobbies go. Beware form over function: I saw several people bump their heads on low-hanging light fixtures. #awkwarddatemoment.
Southern Hospitality: I do not know if they were team serving or if the wait staff was disorganized. Either way, this resulted in overly attentive service.
Frankie's Notes: Jason should have a blog just for calamari; cuts of meat you think are maybe types of fish; Googling at dinner; running into things on a date; stage 5 clinger servers.
Parking: Street parking or valet.
Et Cetera:
555 S. McDowell St.
Charlotte, NC 28204
6:00 am-11:00 pm daily
http://www.evokerestaurant.com/