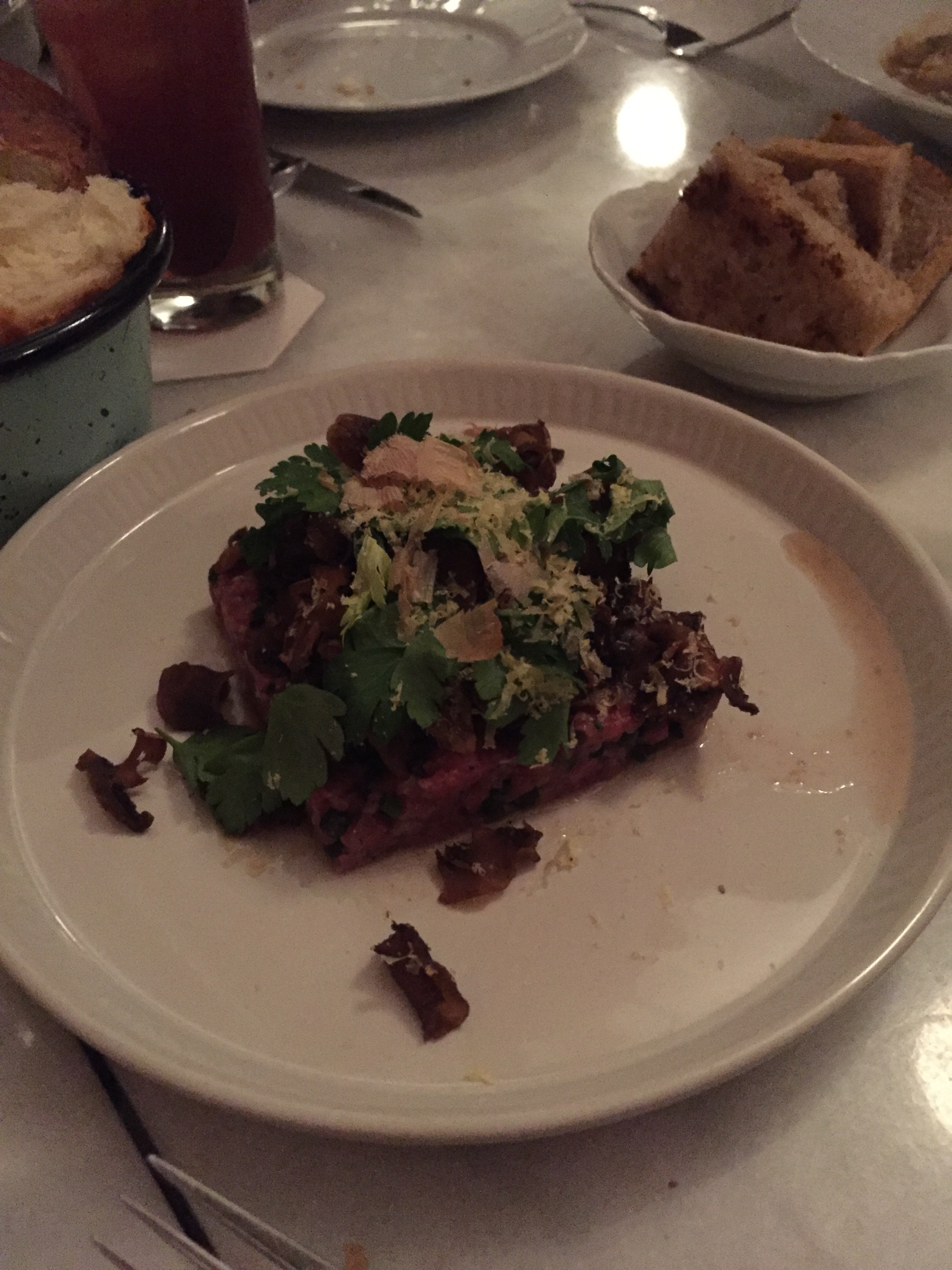 Background: Kindred was voted #7 on Bon Appetit magazine's list of Best New Restaurants for 2015. Yep--Davidson, NC made the top ten list for the whole darn country. Husband and wife team Joe and Katy Kindred wanted to move back to Joe's hometown after they met on the Chicago restaurant scene.
Eat This: We've gotta come clean about our first visit. Back in August when we first ventured to the charming college town, we were less than impressed with Kindred. It wasn't that we disliked it, we just didn't get what the hype was about. Was it good? Yeah. Top ten in the country good? Calm down, bro.
But...maybe the problem was the hype and we needed to manage our expectations? Did they have an off night? Did we? With all of these super important life queries swirling through our heads, we decided to give it another shot before we reviewed it. We dined with our lovely friends Zander and Tamara. They are also: getting married this year and don't care one bit about spoiling their appetites on bread before the meal. Twins!
Kindred specializes in small plates that rotate seasonally. Top picks this visit included the Wagyu Beef Tartare and the Tagliatelle alla Bolognese. The tartare was served with finely grated dried mushrooms and salty dried fish--absolute perfection. The Bolognese was a table favorite and we agreed it was like something your Italian grandmother would make, if you had one (if you do have one, will you share her with us?) Jason and Zander really loved the Pork Saltimbocca served with grits and red-eye gravy, but Tamara and I just wanted more bread. All the bread. Their bread is "milk bread" served in a round carafe with house cultured butter. The first loaf is free to the table, but you have to pay for additional loaves. Worth it.
Dessert: At dinner, we found out that Zander is kind of a health nut: he drinks bulletproof coffee every morning, engages in intermittent fasting, and eschews dessert. Tamara told us that her other half always acts super non-committal regarding dessert, until it is on the table, practically begging "EAT ME, ZANDER." And, true to her word, Zander looked at the three of us like we were hungry barbarians when we suggested two desserts after we pretty much had eaten everything on the dinner menu. Then, when it was served he descended upon it like it was a death row meal (disclaimer: Zander is the thinnest of us all, so #judgementfreezone). What did we get, you ask? the Milk & Cookies (salted chocolate chip cookies with cinnamon ice cream) and the Chocolate Birthday Cake. The cookies and ice cream were pretty good, but the cake was the stand-out. On our last visit, we thought it tasted disappointingly similar to Baskin Robbins ice cream cake, but this time we were so glad we ordered it. Top notch.
Overall, we felt the food this time around was much more impressive than at our visit in August. We still aren't sure it's "top ten in the whole country good," but it is definitely great food and easily among the top restaurants in Charlotte.
Drink: Jason & Tamara each ordered the same girly cocktail (called the Santiago) and gave it high marks. We especially liked the aluminum straw that looked like a dental instrument.
Atmosphere: Kindred used to be a drug store, and they have maintained some original wood elements in the bar area (+ the dental-esque straws). The seating is both upstairs and down, and the kitchen is in the basement, so the servers certainly get a workout! The decor is charming, right down to the sign in the bathroom that says: "Employees must wash their hands...and moonwalk out of the bathroom." The atmosphere at Kindred definitely feels special--perfect for date night or a fancy occasion.
Southern Hospitality: The service here is laid-back, but helpful. On both occasions, our waitresses have been more than happy to offer food and drink suggestions.
Frankie's Notes: When you are planning a wedding, you become People Who Only Talk About Weddings--you can feel yourself doing it and yet you are powerless to stop it; Friends don't let friends feel weird about ordering bread to-go; Dessert is casual until you turn into a T-Rex over some cake; Tamara is planning our honeymoon to Easter Island to see the alien statues; It's normal to go through a stick of Kerrygold butter a week, right?
Ranking: 5 out of 5
Et Cetera:
131 N Main St.
Davidson, North Carolina 28036
Tuesday-Saturday: 11:00 – 2:30pm and 5:00-10:00pm