Background:
Paul Verica opened The Stanley in May 2018, after shutting down his popular Heritage Food + Drink in late 2017. The Stanley has a larger kitchen than Heritage, which allows Verica and his son and Sous Chef Alex to amp up their culinary greatness beyond what they'd already achieved in Waxhaw.
The pedigree behind the Vericas is no joke: The elder Verica was a James Beard semi-finalist for Best Chef in the Southeast in 2017, Heritage was named number one by Charlotte Magazine in 2015, and, ahem, The Stanley ranked at number three by yours truly in 2018. We think the dishes coming out of the kitchen at The Stanley are beyond exciting, and we also think it's downright charming that they're coming from a dynamic father/son team (Jason knows a thing or two about that magic).
Eat This:
The menu changes nearly daily; on our second visit in late December, they were already up to menu number 130 after only being open since May! The offerings are farm-driven, seasonal, and richly flavored. Recently, they started offering brunch from 11 a.m.-2 p.m. on the weekends, and burgers after 9 p.m. on Friday and Saturday nights. There is also a private dining area you can reserve for larger parties or events.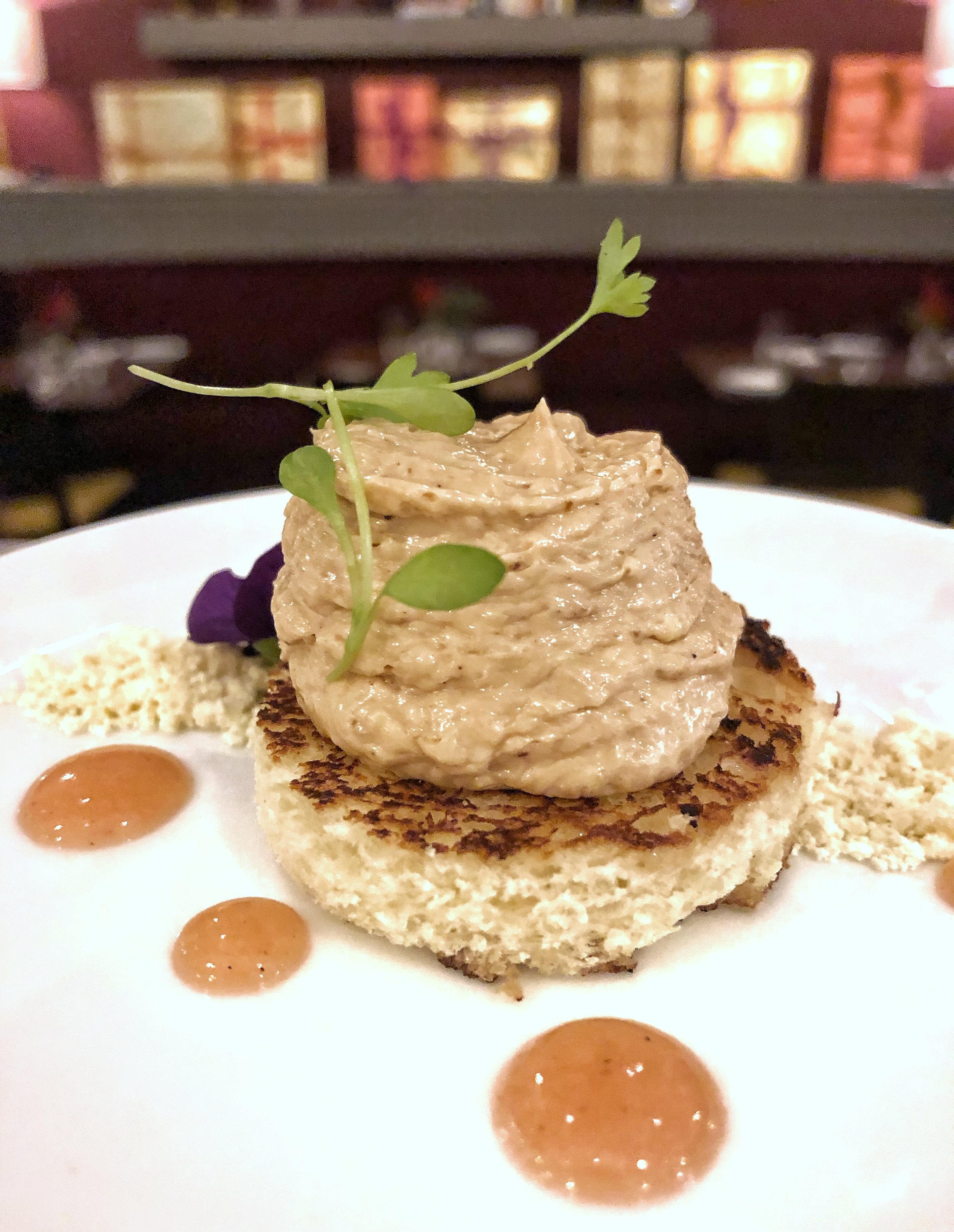 Pecans, apples, ginger, butternut
The creamy foie gras on the toasted brioche was a revelation. Our favorite dish out of both visits.
Veggie slaw, beef tartare, fried oysters, truffle aioli
We were fighting over every bite of this one. And that presentation!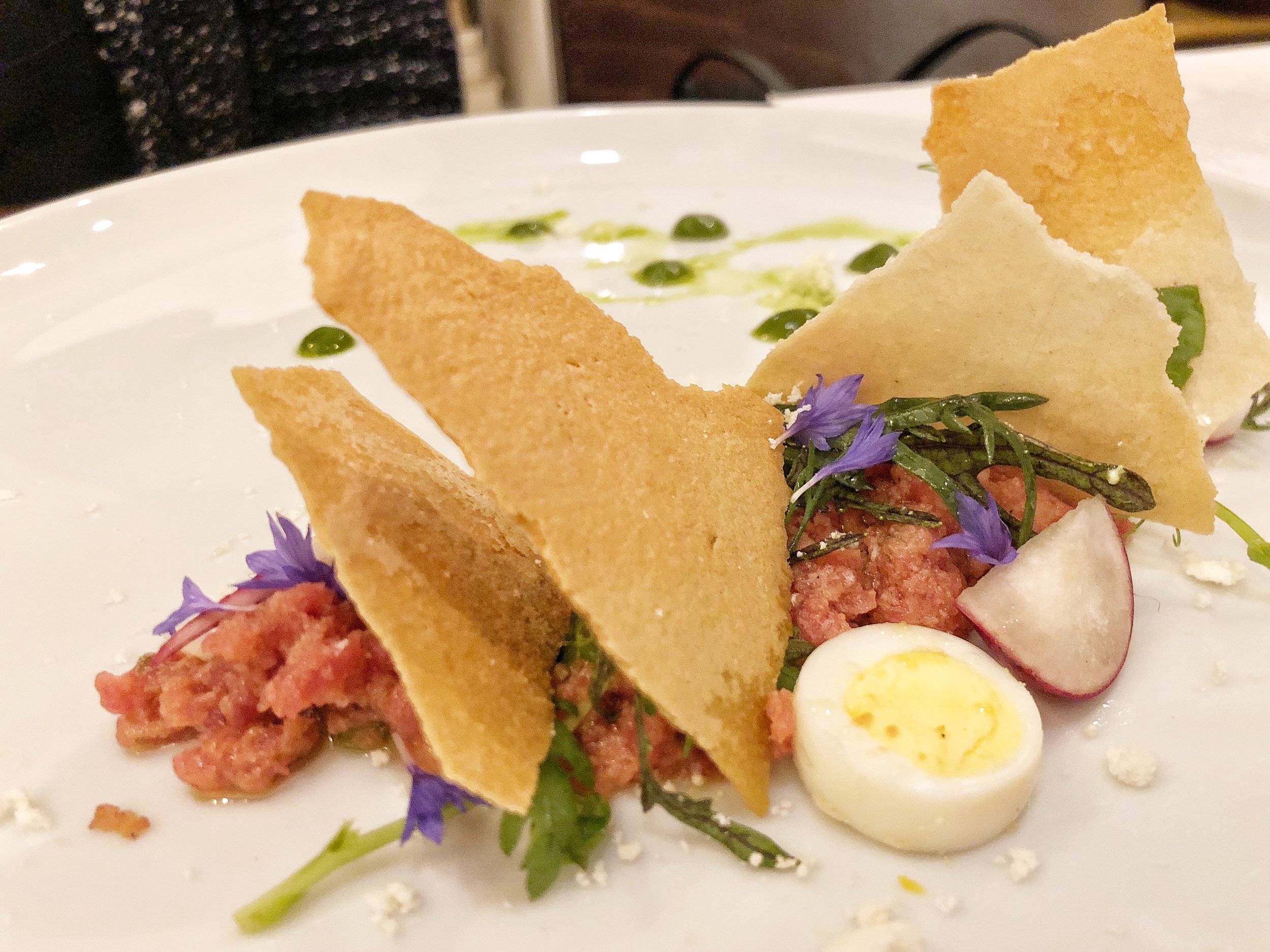 Radishes, greens, egg, capers, and flat bread
Can you ever go wrong with tartare? They let the flavor of the meat shine through with simple seasoning and accoutrements. A+.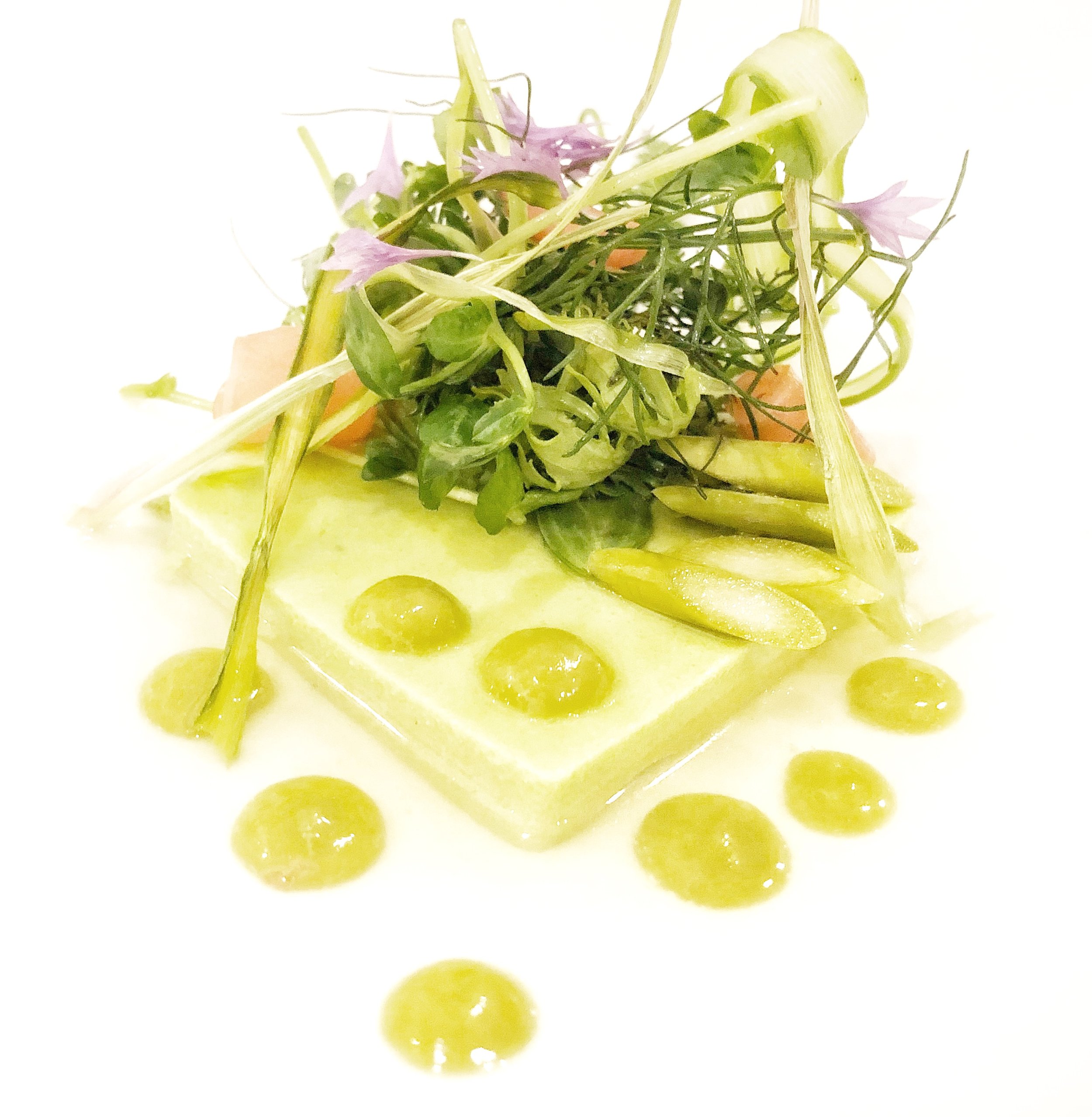 "As many ways as we could think of"
The compressed asparagus on the bottom layer had a great texture and was loaded with fresh, green flavor.
Spicy mayo
This is one of the dishes they've brought over from Heritage, and we can see why. Ultra-snackable.
Butternut, curry, carrots, sesame, pea shoots, mustard greens, ginger
We were huge fans of the light broth and added vegetables that highlighted the melt-in-your-mouth scallop.
Risotto, beets, spinach, red wine
The trout was prepared perfectly, and the risotto was a big hit with our table. Also dug the bright beet color of the risotto.
Short ribs, goat cheese, truffle, arugula, shrooms, broth
This dish wasn't a looker, but the flavors were multi-layered and the broth added a rich umami.
Chicken-fried, cheddar grits, collards, gravy
I don't eat corn (hey grits), but Jason and Olivia (of UpDog Kombucha!) described it as juicy, tender, and well-seasoned.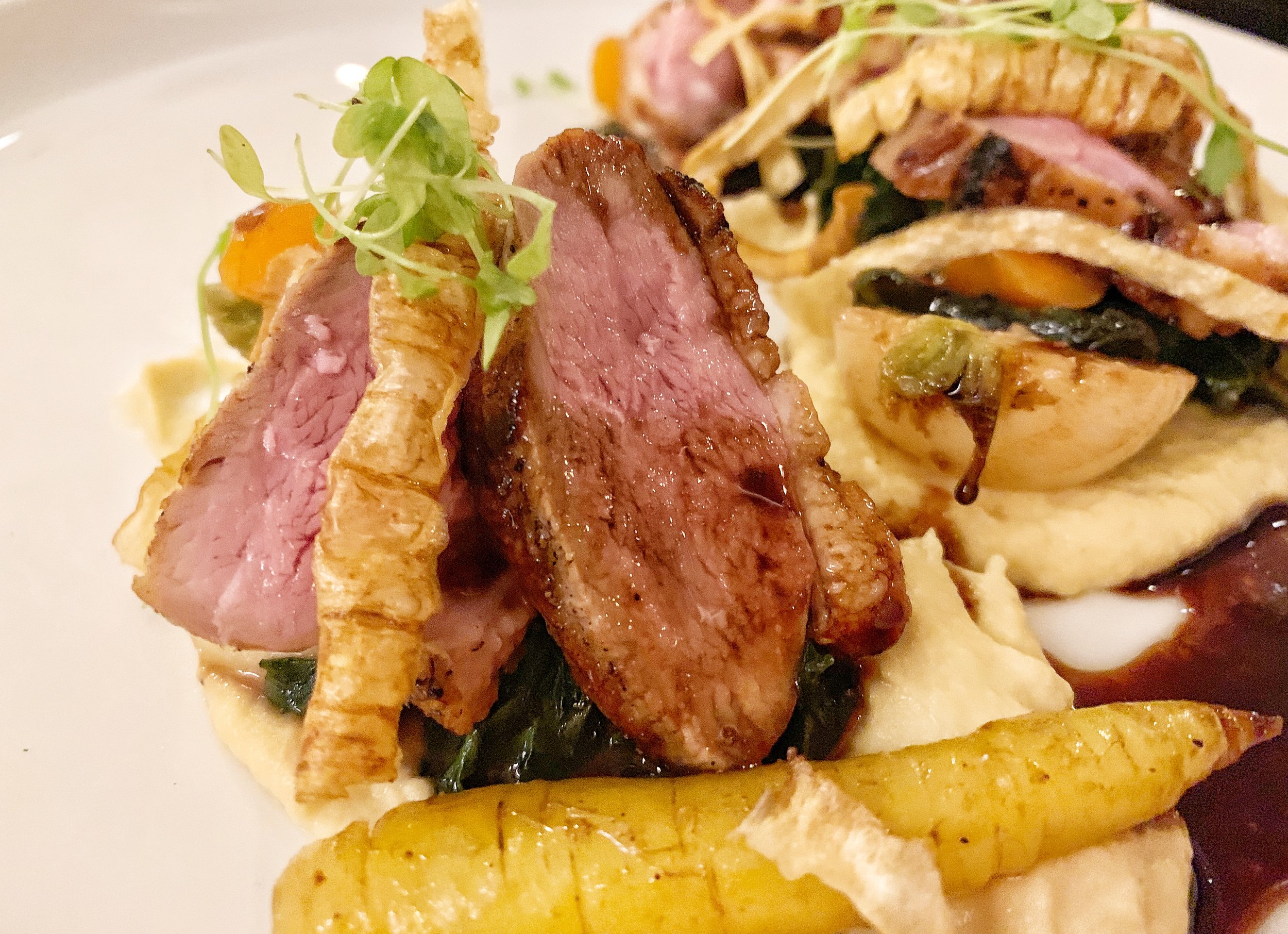 Rutabaga, turnips, carrots, swiss chard, demi-glace
Jason says: carrot & duck is the new Starsky & Hutch. Is there anything else you need to know? This duck did not die in vain.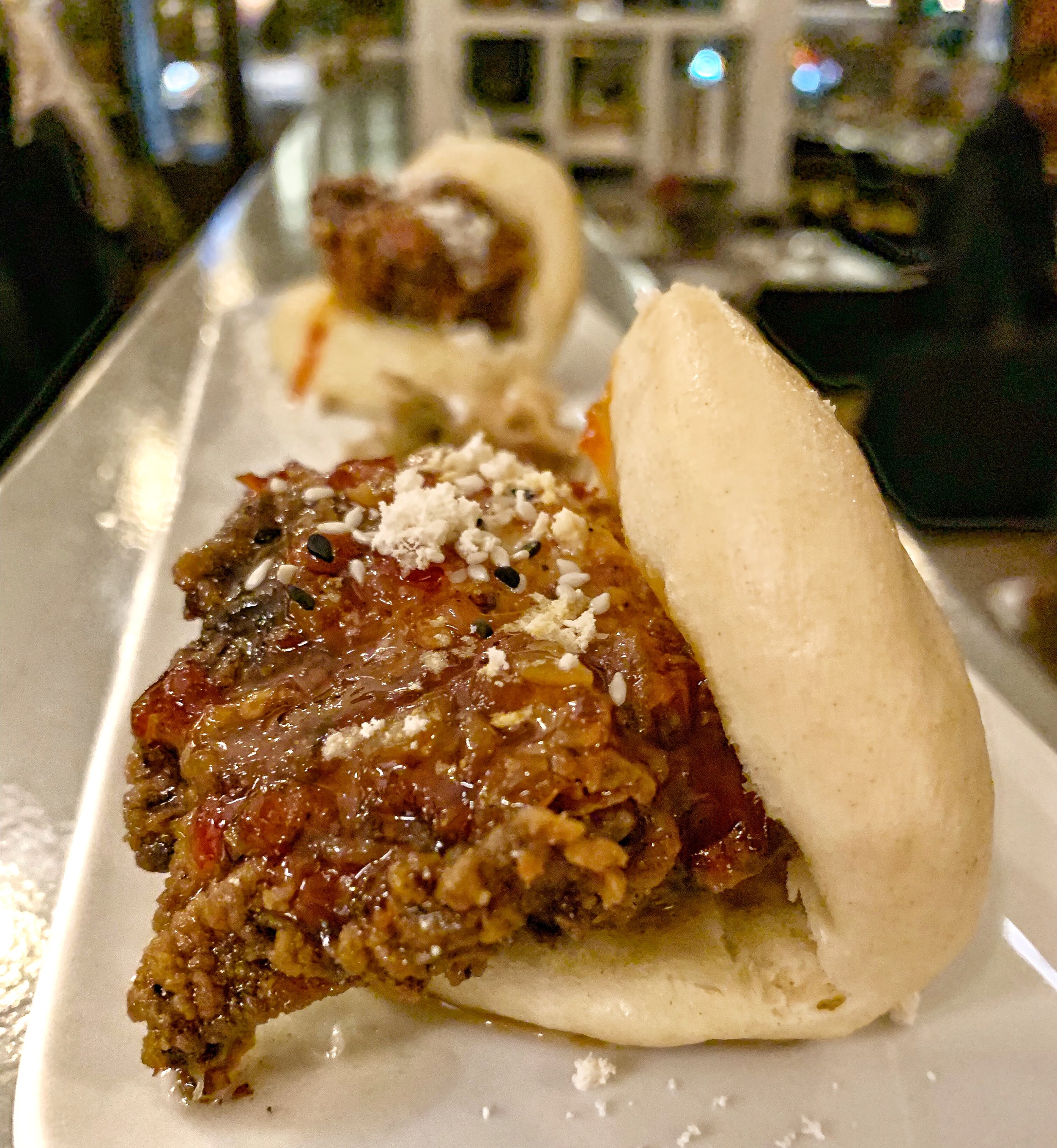 Fried chicken, kimchi, Alex's glaze
These put all other steam buns in our city to shame. You know who I'm talking about. Or do you?
Blue cheese, herbs, and "stuff"
Presentation is perhaps the best I've seen in Charlotte. This is the most beautiful palette of beets ever created. It tasted light and spring-like, which was perfect when we had it back in May.
WIth strawberries a few ways
This was the dish that first got us in the door back in May. You had us at foie gras. Very tasty, and obviously very fun to look at and eat!
Also, someone commented on our Instagram that we shouldn't be eating foie gras and that we were inhumane. We'll tell you what's inhumane: passing up foie gras when you have the chance to eat it. Especially in a funnel cake. Good day.
Pork belly, blue cheese, cider
These were a bit underwhelming, but we admittedly aren't the biggest fans of arancini to begin with.
Also, who's that pug in the background?! It's UpDog Kombucha Olivia! YAY.
Dessert:
The wonderful Ashley Boyd was in charge of the pastry program at Heritage, and at The Stanley, that honor goes to Morgan Romeo. Her treats are next-level delicious and innovative. Whatever you do, don't skip dessert at The Stanley.
Powdered peanut butter on top and mouthwatering chocolate on the bottom. They should have this one on the menu permanently.
White chocolate, pistachio, cranberry
A flashback to childhood, only a million times better. Those tiny meringues!
Drink:
Our BFF Larry Suggs helped The Stanley start their cocktail program, and boy, did he ever get things off on the right foot. Some of the most Instagram-worthy drinks in the city are served with a strong pour. Drink up.
Mr. Suggs made Jason this honey mocktail that he hasn't stopped raving about since.
Casamigos Reposado, cranberry cordial, Cocchi Americano Apertif, lime
I could have had four of these, and the one I did have went down in five minutes flat. Casamigos tequila is the greatest thing George Clooney ever put his beautiful hands on. Also, can I be the Queen City Duchess? Please?
Atmosphere:
The interior is perhaps one of our favorite parts, and that's saying something. It's warm and inviting, and it feels like you are in your rich neighbor's library. We're talking carpet, strategically-placed books, and rich wood accents. Carpet in a restaurant is an unexpected surprise these days, and we really dig it. Coziness plus. The bar has a fun vibe, and we've seen people chilling here for hours. Bottom line: it's the kind of place you want to linger.
Verica Dynasty Hospitality:
Not hyperbole––the service at The Stanley is some of the best we've had in the city. The waiters take their time explaining each dish and we've always felt exceedingly well taken care of.
Frankies Notes:
What happens when you drop some aioli on that carpet, though?; I want a Romeo-made version of all of my favorite childhood desserts, like the brownie that came inside of my frozen Kid Cuisine TV dinner; Great father/son duos: Paul & Alex, Bernie & Jason, Marlin & Nemo, Jason & Frankie; When they're taking votes for Queen City Duchess, please keep me and Frankie at top of mind.
Rating: 5 out of 5