Background:
Seattle native Chef Shota Nakajima (age 28) started in the restaurant business at the age of 16, working in and around Seattle at various Sushi restaurants. He then went to Osaka, Japan, to get a more formal education, working under Michelin-starred Chef Yasuhiko Sakamoto. Afterwards, he returned to Seattle and opened up Naka, a high-end Japanese restaurant that was too pricey for its Capitol Hill location. Nakajima renovated and rebranded the restaurant in early 2017 to Adana and changed the price point to make it more affordable. We visited Adana on our December '18 trip to Seattle. What did we think? Read on, Pancakes!
Eat This:
The menu offers a three-course tasting for $37, which is very reasonably for a tasting (also the Chef's lucky number!). Each course has three options to choose from, making for a fun, relatively inexpensive experience. The entire menu changes every month, so each visit will be an entirely new experience.
First Course Dishes
Delicata squash, curried mustard aioli
The squash was perfectly fried it still had an al dente crunch to each bite. The mustard aioli was spicy, but didn't overpower the flavor of the squash.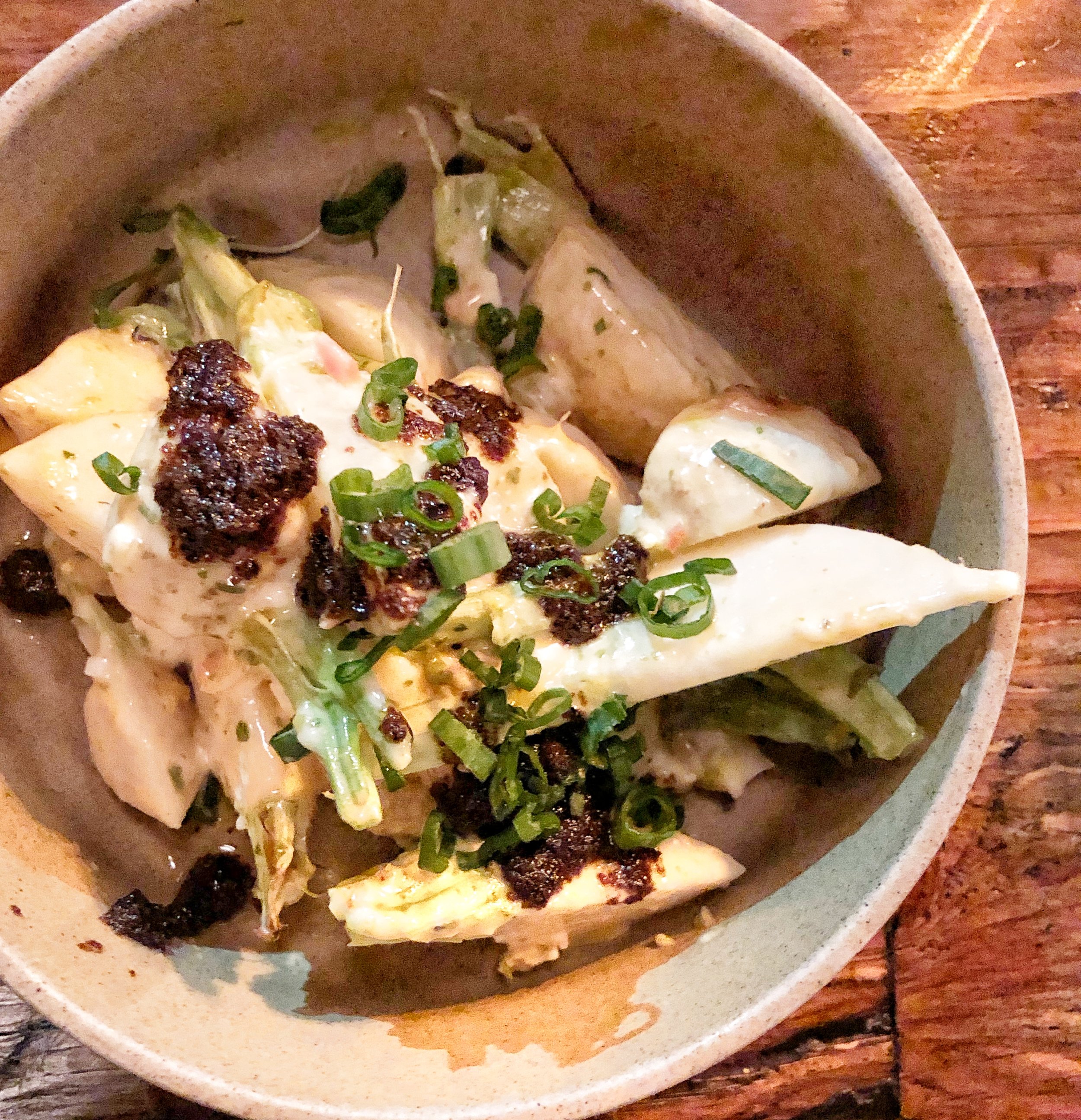 Black garlic bagna cotta sauce gribiche
The waitress described this dish as turnip forward, and it we would like to throw in turnip empowered as well. A good turnip is one of our favorite vegetables, and combined with the black garlic, this one was a winner. Gribiche is a French sauce made with egg yolks, oil, and mustard.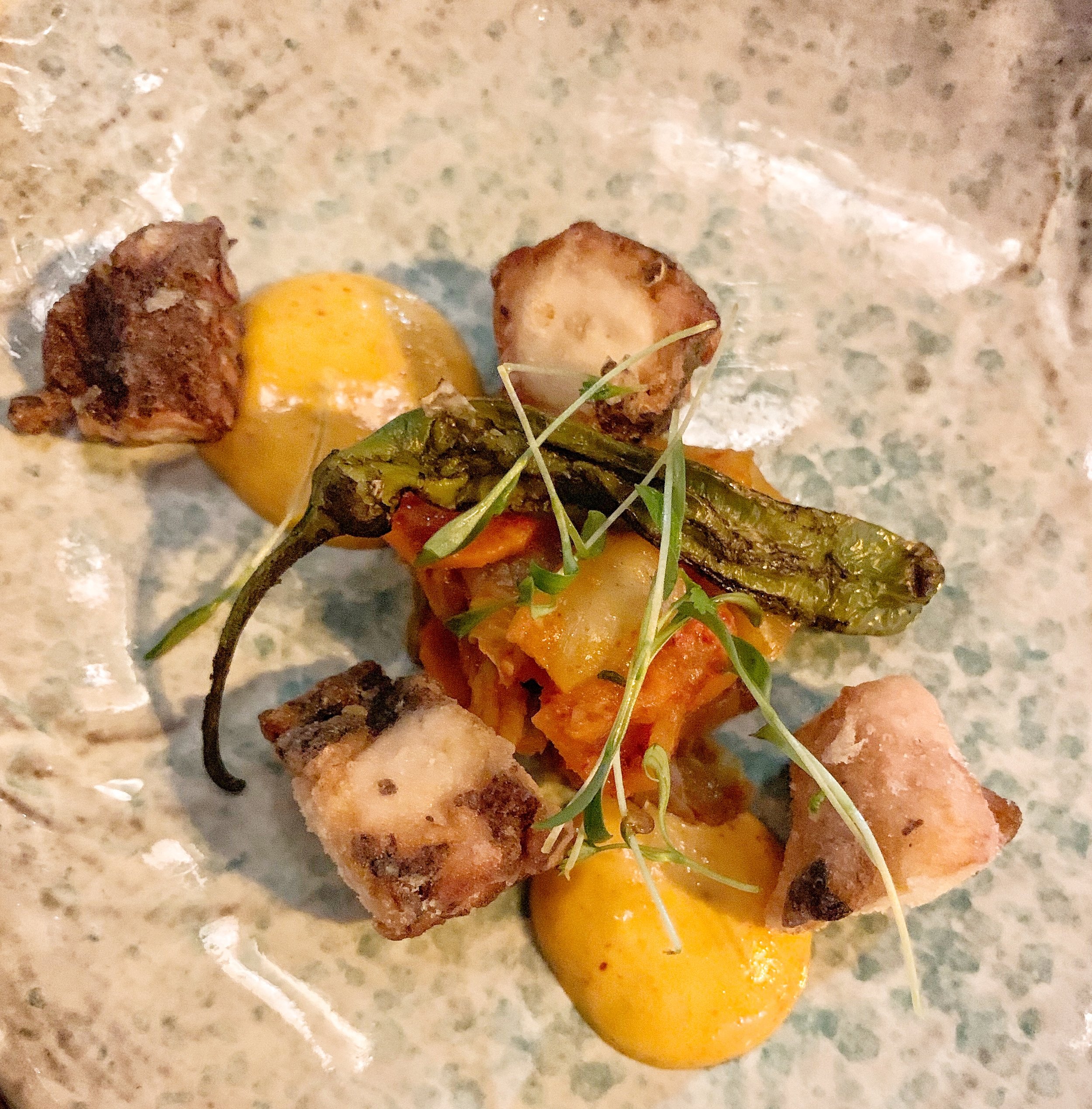 Kimchi, shishito, cilantro, lime, kewpie
Octopus is maybe one of the hardest things to cook correctly. This lightly fried octopus was the best I've ever had. My favorite dish of the night.
Clams, yuzu, mizuna, bonito
Yvonne loves beans as much as I hate them, so she ordered these to spite me, which is what you do when you're married. I did sneak in a clam, though, which I thought was very good.
Daikon, radish, green onion
Short ribs are not normally my go-to. If not cooked correctly they taste too gamey and tough for my liking. These guys were cooked perfectly, with a nice maple glaze that contrasted with the saltiness of the meat.
Celery root, dashi
Our waitress said the cod was the signature dish of the restaurant, so we couldn't pass this one up. The cod tasted fresh and clean, with the celery root chips adding a nice crunch.
Foraged truffle and toasted almond
There were other desserts on the menu, but when the waitress said "foraged truffle" we said yes and didn't ask about the price ($12/scoop, we found out later). My favorite was the truffle, but Yvonne really enjoyed the toasted almond. To each their own.
Atmosphere:
Adana is located in the hip Capitol Hill district of Seattle, nestled in between record shops, art galleries, and plenty of restaurants. The decor is modern––clean lines, lacquered wood tables, minimal art, and serious wooden chopsticks, but yet still feels welcoming. Most of the dining room is recessed below the kitchen with a catwalk in between, so that the front of the house can keep an eye on all the diners from up above. The vibe reminded me a lot of Maido in Peru, which was a modern take on Japanese cuisine.
Japanattle Hospitality:
A big trend in Seattle is for the restaurant to include a 20% tip on every meals. On the bottom of the menu it tells you where that 20% goes to (60% to your waiter, 25% to 401k plan, and 15% to health insurance, etc). Here at Scallionpancake headquarters we love this idea, and believe it creates a living wages for everyone in the restaurant, not just the waiters. This, in turn, makes for more qualified, happier staff members and an overall better experience for the customers. Adana participates in this, and our waitress was amazing. She was there to answer any of our questions and overall led us through a great dining experience.
Frankie's Notes:
A three course tasting menu for $37? We'll take three!; We literally do not have the ability to pass up a truffle dish if it's on the menu, no matter the price; One day we will have a custom fancy set of chopsticks to pass down as heirlooms to our children; Yuzu > Lemon every.single.time.
Rating: 5 out of 5