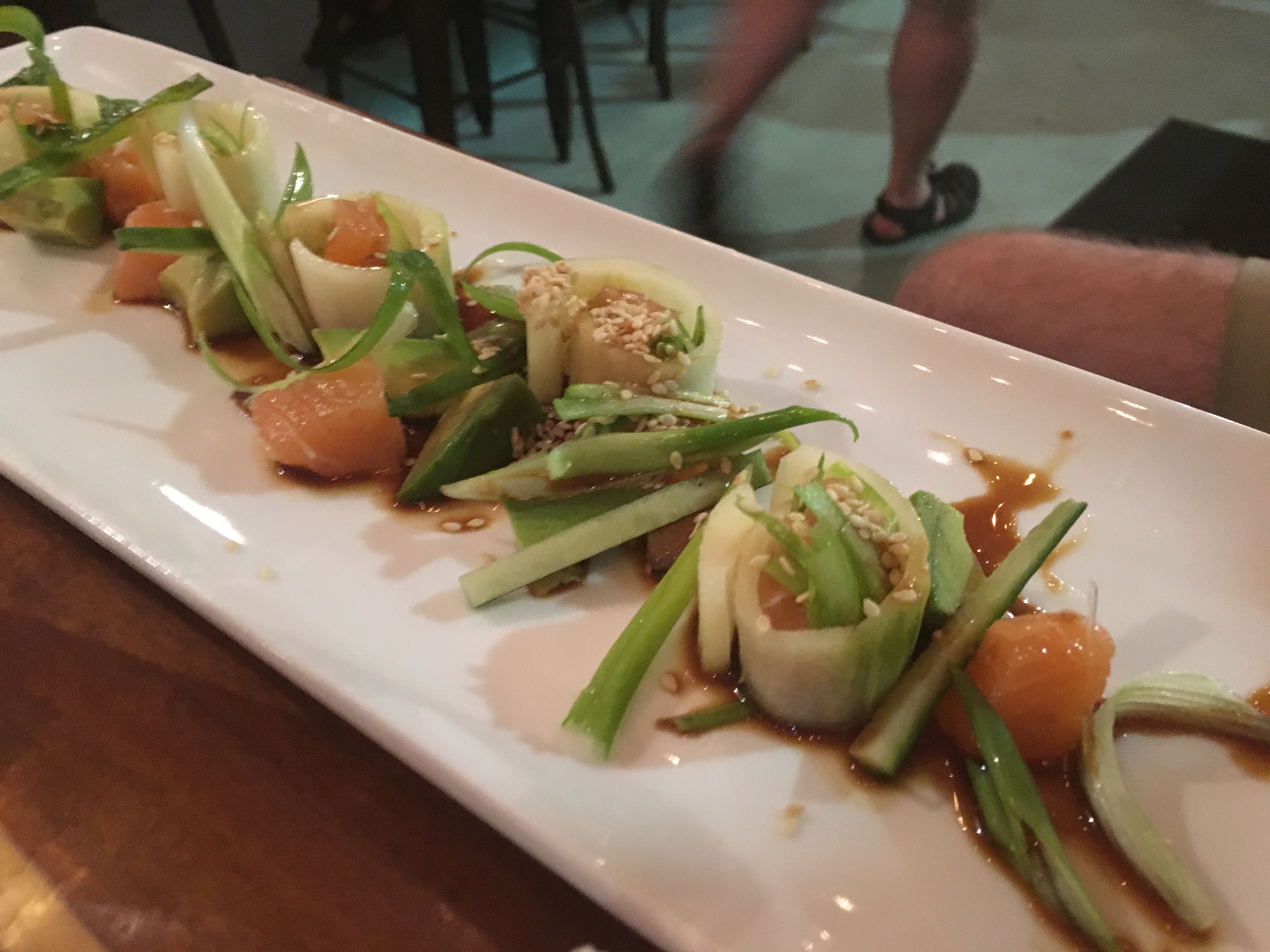 Background: The Longboard was opened in April 2015 by restauranteurs Clint Gaskins and Tyler Beckstead, both with over 15 years experience each in high end restaurants in the states and Virgin Islands. The Longboard is located right on the main restaurant/bar corridor of Cruz Bay, which is the largest town on St. John.
Order This: The menu is hipster sushi bar mixed with traditional Caribbean delicacies. Instead of a traditional conch fritter which you find on almost any menu on St. John, you'll find the "Conch and Shrimp Lettuce wraps" at Longboards - served with Fire roasted bell pepper, red onion, lemon, lime, cilantro, avocado, habanero, and lettuce cups. Everything and anything on the menu is meant to be shared, so go with some friends and order a bunch of things.
Our favorites have been the sushi wraps, which are basically sushi burritos. This last time we got the Yellow Sub, which contains spicy tuna, avocado, tamago, tempura fried scallion, toasted sesame & sushi rice, wrapped in soy paper, served with teriyaki & sriracha. We also like the calamari (despite our fear of corn), which is your traditional fried calamari but prepared just right (not too fried but still crispy).
A healthy option is to get one of their tacos and turn it into a bowl - all the cool kids from Plaza Midwood are doing this these days. We like the Ahi Tuna with roasted tomato-caper chutney, baby arugula, feta cheese, pico, cilantro, and meyer lemon roasted garlic aioli.
Dessert: There are no desserts on the menu, which hurts scallionpancake more than almost anything.
Drink: The Longboard has taken the traditional island drinks and made them frozen and on tap. Their most popular is their "World Famous Frozen Painkiller", which is dark rum, coconut cream, pineapple, orange and grated nutmeg. The Dark & Stormy is also popular, which is made with their house made ginger beer.
Atmosphere: It feels like a typical island bar - everything is outside with the bar being the main focus - but with a step up. Everything is very clean and white, with the focus being the green and white sea glass bar. There are no regular tables here - all the seating is at the bar or at high tops.
Island Hospitality: The first thing you need to know when visiting St. John is that most people are extremely nice but have little to no motivation to do anything quickly or at all. So if you're used to a fast paced, get in and out as quickly as possible lifestyle then it's going to take some getting used to. That being said, Longboards generally has some of the best service on the island.
Frankie's Notes: Make sure to ask Jason's dad the chances of dying on a hike before you agree to go with him; conch fritters are the new fried oysters, which are the new fried calamari, which are the new hushpuppies; Jason's brother and Yvonne's dad are now BFL (bros for life); if you don't get approached by a 'rastaman asking you to buy weed you probably aren't living your life right.
Rating: 4 out of 5
Et Cetera:
1 Prince Street
Cruze Bay, St John USVI
Bar 3PM - Until
Kitchen 3PM -10PM
Daily Happy Hour 3 PM - 6 PM