Background:
Eden Hill opened in Seattle's charming Queen Anne neighborhood in September of 2015, when owner Maximillian Petty and his wife Jennifer realized their lifelong dream of opening a restaurant. Petty had previously worked under José Andrés in D.C. and at the now-closed Olivia Restaurant in Austin, Texas. Eden Hill has received many great reviews since opening, and we felt absolutely charmed by the space, service, and creative cuisine on our December 2018 visit. Continue reading to see what makes Eden Hill such a special part of Seattle's fine dining scene.
Eat This: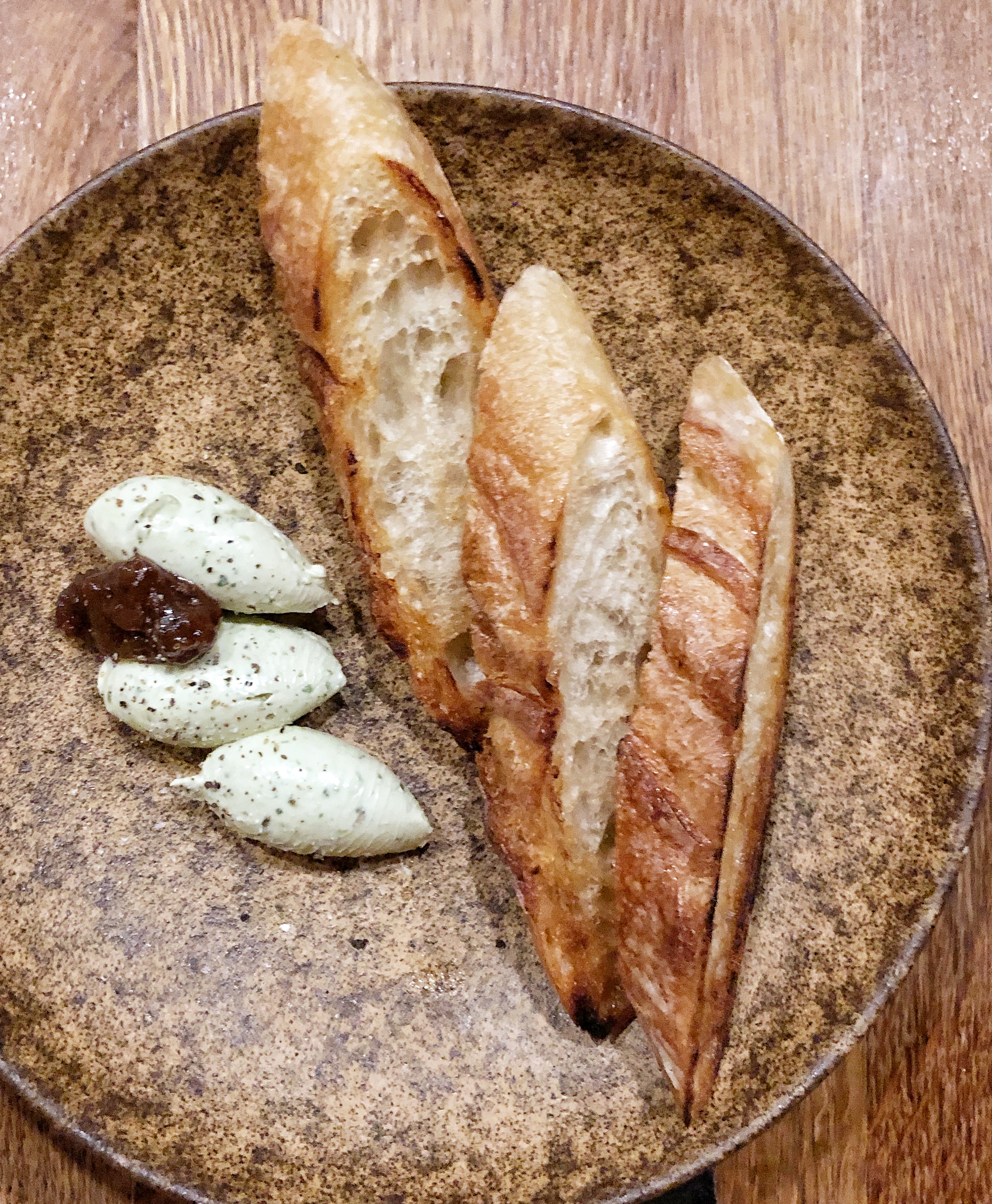 Whipped bone marrow, fall tomato jam, arugula
Jason gave me a hard time for ordering this, because it caused us to fill up too quickly, but I had no regrets. The flavor of bone marrow is one of my favorites, and rich meatiness + bread made for a perfect pair.
CAuliflower "Chilaquiles"
Manchego, lime crema, jalapeno honey hot sauce, curtido
We dug the light crispiness of these chilaquiles. Instead of fried tortilla chips like the classic Mexican dish, the cauliflower took its place. So many great textures and a nice, bright flavor made this dish Jason's favorite of the night.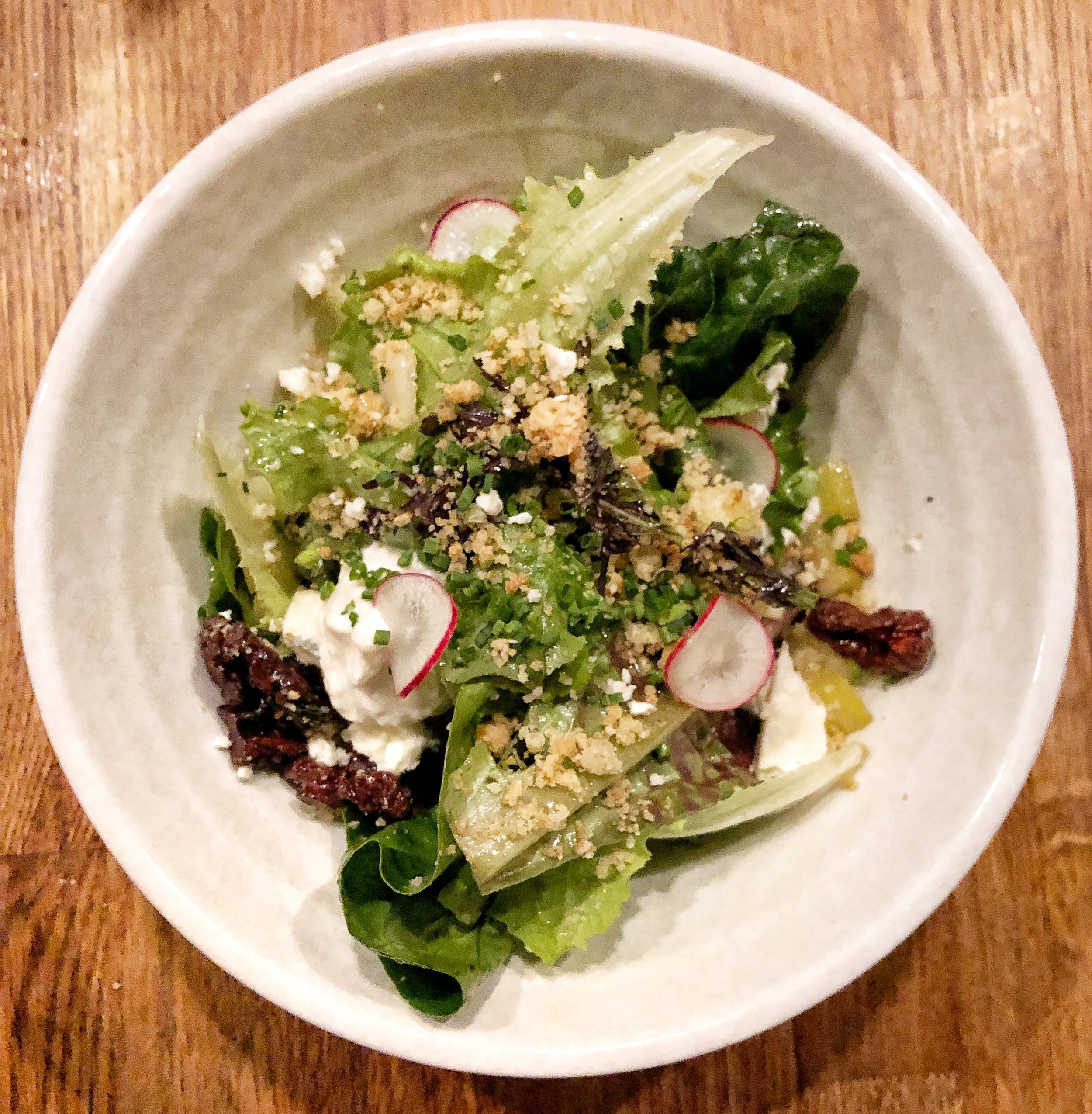 Dehydrated grape, apple, bleu cheese, celery, walnut verjus vinaigrette
Honestly, I felt compelled to order something green and healthy to offset everything else. This salad was good, but not anything extra special. The sweetness of the grapes did add a nice touch, though.
Anderson Ranch Lamb Tartare
Bread & butter pickles, hot mustard, cajeta, pretzel roll
A good tartare, but not a standout dish. The pretzel roll was a bit hard, and I always prefer my bread doughy.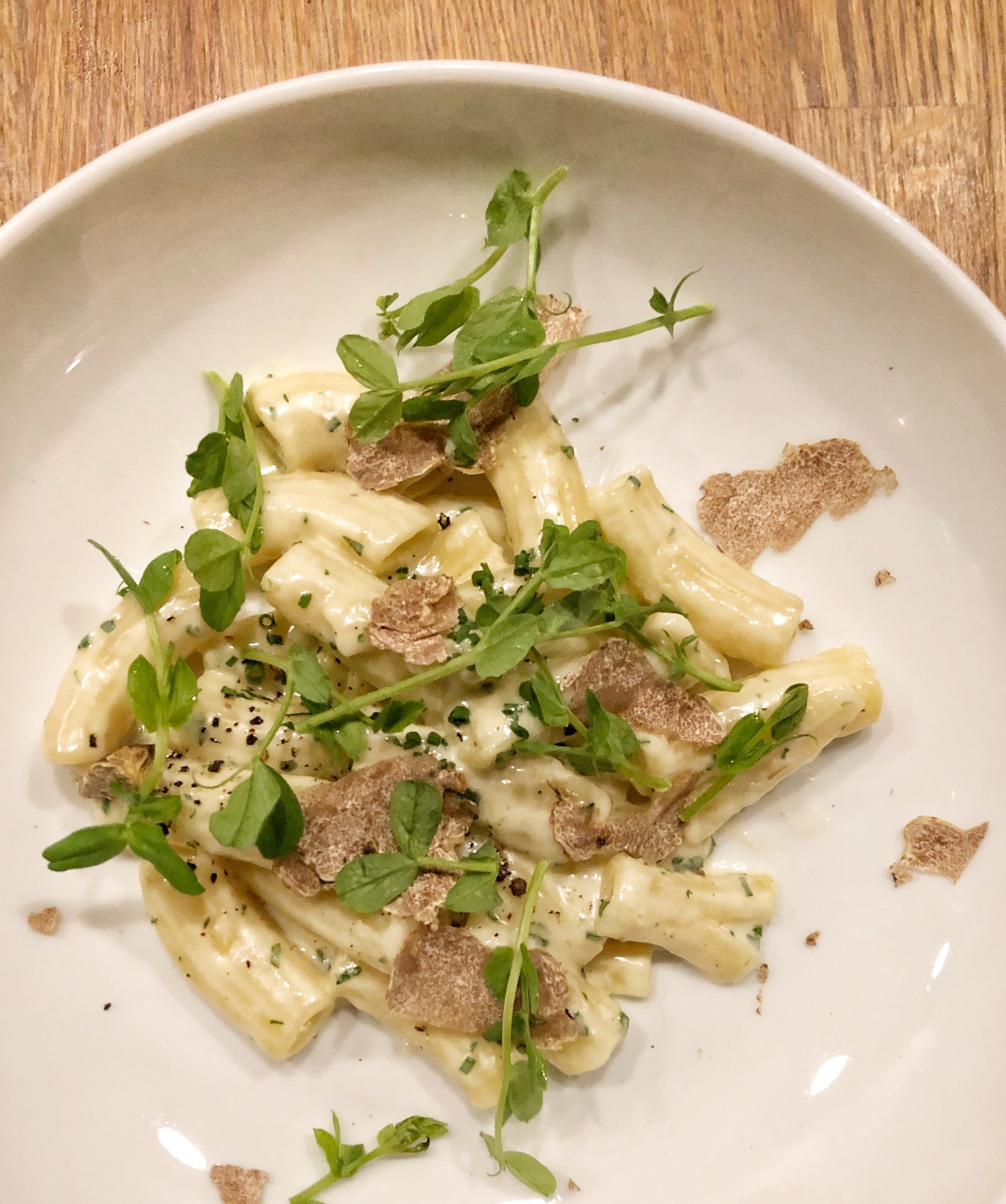 Elderflower tomme, smoked red bud, goat gouda, alba truffle
The most amazing pasta I've had since our week in Italy last summer. We loved the big pieces of truffles and the rich tang of the gouda.
Crispy Pig Head "Candy Bar"
D'anjou pear, champagne soup, merlot cabbage, serrano
Not too many things scare me when it comes to food, but the pig head candy bar did give me a moment's pause. I was wrong to worry, though.
This dish – which has been on Eden Hill's menu nearly since the beginning – was an easy-to-eat delight. The entire concoction was fried, making it look like a deep-fried Twinkie or Snickers bar at a state fair, and the inside had gamey pieces of pork that offset the tangy cabbage and greens on top. I can't say I recommend any old pig head candy bar, but this one was an unexpected delight.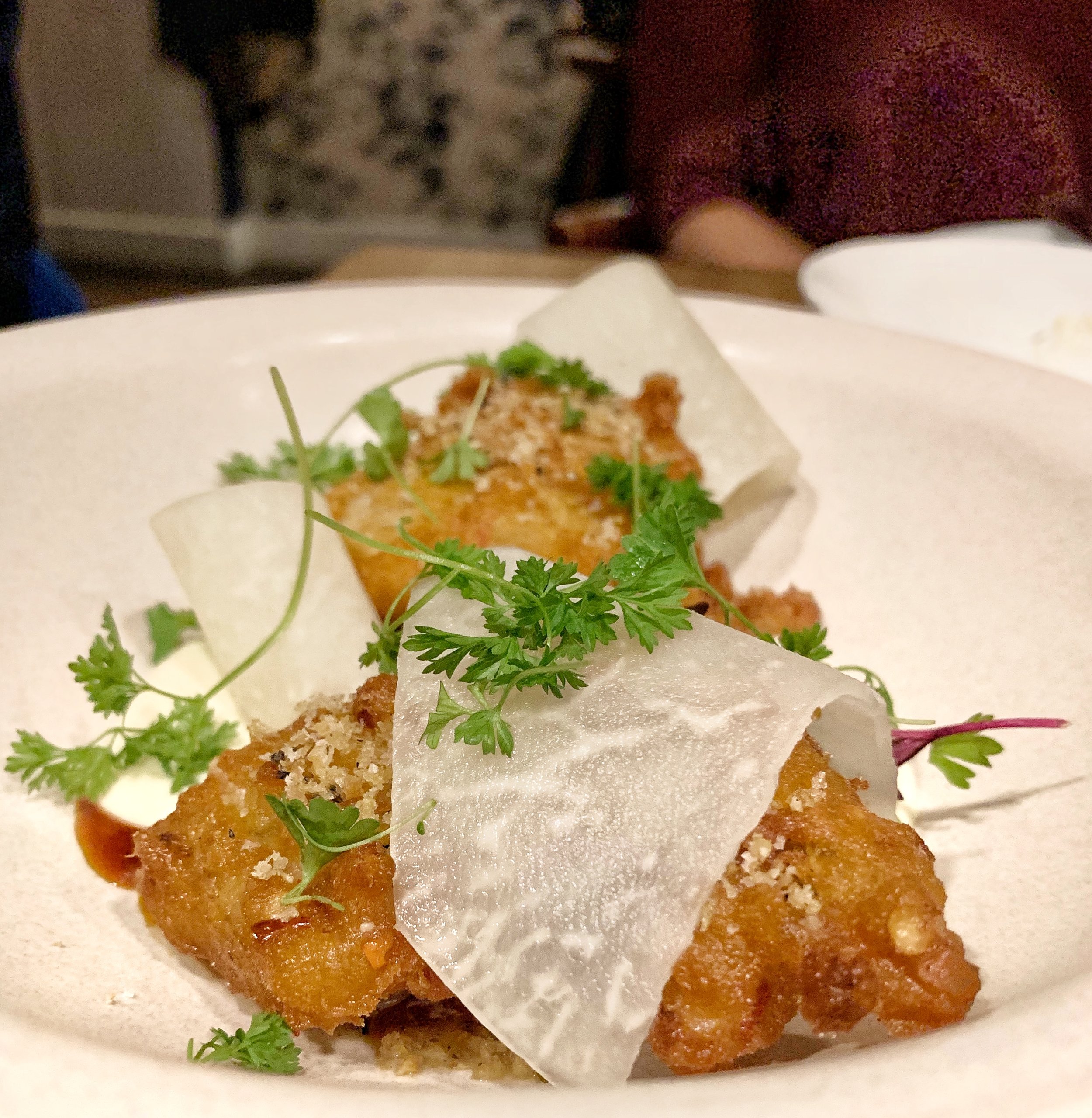 Gochujang, kohlrabi, calamansi, chicken skin sea salt
The spicy gochujang and the cooling radish made these oysters a delicious little bite.
Dessert:
We read about the foie gras cake batter prior to our visit, and let us tell you: it did not disappoint. We had never tasted anything quite like this, and it was exactly as you would expect: sweet, slightly grainy, and with a trace of rich savoriness. We can see why they keep this on the menu.
Foie gras cake batter is Eden Hill's signature dish. Pieces of toasty pound cake are served with a whipped foie gras batter that is both sweet and richly savory. And that presentation! We were so full at this point, but you must not skip this on your visit!
Drink:
We were so, so excited to see sea buckthorn on the cocktail menu! Everyone around us was asking what the heck sea buckthorn was. But not us. We are so scandi like that. For the uninitiated, sea buckthorn is a shrub that grows on the coasts of Europe and in parts of central Asia, too. We fell in love with it in Copenhagen, where it is ubiquitous on menus across the city. So, a cocktail made with sea buckthorn and tequila was like a taste of our Nordic home away from home. I liked it so much that I ordered another as soon as I finished the first (which happened in about three seconds).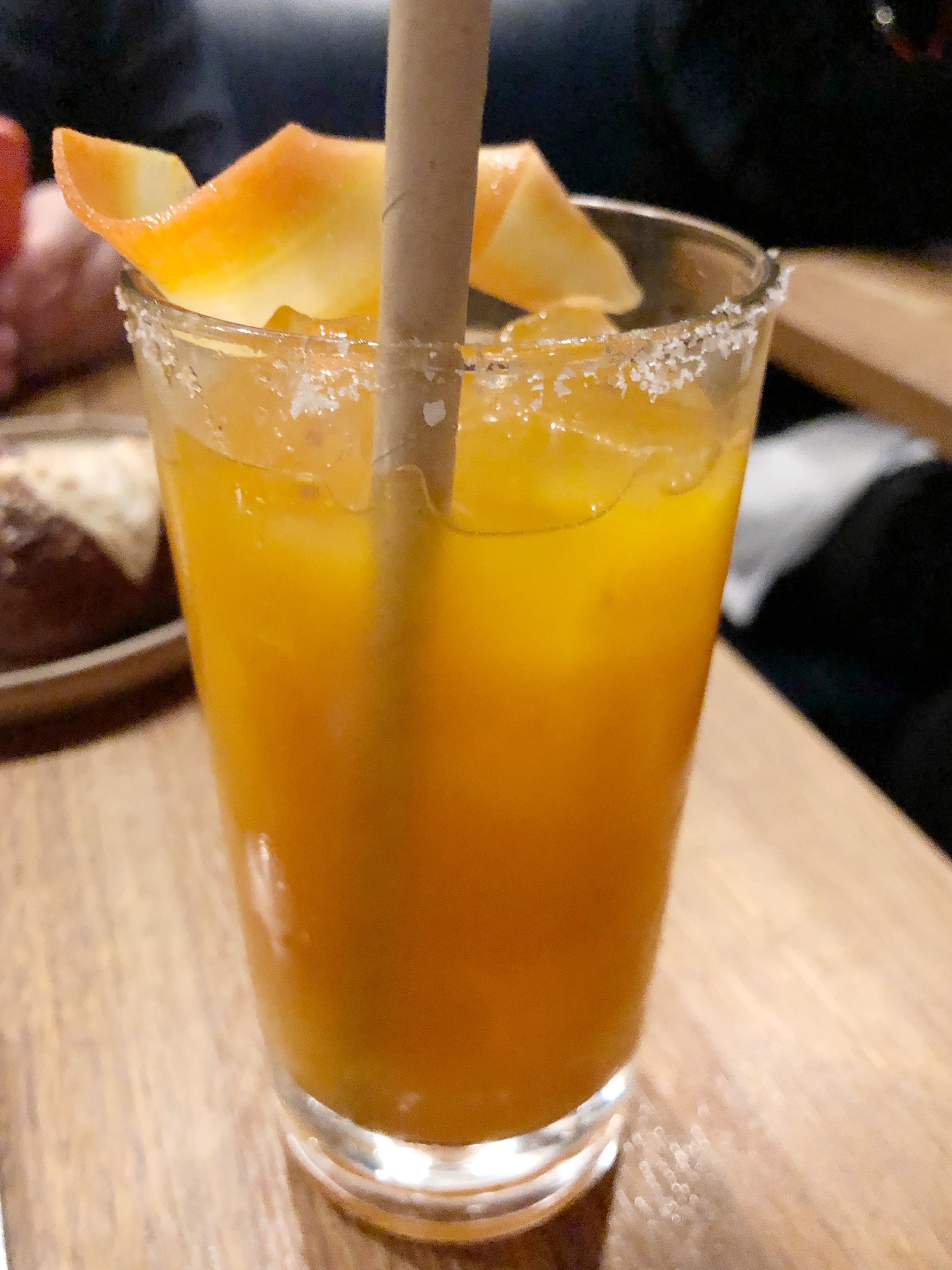 We are sea buckthorn and tequila aficionados, and this drink didn't disappoint. Sea buckthorn is slightly sour, which kept this drink from being syrupy sweet. I would take another one right now, please and thank you.
Atmosphere:
Eden Hill is t-i-n-y tiny. But that aspect only adds to its charm. It's amazing they can do what they do inside that small kitchen! The dining area feels intimate, and we even struck up a conversation with the lovely couple seated next to us. Queen Anne is an understated yet upscale neighborhood, and Eden Hill fits in with that vibe perfectly.
Queen Anne Hospitality:
Only one server was in charge of the entire dining area (the bar patrons were served by the bartender), and he did a great job of keeping everyone satisfied and with a drink in their hand. He also had a great sense of humor, as he told us to order fewer dishes than we did, and he said he was impressed with our appetites. Hey, we've been training our whole lives for this!
Frankie's Notes:
Sea buckthorn and tequila are perhaps two of my favorite things on earth, so the combination of the two nearly made my head explode; You wouldn't want already made foie gras to go to waste, would you?; Don't hate the foie gras players, hate the game; Queen Anne is a place I would like to live someday, if I could convince Jason to move BNA headquarters out West; I wonder if the Eden Hill kitchen is the culinary equivalent of Mary Poppins' purse, and the inside can actually hold 52 lamps and a much larger kitchen?
Rating: 5 out of 5