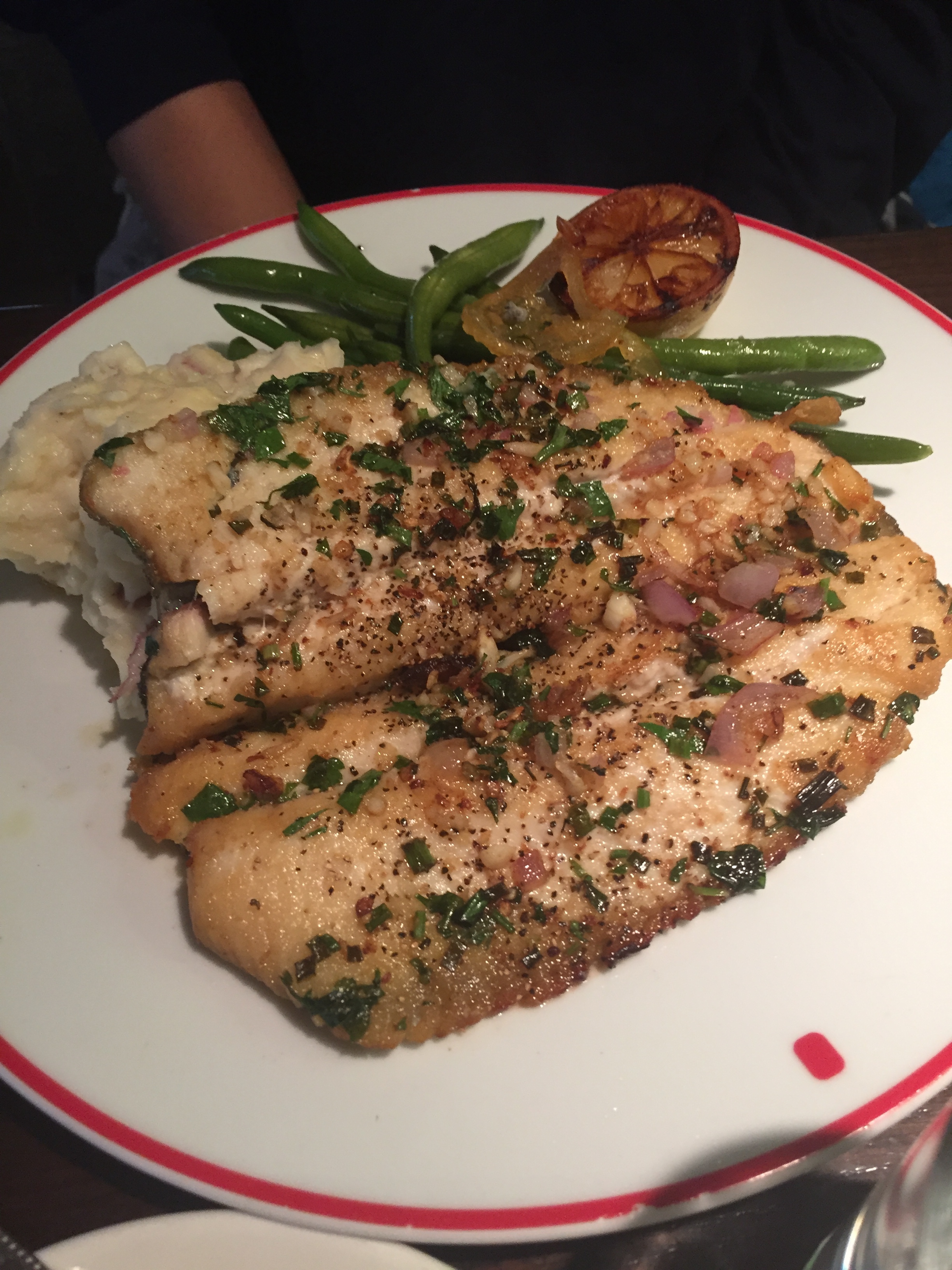 Background: Founding Farmers was, well, founded by in 2011 by The North Dakota Farmers Union to promote family farms. After years of successful marketing/managing at the original location, Dan Simons and Mike Vucurevich are now co-owners of this successful concept. Founding Farmers is faithful to the principle of farm to table; everything in their restaurants is sourced locally and nothing is frozen (except for the ice cream!). Yes --even the to-go cups are made from 100% recycled materials. The first location is located near George Washington University and now there are two additional locations in Tysons, VA and Potomac, MD.
Order This: If you are there for brunch we recommended either the Whipped Blueberry Butter Buttermilk Pancakes or the Founding Farmer's Breakfast. The pancakes were light and fluffy with a blueberry butter that would make Willy Wonka turn into an Umpa Lumpa. The Founding Farmer's Breakfast comes with two eggs, your choice of meat, and a side - but for three extra dollars you can get a bacon upgrade which comes with a speciality glaze of either black pepper maple, Texas BBQ sauce, hot sauce, or sweet & sour. FOR THE LOVE OF GOD GET THE BACON UPGRADE. If you don't you will probably regret that decision for the rest of your life. Also, a shout out to the hash browns--they looked like the ones you get a Waffle House, except they were 100 times better. If you go for dinner we highly recommend any of their pastas, which they make fresh everyday. We tried the sausage mushroom gnocchi which was amazing. Someone else in our party got the trout which was delicious as well. For an appetizer we got the "Bread, Chips, Crisps" which was a mountain of homemade chips and breads with four amazing sauces: romesco (red pepper based sauce), pimento cheese, green goddess (avocado + magic), and onion dip.
Dessert: Uncle Buck's Beignets. If you don't get these here then you can't blame anybody but yourself (Sorry Obama). These are maybe the best beignets ever imagined. They were warm, soft, and layered to perfection. They came with three different types of dipping sauces --raspberry, chocolate, and caramel.
Drink: Founding Farmers has an extensive cocktail list that blends old school favorites with the new (Chelsea Handler Cocktail, anyone?). All the juices are hand-squeezed daily and, and they make fresh syrups twice a week for delicious non-alcoholic cocktails. We tried the Raspberry Rickie and the Blueberry Phosphate, both of which were excellent.
Atmosphere: This is a big, crowded place for the quality of food that they prepare. The decor is "sophisticated rural"--an aesthetic that will undoubtedly grow on you while you wait two hours to eat brunch. The best part are the white fluffy clouds suspended from the ceiling. Oh, and a sheep that looks right into your soul.
Southern Hospitality: The host/hostess counter staff could have been a little kinder, but it was a stressful scene in there for Saturday brunch, so it's hard to blame them. Once we sat down, the service was quick and all-around impeccable.
Frankie's Notes: It's not an arms race, it's Saturday brunch in DC; Founding Farmers was actually founded by farmers; They juiced Violet Beauregarde to make the blueberry butter; Life rule: you never buy the extended warranty, and you always upgrade your bacon; Waiting two hours to eat brunch is either a major testament to your love of food or indicative of a hole in your life that can only be filled by beignets.
Ranking: 4 out of 5
Et Cetera:
1924 Pennsylvania Ave. NW
Washington, DC 20006
Breakfast: Monday - Friday 7:00am - 11:00am
Lunch & Dinner: Monday 11:00am - 10:00pm, Tuesday - Thursday 11:00am - 11:00pm, Friday 11:00am - 12:00am, Saturday 2:00pm - 12:00am, Sunday 2:00pm - 10:00pm.
Brunch: Saturday & Sunday 9:00am - 2:00pm and every holiday Monday