Background:
El Celler de Can Roca is considered by many to the crown jewel of Catalan cooking, taking over from El Bulli which closed in 2011 (and where the Roca brothers worked at El Bulli the late 1980s). The restaurant is led by the Roca brothers—Joan (head chef), Josep (sommelier), and Jordi (head pastry chef). Joan, the oldest, decided at an early age that he would become a chef after working at his parent's restaurant, Can Roca, during his youth. Joan & Josep opened up El Cellar de Can Roca right next to their parent's restaurant in 1986. The youngest brother, Jordi, joined the restaurant in 1997 at the age of 19 and the rest, well, is history. El Celler de Can Roca got its first Michelin Star in 1995, its second in 2002, and its third star in 2009, which it maintains today. It has been ranked #1 in the world twice, in 2013 & 2015, and has been in the top 4 since 2011.
Our journey to Girona started in January, when we planned to do a quick two day stop in Barcelona to get a little sun between our week in Scotland and London – oh, and also to try some of the best food in the world. Our main goal was to land a reservation at Tickets, but on a whim I decided to put us on the wait list for El Celler, which is about an hour drive north of Barcelona. El Celler opens up reservations 11 months in advance, quite a long time out for a restaurant, so we were way past this period. I figured nothing would come of it and went ahead making other plans in Barcelona. To my surprise, a few weeks passed, and we got an email saying that there had been a cancelation and asking if we'd like to reserve a table for three. When the #2 restaurant in the world emails, you accept that email and make the reservation work, no matter what hotels/restaurants/plans you had already made for that day. So, we were hopping off the plane in Barcelona and heading to Girona for less than 24 hours.
Our flight ended up being delayed into Barcelona (thanks, striking French air traffic controllers), so by the time we got to Girona, we had about 15 minutes to change and go to the restaurant. We can't say we saw too much of the city, but from what we saw we wanted to go back and explore more. Until next time, Girona. Oh, you might have noticed I said a reservation for 3. That's because Yvonne's dad, Wayne, was joining us on this trip. More on this later, but let's just say that he had never had a 20 course tasting menu before, so we were a little scared as to what his reaction would be, if he would make it through the meal, and whether he would wear a Traditions Golf Club sweater/jacket every meal. Spoiler alert - he only owns Traditions Golf Club branded clothing.
Eat This:
But enough about Wayne. When you walk into the El Celler compound, you walk through a courtyard to the reception area. There you are greeted by the hostess who takes you to the main dining area. El Celler has less than 40 seats, and the areas are arranged so that you feel secluded but still have a great view of the entire restaurant.
There are two options when dining at El Cellar de Can Roca, you can do the Classic tasting menu for €195/person or you can do the feast tasting menu for €215/person. There is also an optional wine pairing for €110/person. We did the feast menu, which I believe every table in the restaurant was doing, because if you come here you aren't going to skimp out. We decided against the wine pairing because we were fresh off the plane and we probably would have fallen asleep mid-meal if we attempted that chicanery.
Our first dish was an elaborate globe with dishes based on the Roca's travels around the world. Mexico was represented by a taco, Singapore by a chili crab, Egypt by a pyramid, Turkey with lamb and yogurt, and Peru with a causa limeña. The last bite came with a lever which was used to guess whether the last dish was representing Peru or Turkey. If you turned the lever the correct way, the globe opened up and a sphere of edible seawater appeared!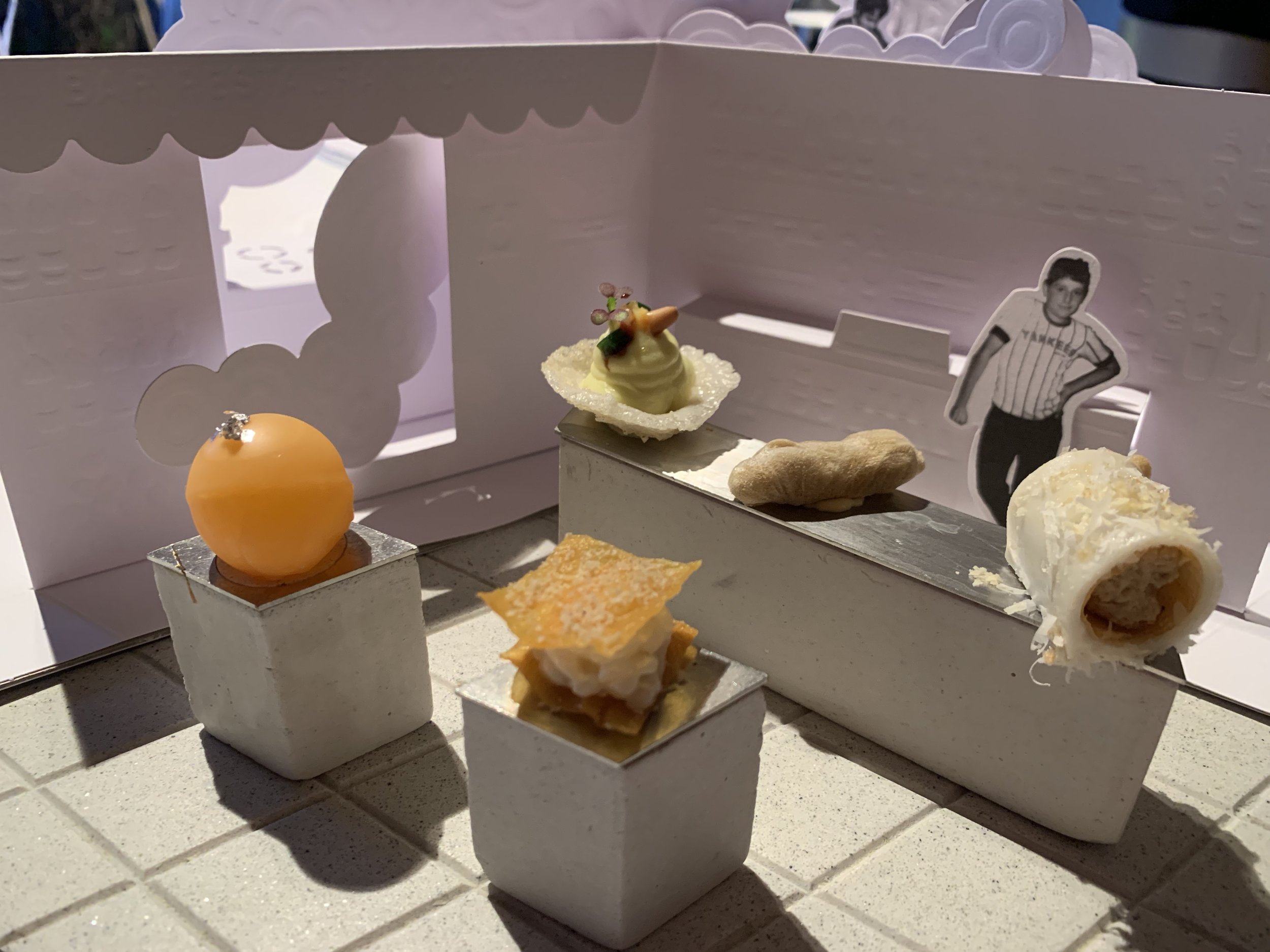 Memory of a Bar in the Suburbs of Girona
Squids, Kidneys with Sherry, gentian and orange bonbon. Montse's meat cannelloni, cod brandade
Here we're taking a trip back to the Roca's parents' restaurant. These elaborate bites were meant to represent dishes which the Rocas grew up on.
Who doesn't enjoy a perfect piece of tuna belly in ginger? The Roca's play on a little sushi to cleanse the palate.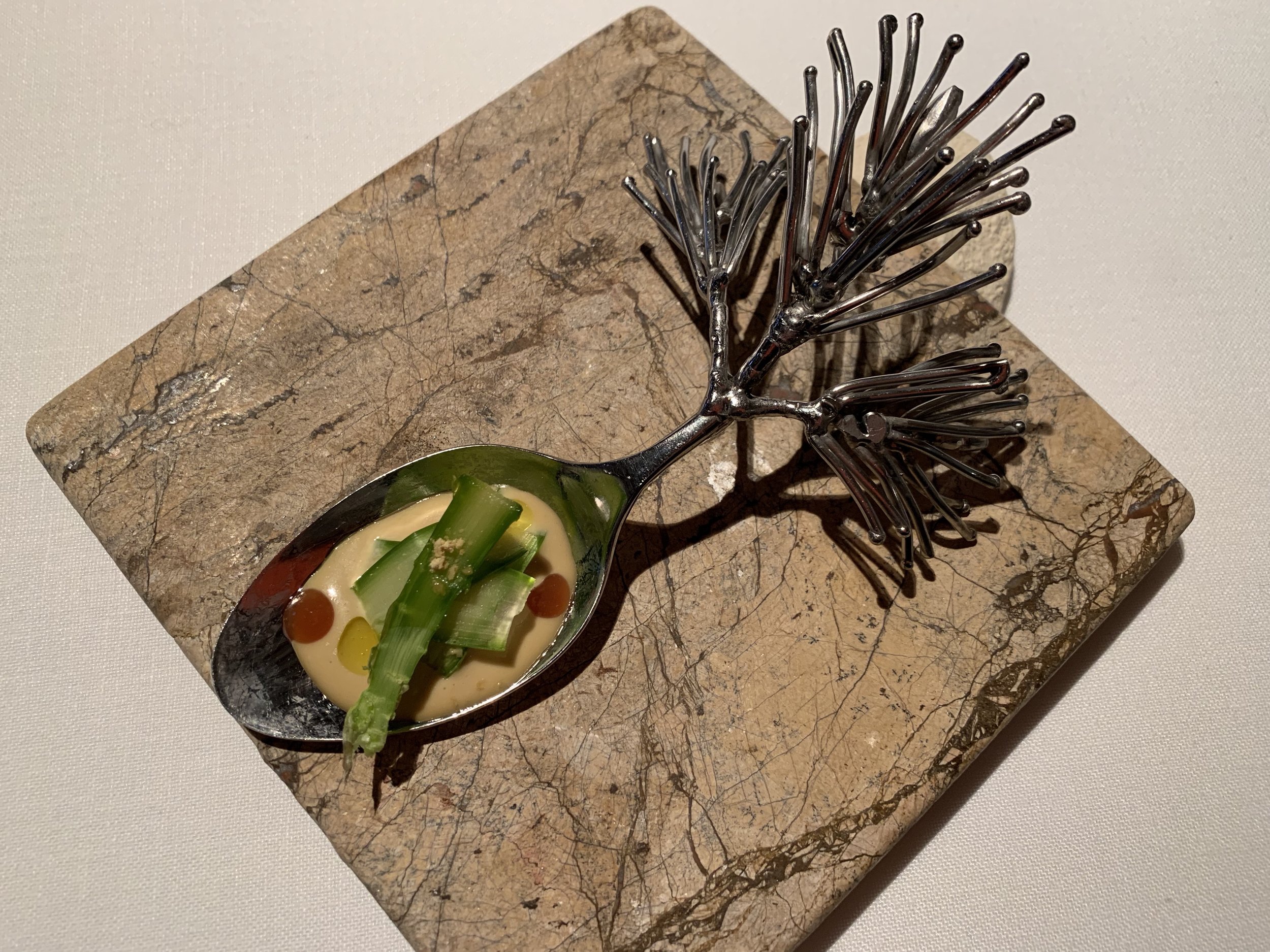 Pine pollen, Pine Nut, Avocado, Green asparagus, and pine cone vinaigrette
Notice that every dish has its own custom plates, cutlery, etc. We've seen custom dishes before, but never on every single dish. The attention to detail was amazing.
Scallionpancake is all in on the pine cone trend. We loved the subtle flavors, and this bite made us think we were in the forrest.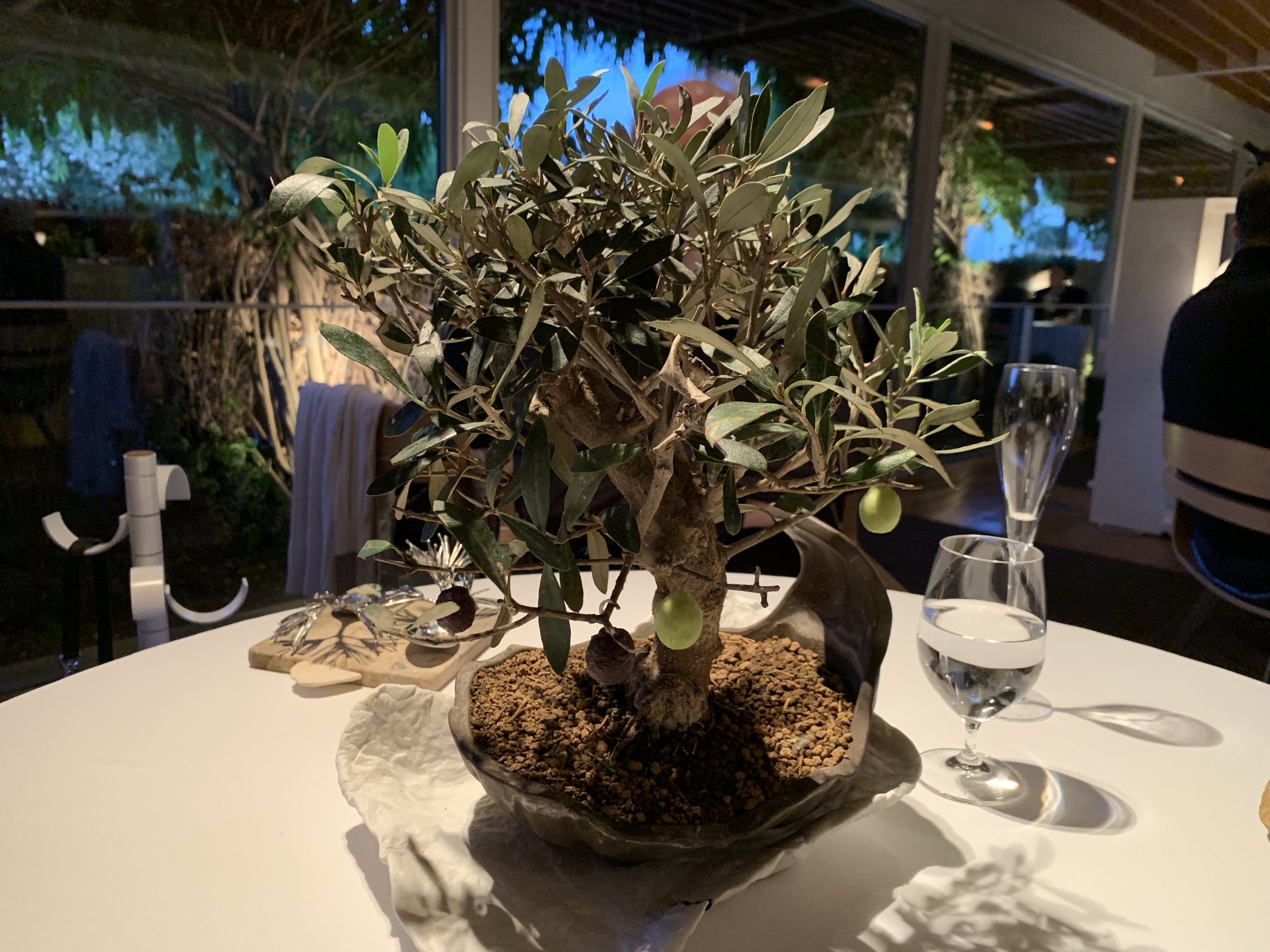 Green olive's ice cream and black olive tempura
This is probably the signature dish of the restaurant. An olive tree is brought to the table with olives hanging from the tree. You pick them and eat them straight from the tree. The green ones were frozen and the black ones were fried. A "wow factor" dish if there ever was one.
Perretxicos consomé with cured veal
Consomé is a French dish of concentrated meat broth. This one is made with perretxicos (mushrooms) and a nice chunk of veal. This was good, but not one of our favorites of the night.
St George's Mushroom Brioche
An amazing bite of mushroom flavor. This was mushroom forward, mushroom empowered, and a great step in the right direction for mushroom rights. We loved it.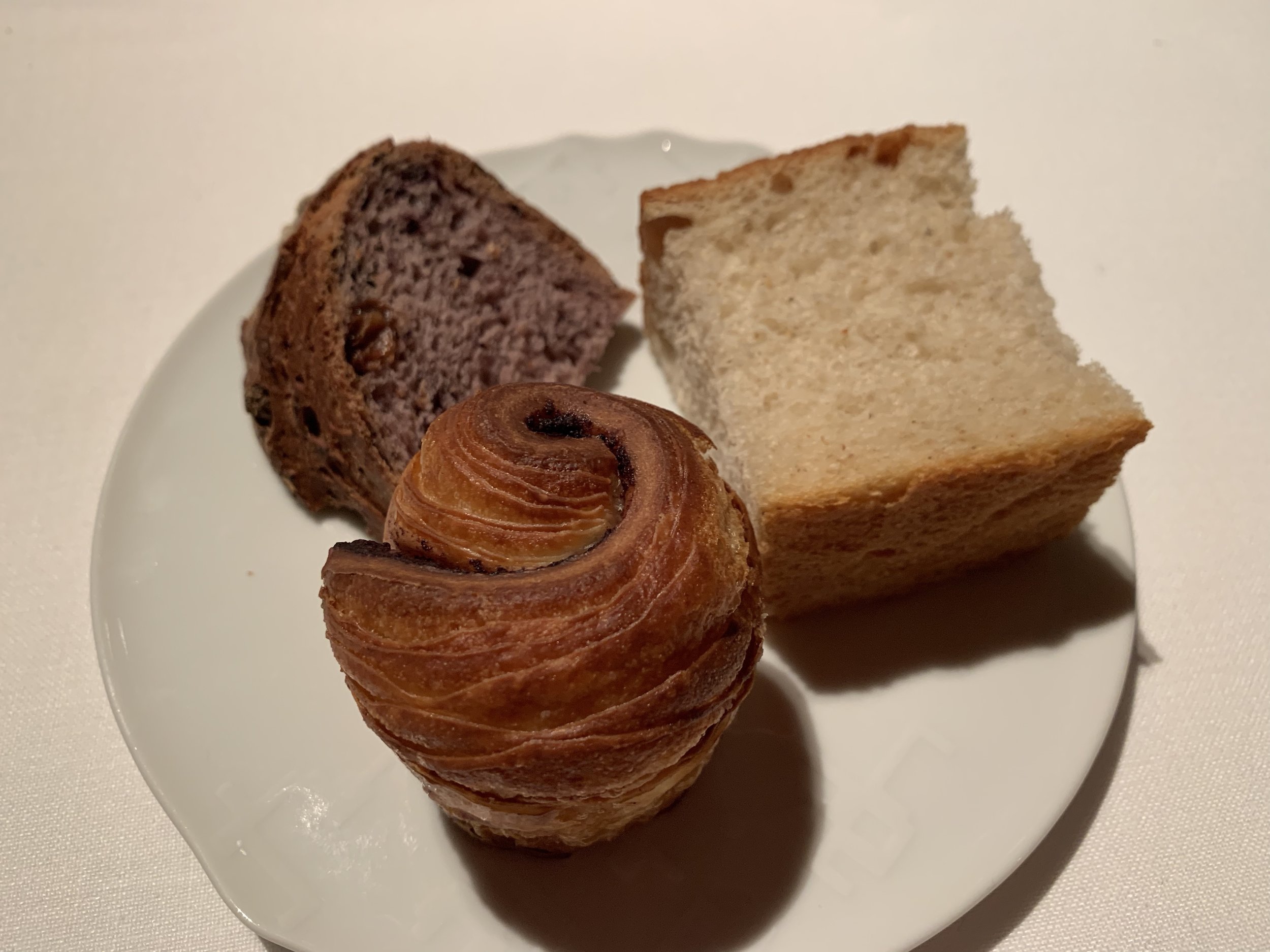 So at this point, the bread man walks by with a tray of freshly made breads. Word to the wise—only take one. We have just started the meal and although these breads are amazing, they will fill you up and cause you problems later in the meal. Don't be like us and exercise some self control.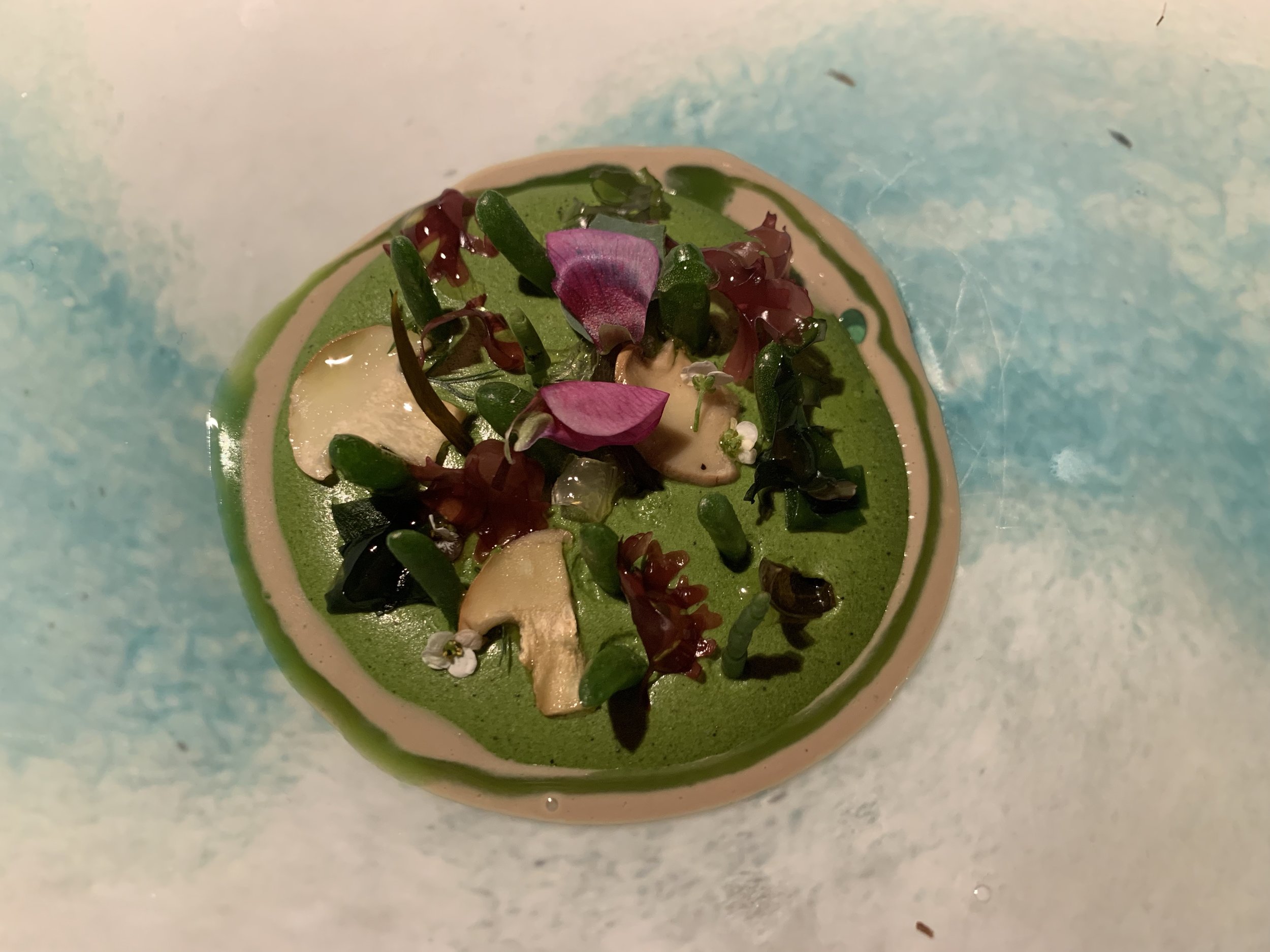 seaweeds, spring herbs, and flowers
Now the main courses have begun. The first two dishes are plays on salads, with the first being a surf and turf salad made with mushrooms and seaweed. A refreshing first main dish.
This is also a classic dish of the restaurant which changes based on the seasons, but it's always orange. This take included mullet roe, tuna jerky, sweet potato puree, carrot puree, saffron, Jerusalem artichoke, and mango. Basically everything that is or could be close to orange.
Spring pickles with walnut "romesco" sauce
I believe it's a rule now that all the top restaurants in the world must serve a pickle dish. And why not when you can show off your fermentation skills? Plus, who doesn't love a nice walnut sauce?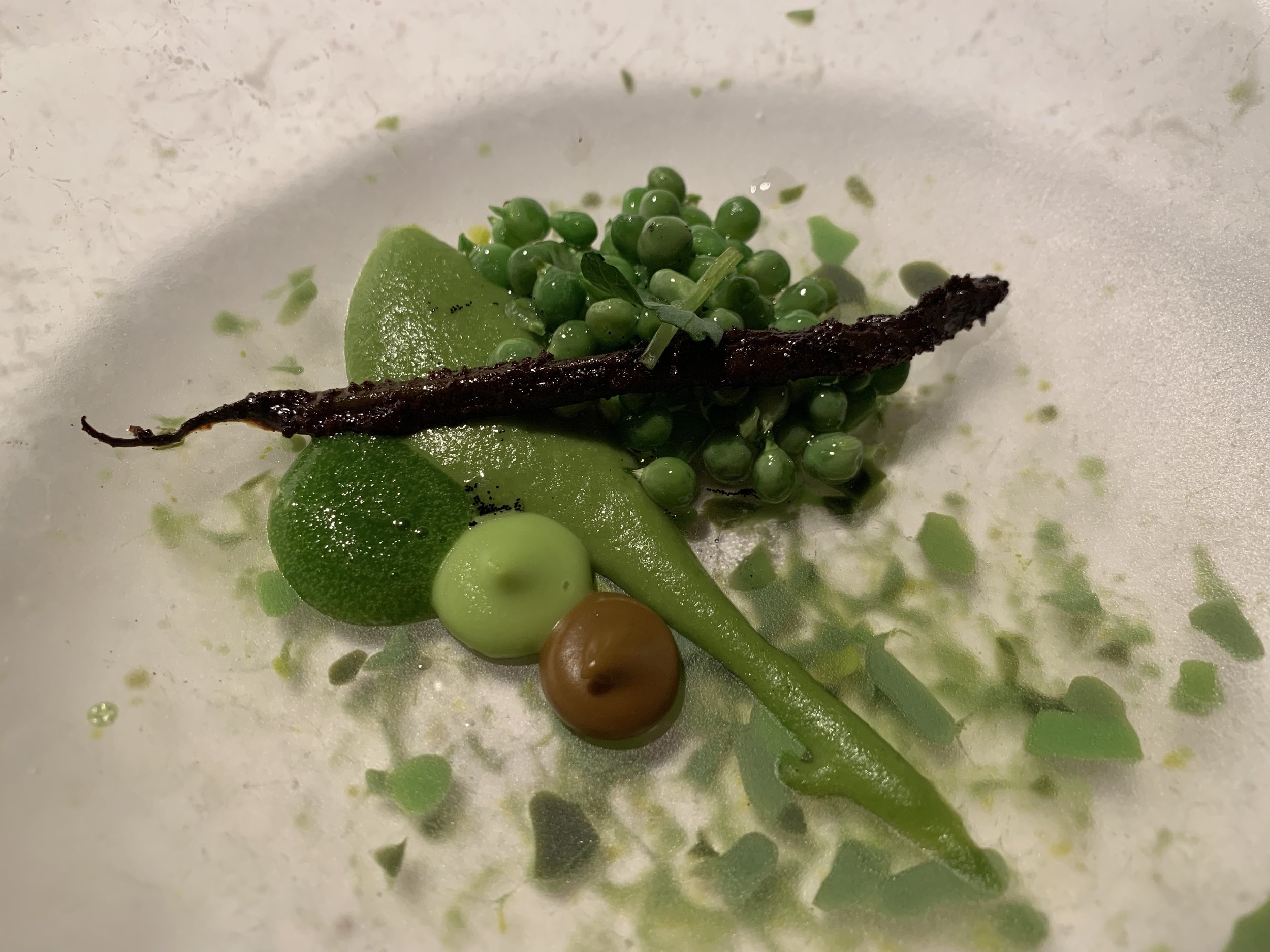 Charcoal-grilled green peas, emulsion of its pod and vanilla
This was my favorite dish of the night. Vanilla has kind of gone out of fashion, but I love the flavor of vanilla. The black "vanilla bean pod" on this dish is actually all made of green peas to look like a vanilla pod. The fresh pea balances the sweet vanilla perfectly in this plate. Also check out the custom plate with the greens specs embedded right in the glass!
When is Spain, you should have Spanish mackerel. I believe it's actually a law. Scallionpancake says, "Why not have it at the best restaurant in Spain?" Sorry we are using the third person so much in this post, we've been watching a lot of professional wrestling recently.
White asparagus with sea anemone
This is literally the most phallic dish we've ever seen. It's kind of distracting in a way, especially from this angle. It is fun to eat sea anemone though - that's something you don't see on a menu every day.
Prawn marinated with Rice Vinegar
The prawn dish is also a signature of the restaurant, with its bright orange sauce and head of the prawn. In America we've taken the shrimp flavor out of shrimp, so we really only get the meat texture. This dish emphasis that flavor—the salty, ocean, seaweed taste that a great shrimp has.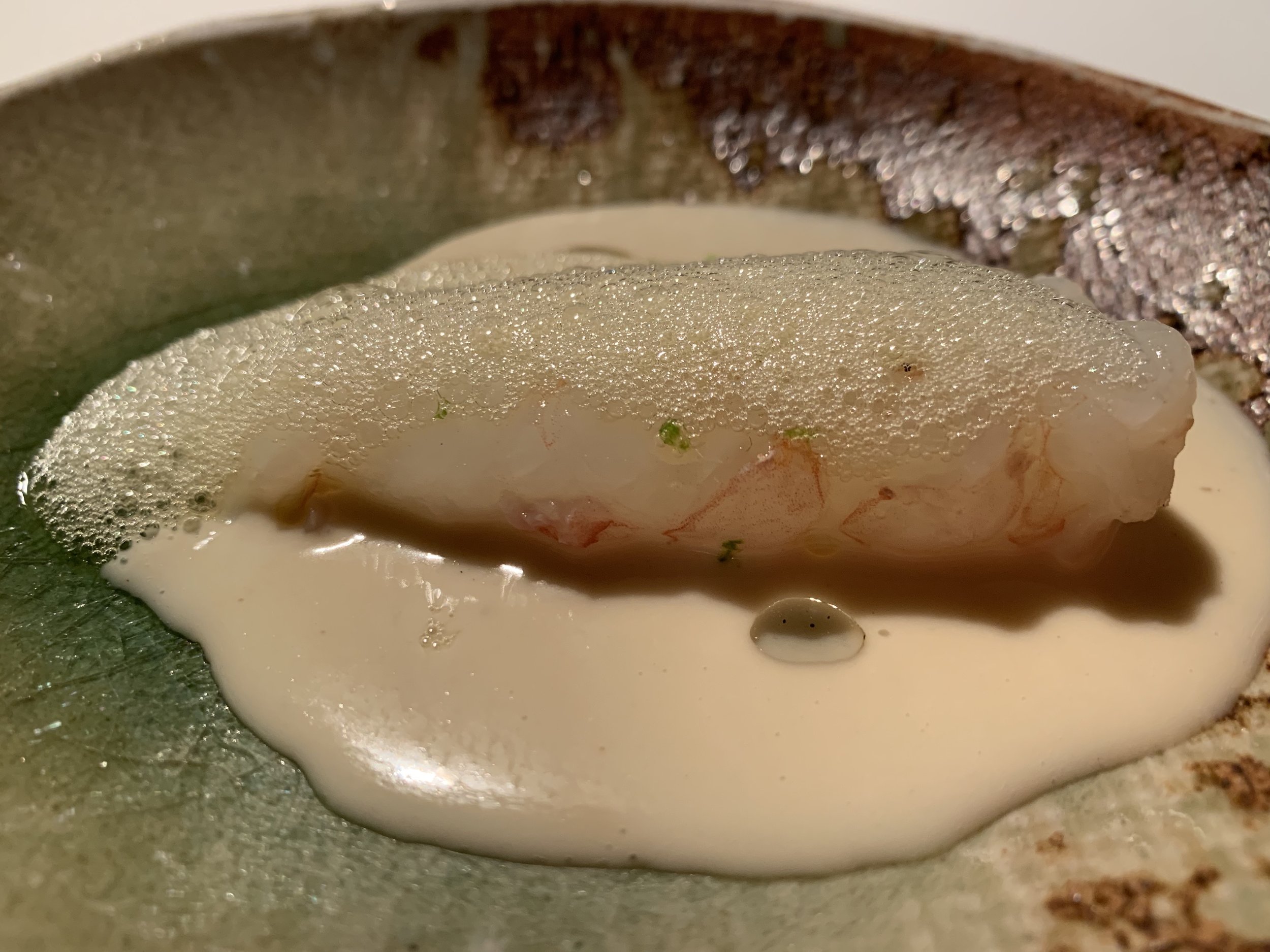 Langoustine with Sagebrush, Vanilla Oil, and toasted butter
The vanilla flavor shows back up in this dish in the most subtle way, accenting the traditional lobster and butter flavors.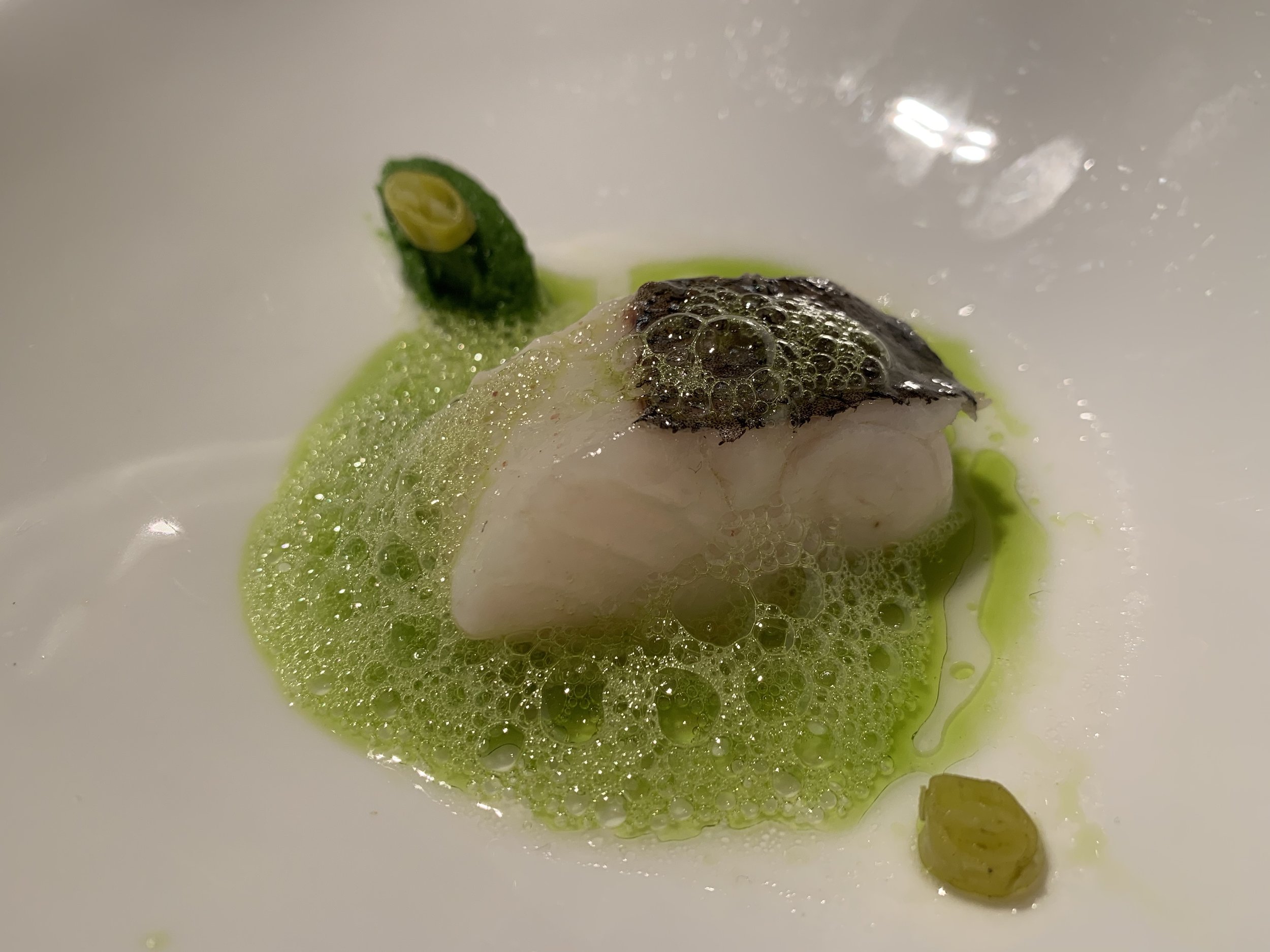 Semi cured hake, juice of its bones, asparagus and rocket pesto, and grilled piparras
This was the point in the meal where Wayne was asking the waiters to stop bringing dishes. He hadn't trained for years for moments like this like we have. Little did he know we had 4 more of these meals coming in the next week.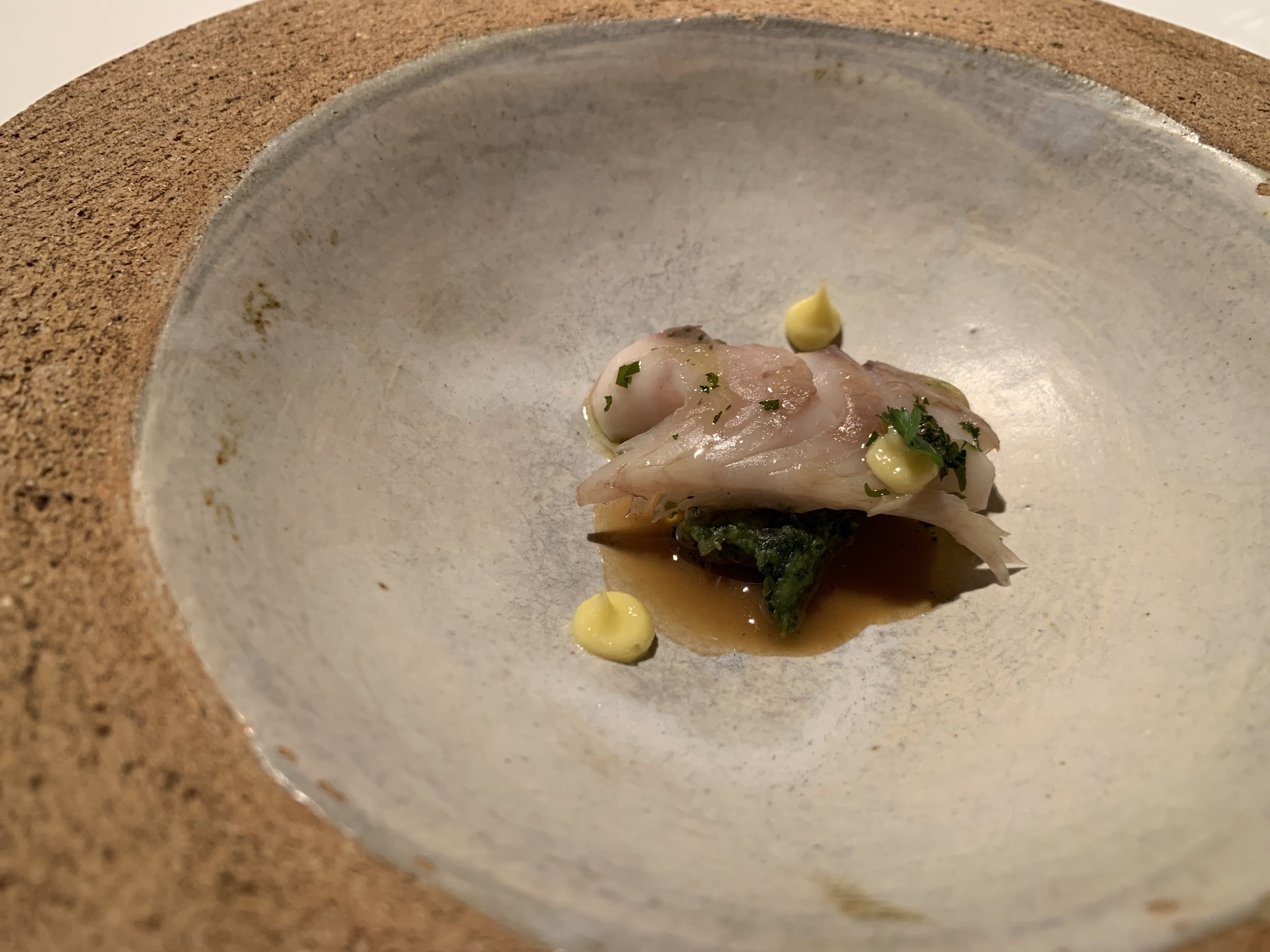 Steamed Fresh-Caught Whole fish, stuffed with seaweeds and sea anemones
They brought to our table a whole fish which they said they were going to prepare for us. 10 minutes later, this baby comes out. You can see the progression of dishes, from bites, to salad, to fish. This was our final fish dish until we got to the last of our savory dishes - the meats.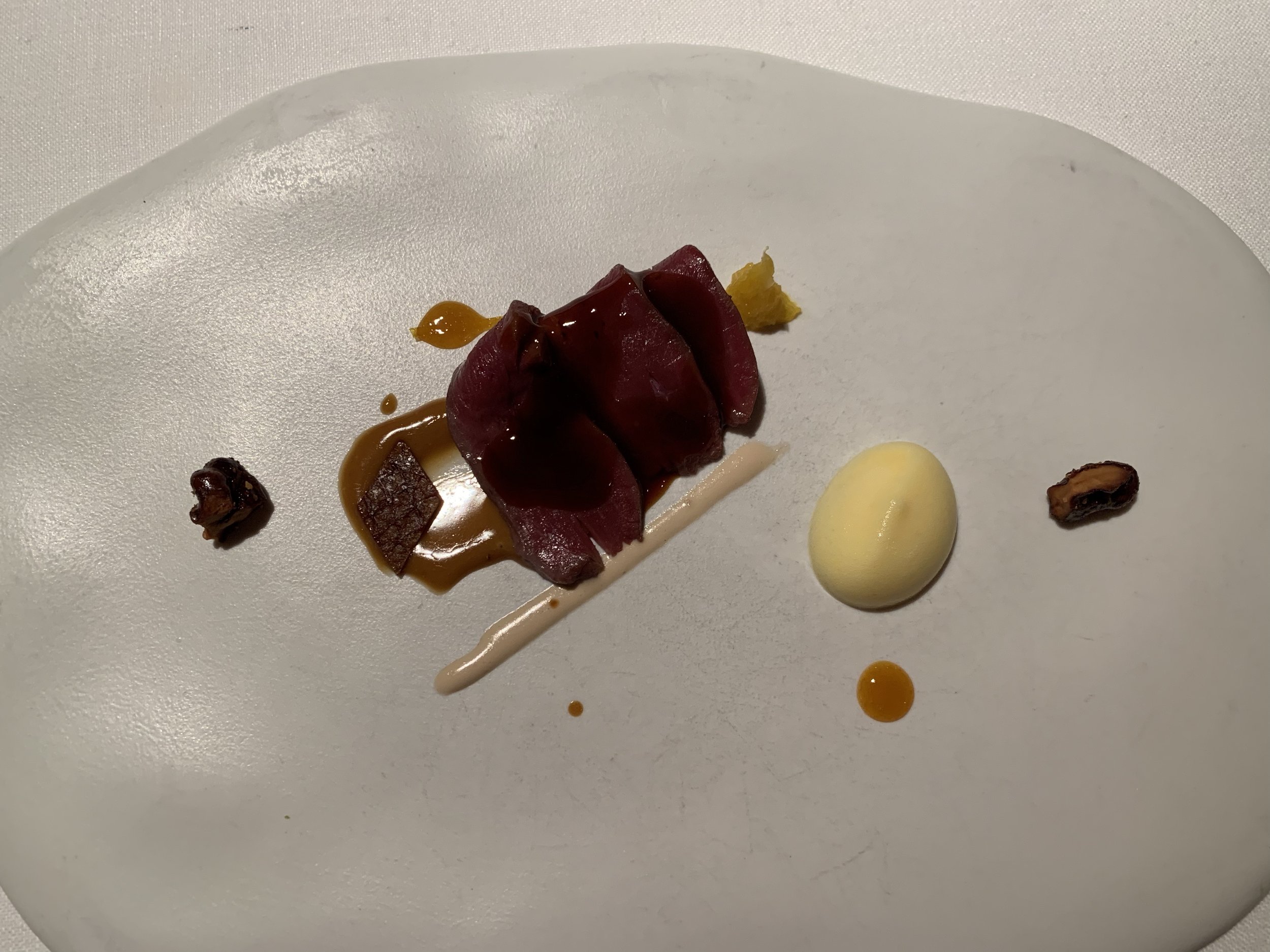 Smoked Duck Nagret with Orange
Duck and lamb are my favorite meats, so whenever there is a duck on a menu I get excited. The smokiness really accentuated the duck flavor here – duck southern BBQ if we ever conceived of BBQing a duck.
Veal Pastrami with puree of celariac, marrow, and picked vegetables
Have you been to Katz or Langer's? Then you know good pastrami. Add the tenderness of veal to a great pastrami flavor and you've got this guy. I would have eaten this on a #19 any day.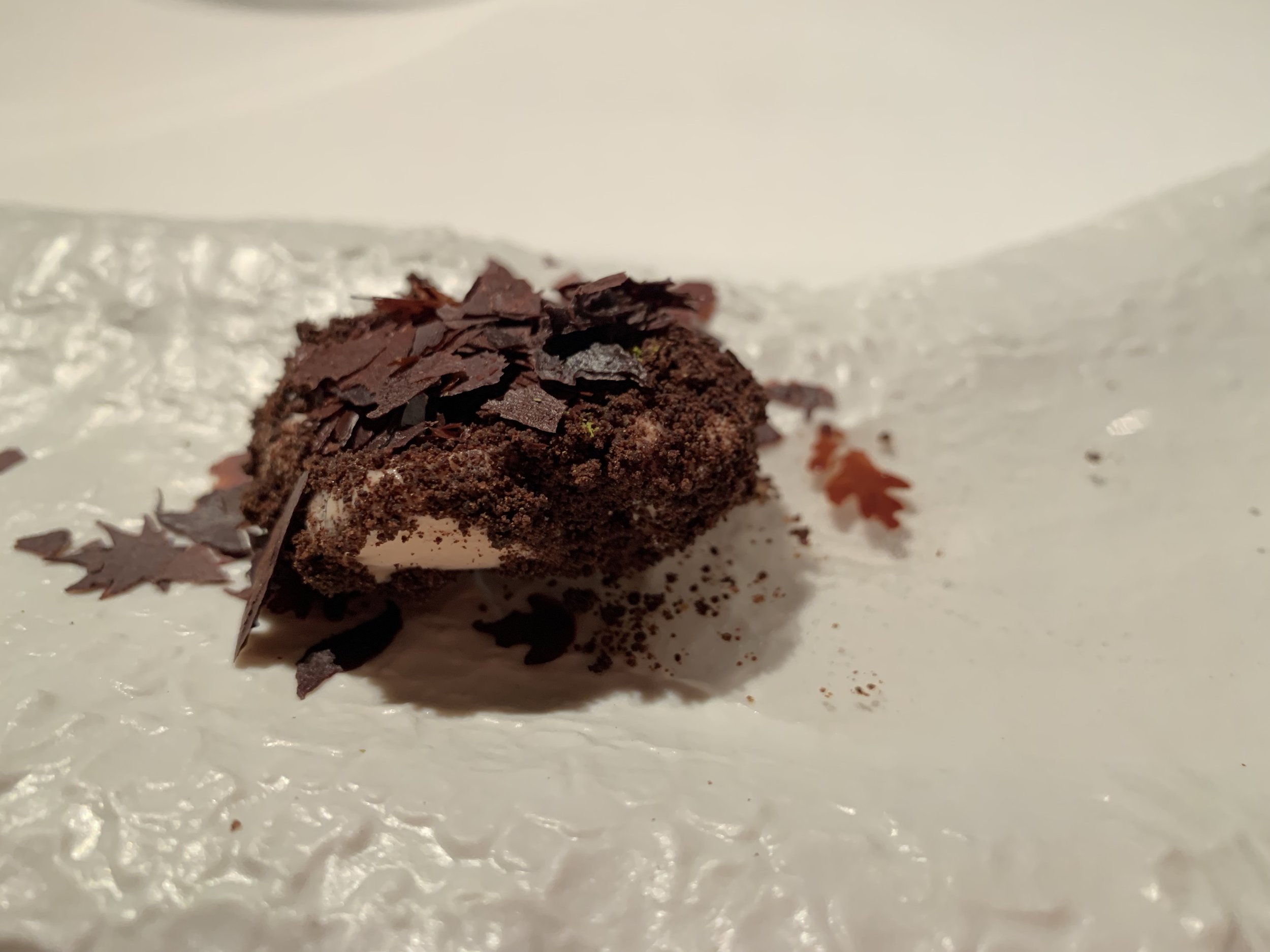 distilled earth, pine syrup ice cream, carob cookie, fir dust, cocoa biscuit
This dish is supposed to represent when the Rocas would play in the forrest. They have a full-time scientist on their staff, who they worked with to figure out how to get the essence of the earth edible. This dish tasted like your childhood in the mud, but in the best of ways.
This was one of the best tasting desserts I've ever had. The cake was so moist with the whiskey flavor, and whatever magical toppings they put on this balanced the cake out. I would have eaten this until I threw up, multiple times over.
elderberry, acacia, orange blossom, soursop, lychee, and green apple
This silver globe contained edible flowers and a fruity ice cream. It was beautiful, delicate, and most importantly delicious. It was a perfectly refreshing course to end the meal.
At this point, the main courses are done, but then they wheel over not one, but two dessert carts that have a variety of chocolates, small pastries, and fruit desserts. We were full, but how could we say no to these? They also were kind enough to box up chocolates for us to have the next day, which we happily obliged.
Atmosphere:
The details at El Cellar de Can Roca are unrivaled. Each dish has its own specific plates made specifically for that dish. Each table has three rocks on the table representing the three "Roca" brothers (Roca means "rock" in Spanish). It's easy to see why both the Michelin Guide and the 50 World Best inspectors love this place. It's fancy, but not pretentious. It's modern, but still has the white tablecloths and servers in coats and ties that your grandma expects at a meal of this caliber and price point. The dining room is situated around a courtyard enclosed on glass, making the room feel open while still giving each table privacy, and there were a maximum of two tables near you. There was definitely a whimsical element to the place, with the dessert carts, inventive menu, and overall layout of the restaurant. It felt fun and not stuffy, yet still fancy. That's really hard to pull off.
Catalan Hospitality:
Everyone at the restaurant was amazing, from the greeter when you walk in to the three Roca brothers who were extremely friendly and signing books. Josep Roca walked around and asked how each table was doing, and took pictures with anyone who wanted. Our lead waiter was amazing and answered all of our questions, especially all of Wayne's questions about Spanish politics and Donald Trump (j/k Wayne - you were well behaved and made us proud, unlike my parents). We felt welcomed and relaxed the whole meal, and had an overall fantastic experience.
Frankie's Notes:
I wish I could travel with mom and dad but I guess I'll stay home with my brother who attacks me relentlessly all day instead; Seaweed orbs are way better than weird alien orbs above New Mexico #webelieve; Wayne only wearing Traditions Golf Club attire no matter what the occasion is like when Jason only wears BNA logo apparel on every occasion; Girona is cool and we wish we could have spent more time there—thanks French Air Traffic Controllers; Roca meaning Rock is Spanish is way cooler than Ackerman meaning Farmer in German; Vanilla is underrated and was ruined by American mass consumption;
Rating: 5 out of 5 with 3 Michigan Pugs
Very few restaurants live up to the hype of top 5 restaurants in the world (looking at you, Osteria Francescana and Eleven Madison Park), but El Celler de Can Roca did. We were nervous taking Wayne here for his first top notch dining experience because spending €215 on a meal is a hard sell to anyone, but luckily for us El Celler de Can Roca did all the selling for us. It was a classic 3 Michelin Star experience from start to finish, and certainly a restaurant worth traveling across the world to dine at.