Background:
Owner Samar Haddad opened Flip-a-Lo's off of Carmel Road in Charlotte after being inspired by other family members who were also in the Buffalo-style chicken wing game. And Flip-a-Lo's is done in the true Buffalo way – no sad breading here, people. The wings are crispy and fresh, as Haddad is so committed to not using anything frozen that her restaurant doesn't even have a freezer. That's dedication to the chicken wang game. We first tried Flip-a-lo's after being invited in, but we've been in on our own many times since.
You can get your chicken as wings or strips, and one of the coolest things about Flip-a-Lo's is that you can mix and match your sauces in every combination. Want 3 Buffalo Hot, 2 Teriyaki, 4 Garlic Parmesan, and 1 Honey BBQ? Want to mix Buffalo mild and BBQ on a SINGLE wing? That might be kind of a dick move, but they would have you covered. Want to dip your wings in bleu cheese or ranch? Those are all homemade. PRAISE. Your wings come with two breadsticks, carrots & celery, or you can sub fries or another side for a small upcharge.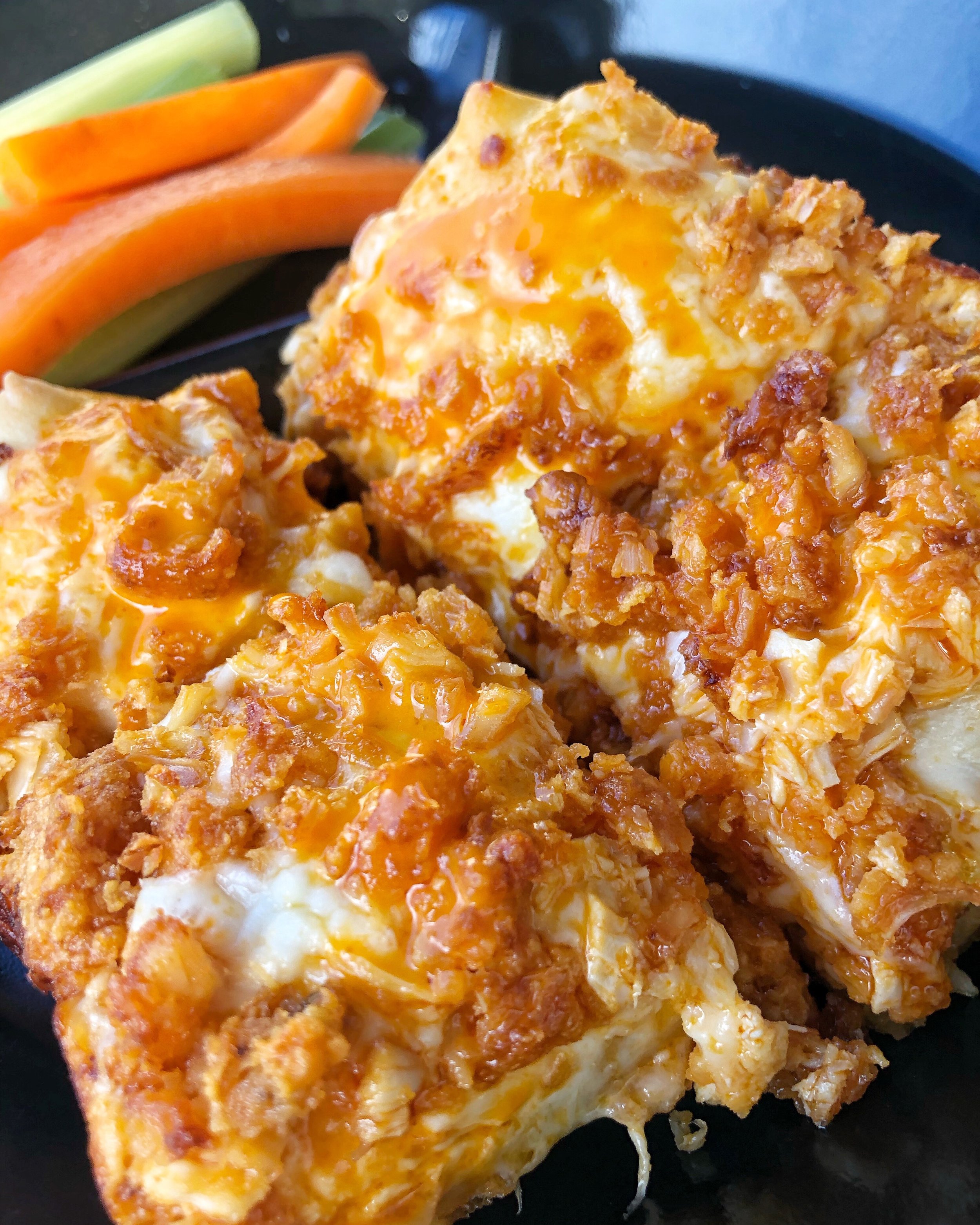 Oh my dear god. These pizza sticks haunt my dreams, man. Once the get in my head, I have to have them. Haddad and her team makes the dough for these babies from scratch. I told you this place was legit. The crust is super soft and doughy, and there's just the right ratio of cheese, hot sauce, and tiny pieces of crispy Buffalo chicken. You should just go ahead and get the large order, because these babies heat up beautifully.
The breadsticks come as a side with any order of wings of strips, but they really deserve their own shout out. Made from the same homemade dough as the pizza sticks, these sticks are covered with a delicious garlic sauce with pieces of fresh garlic – no artificial garlic flavoring here, people!
Want to go outside of the Buffalo wing box? Opt for some chicken strip tacos, using any kind of sauce you want.
Sticky White Rice + Bleu Cheese + Teriyaki
Ready for a Flip-a-Lo's menu hack? Add bleu cheese and teriyaki sauce to the top of some sticky white rice, and you'll never need to go to a hibachi restaurant ever again. Boom.
Dessert:
You can get Little Flips, which are bite-sized donuts made from the same dough I've been waxing poetic about for several paragraphs. We haven't tried these yet, but I can pretty much guarantee they're great.
Drink:
Wash down your wangs with standard soft drinks, beer, and wine.
Atmosphere:
Haddad runs a seriously tight ship – this place is CLEAN, and she boasts a 99% health rating. You could eat off the floor, though we don't necessarily recommend it.
Flippin' Hospitality:
The service is friendly and fast, which is great, considering a large part of their business comes from take out or third-party delivery. We usually opt for take out, that way we can drive home way above the speed limit to ensure we eat our wings when they're hot and fresh, baby.
Frankie's Notes:
Ask for your wings extra crispy, you won't regret it; Frankie has eaten chicken wings at The Anchor Bar in Buffalo, and he thinks Flip-a-Lo's does them justice; Jason made a freakish wing with like four sauces mixed together, and he wasn't proud of the final result; I can freely order multiple orders of extra hot sauce here and drink them without judgment. Hallelujah.