Background:
DeSano Pizzeria is a small chain with locations in California, Texas, Tennessee, and North Carolina. All DeSano locations adhere to the strict guidelines required to be called Napoletana pizza. There are specifics on crust, type/temperature of ovens, tomatoes, cheese; the process to be a certified Napoletana pizza is intense, and for a good reason: the pizzas are delicious. They are so delicious, in fact, that Tom Brady and Gisele are known to break their strict diets in order to enjoy a pie every now and again.
There are two DeSano locations in Charlotte, one in Midtown and one in Waverly. We have been to the Midtown location several times, on one occasion we went as part of a blog even hosted by our favorite, Stephanie from LifebyChipsahoyt.
Eat This:
Well, you gotta get the pizza, obviously. Our favorites are the lasagna pizza and the classic marghertia.
San Marzano tomato sauce, meatballs, ricotta, garlic, scamorza, mozzarella di bufala, pecorino romano
Broccoli rabe, mushrooms, Vesuvian cherry tomatoes, garlic, scamorza, mozzarella di bufala, pecorino romano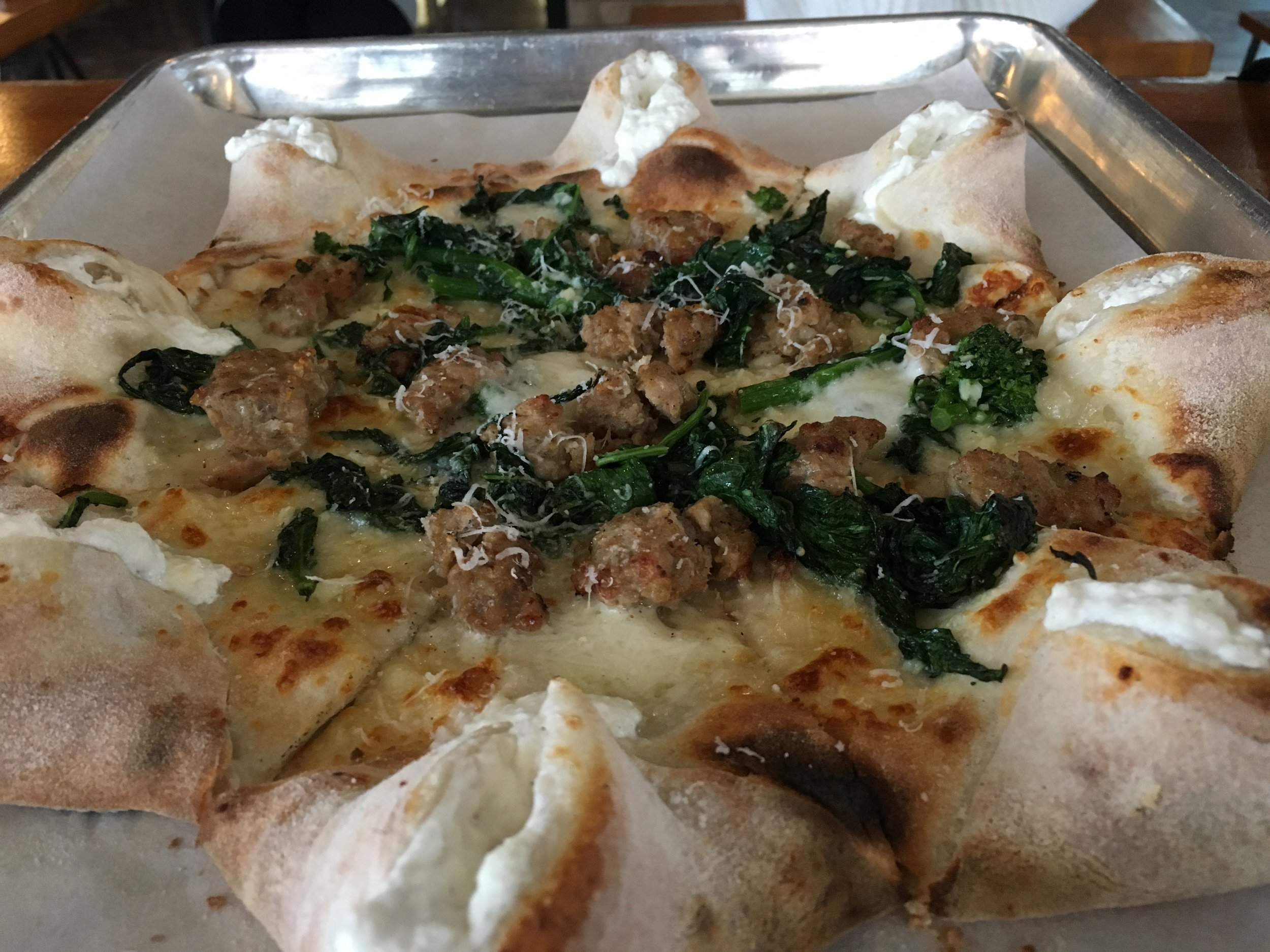 Broccoli rabe, sausage, scamorza, mozzarella di bufala, pecorino romano
One of the best parts about DeSano is that you can order any pie Carnevale style, which means they bake ricotta into the crust for a classy stuffed-crust experience. It's only fifty cents, so we can't see any reason why you would not take this option. Also, it turns your pizza into an infinitely Instagrammable star shape.
In addition to pizzas, DeSano also has incredible meatballs, calzones, and salads. I often see people grabbing meatballs to take home to add to a pasta, but when we order them, I usually just eat them straight up as a side.
The Midtown location also offers a weekend brunch special where you can get cold pizza and a Bloody Mary bar. If you are not into cold pizza, then they will also heat it up for you, but we think this is such a cool and unique offering!
Cold pizza and a bloody mary
For what ails you on Sunday mornigns
Dessert:
Okay, ya'll. Here is our favorite thing about DeSano. They will serve you cannoli filling in a bowl. This is ostensibly a gluten-free option, but we really just dig cannoli filling. Proceed with caution, however. As this is an off-menu item, we have found what we get to be rather inconsistent (a giant bowl compared to a small bowl, chocolate chips mixed in compared to on top, cashiers not knowing how to ring this up, etc.), however, it is worth the gamble, because when it's good, it's good. Seriously, we fight one another over these bowls, so I recommend getting two.
You can also go classic, in a shell cannoli, if you're into that sort of thing.
One thing we haven't tried, and we have major FOMO, is DeSano's dessert pizza. Look at this beauty!
Drink:
DeSano Midtown has a full bar, as well as fun specialty drinks like Mexican coke and San Pellegrino sparkling fruit beverages. Molto Italiano!
Atmosphere:
The DeSano in Midtown is huge. The kitchen is open, and there is a bar and an enclosed patio. You order at the counter. The one in Midtown is not usually very full, as it seems most of their business is from take-out orders.
Italiano Hospitality:
The counter service is very friendly, and the pizza makers work quickly to get you eating in no time.
Frankie's Notes:
If Tom Brady deigns to get off of his pretentious throne to grab carry out pizza, then you know it's got to be good; We like to get pizza two or three times a week, which inspired our Pizza Wars podcast episode; There are no losers in the game of pizza; Why don't they bake Nutella into the crust of the dessert pizza?!; Why don't we bake Nutella into everything and thus create world peace in our time?
Disclaimer: [Some of these] meal[s] were provided free of charge in exchange for an honest and unbiased review. All opinions are our own, and we were not compensated for this review.