Background:
Soul Gastrolounge is the crowning jewel of Plaza Midwood. Soul is owned by Lesa & Andy Kastanas, who also own The Diamond. What makes Soul so special, other than their creative cocktails, unique tapas, and a peacock on the wall? Well, it just so happens that Soul is the spot of Scallionpancake's first date. We started with pork belly watermelon tacos and ended with a kiss in the CVS parking lot (and then, ya know, a wedding)--so Soul holds a special place in our hearts. What makes Soul worth waiting two-plus hours for on a Saturday night? Check it out!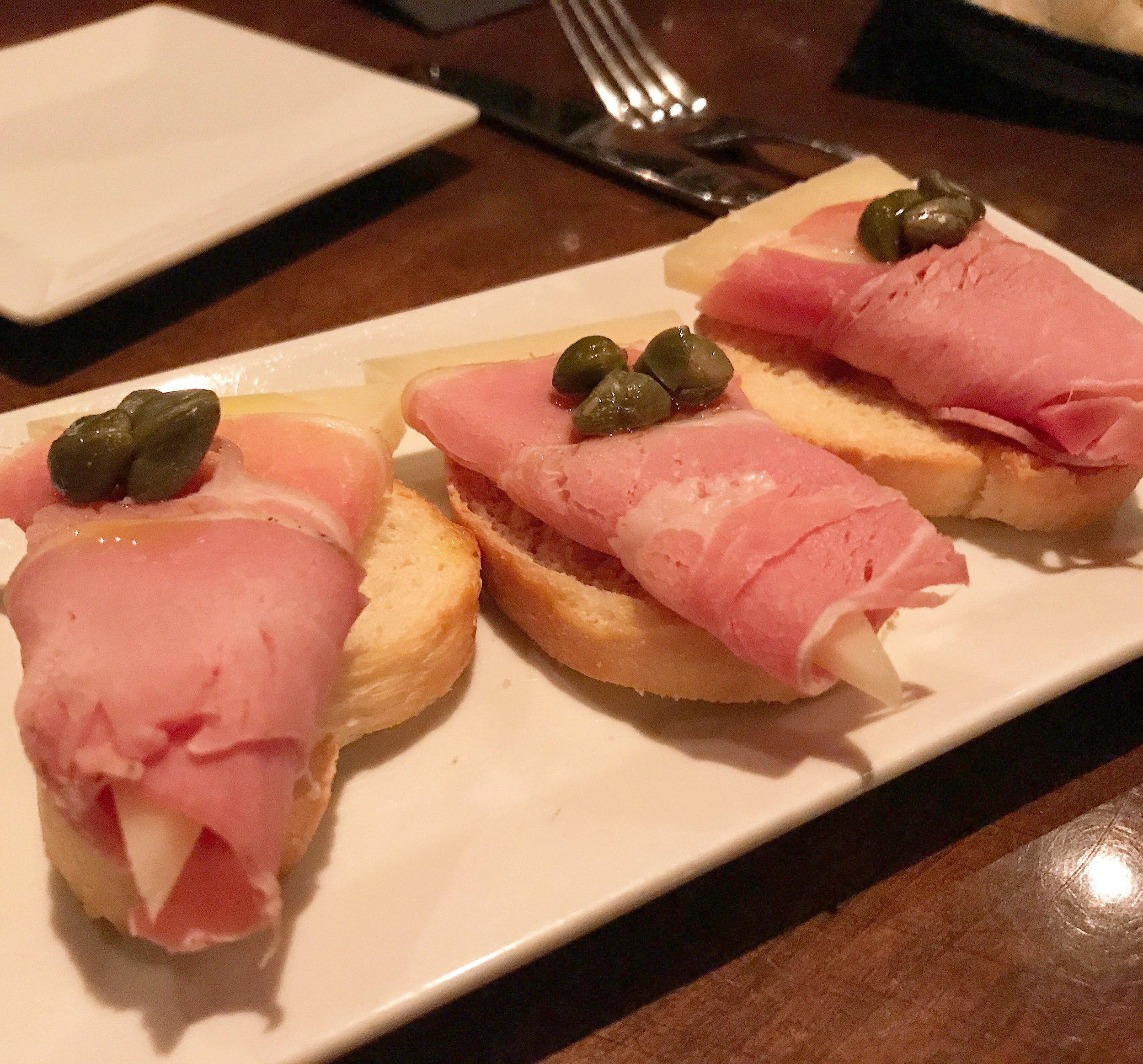 Serrano ham & Manchego on toast
Soul is a tapas joint, so we always get a lil' bit of everything. Our favorite menu items are often the specials, and we never neglect to order the sushi roll of the day. Soul's most notable dish is the Asian Glazed Pork Belly Taco, which is a perfectly cooked cube of pork belly with a piece of watermelon, rolled up in a flour tortilla. We don't often order this, but it's definitely a dish you should give a try on your first visit.
Another day, another roll
We love the roll of the day...can you tell?
In coconut milk and lime, with plantain chips
With sesame and soy drizzle
Garlic-oil romaine, toasted sourdough crouton
Dessert:
Soul offers rotating dessert specials, and they are always awesome. On one of our earliest visits, we had a fig hand pie that I am still thinking about!
guinness chocolate cupcake
Sometimes, though, we head on over to Jason's favorite place of all time--Fu Man Chu Cupcakes.
Drinks:
Soul's cocktail menu is, on its own, a reason to visit the restaurant and brave the crowds. The menu changes seasonally, and I always want to try literally every option they offer. I often leave Soul a little on the tipsy side just for this reason.
Atmosphere:
Soul is the ideal spot for a date--it's romantically lit, and loud enough to cover any weird silences. Also, the people watching is almost as central to the experience as the food. We often run into people we know at Soul, and, this is one of many reasons why you should sit at the bar. The bar is going to be your best bet for eating and imbibing relatively quickly, and, as one of the buds we ran into at Soul pointed out--sitting at the bar offers a glimpse into the changing vibe of Soul throughout the night. Hint--it gets younger and rowdier as the night goes on. Not that Javon can stick around for much of this portion of the night, as we usually turn into pumpkins around 10:00 when we come home, have tea and watch The History Channel.
Oh--and fun fact! The billboard currently up just around the corner from Soul by artist Scott Partridge is a replica (with slight variations) of the print that we commissioned for our wedding. It's pretty surreal to see what's above your bed also on a billboard. The one above our bed has little versions of us and the two pugs though, duh.
Javon's First Date Hospitality:
The service is great--all of our servers have been able to navigate the chaos of how busy they can get and the close quarters of the tables to ensure that we always have a special dining experience here.
Frankie's Notes:
Kissing in the CVS parking lot is classy as hell, and don't let anyone tell you otherwise; So is kissing on the first date, when the feeling is right; We have Scallionpancake stickers all over the Plaza now--check us out!; Sometimes, after dining in P.M. we like to head over to Common Market so that we may be stared at judgmentally by hipsters; I love the Goldfish at the Common Market, because the serving is solid, even when they are a little stale; Jason is the one who stole the letters out of the Comida sign--shh, don't tell; Just kidding it was Ollie; Just kidding x2, don't prosecute us.
Rating: 5 out of 5