Background:
Central opened in 2008 in Miraflores, Lima and quickly rose to being ranked as the best restaurant in Peru. By 2014, it was named Best Restaurant in Latin America and remains number one today. Central currently ranks as the 5th best restaurant in the world. Virgilio Martinez also won International Chef of the Year in 2017. And lastly, Central is featured on Season Three of Netflix's, "Chef's Table." In the words of Ron Burgundy:
Central is run by Virgilio Martínez and his wife Pía León. Central serves a menu of items only found in Peru, and its goal is to show off the country's unique biodiversity. Peru experiences 30 of the 32 climates found on earth, and therefore boasts a wide variety of flora and fauna. Virgilio and his team travel the country looking for new ingredients he can bring back to Central.
Eat This:
You have two different tasting menus you can choose from--an 11 course menu and a 17 course menu. If are you are in Lima and have managed to get a reservation, you need to just go all out and get the 17 course menu, k? The 17 course menu is called Mater Elevations, and each course is based on a certain ecosystem and elevation unique to Peru. The menu takes you on a wild ride through the biodiversity of Peru, and a lot of this biodiversity includes some obscure ingredients us Gringos had never heard of. Don't fret if you have never heard of some of these items, just sit back and enjoy the adventure of Virgilio's unique take on Peruvian cuisine.
Sea snail, mussel, sargassum, limpet

-10 Meters
The first six courses were all eaten by hand with no utensils. The first course started under the sea at -10 meters (that's -33 feet for those of you who failed 4th grade math). Sea snails and mussels were made into a black paste which you spread on the crispy seaweed crackers.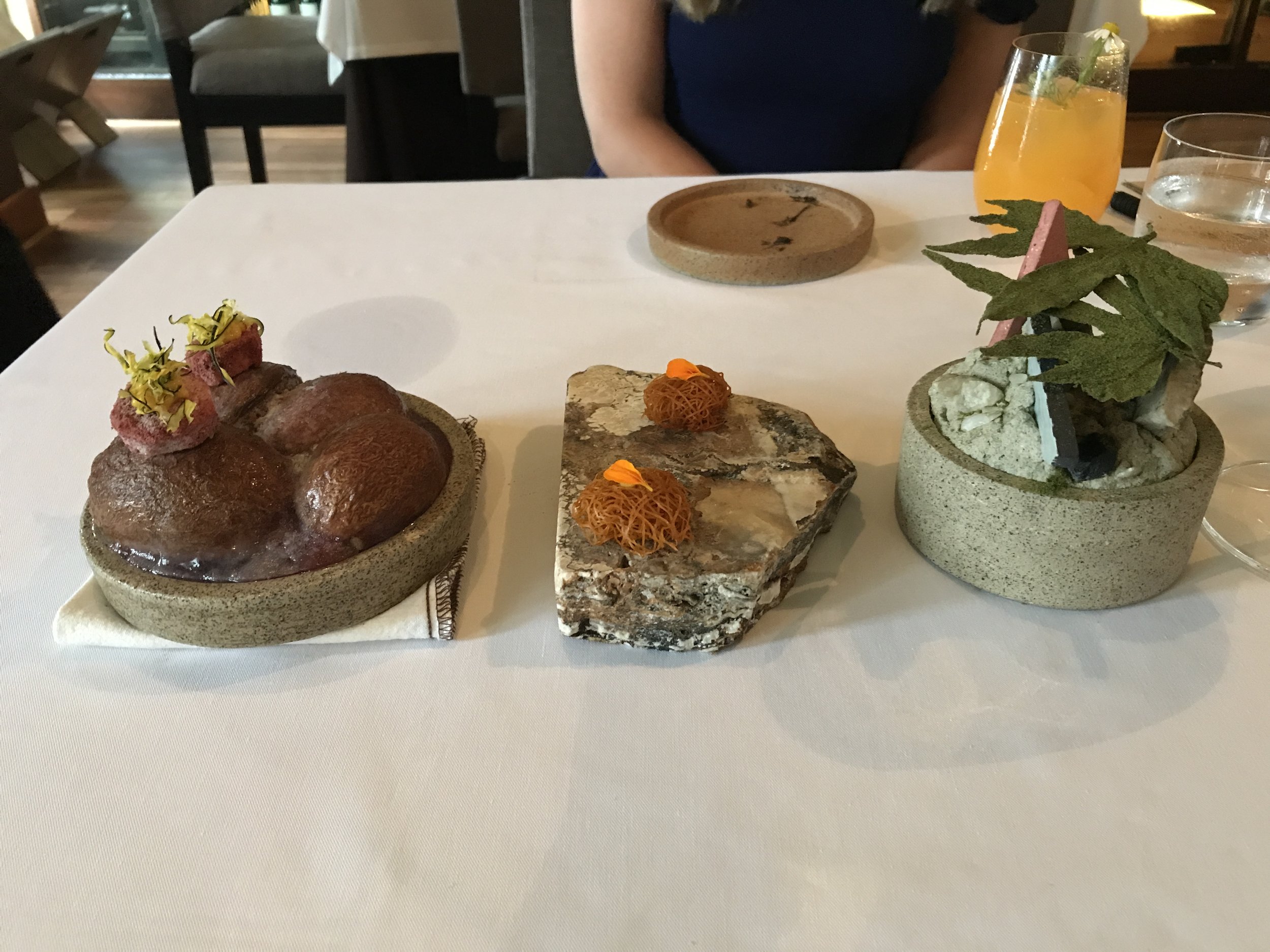 Huarango, cactus, sweet potato leaf, loche

180 Meters
The second course took us to the desert where we enjoyed a bite of cactus, a lightly fried sweet potato nest, and then a sweet potato leaf coated in a mix of sweet spices. Our favorite part of this dish was the leaf--who knew a leaf could taste like such a decadent snack?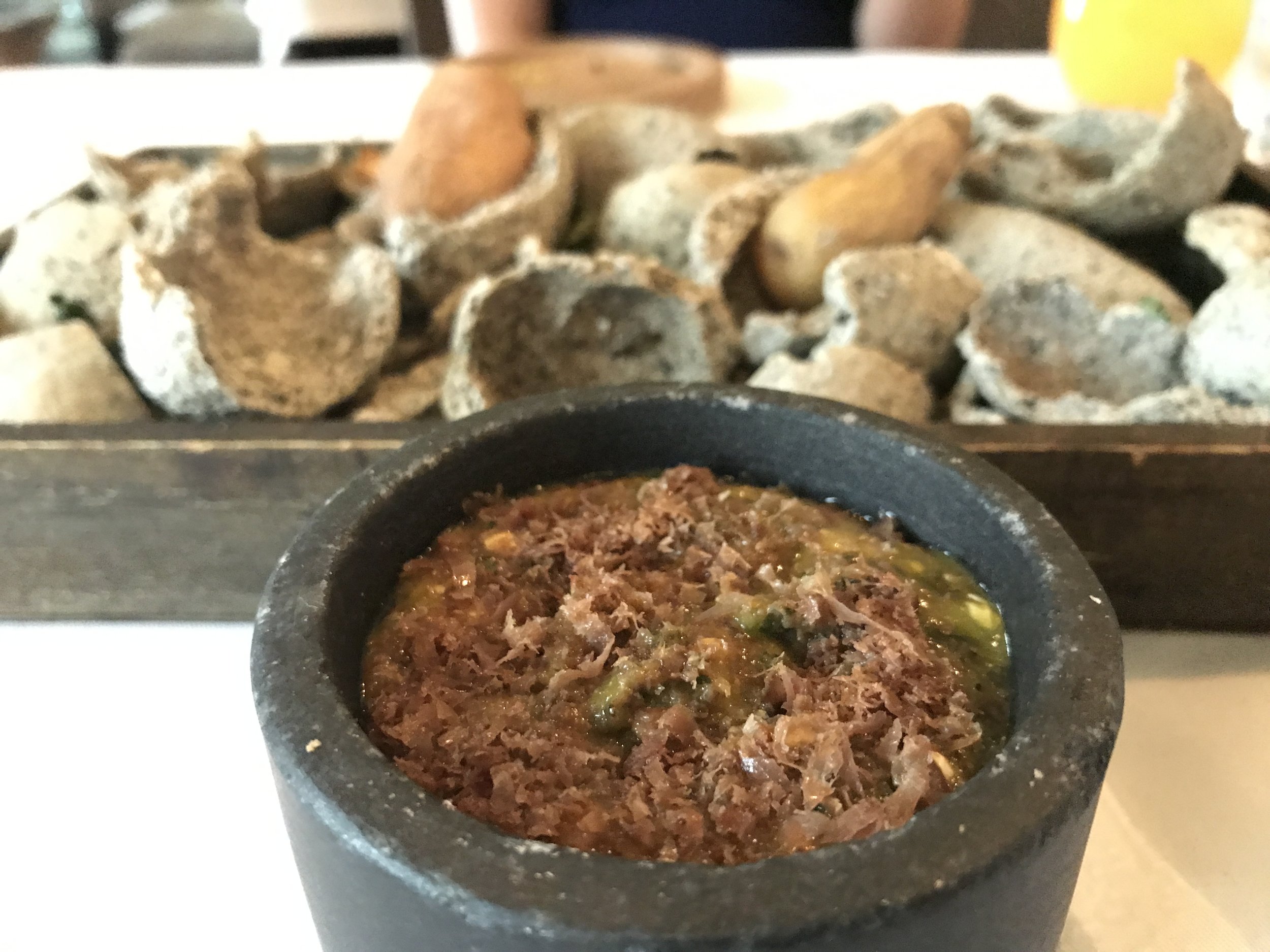 Potato, tree tomato, alpaca, muna mint

3,500 Meters
Next up, we traveled higher--up to the Andes, where we got to eat some potatoes with a delicious Alpaca sauce. Depending upon who you talk to, there are between 2,000 and 5,000 different types of potatoes grown in Peru.
The only problem with this dish is you wanted to eat more of the Alpaca sauce compared to the size of the potato (one small one each) you were given to dip in the sauce. Looking back, we probably should have put our fingers in that bad boy, but this was early in the meal and didn't want to lose decorum too early.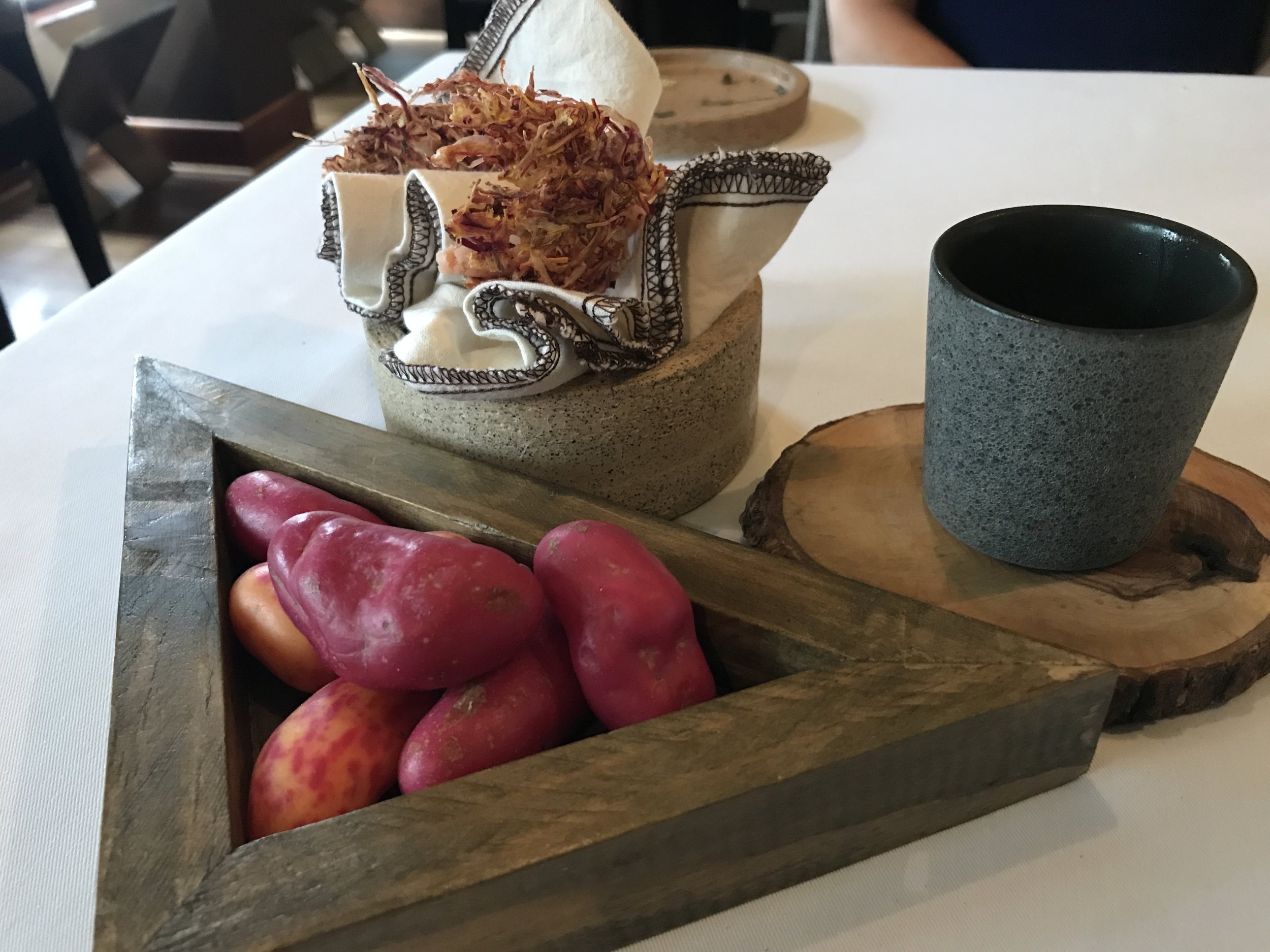 Olluco, chincho, onion, field mustard

3,500 Meters
This little gem included a olluco, which is a purple tuber (no relation to a potato). They made a little latke out of the olluco and provided an elixir made of a little broth of chincho (native herb), onion, and field mustard to wash it down after.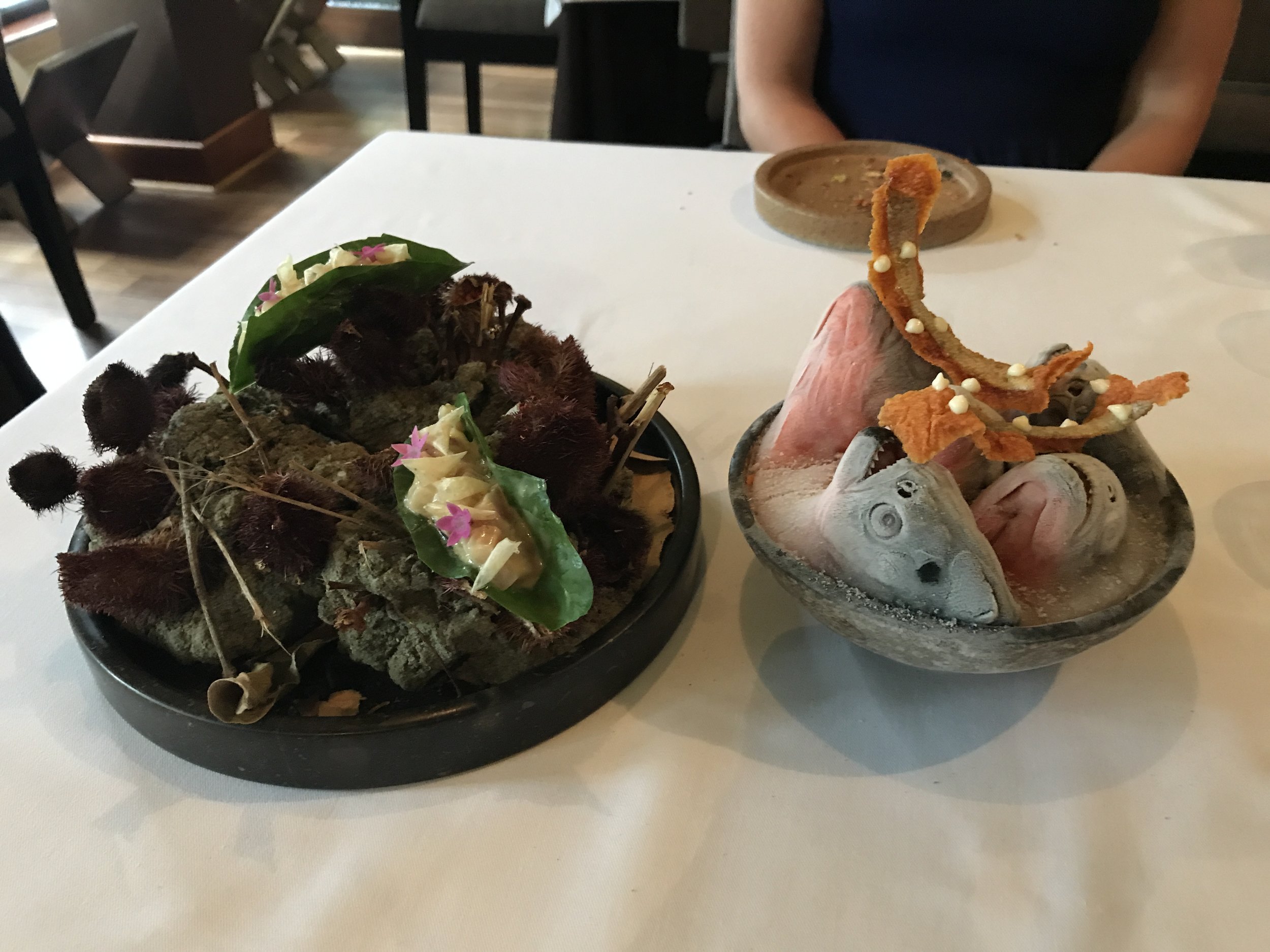 Piranhas, cocona, achiote, huampo bark

680 Meters
This baby was all about the piranhas, which were served two ways. One version was served raw in a leaf and the other was a lightly fried piece of the piranha (skin attached).
The waiter told us that this was one of their newest dishes on the menu, and yes, the piranha heads that make up the serving dish are real frozen piranhas! The piranha tasted pretty meaty in the raw form, almost like a flounder.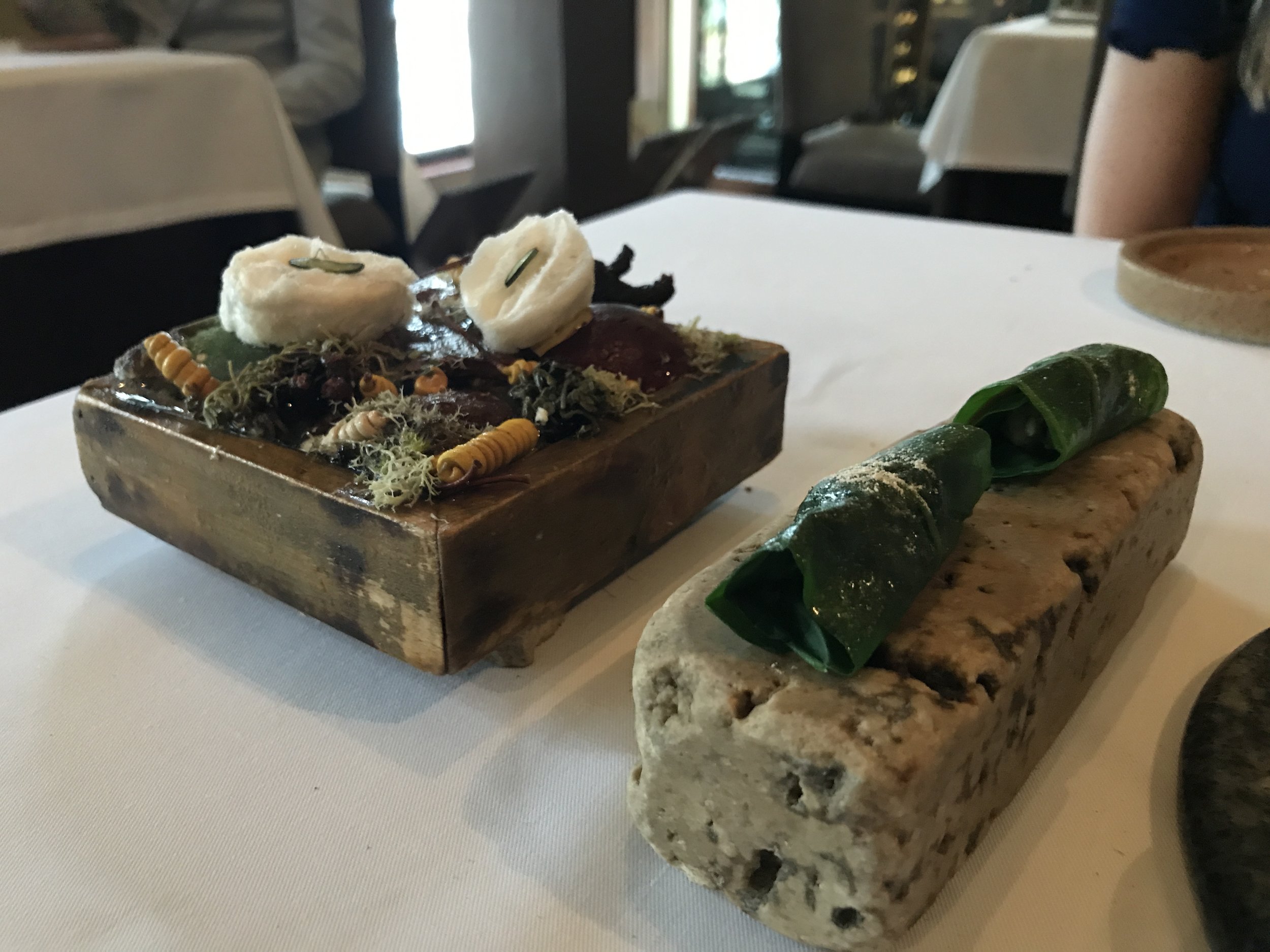 Churo, gamitana, pacae, llanten

300 Meters
Forest Cotton is one of the signature dishes of Central. It had three distinct bites. The first was white part of the cacao plant filed in the middle with cream. The next was the cacao leaf filed with Gamitana, which is a fish. Finally, it was washed down boiled juice from the Llanten plant.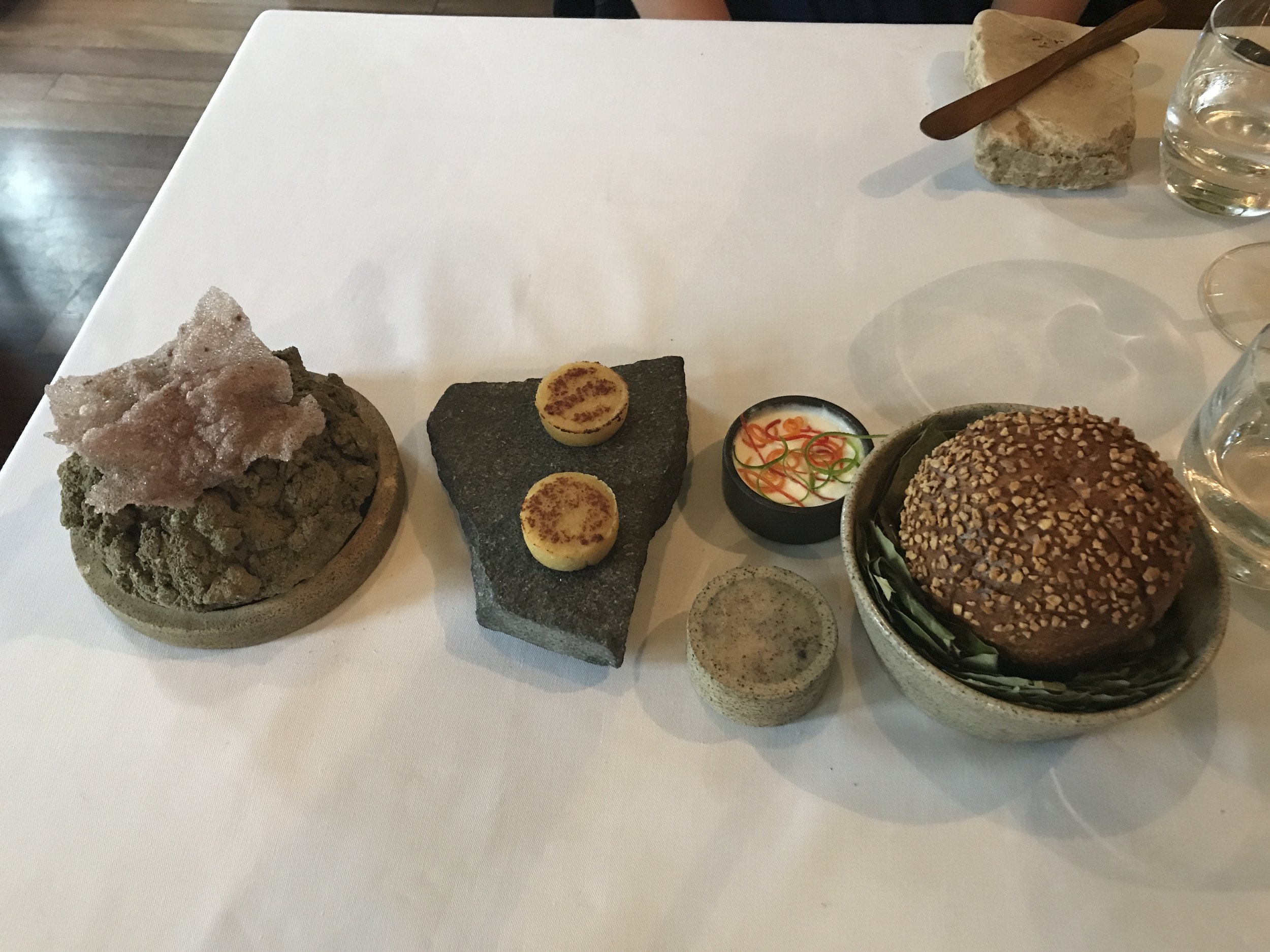 Macambo, cassava, copoazu, air potato

2800 Meters
The bread course! If you know anything about scallionpancake, you need to know that we love bread more than Oprah. The main loaf (pictured on the right) was made from the cacao plant and came with a cacao spread as well as a burnt butter which blended right into the little dish it was served in. The middle was a little fried cassava cake, and the far left was a crunchy "air potato."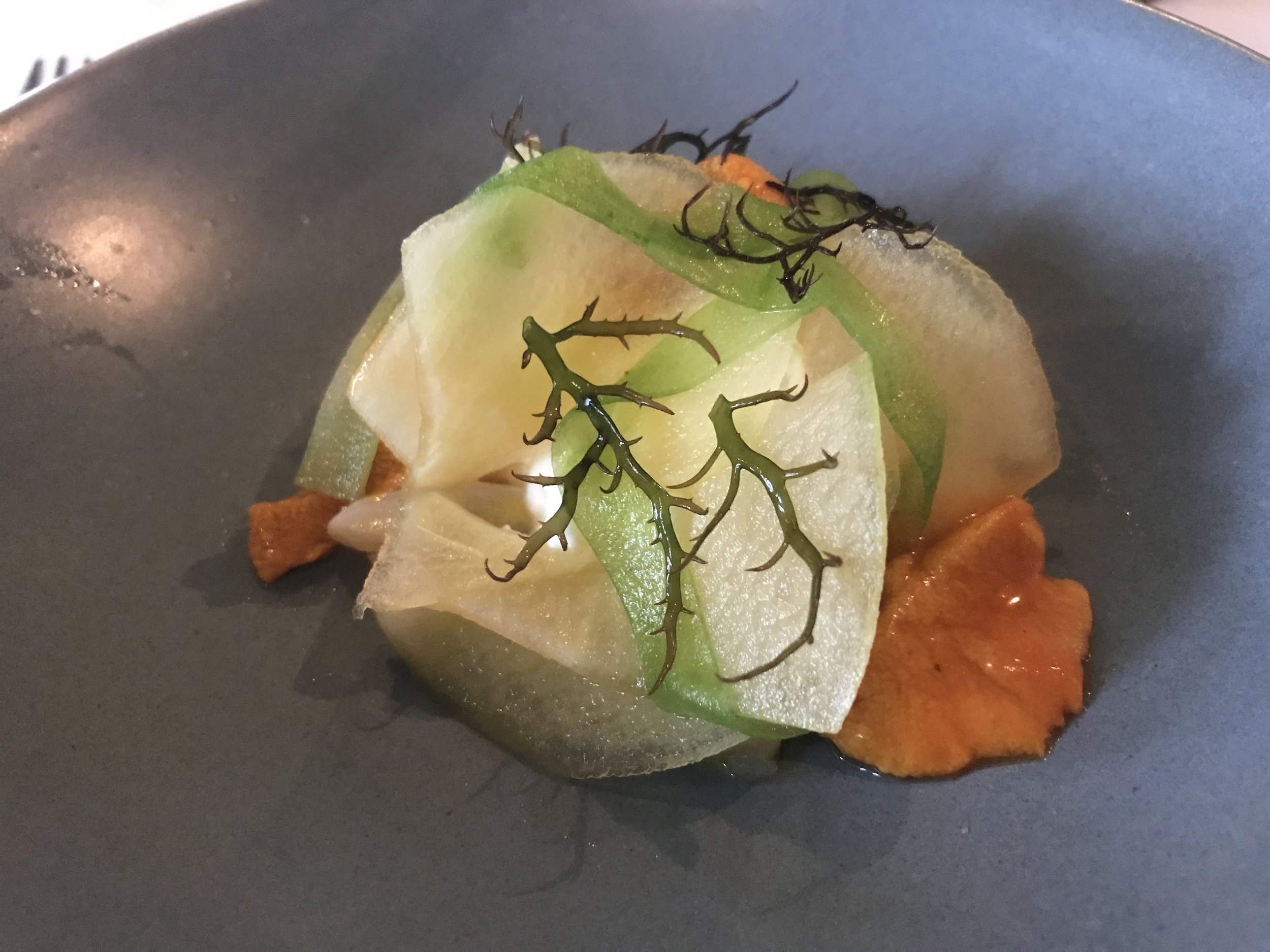 Sea urchin, pepino melon, razor clam, seaweed
0 Meters
Finally a course where we knew all of the ingredients, and it was the token sea urchin dish. It seems like you have to serve sea urchin on your menu or you don't get invited to the Top 50 club. What made this one special was the razor clams, which mixed perfectly with the melon and sea urchin to take away some of the strong briny flavor of the sea urchin.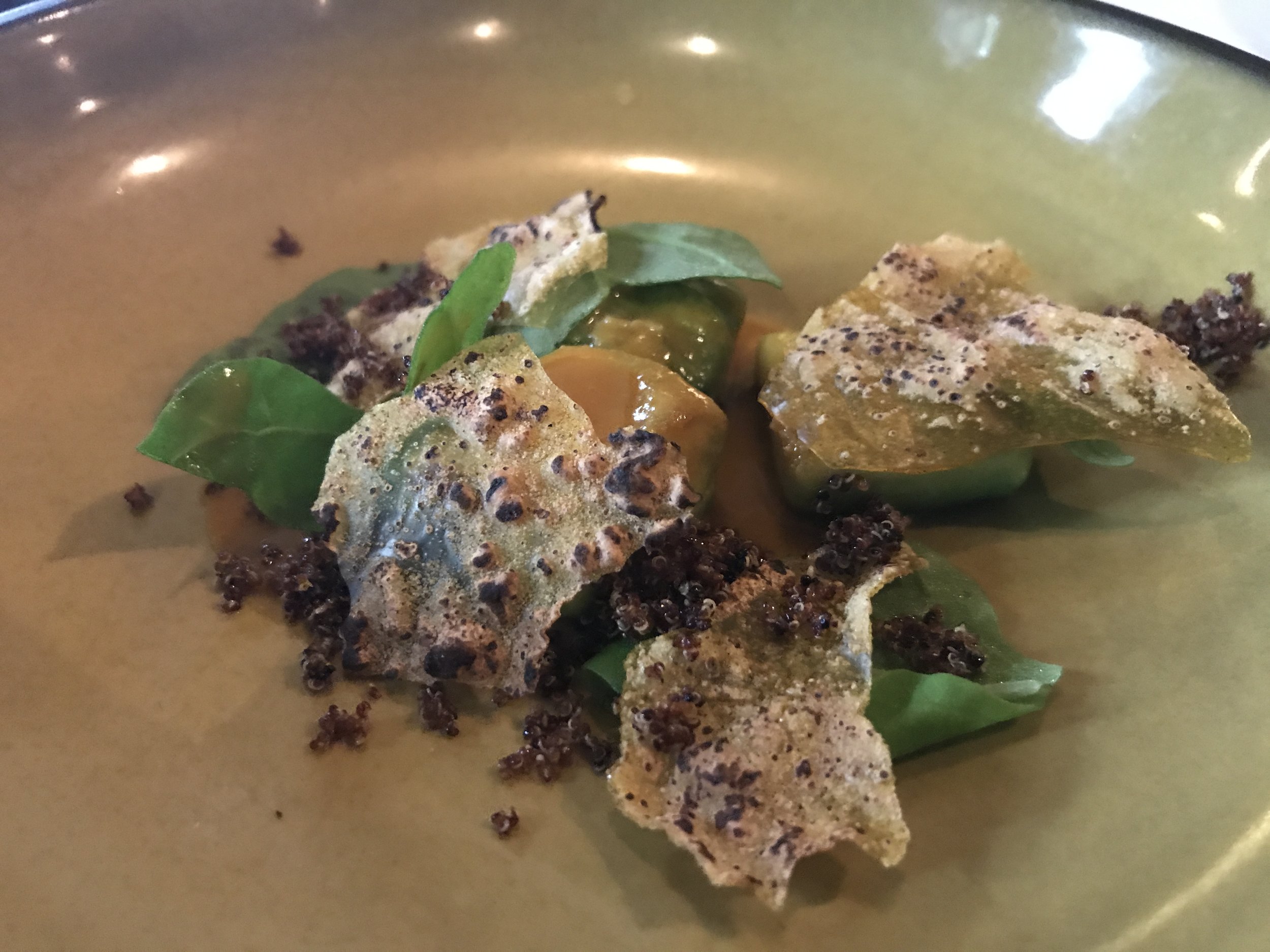 Avocado, huacatay, kanihua, macre

1200 Meters
The warm avocado paired with the herbs and crunchy kanihua made this dish one of our favorites. The flavor was simple, and the avocado was perfectly savory.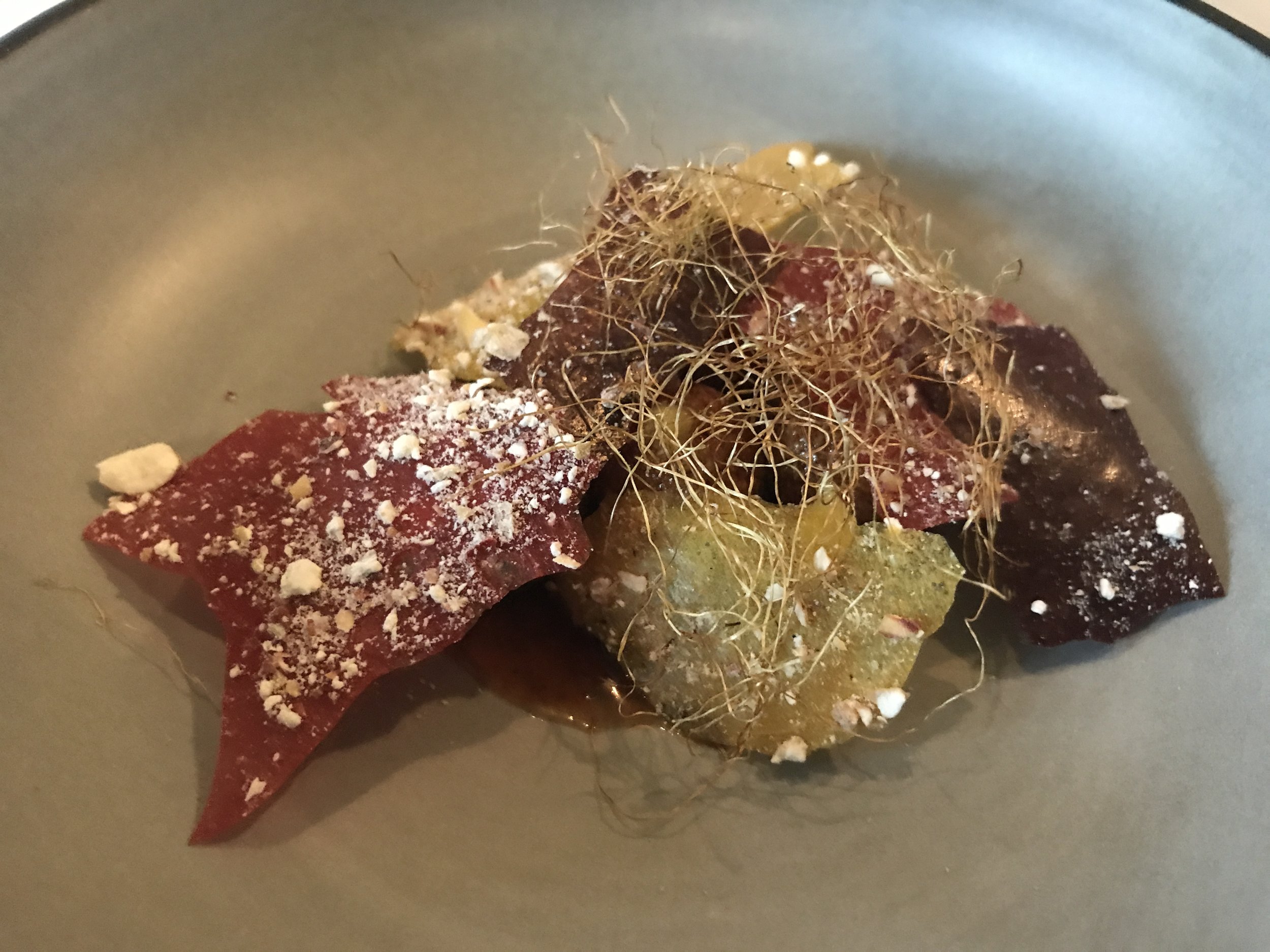 Kculli, purple, chulpi, piscorunto

2010 Meters
For those of you that know Yvonne, you know that she has a mental corn allergy/fear. We don't know the exact origin of the corn fear, but let's just say this was the Jerry Springer moment where Yvonne had to meet the corn head on. I don't know if it was Peru, Central, or the Lord up above, but Yvonne conquered her corn fear and ate the whole dish! Peru has over 50 varieties of corn, and this dish includes four types of corn made four ways. Our favorite was the fritter, which was basically the best hush puppy ever made.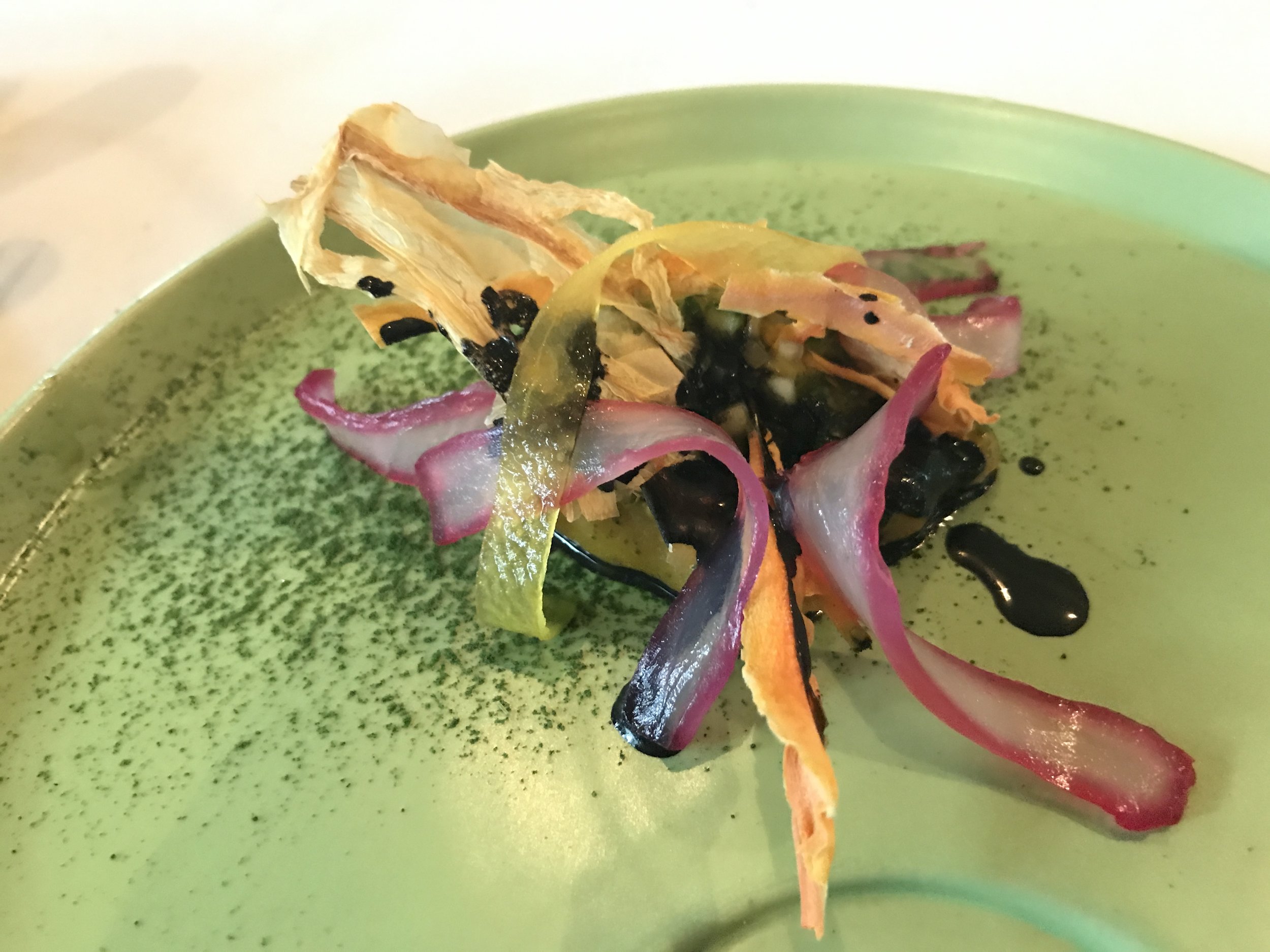 Paiche, yacon, bellaco, lemongrass

450 Meters
We're now in the Amazon. The pink slivers are paiche, a type of fish, which were slightly pickled. The rest is a bunch of straight up Amazonian magical plants and herbs.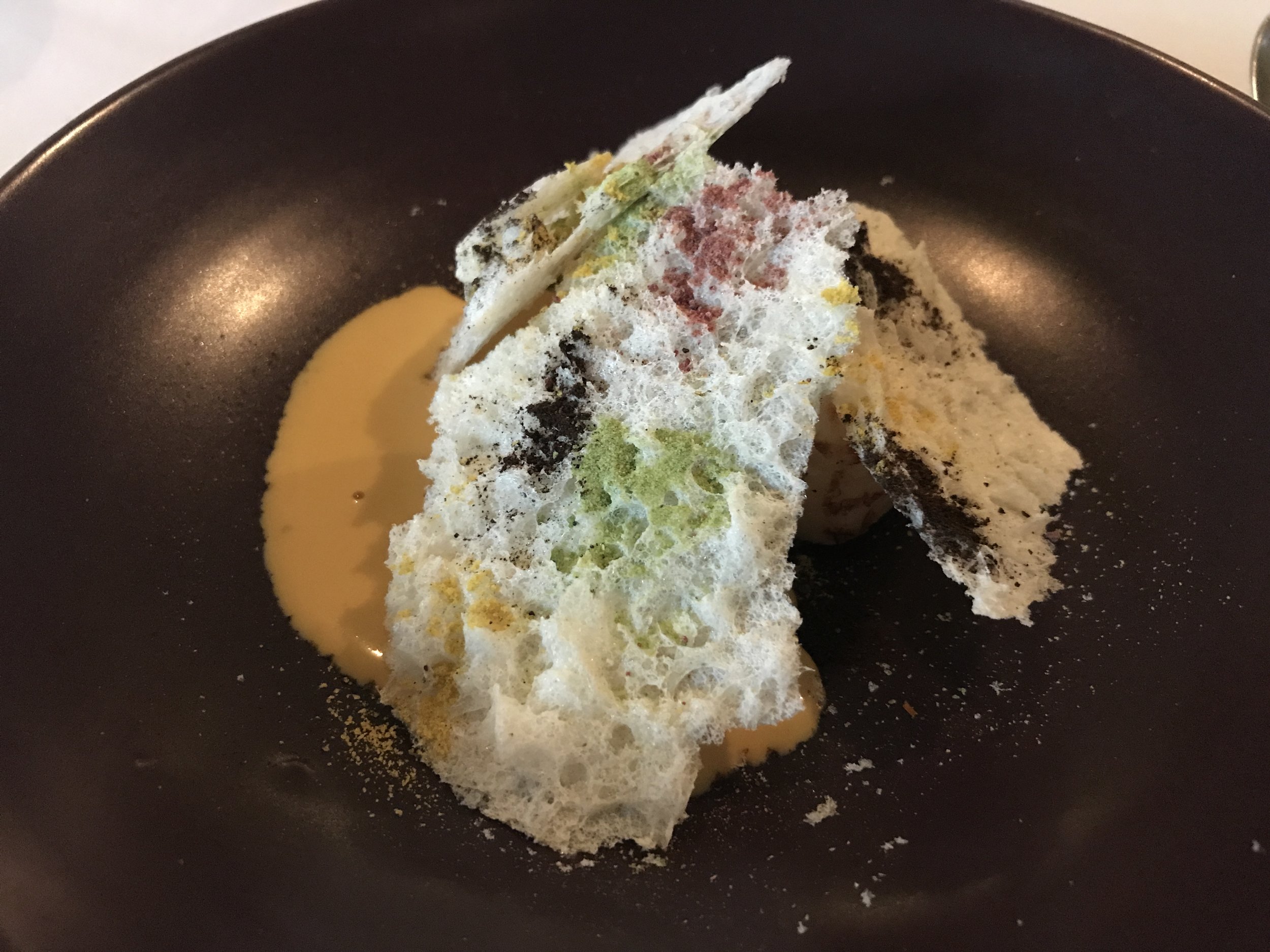 Scallops, yellow chili pepper, borage, tumbo

20 Meters
We've back by the coast, where we found ourselves eating scallops. These were the best scallops that we've ever tasted. hands down. The yellow chili pepper added a nice flavor to the little cracker made from tumbo, which is a Peruvian fruit.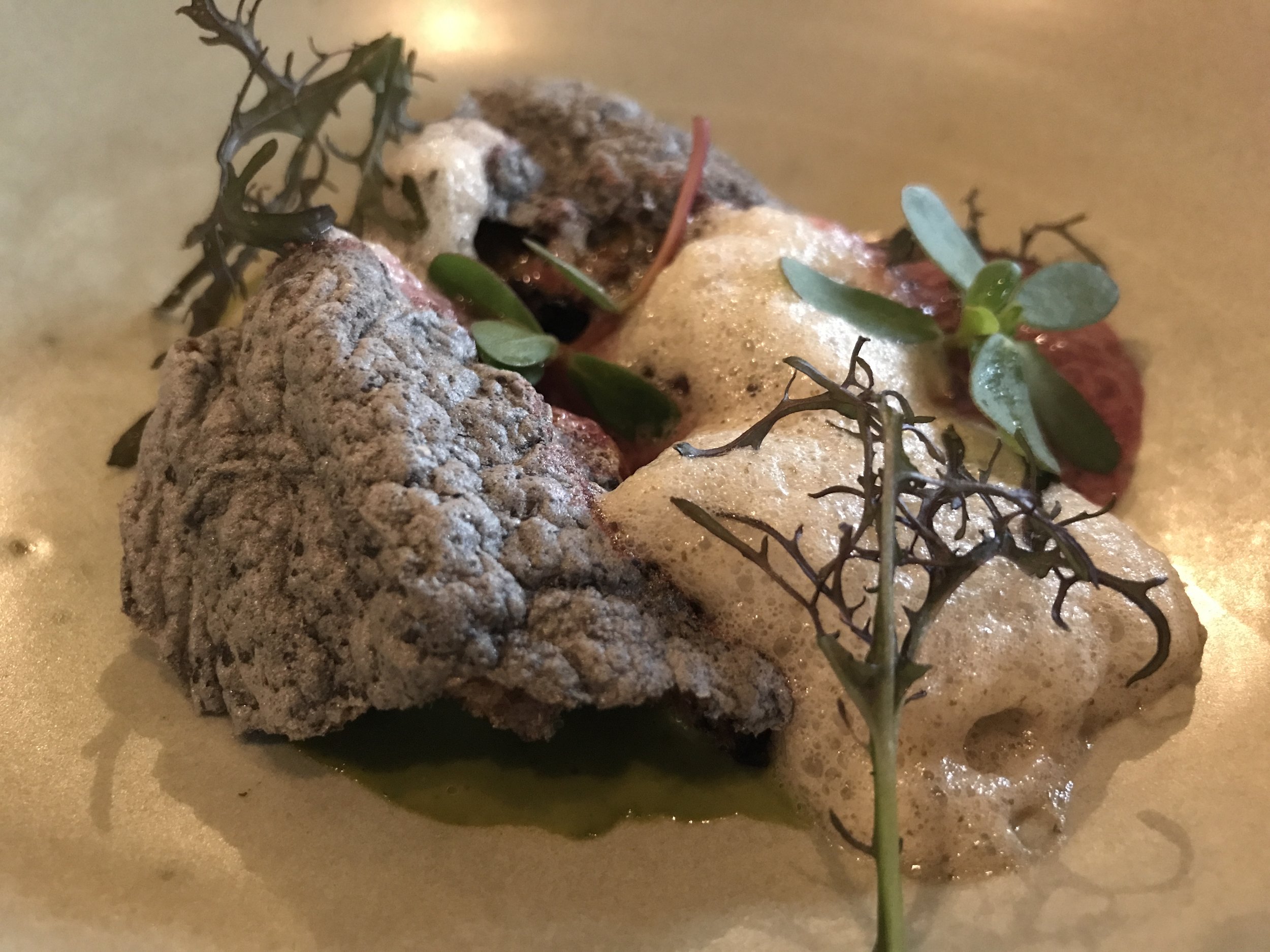 Octopus, crab, squid, sea lettuce

-10 Meters
This one gave us flash backs to our trip to In Situ in San Francisco, where we tried their take on this famous course. What makes this dish really cool is that it looks like the environment which you're eating - a little bed of sea coral. You have to dig down deep for the octopus and crab, but it's well worth the reward.
Pork, black mashwa, panca chili pepper, kiwicha
1800 Meters
We've made it to the end of the of the savory dishes, and this was really the only true "meat" course. The pork is pork belly, which was slow roasted for over 50 hours. It was dressed with a really nice, heavy Black Mashwa (Peruvian Plant) sauce. The seeds here are Kiwicha, which the internet considers a "Peruvian Superfood" that will cure pretty much any disease you have. Added bonus!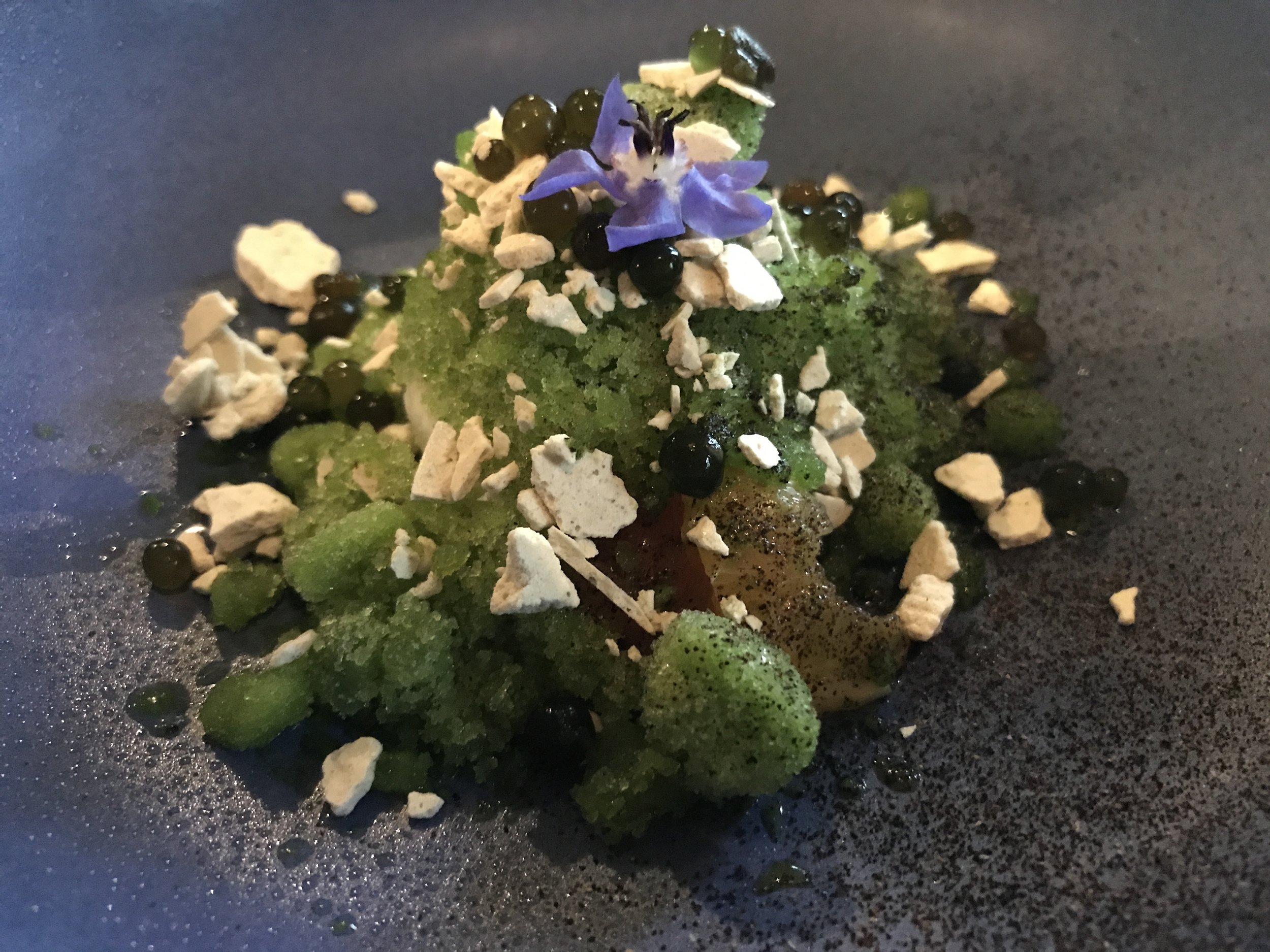 Caigua, cushuro, sweet lemon, chaco clay

3700 Meters
Desserts, desserts, desserts! If you've watched the Chef's Table episode on Central, then you'll remember Virgilio and his sister hand-picking tiny balls of algae (cushuro) from a lake high up in the Andes. Well here they are! The green ice is made from caigua, which is Peruvian vegetable. This was Yvonne's favorite dish of life.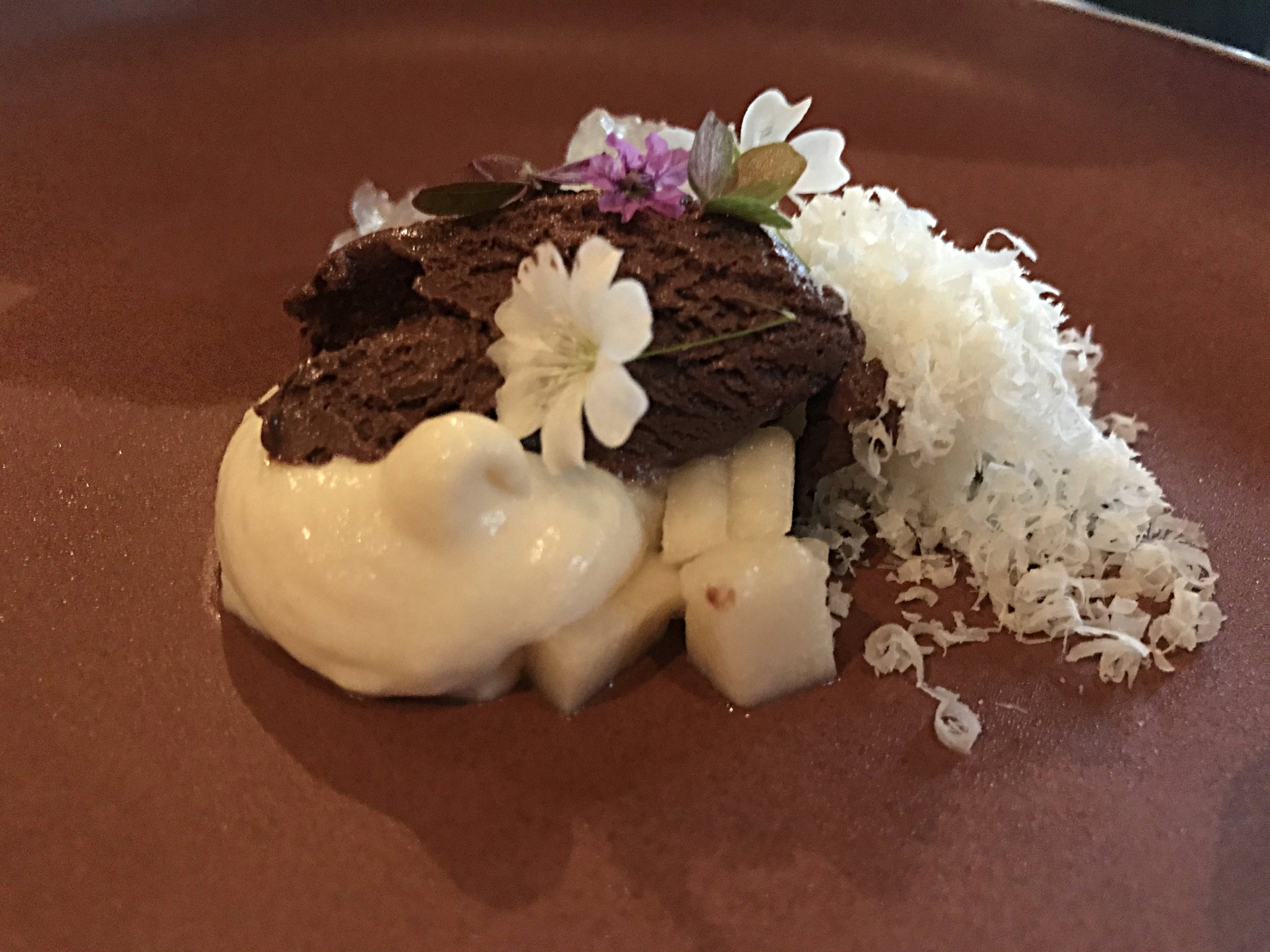 Cacao, chirimoya, bahuaja nut, taperiba

400 Meters
A little chocolate ice cream Central style sounds good to us! The white shaved part is bahuaja nut, and the white ice cream is made from Chirimoya & taperiba, which are Andean Fruits.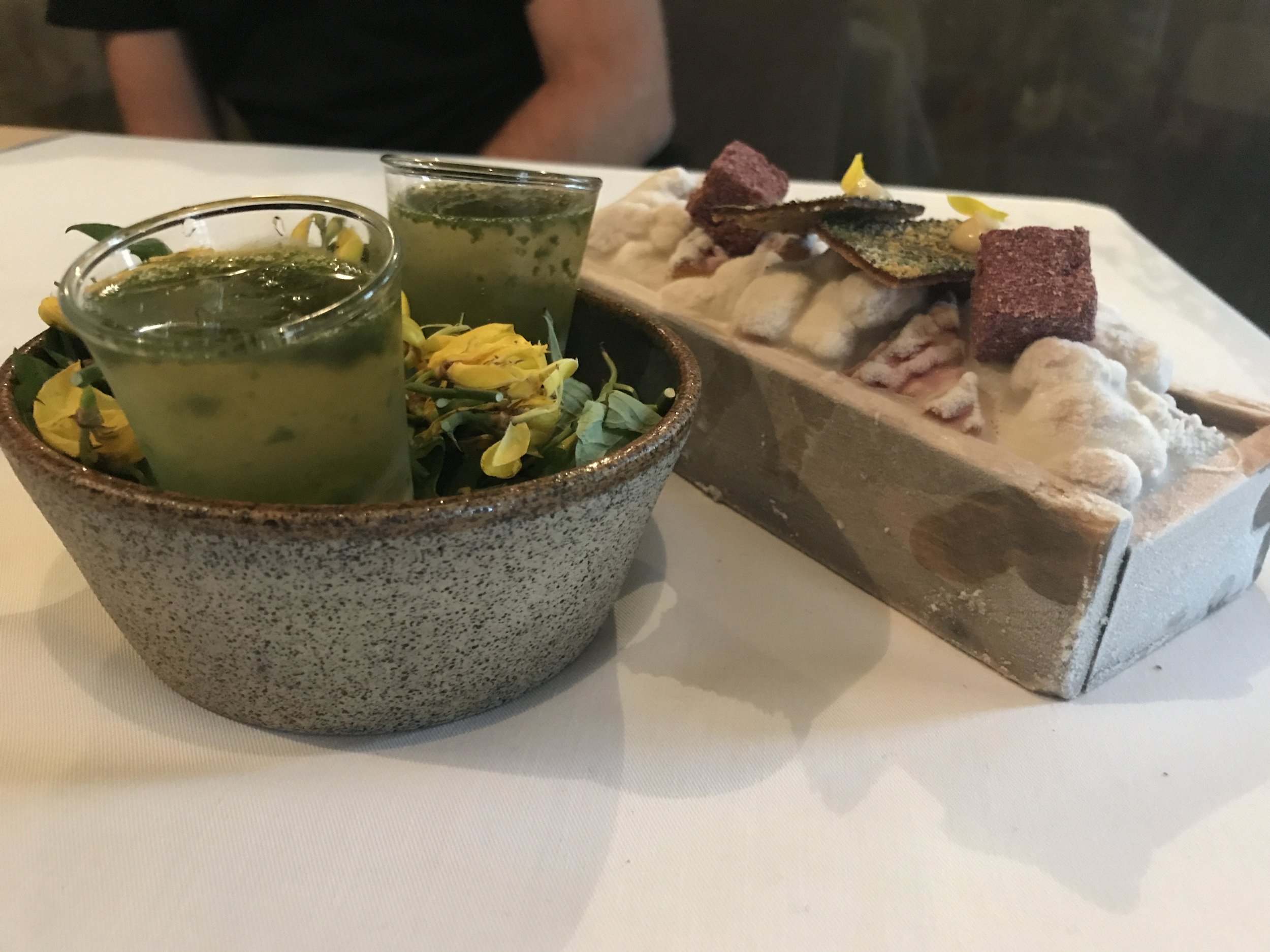 Congona, matico, malva, pilipili

3050 Meters
We made it! We're at the end of our meal, and if you've eaten all this you need to go to the Shaman to help you digest everything you've eaten. Take a shot of the medicinal water made from various Peruvian herbs and have a few little chocolate bites before you take a look at the check and leave this magical land
Drink:
Central offers two drink pairings--one wine pairing and one juice pairing. We tried the juice pairing, because what other restaurant in the world offers a juice pairing? The juices ranged from random Amazon fruits like granadia, to lettuce and lime juice, to beetroot and muna mint. For Jason, who doesn't really enjoy drinking, this was his dream pairing. The table next to us got the wine pairing, which consisted of not just wine, but also a beer made especially for Central and a lot of fun liquors; however, we're not sure how you can walk out of a restaurant after drinking 10 glasses of anything.
Atmosphere:
As soon as you walked into Central the energy is palpable. It almost feels like the base camp of an expedition to an exotic locale. There are jars of all ingredients, flow charts, maps, and white boards filled with graphs. You are literally in a Peruvian culinary laboratory. There is an open kitchen, where guests can see what's being prepared. There is also a rooftop garden where a lot of the flowers and herbs are grown for the restaurant.
Peruvian Hospitality:
The waiters were exceptional, always answering our questions (and believe me, we had questions!) and getting us whatever we needed at all times. At the end we asked for a tour of the restaurant, which the Maitre D' gladly provided, taking us through the kitchen, the garden, wine room, and of course the laboratory where they test out new ingredients.
Frankie's Notes:
Literally knowing only 4% of the ingredients on the menu makes us feel cool; eating lunch at 1:30 and having the fortitude to not eat anything before that deserves an olympic medal; Yvonne can now officially consider corn as a friend, and not as a face-eating zombie enemy; Frankie would come down to South America, but he does not like that the toilets flush the opposite way; Eating at three of the top 30 restaurants in one week is pretty incredible, but something only professional eaters should try.
Rating: 5 out 5 + 3 Michigan Pugs