Background:
Eleven Madison Park (EMP) was opened in 1998 by world renowned restaurateur Danny Meyer. Meyer is the man behind NYC institutions Union Square Cafe, Gramercy Tavern, Blue Smoke, and...SHAKE SHACK. Yes, the same genius behind Shake Shack founded what some considered the best restaurant in the world. In 2006, Meyer hired Daniel Humm as head chef, and he and Danny (that's what his friends call him) quickly turned EMP into one of the top restaurants in New York. Humm bought the restaurant from Meyer in 2011, which is when EMP earned its first Michelin Star. By 2012, they had earned three Michelin Stars. Currently the restaurant ranks #1 in the world.
Eat This:
When booking a reservation, you have two options. You can do the full tasting menu in the main dining room for $315/person, or you can do an abbreviated five course tasting menu in the bar room for $175/person. We went for the full tasting menu, because that's how we live our lives.
Cookie with Cheddar & Apple
When you arrive at the table you are presented with a box. What's in the box? This black and white cookie--a savory nod to the famous NYC staple. It's a great first bite to start the meal.
Scallop Butter, & Broth
The first real course was the bread course, which we learned was designed for the winter menu to provide something hot to warm us as we began our meal. This course consisted of four distinct parts: bread, scallop butter, scallop broth, and then live scallops with sea urchin immediately following this. Yvonne was obsessed with this butter (check out her other website: www.yvonnelovesbutter.net), which was creamy with a rich, umami scallop flavor.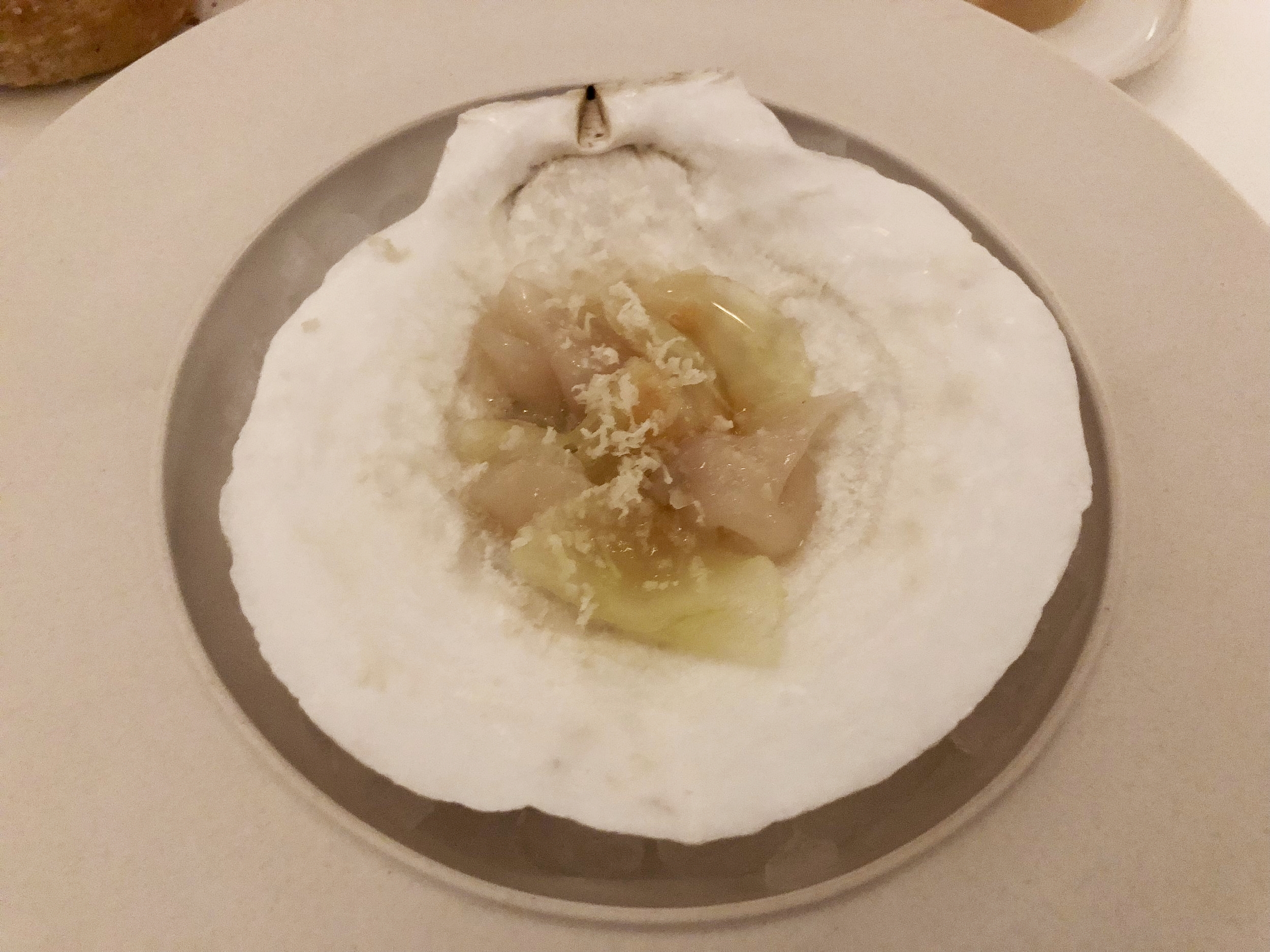 Live with Sea Urchin
My favorite part of this dish was the scallop broth, which was thick and flavorful, and tasted somewhat like the best miso soup you've ever had in your life. The raw scallop with sea urchin was presently nicely on a seashell. It felt as if we were in The Little Mermaid, receiving a pearl from our boyfriend Eric (love you, Eric!).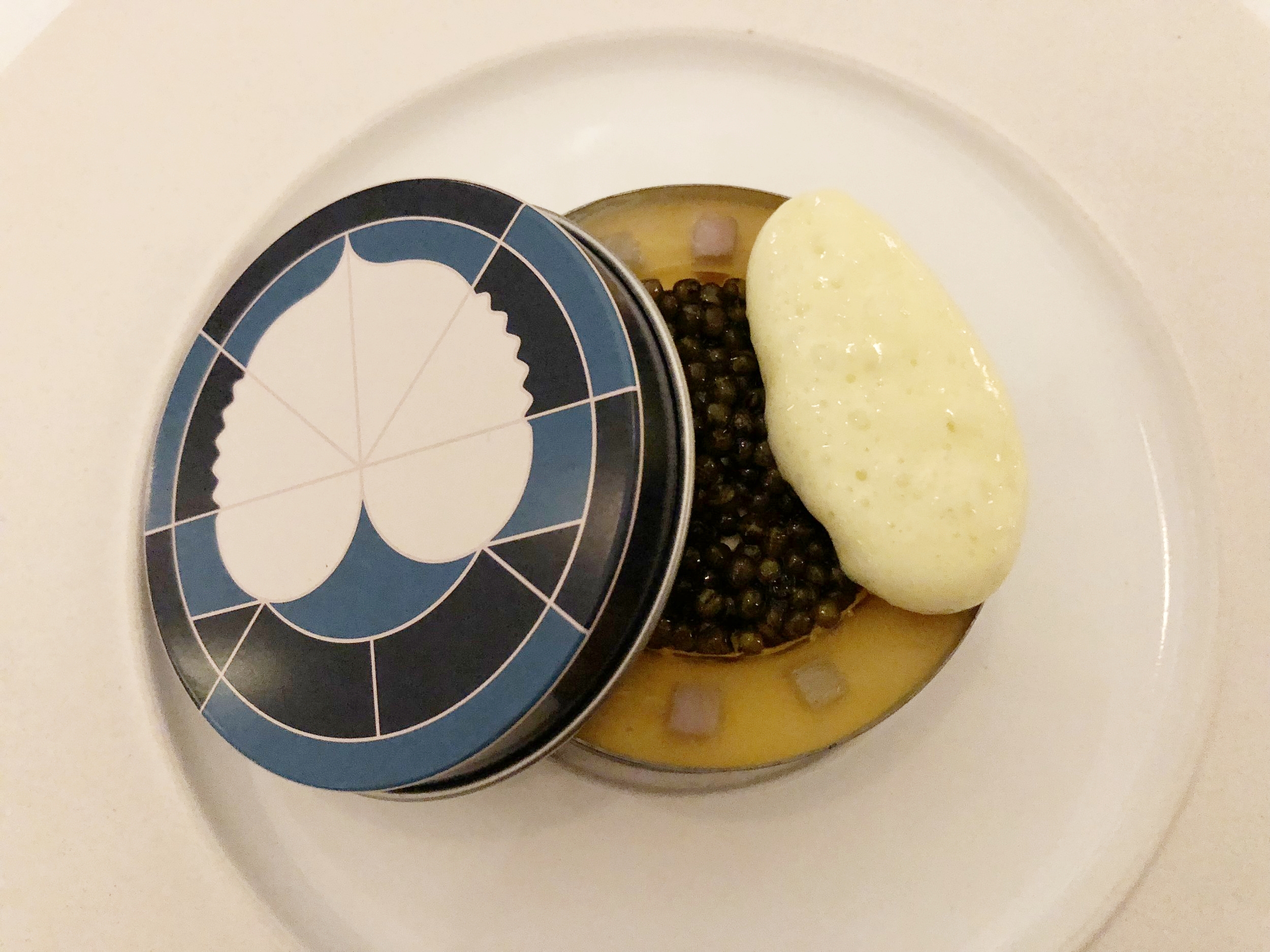 Benedict with Smoked Ham, Sturgeon, and Hollandaise
Another play on an NYC favorite: eggs benedict. This was probably the coolest presentation of the night, with the caviar in a special EMP tin, which we later got to take home, as well as a row of small English muffins presented on an elevated wood plank. We loved the interactive element of making our little sandwiches with the quail egg and caviar provided.
Grilled with Juniper and Horseradish
At this point in the meal, we were given choices as to what we wanted. I chose the squid, and Yvonne chose the foie gras. The squid tasted like a tartare, refreshing and cold with the slight kick of the horseradish.
Seared with Maple and Apple
Yvonne proclaimed this to be the best foie gras she has ever had. The presentation with the thinly sliced apple hiding the foie gras was on point.
Poached with Variations of Turnip
This was the surprise of the night for me. When I ordered the halibut, I wasn't excited, but I wanted to order something different from Yvonne. The halibut was excellent, and the turnip was presented in three ways--in the sauce, mixed with the halibut, and then sauteed underneath the halibut. Really a refreshing and surprising way to serve both the halibut and turnips, and a truly special EMP dish.
Butter-poached with Butternut Squash and Chestnut
This was the stereotypical lobster dish at a nice restaurant. Cooked right. Tasted good, but nothing really memorable.
Tart with Cremini & Black Truffle
This was the one table side preparation of the meal. The captain wheeled over a cart and proceeded to cut open a crust that was baking on top of a cast iron pan. She then took the crust and turned it into the "pizza" crust, which she then lathered with black truffle & cremini paste and shaved cheddar cheese. So good. so cool. It was also served with a melange of portabello and cremini mushrooms on the side.
Honey and Lavender glazed with Cabbage
This duck is everything to me. It's the best duck in the world. What makes it so special? It's the skin, which is thick and crusted with Szechuan peppercorns and glazed with honey and lavender. The actual duck meat is cooked medium rare and has the perfect tenderness to match the slight crunch of the crust. It's the most perfect bird I've ever had.
Grilled with Celery Root, Black Truffle, and Winter Greens
EMP's take on a cheese course. They bring out a perfectly grilled circle of cheese with black truffle, and then also mix a salad right in front of you with black truffle vinaigrette. This grilled cheese was as down home as Eleven Madison Park can get, but with the black truffle thrown in to make sure you remember where you are. A great dish to end the savory courses.
Cranberry & Pear filled with Mulled Wine Ice Cream
Our favorite dessert. The donut was filled with cranberry and pear, but the star of the show for me was the mulled wine ice cream. What a unique and cool flavor! I could have eaten a whole pint of it.
Ice Cream with Sarsaparilla and Pumpkin Cake
A very warm winter dessert. I love a good pumpkin anything, #PSL for life. I am also a sucker for exotic ice creams (see mulled wine above). So this one was good. And that's how I would describe the desserts at EMP: just good. Overall, the desserts are kind of disappointing for the type of restaurant and the standard of EMP.
Torte with Creme Fraiche Ice Cream and Cranberry
Again, a solid desert but nothing to write home about. Tasted good at the time, but we're not going to remember it a month from now.
Covered in Chocolate
The last bite, and one of the best. This is the best chocolate covered pretzel I've ever had, hands down. What made this so good was the chocolate to pretzel ratio was perfect. The pretzels were made in house, and had a doughy, marzipan taste.
Drink:
Okay, so we screwed up and didn't order an alcoholic beverage, which was stupid because they are known for having amazing cocktails. In our defense, we did have two two pickle backs immediately before dinner at my old favorite haunt, Whiskey Rebel, with best friend of the blog Vishnu "Charlotte Heartthrob" Pillai. The cocktail menu was presented by ingredient. The options included apple, chocolate, sarsaparilla, cranberry, kombu, and others. They also offered non-alcoholic options. I went for the mushroom mocktail, because I'd never had a drink made with mushrooms before. I guess I grew up sheltered and unaware of what the world had to offer.
Porcini Mushroom Broth, Oolong tea, Squash Syrup, Honey, Verjus and Cold Brew Coffee
This was one of the coolest drinks I've ever had. I can only explain the flavor as mushroom with a sweet coffee aftertaste. The mushroom wasn't overwhelming, though. It was a flavor I have never had before, and I loved it.
Atmosphere:
Eleven Madison Park has the coolest and best atmosphere of any top notch restaurant we've been to. It feels like you're walking into The Great Gatsby, because you sort of are. The restaurant is located in an art deco lobby of an office building originally owned by Met Life. The chandeliers and crown molding are all original, and the large florescent light on the ceiling was the first florescent light in New York City. The restaurant was just renovated a few months ago, with subtle changes. Sometimes when you go to the world's best restaurants, the atmosphere is museum like, with patrons almost scared to have too much fun. EMP was different. Everyone seemed like they were having a really good time. The waiters also seemed to have a sense of humor, and they weren't afraid to joke with patrons or chat with them, cutting the tension that often comes with a restaurant of this stature.
Gatsby Hospitality:
Eleven Madison Park has the best service of any restaurant we have been to. Hands down. From the moment you walk in, you feel like you're the only patron that matters in the restaurant. But it's not stuffy--the servers joke around, and, of course, they answer literally any question you have about the restaurant in a split second. Special requests? Glad you asked. There is literally a person whose job it is to make people's experiences magical. If a waiter overhears that someone loves ice cream, for instance, you might get a house-made pint of ice cream to take home at the end of the meal. Want all of the desserts instead of choosing just one? Just ask. We did. Want a pet baby lion delivered to your table at the end of the meal? Okay, maybe not, but you get the point. EMP spends a lot of effort on their hospitality, and it pays off.
Frankie's Notes:
We made a special request to be instantly transported to the 1920s, and we are now stuck in a time warp; Shout out to Rita Ackermann (no relation), who painted the large abstract on the wall; Every meal should start with cookies; Not getting a cocktail at EMP is like refusing wine from Jesus; We are regretting not dropping hints about our love of ice cream.
Rating:
5 out of 5 with 2 Michigan Pugs