Background:
Essex is nestled into the ground level of the Omni Hotel at the intersection of Trade and Tryon. A welcome addition to the slowly growing restaurant scene, Essex was opened in August of 2016 by four restaurateurs, two of whom also co-own Enso Sushi Bar in the Epicentre. The menu is diverse, and the cuisine ranges from Indian to Mediterranean, and even includes some killer house-made lox. #jewfood.
Eat This:
Essex's signature item is their butter chicken, and we order it every time. Guess what the best part is, though? All of their bread is made in-house, like the delicious naan that comes with the butter chicken, the pita bread used in the shawarma, the tortilla chips with the huevos rancheros, and the bagel that comes with their lox platter. Scallionpancake loves bread more than Oprah does, hand to God. Homemade bread?!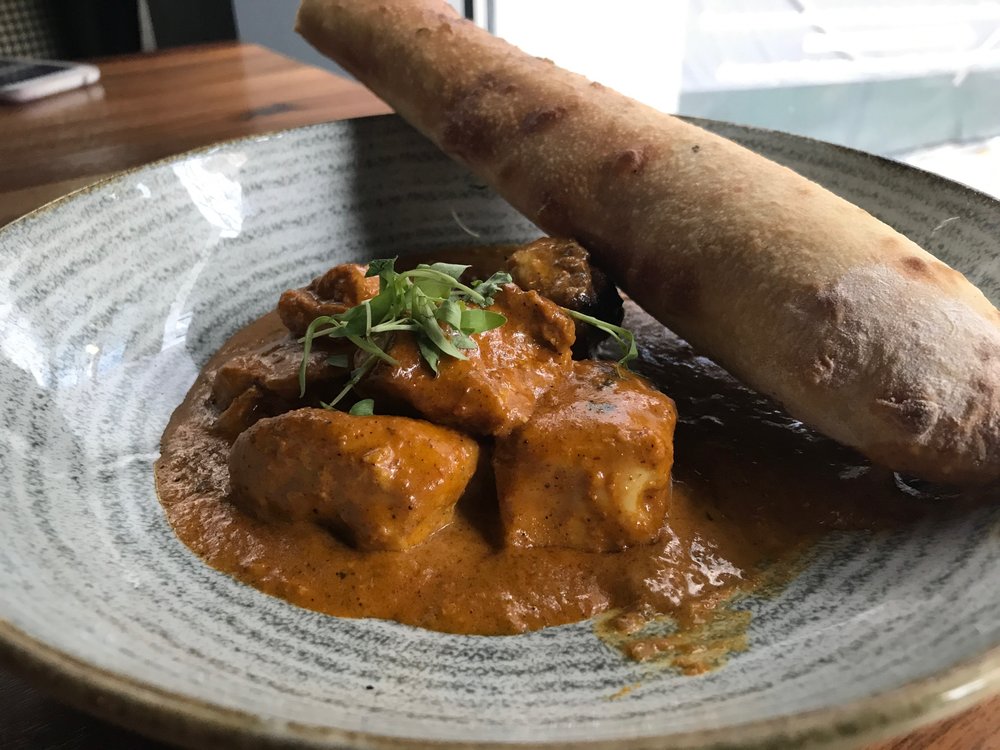 Chicken marinated in Indian spices, herb tomato sauce, micro cilantro, garlic naan
The salad offerings are a favorite--we have heard great things about the Warm Brussels Sprout Caesar, but we always end up with the Kale & Apple salad.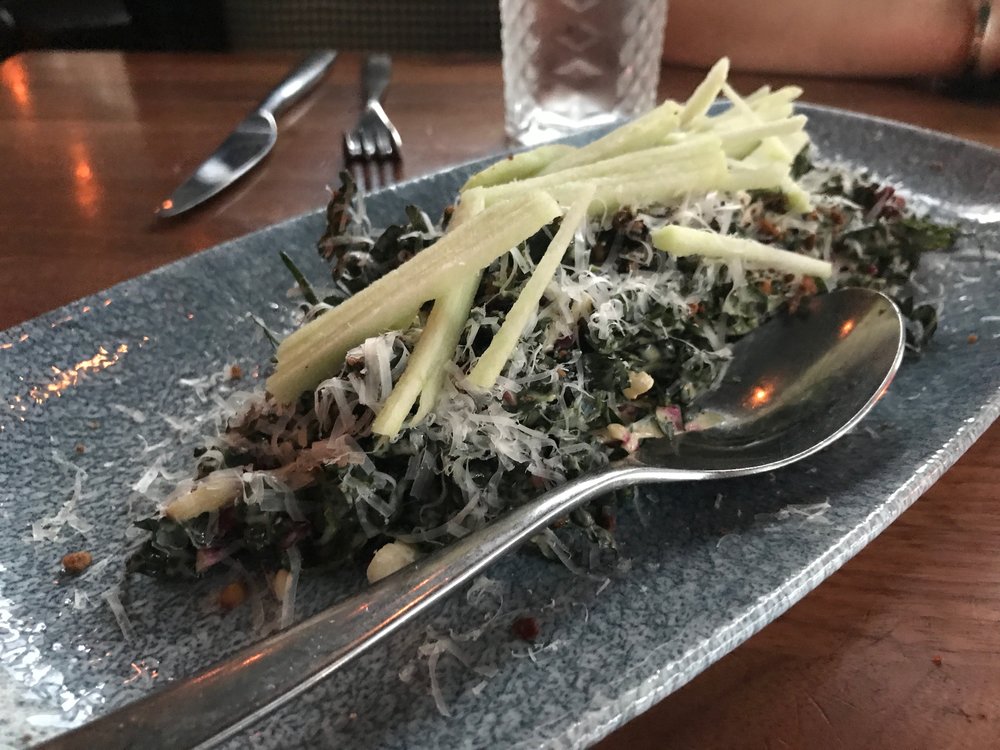 Kale, radicchio, and spinach blend, granny smith apples, candied pecans, goat gouda, and apple cider vinaigrette
House-made pocket pita, shawarma, harissa, tahini, grilled onion and tomato, Mediterranean mix
This is Jason's new favorite dish --and check out those crispy waffle fries!
Essex also runs a mean brunch game. We liked everything we have tried, with the exception of the omelette pictured below, which was rather thin and dry.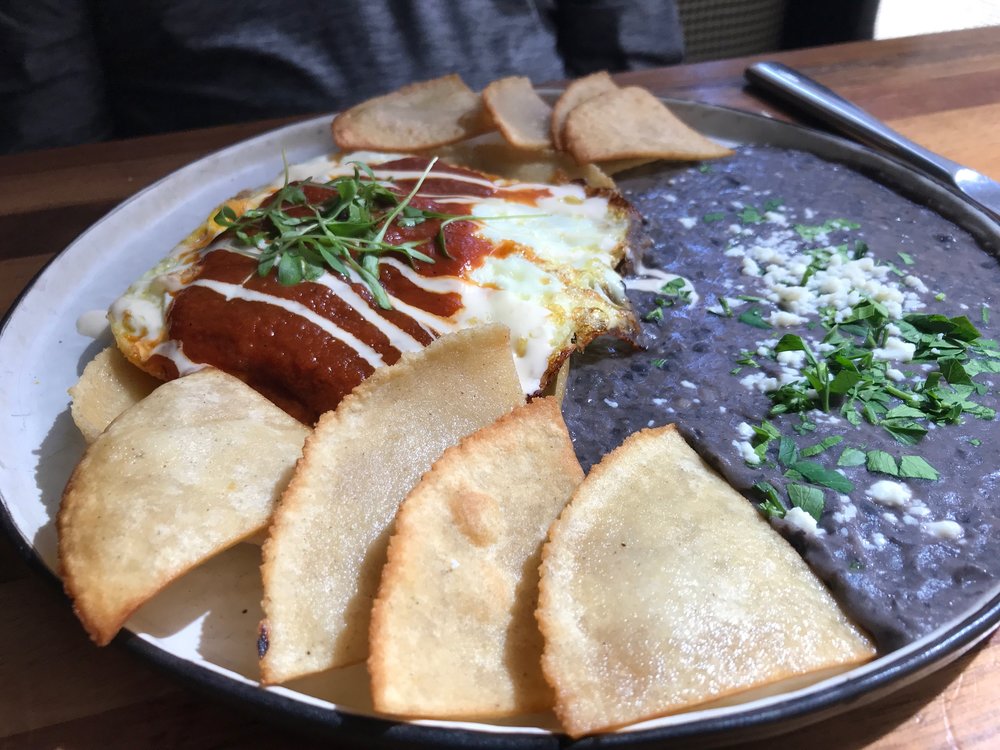 House-made corn and flour tortilla, tomatillo salsa, queso fresco, black beans, topped with a sunny side up egg, sour cream, and cilantro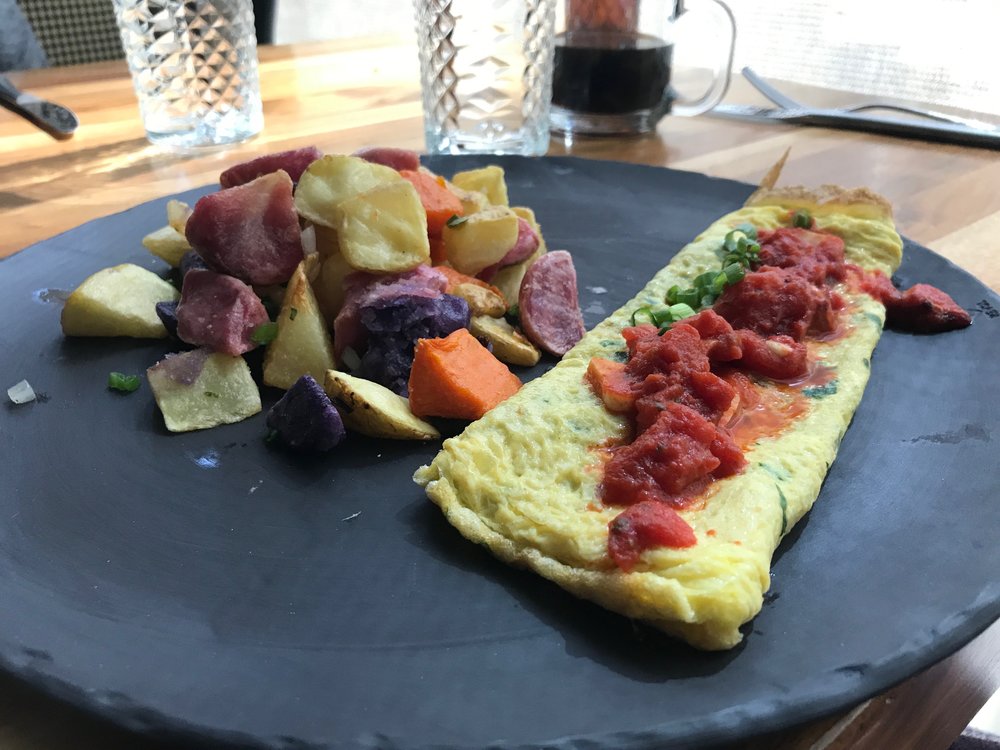 Parsley, cilantro, green onion, feta, and tomato confit/served with Essex home fries
Cheese-filled naan with sunny side up egg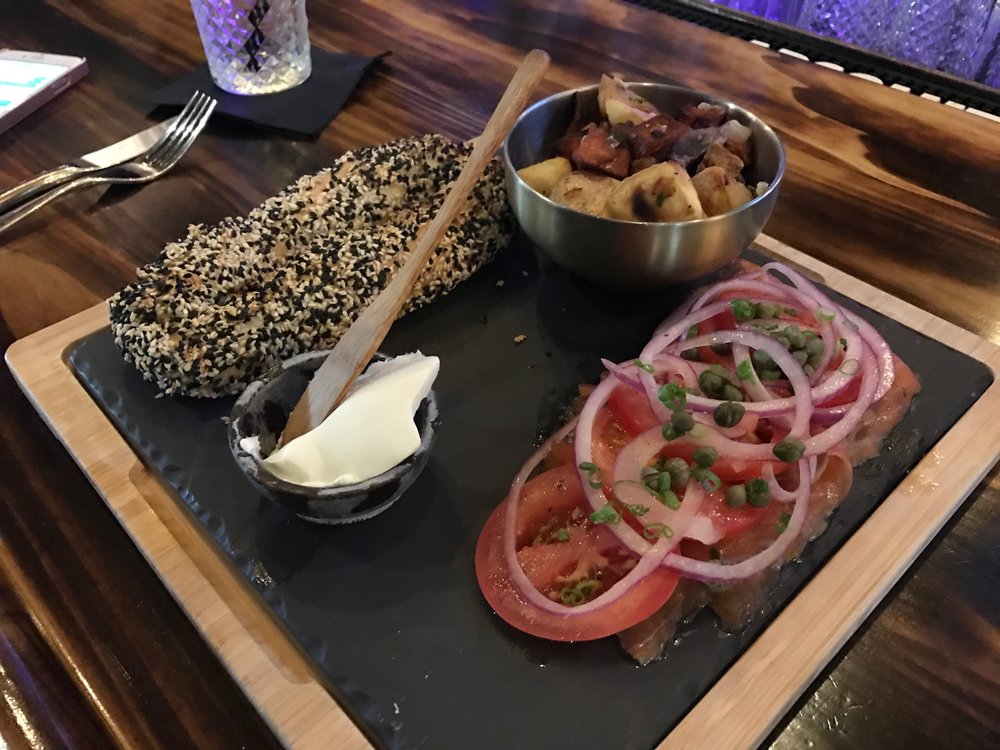 House-made fresh bagel, cream cheese, house smoked salmon, capers, onions, tomato//served with Essex home fries
Dessert:
Okay, so last fall and winter Essex served a dessert called the Golden Apple, and I think of it to this day. It was an apple enrobed in caramel and then white chocolate sauce was poured over it tableside. TO. DIE. FOR. I am not sure why they haven't brought it back for this season?! Come on, Essex! We also more recently ordered a pistachio chocolate mousse dome that was excellent.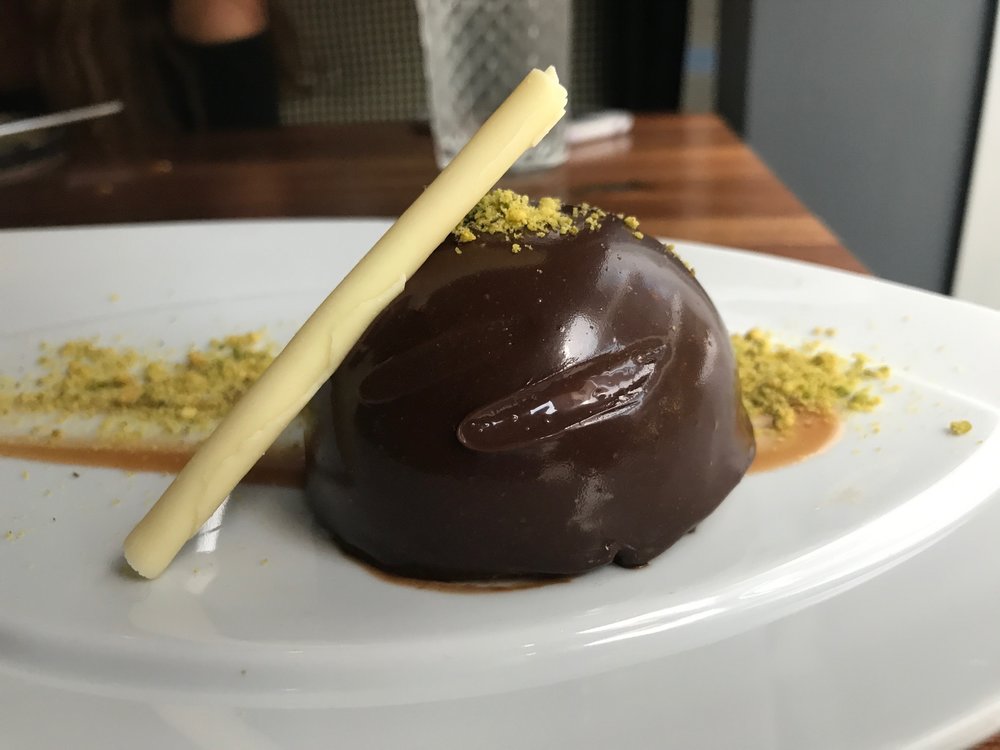 pistachio chocolate mousse dome
Drink:
Cocktails are on point at Essex--try the Queen Scarlett made with gin, green chartreuse, strawberry puree, lemon juice, agave, and muddled basil. They also offer several cocktails on tap, including a Moscow Mule.
Atmosphere:
Essex is unique in that there are several different sections to the restaurant, and they all have different vibes. There is a sizable outdoor patio that overlooks all of the hustle of Uptown Charlotte, a sun patio, a dark cozy bar, and oversized cushiony booths--you can sit wherever fits your mood and the vibe of your party. Warning--you are very unlikely to catch a street parking spot on Tryon, but you can get your parking validated if you park in the garage off of Church street.
Uptown Hospitality:
The service at Essex has always been great, and we have visited multiple times. Also, the food comes out super quickly. My only complaint is that they only carry a sriracha-type hot sauce and no "Louisiana style" hot sauce, and this pains me to my very core.
Frankie's Notes:
Willy Wonka had the golden ticket, but in the winter of 2016 I had the golden apple, and that was significantly more important to me; Who is Queen Scarlett? Did she die in the library with a wrench?; Trade and Tryon gets weird sometimes, and I love that; You can wave to the Halal truck man from the patio of Essex; Nothing breaks my heart as thoroughly as insufficient hot sauce options.