Background:
I went to Italy this fall for the ten year anniversary of when I studied abroad in Florence. I went with two of my good friends, Vishnu & Ravi, who had to deal with my crazy picture taking of food, and for that I am forever grateful. We did a lot of good eating on this trip---so much so that I think I turned Vishnu into a little bit of a foodie. PUBLIC SERVICE ANNOUNCEMENT: If you haven't listened to the podcast Vishnu and I did on our entire trip to Italy, check it out here.
One day I arranged for a day trip from Florence to Modena, about an hour and a half's drive away, for the sole reason of going to one of Massimo Bottura's restaurants. I've been obsessed with Bottura ever since he was on the first ever episode of Chef's Table listening to parmesan reggiano cheese like I listen to a good episode of Fresh Air with Terry Gross (aka--very intently--love you Terry!). We tried to get into Osteria Francescana, but it was completely booked, so we "settled" on the more casual Franceschetta 58. After the success of Osteria Francescana (currently ranked #2 in the world), Massimo Bottura decided to open up Franceschetta 58, a more modestly priced, less fancy restaurant in Modena. We all three agreed this was our favorite restaurant of the trip.
Eat this:
There are two options when you go to Franceschetta 58, you can pick between two fixed price menu (the 48€ Tradition in Evolution Menu or the 65€ I <3 Modena Menu), or you can go a-la-carte. Everyone at the table can choose what they want, so I went with the I <3 Modena Menu while Vishnu and Ravi went a-la-carte. After the meal we all decided that a-la-carte was the way to go, because we feel you actually got more value that way, plus you got to choose what you wanted.
The menu itself is highly focused on local ingredients found in the Emilio Reggiano region of Italy, the two most famous being parmesan reggiano and balsamic vinegar. You think you know what good parmesan and balsamic taste like, but you have no idea until you come and taste them here. The flavors are more pronounced, with no bad aftertaste that you can get sometimes, especially with cheaper parmesan. This brings us to the first dish of the night:
Pumpkin with Parmesan Reggiano and Bacon
This was the best dish of the night, hands down. The sweet, smoothness of the pumpkin combined with the rich, strong parmesan and the salty, crispiness of the bacon was an epic combination--one that I don't think any of us had had before. Who would have thought to put parmesan over pumpkin? Pure genius. In addition, Vishnu really liked this because it was the free appetizer of the night. "The best dish was free!", Vishnu kept saying.
I am normally not the biggest fan of cheese plates, but when you are in the home of parmesan, well then, you get the cheese plate. This parmesan was made from white cows from Modena and aged for 30 months. So good. The other cheeses were good as well, but let's be real--we're here for the parmesan.
Low-temperature cooked egg, Parmigiano Reggiano fondue, black truffle, and Jerusalem artichoke
What if god was one of us? Answer: he'd eat this dish, probably every day. If you are seeing a trend here, almost every dish has parmesan in it, because why not? Can you go wrong with a combination of black truffle, crispy Jerusalem artichoke, and parmesan fondue? I think not.
Creamed cod, Chickpea Purée, Hazelnuts, "Crusco" Pepper, and Mushroom Broth
This was a modern take on a traditional Italian fish dish. The creamed cod had a mashed potato like consistency in the mushroom broth, which made for a great combination, especially when you got a crunch of the hazelnuts. The red pepper seemed to be more for show, because it didn't really have too much of a taste.
Emilia Burger by Massimo Bottura
This was, to our surprise, the one disappointment of the night. We were thinking that the burger by Battura would be the best because this was the one menu item with his name on it. Unfortunately it kind of just tasted like a burger from McDonalds (note from Yvonne--"Um, that sounds excellent! Don't diss the McD's!").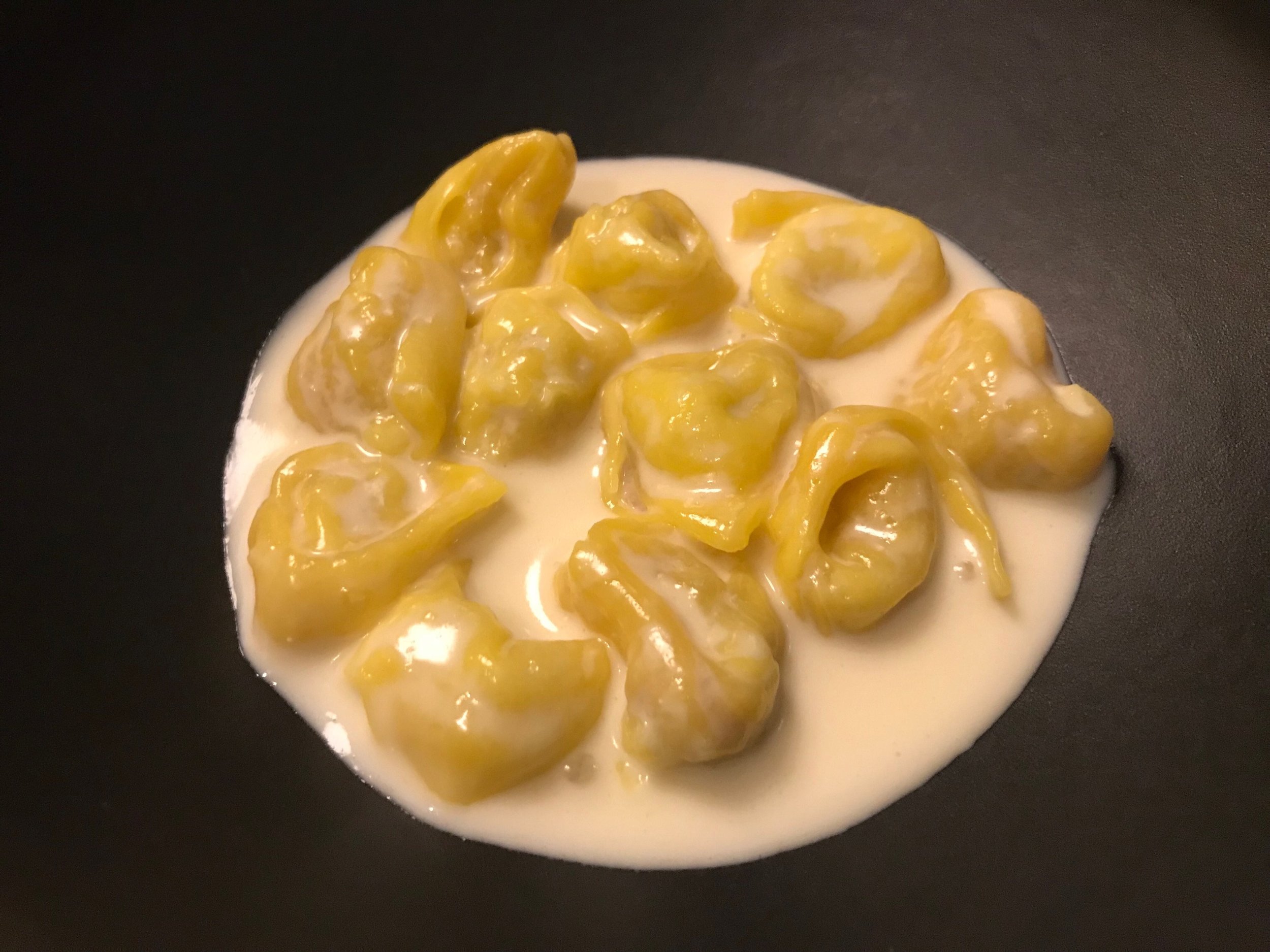 Tortellini with Parmigiano Reggiano Sauce
Now we've moved on to the pasta courses, or the primi piati, if you are following along in Italian class. Seriously, this parmesan sauce was so good when Vishnu and Ravi went to the bathroom I licked the plate. Don't tell them.
Orecchiette with "Burrata" Mozzarella, Anchovies, Confit Tomatoes, Thyme and Bottarga
What was super cool about this dish was that the anchovies were ground up and used like a salt on top of the pasta. How smart is that? The one complaint most people have about anchovies is that they are to salty, so why not play on that and turn them into the salt portion of the dish? Magnifico!
Pork Belly with Balsamic Vinegar Sauce, Carrot and Ginger Puree, and Sautéed Spinach
Here comes the balsamic, which complimented the fattiness of the pork belly like Dwight Howard compliments Kemba Walker. A pick and roll dunk if i've ever seen one. The carrot and ginger puree added a nice, earthy kick as well.
White Sea Bass, Marinated Cucumbers, Yogurt and Bell Pepper Ice Cream
A trend we saw on this trip to Italy was vegetable flavored ice cream. Here it was bell pepper, at Per Me in Rome it was tomato. As Yvonne knows, I will basically do anything to not eat vegetables, but putting it in ice cream is a good way to get me to like it. The cold, sweet and salty ice cream really mixes well with the fish. I'm always a big fan of mixing opposites, like sweet and salty, or hot and cold. To a certain extent, this dish kind of sums of Franceschetta 58. There is a way to take familiar, traditional Italian flavors and turn them into something modern and fresh.
Homemade Vanilla Ice Cream with Chocolate Crumble and Warm Morello Cherries
We're on the home stretch. At this point we were almost bursting with the amount of food we'd eaten, but rule #1 of Scallionpancake is that we always have room for dessert. What was excellent about this was the warm cherries, which made for a nice compliment with the cold vanilla ice cream. Just a pure, classic dessert.
Cold Coffee and Orange Custard, Cocoa Brownie, Rhum and Raspberries
Oh did I forget to mention it was my birthday? What a way to end the night, with a little magical brownie with some coffee and orange custard. So good, and it left for a great taste in our mouths for the drive back to Florence.
Atmosphere:
Franceschetta 58 had a very modern, warm feeling. The restaurant is very small, and is located in an old automobile repair shop, so it's very long and not very wide. There are plates of different colors and shapes on the main wall - a modern homage to rustic Italian cooking. Black tables with no table cloths cement that this is not going to be a traditional Italian meal.
Italian Hospitality:
The waiters and waitresses were very nice and attentive, answering all the random questions we had with a smile on their faces. Vishnu and Ravi even arranged for a candle on the last dessert, which was a very nice touch.
Frankie's Notes:
It's fun to see friends from the past and hang out for a week together in Tuscany; If you aren't eating gelato three times a day in Italy, you aren't doing it right; "Rome wasn't built in a day" seems like something that should be obvious; Aziz Ansari--fellow NYU Alum from South Carolina, aka TWINNING; PSA #2--we do not believe the current allegations against our beloved Aziz; We saw a pug that day in Italy and I almost caused an accident crossing the road to pet it; #puglife.
*Bonus* Vishnu's Notes:
Hello my little pancakes. GFOP (Good Friend of the Pancake) Vishnu here. I want to take a quick moment to thank Jason, my fam from another ma'am, for being the driving force behind our pilgrimage to Franceschetta 58. Best idea ever. He already broke down our wondrous meal with the zeal and attention to detail of a prepubescent Brad Stevens breaking down game film so all that's left for me to do is yammer away about literally whatever comes to my mind. I promise you'll only regret this a little, SP!
Since our meal I've decided to refer to Massimo Bottura as il piccolo mago. Because he's short in stature and long in magic-making (that's your Italian lesson for the day, you're welcome). Good magic conjures up something unexpected, right? Let's talk about that parmesan pumpkin starter. I'm not a foodie but I love food, so I'm not used to sitting down for a meal and being genuinely surprised. I order a chicken parm or a pad see ew and I already have a basic outline in my head of what I'm getting. My taste buds are already preparing to compare that order to past iterations. This starter knocked me on my ass. At first glance it looked liked a standard cheese fondue but when I sunk my spoon in, see, that was the magician's turn. The pumpkin puree spilled out from underneath its blanket of Parmigiano-Reggiano sauce and suddenly it's, well, magic. When was the last time a dish genuinely surprised you? When was the last time you felt that unique moment when surprise gives way to joy? It's a beautiful thing. It was a beautiful meal.
One more thing, I'd like to take this opportunity to offer some foodie advice from a non-foodie: if you can, in preparation for a meal that you expect will be pretty special, walk around Modena for a bit. Preferably with dear, old friends. What do you mean you can't find a quaint, sleepy Italian town to wander around before all your meals!? Alright, fine, if you can't then just do something that gets your soul stirring a bit. Maybe peruse your favorite book store, or walk down your favorite street or through your favorite park, or talk to someone you love. It gets the juices flowing, digestive and otherwise. Trust me on this. Allora, buon appetito!
RATING:

5 OUT OF 5