Background:
Kitchen Table is tucked in the back of Bubbledogs, a hot dog and champagne bar in Camden, London. It only seats 19 people a night, which we were lucky enough to be a part of last May. Little did Chef James Knappett and the rest of the team know that he was getting a guy walking in with an NYU shirt, Santa Claus, and a millionaire who was going to refuse a £4 cup of tea because it was too expensive. Rumor has it he went on an immediate 2-week vacation where he contemplated his life and why he's in the restaurant business. Sorry, Chef. We did our best to tame the olds, but sometimes they can't be controlled.
But enough about our crazy family for now – let's talk about Chef Knappett. He worked all over the world, from Noma to Per Se. He decided to open the restaurant with his wife Sandia Chang. Together, they own the front of the house hot dog bar Bubbledogs and the back of the house fine dining restaurant Kitchen Table (also, they just had a baby in April and she is adorable). Kitchen Table opened in 2014 and got its first Michelin Star in 2015. It received its second star in 2018, which the restaurant maintains today.
Eat This:
There is only one option at Kitchen Table, and that's the multi-course tasting menu for £150. It's a three and a half hour experience and show, as the kitchen and all the magic is happening right in front of you.
The first dish was oyster panna cotta, horseradish ice cream, and wild nettle. This dish to me in a weird way reminded me of the oyster and the pearls dish at the French Laundry, but maybe that's just because I know Chef Knappett worked with Thomas Keller at Per Se. I loved the cold/hot play of the horseradish ice cream with the oyster. What a great way to start the meal.
The second dish of the night was a smoked and picked quail egg with mushrooms, black vinegar infused with black truffles, and black garlic puree served on top of potatoes. All I can say is I wish it was more than one bite!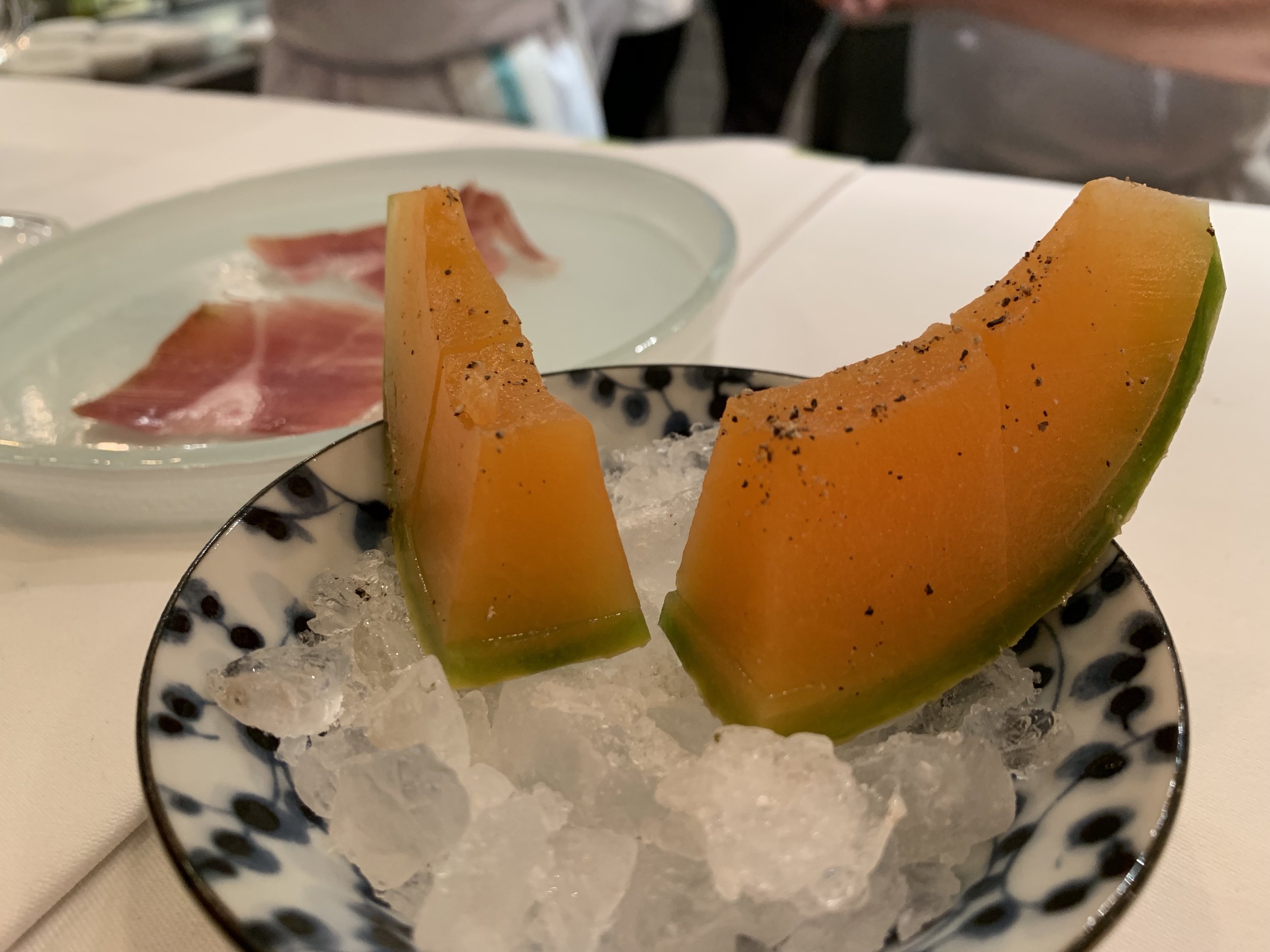 A play on the classic Italian ham and melon, the melon was compressed, seasoned, and displayed separately form the ham to deconstruct the two ingredients. The ham came from a local butcher who makes his meats specifically for Kitchen Table.
The next snack was crispy chicken skin with rosemary-infused mascarpone and bacon jam. This was my favorite dish of the night. It reminded me of a Southern U.S. pork skin cracklin mixed with a British bacon butty.
Who doesn't love a Parkerhouse roll served with house made mutton fat, tomato confit, and last year's garlic. I believe they tried to take the butter away from us and Yvonne almost killed the chef. Again, we are sorry for our behavior.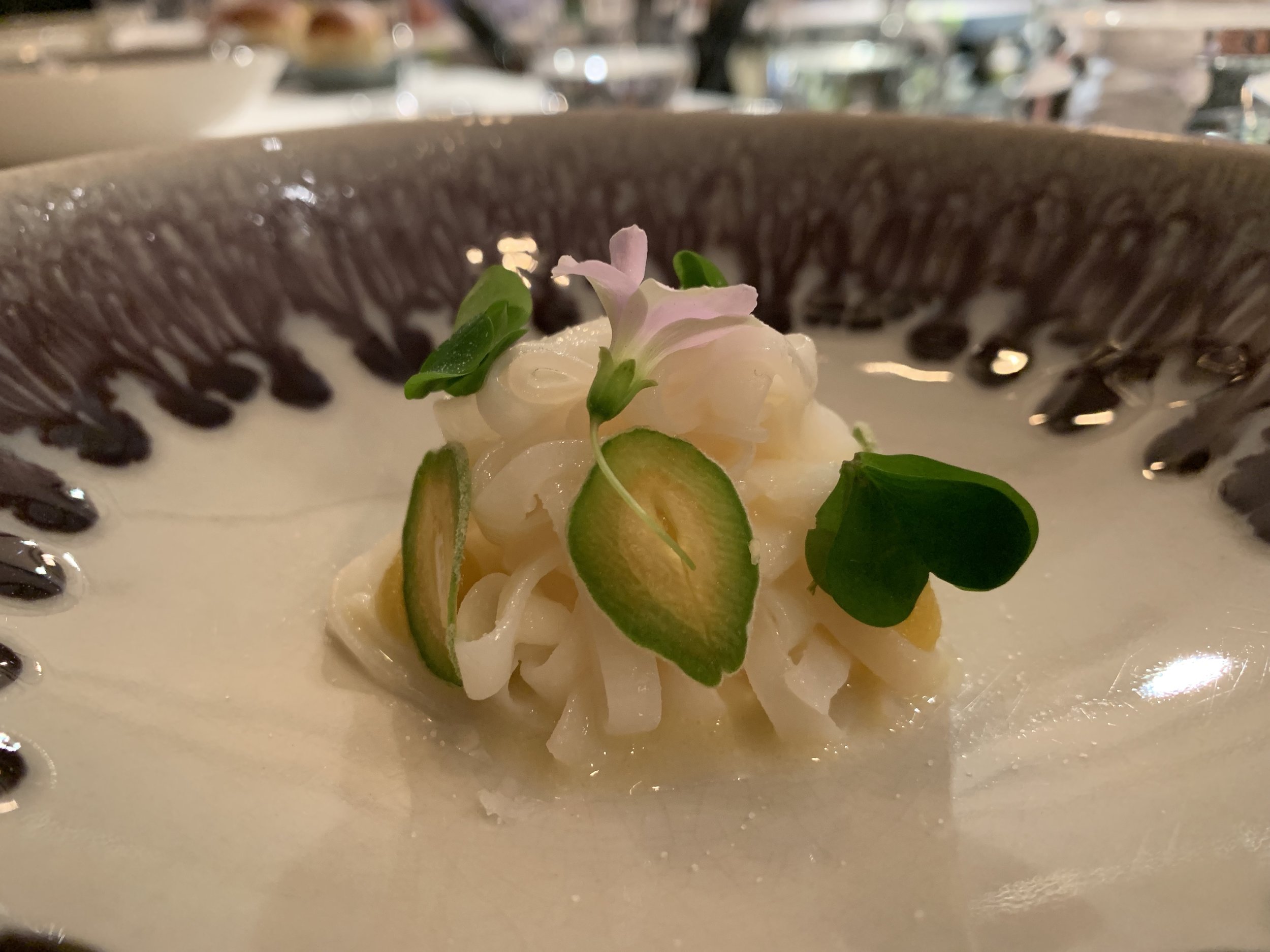 Squid and scallops were in perfect season when we were in the U.K. This was Cornish squid cooked in chicken fat with fresh mint, wild sheep sorrel, salt and vinegar powder, fresh sour cream, Grelot (AKA pearl) onions, and green almonds. I am a squid lover, so this dish was a refreshing and lovely bridge between the starters and the mains.
Look at this beauty. You know what's the worst? Overcooked fish, especially if it's trout or salmon. Of course, this trout was cooked to perfection.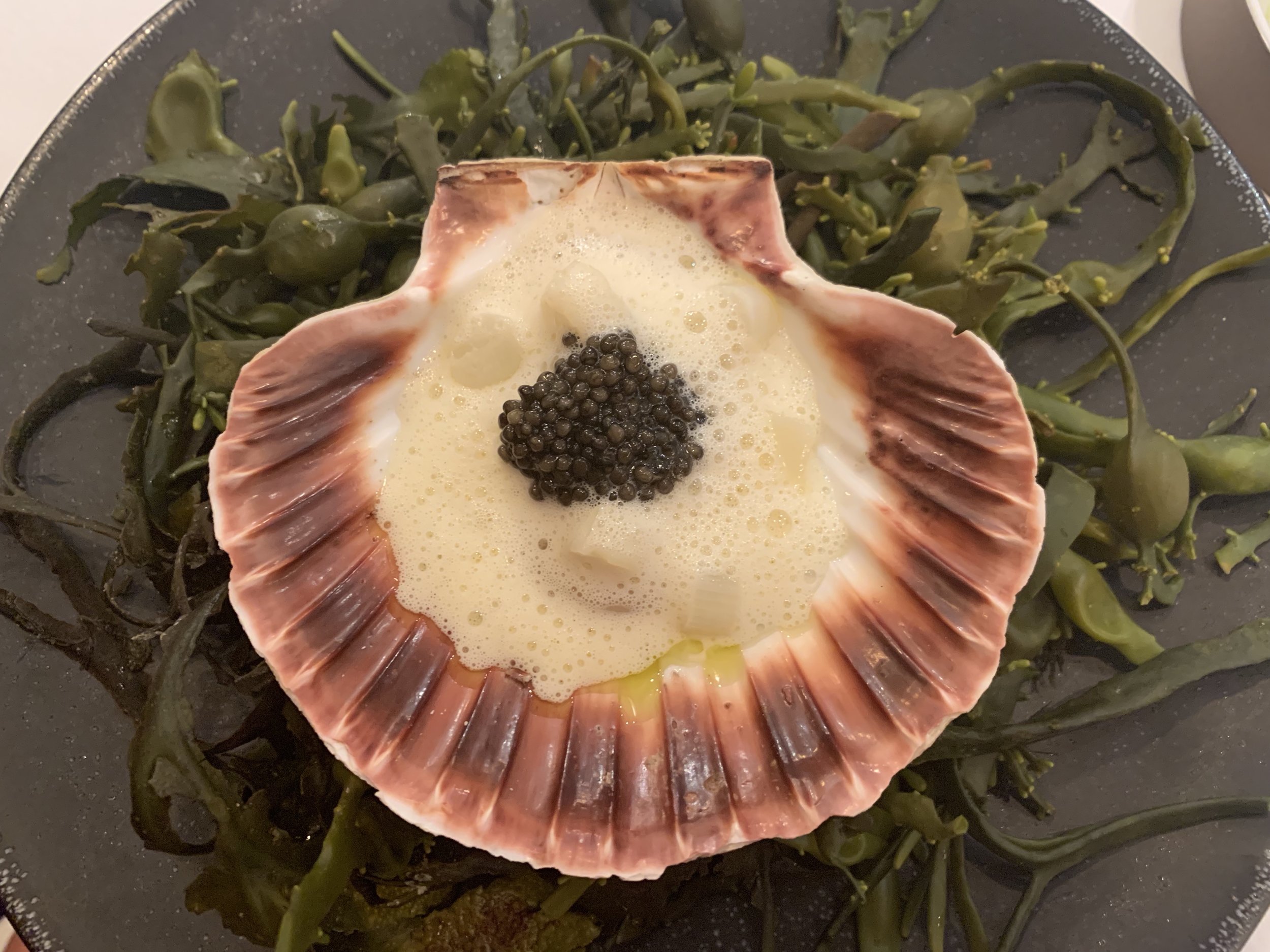 This scallop was caught the day before and brought to the restaurant alive, where it was served simply with a little caviar on top.
The Seabass was cooked in and topped with foie gras, and then sprinkled with a nice onion salad. I have done a 540 on foie gras recently. I loved it, hated it, and then loved it again. I think by itself, it's tough to swallow (literally). However, when it's added as a creamy, rich accent, it can turn a dish into a star, like in this dish where it accents the Seabass.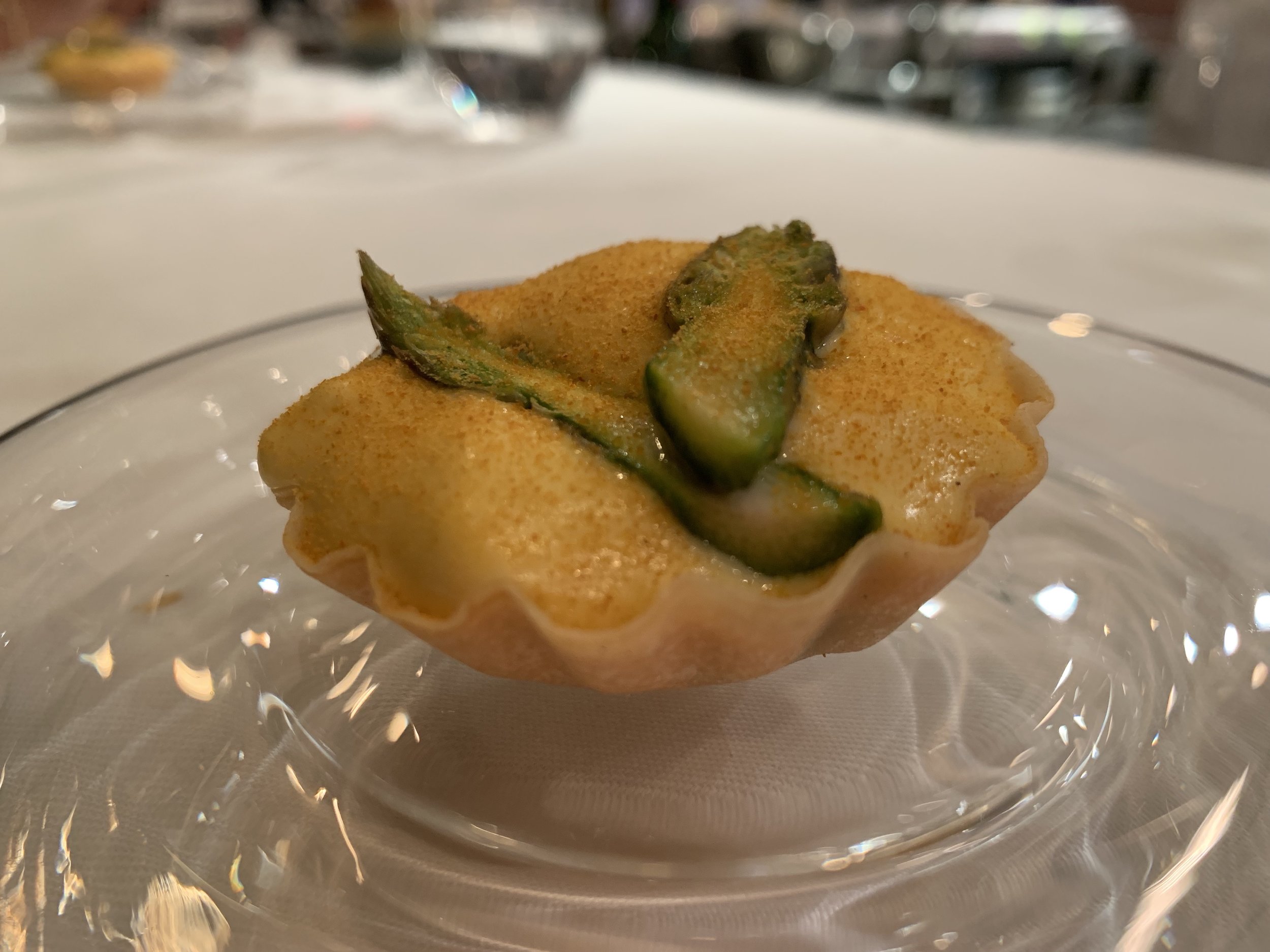 It's an asparagus tart. Writing about this 3 months later, I honestly don't have any recollection of this dish, so I guess it wasn't too memorable.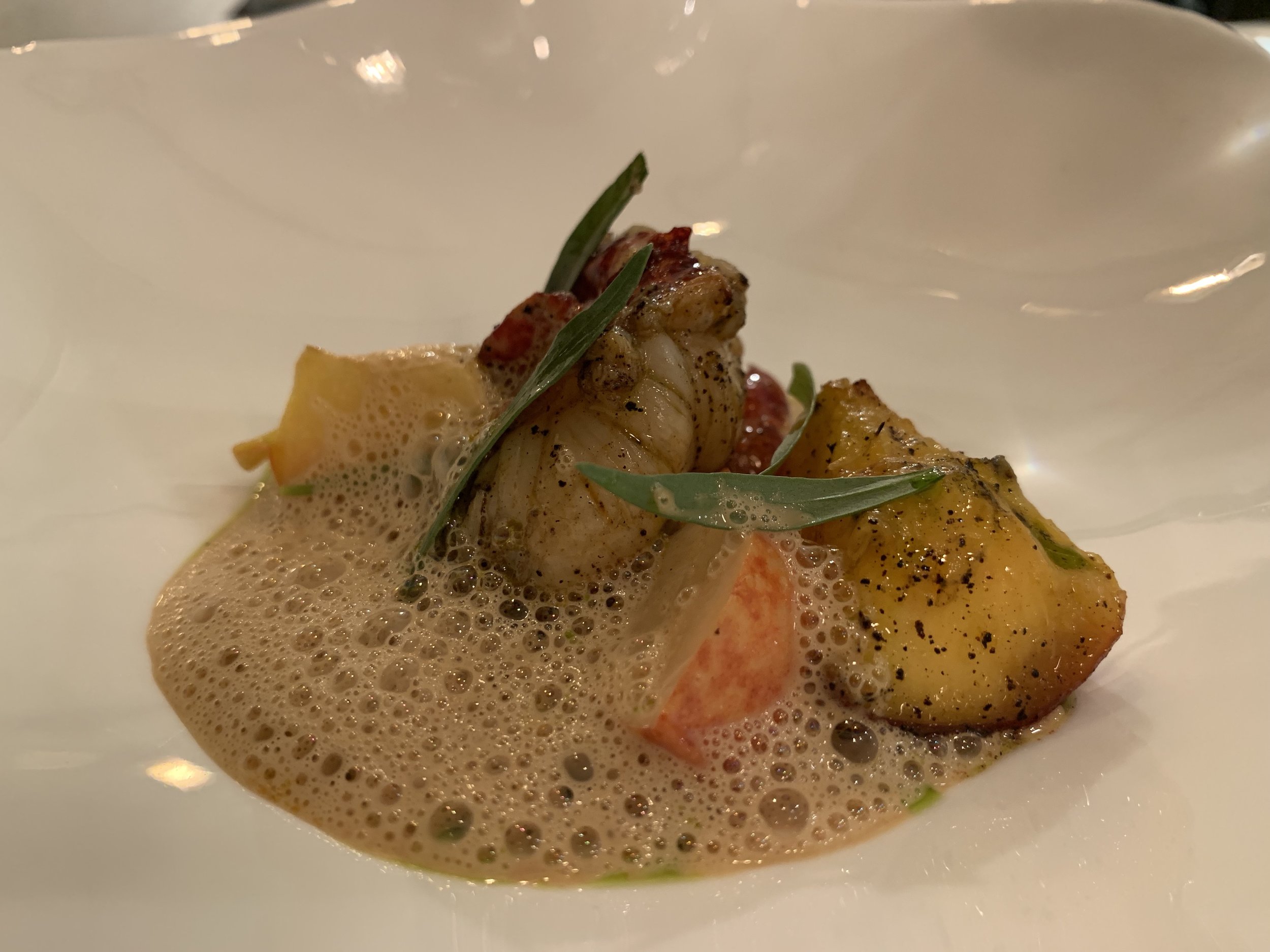 The lobster was slowly cooked over coal and served with a sauce from the lobster's shell, fresh bbq peaches, tarragon, and tomato fondue. We had three great lobster dishes on our European trip, and this one was exceptional. The fresh peaches made this dish, adding the perfect amount of sweetness to the dish.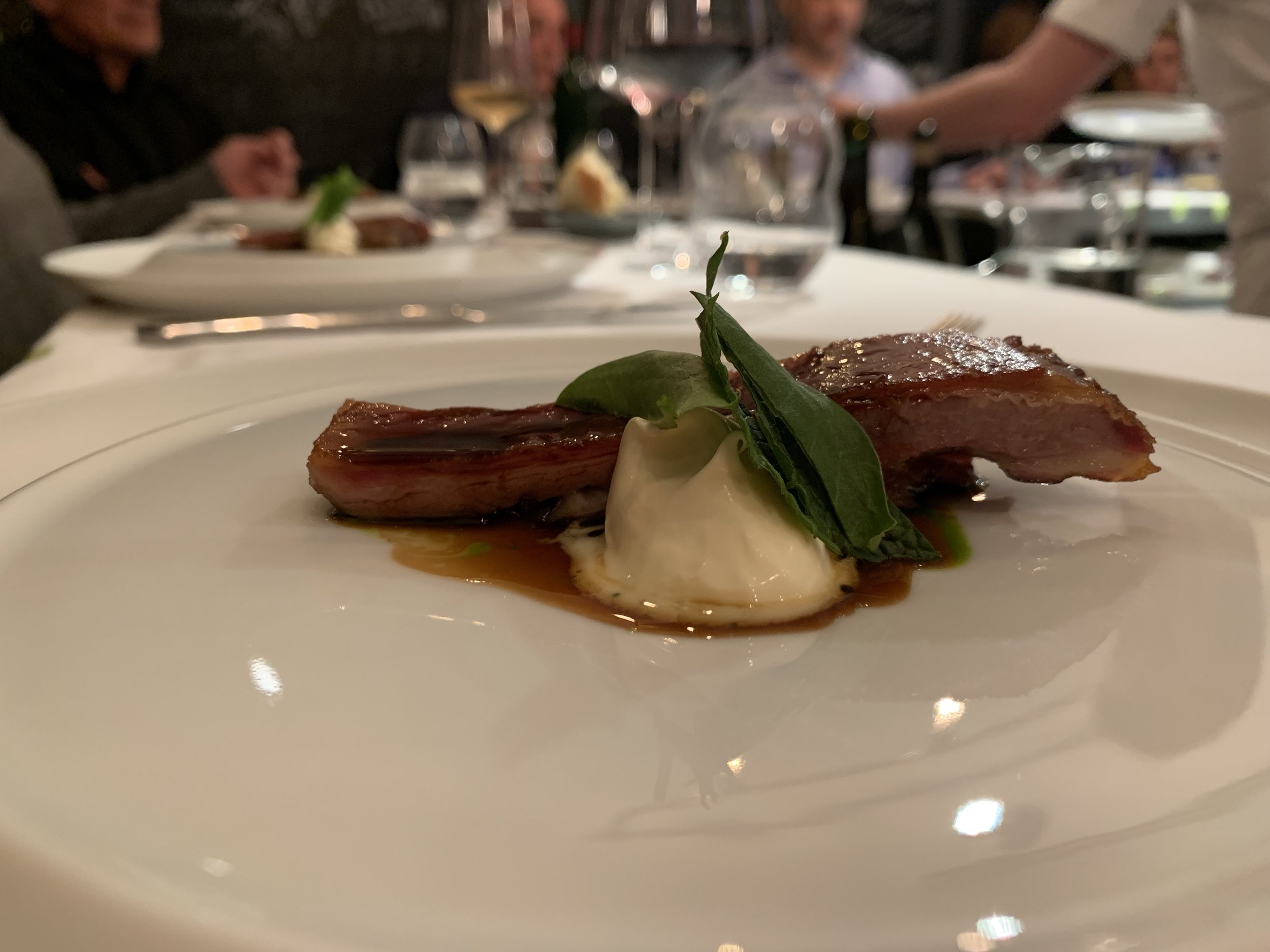 The roast lamb belly was served with lamb sauce, garden mint oil, crème fraîche, sheep sorrel and mint.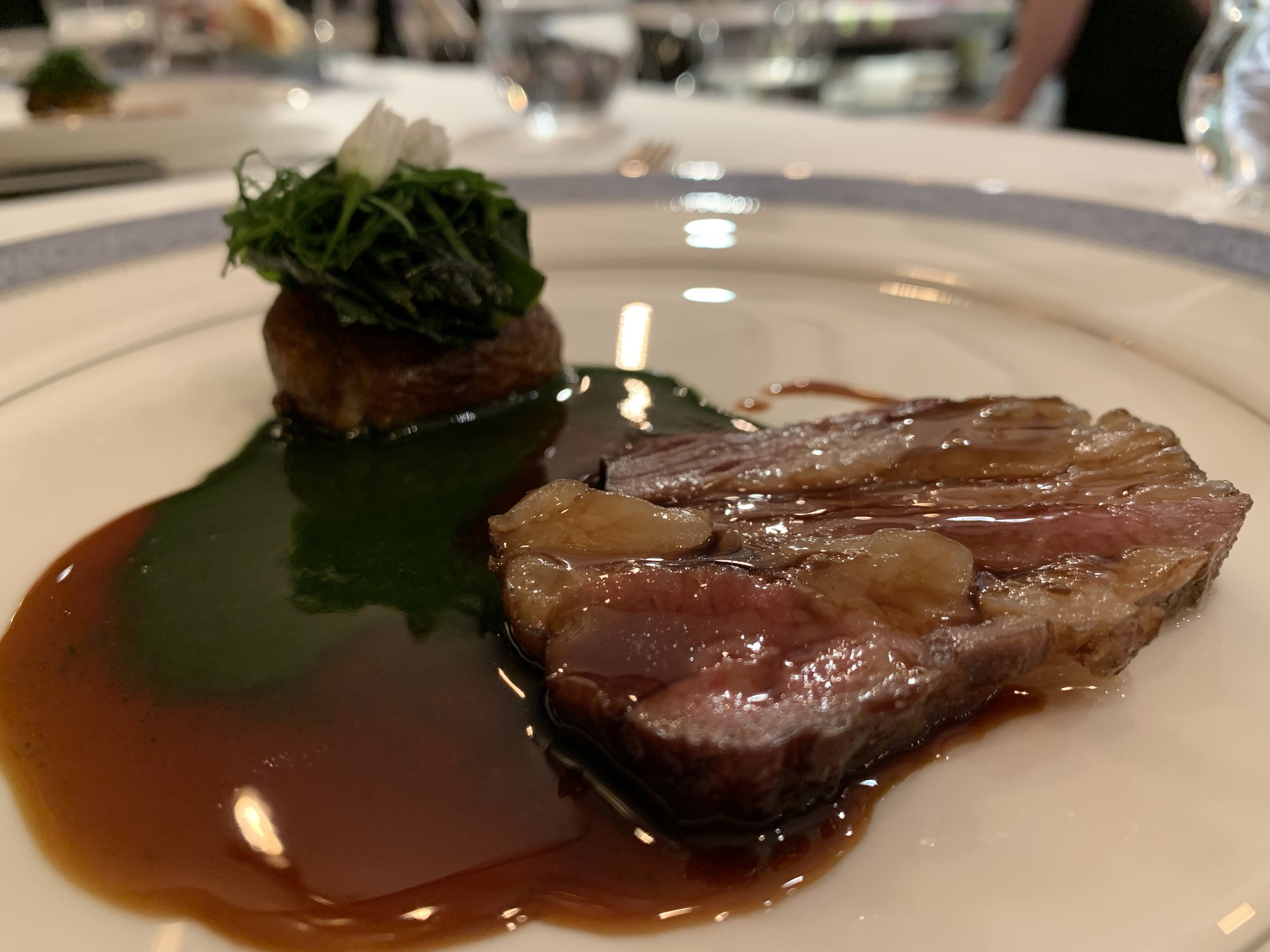 Just take a look at this piece of meat and tell me you don't want to put it directly into your mouth, don't pass go, don't ask questions. It was a delicious piece of meat, again, butchered specially for Kitchen Table.
Chilcote is a special goat cheese made in Staffordshire from Innes cheesemakers. People describe the cheese as having fudgy, hazelnut notes.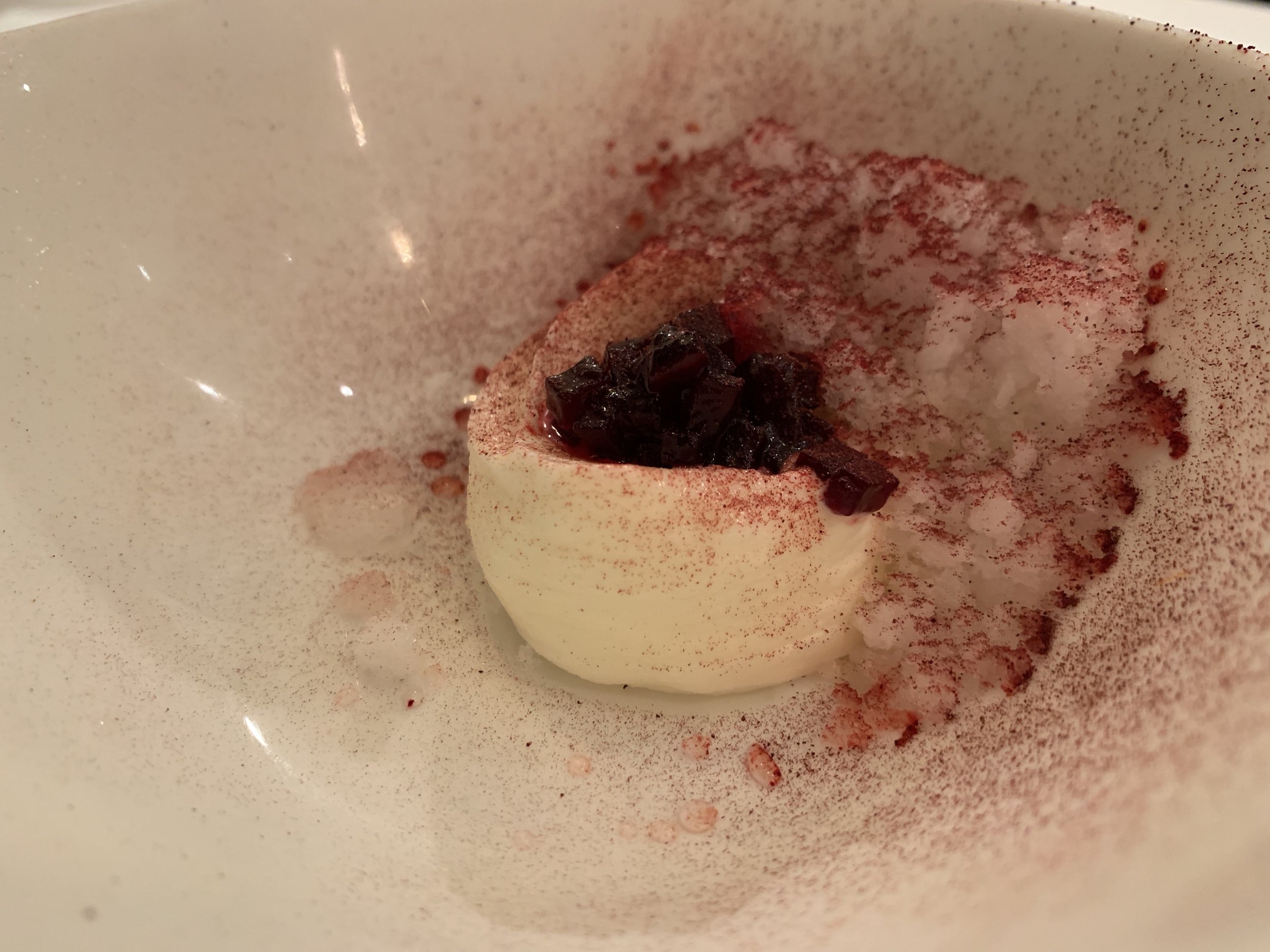 Beetroot marmalade, reduced beetroot juice with sweet woodruff, frozen and crushed woodruff tea dusted with dried beetroot skin on top of sour cream ice cream. I'm not a fan of sour cream, but even I enjoyed this dish. A great bridge dessert from the savory to the sweet section of the menu.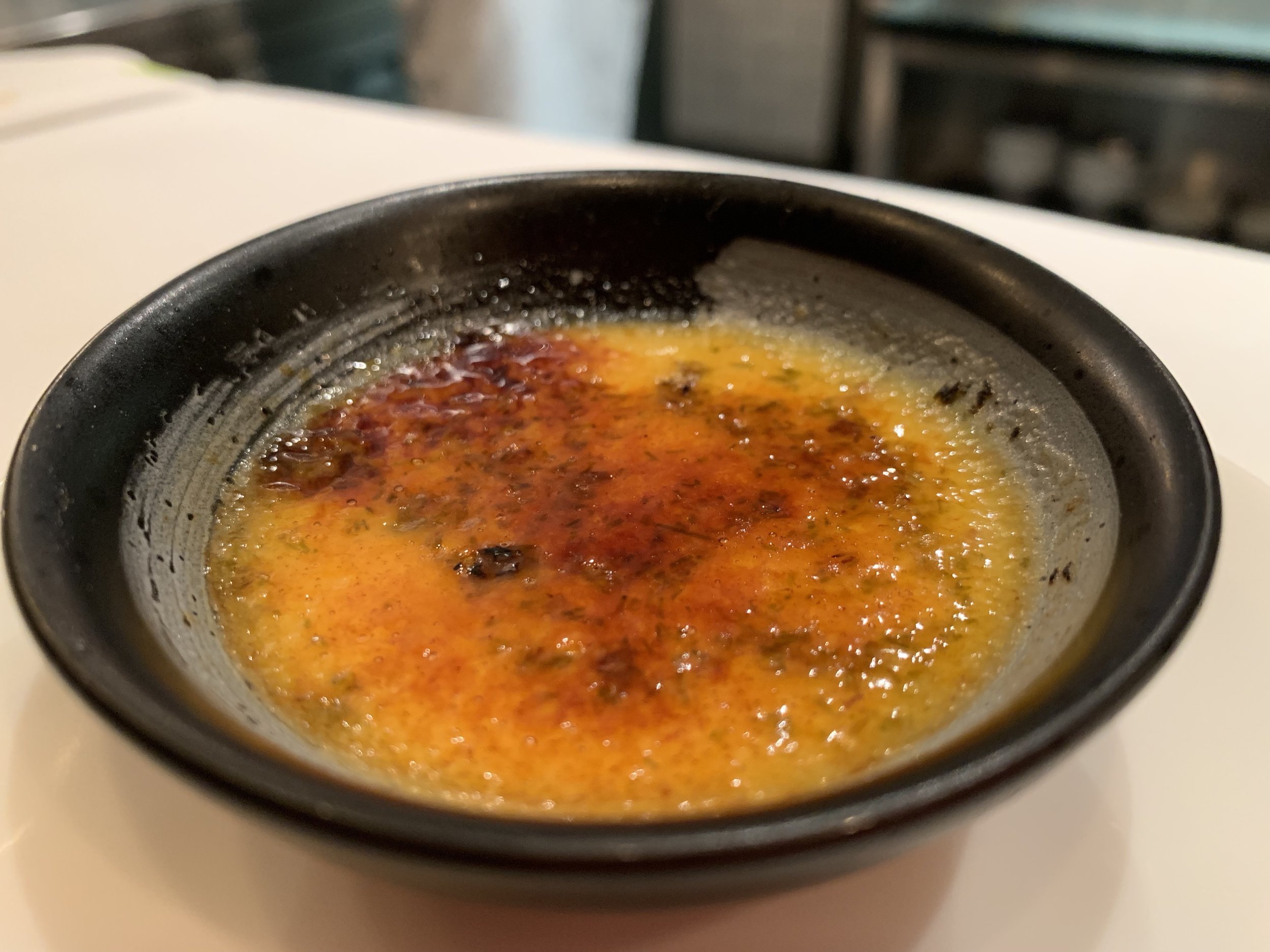 Cambridge cream is the British version of a creme brûlée. It's said that it originated from Cambridge college, where in the 1600s the college would burn in the logo on top of the vanilla custard. That's so British and royal it's hard not to get excited about that.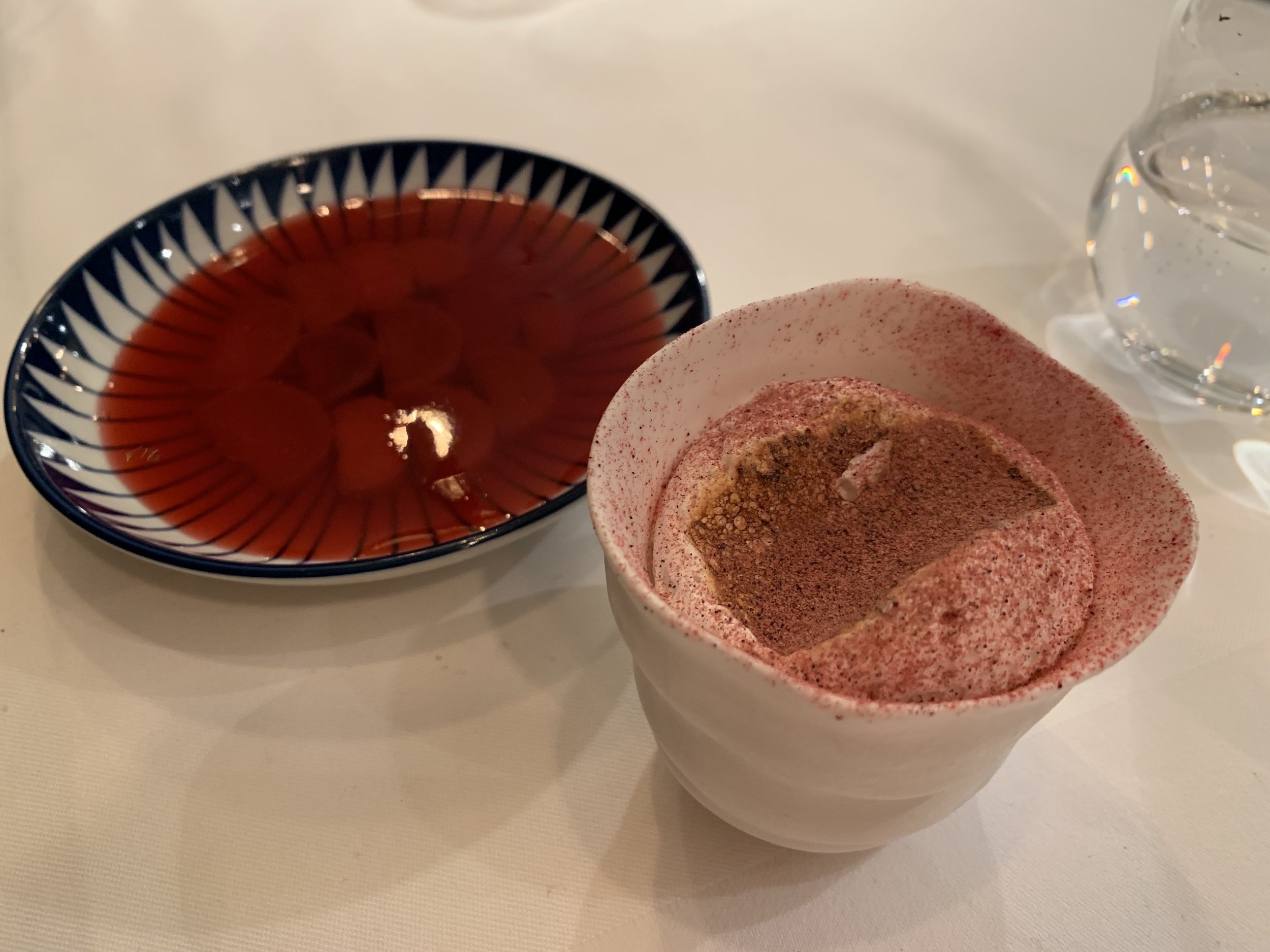 The rhubarb was served in two parts, one as a gelatin and one as an ice cream. This one wasn't my favorite, but Yvonne loved it.
The canelé is made with Madagascar vanilla and rum. Vanilla is underrated – thanks for ruining it, crappy ice cream companies. Good vanilla is complex and flavorful. Add some rum to it and I think you have a nice dessert.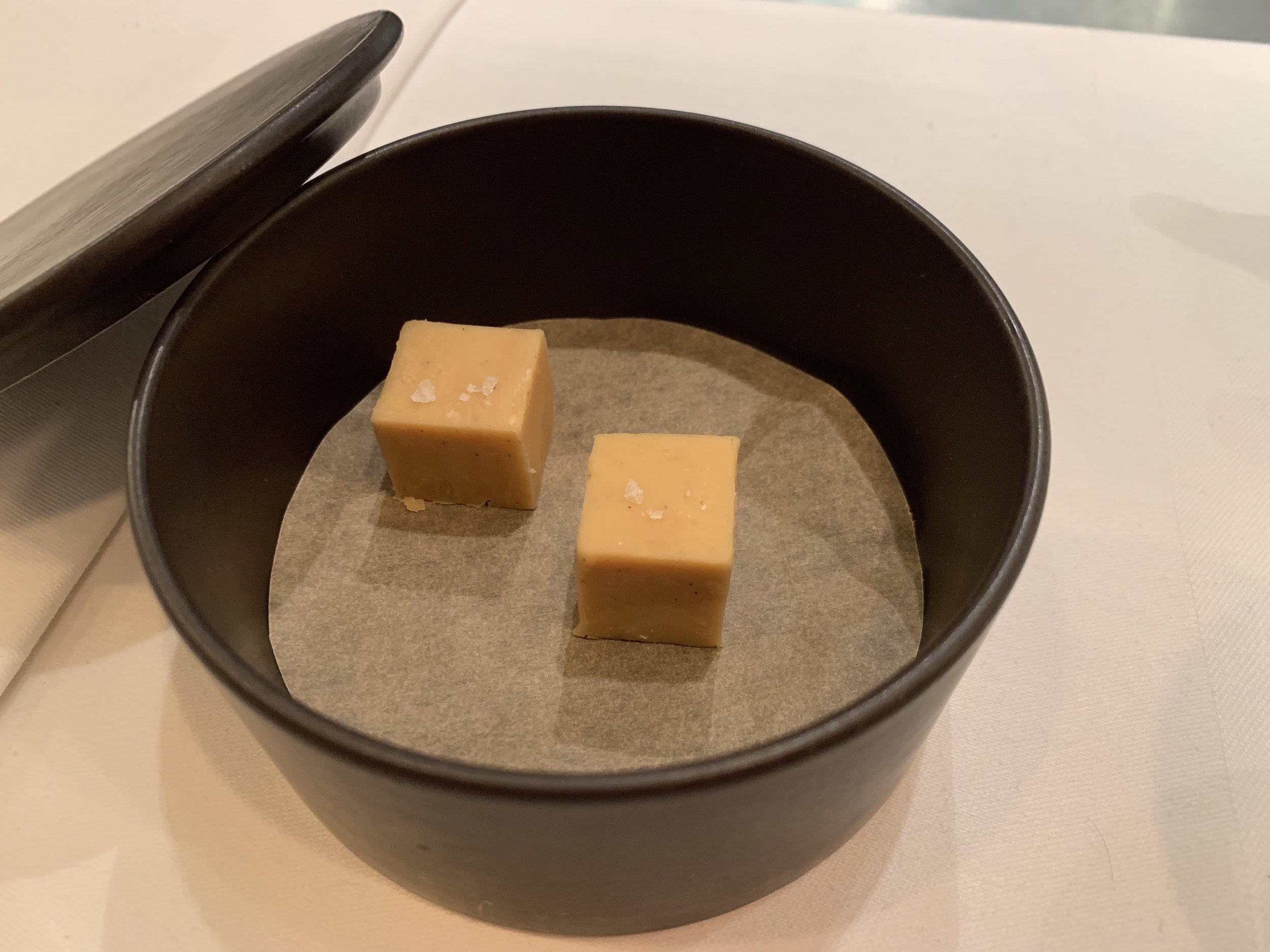 Caramelized white chocolate and sea salt fudge. What more do you need to say?
To finish it off we had a moist, decadent, crepe. A perfect bite to end our night.
Atmosphere:
My ideal setting for a meal is it at a well lit, small bar with one-on-one interaction with all the chefs, where you can see all of the cooking happening, so Kitchen Table was pretty much my ideal atmosphere. I love the intimacy. I love watching the precision of the chefs. I love the signatures of all the famous chefs who had eaten there. I love being high on a stool. I loved it all. It's the modern show that I love and crave to go to and be a part of. To make this review as British as possible – it's like seeing the Beatles at the Cavern Club in Liverpool.
English Hospitality:
For us foodies, It literally doesn't get any cooler than being able to carry on a conversation with the chefs as they serve and prepare your meal. The meal was probably the most intimate we've ever had at a 2 Michelin Star restaurant. One of my favorite moments of the night was when Chef Knappett took this boy (pictured below) back behind to the kitchen so he could see how things are done and what was written on the kitchen table. It was the boy's birthday, and instead of a party he wanted to come to Kitchen Table (last year his mom took him to a 3 Michelin Star Restaurant in Paris), which in itself is cool and something I wish i was mature enough to do when I was eight years old. The chefs could not have been more hospitable to him, and to everyone around the table.
We can't get through the whole review without talking about my mom, who was here with us and was not enjoying herself. Ten minutes before the meal, she exclaimed she would rather spend her money on Escada than on food. This is not something you should say before you spend $200/person at a meal which is going to be small plates and you're going to spend 3 hours at, but so it goes. At the end of the meal, the chefs came around and asked if we wanted tea. The tea takes about 2 minutes to explain, because it has multiple different types of herbs which you get to pick. The poor chef explains all of this to my mom, and then right as she is about it pick it out she asks THE question…"does this cost this extra?" The look the chef gave my mom was honestly the most confused, intense, and sad face I've ever seen, followed by, "Yes, it is extra." "Nevermind then," my mom says. Ten minutes later when we get the check, we find out that the tea was four pounds, or roughly what one stitch in an Escada dress costs. Yvonne and I have never been so embarrassed, but she is family and we love her. She will not, however, be attending our next Michelin Star meal.
Frankie's Notes:
Bubbledogs should be a bubble bath fun room for old pugs (copyright coming soon); One day, we'll be able to walk into an Escada store and not immediately be escorted out; In England they drive on the wrong side of the road and they put their silverware on opposite sides to compensate; One of the men dining with us was friends with George Soros, and that's impressive.
Ranking: 5 out of 5 with 2 Michigan Pugs
Kitchen Table is definitely worth of a trip if you're in London. They use only the freshest ingredients from around the U.K. and offer some of the best modern British food around.